Recipe: fresh figs with blue cheese and honey
My parents left early this morning to catch their flight home. I saw the tail lights of the car disappear into the inky black night and called to the two glowing eyes in the yard (presumably Kaweah) to come inside. When we got up a few hours later, Kaweah came trotting down the stairs next to me sniffing around the great room looking for my dad. He is her new best friend. She LOVES him. When she didn't see him, she followed me down to the first floor and looked around the guest room, then looked around outside in the yard. She was happy enough to eat her breakfast (we call all meals dinner – it saves confusion for her) but then seemed a little mopey all day. Poor pup. We had quite a nice visit with my parents who had never really spent much time in Boulder before. On Monday, we took them to The Kitchen for Community Night and they were sold. We sat next to delightful and charming people, enjoyed great wine and of course – indulged in fine food. I should say we indulged in eleven incredible dishes.

summer bean salad, cherry tomatoes, white anchovy, tarragon vinaigrette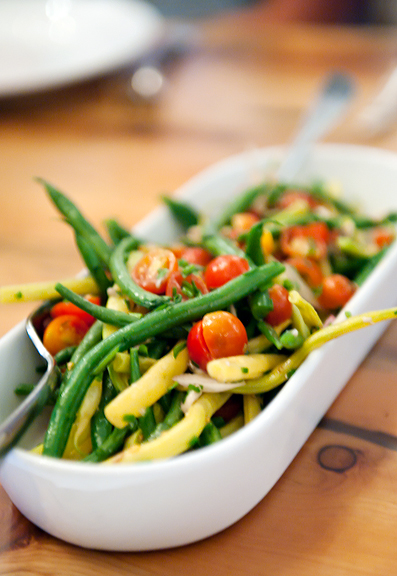 grass fed beef roulade, prosciutto, foraged mushrooms, potato watercress salad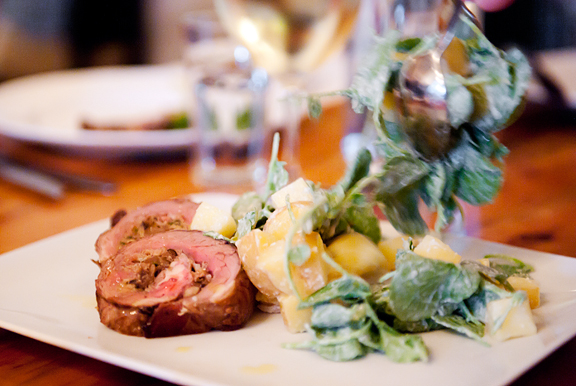 wood fired pizza, roasted peaches, long farm bacon, chèvre, shallot dressing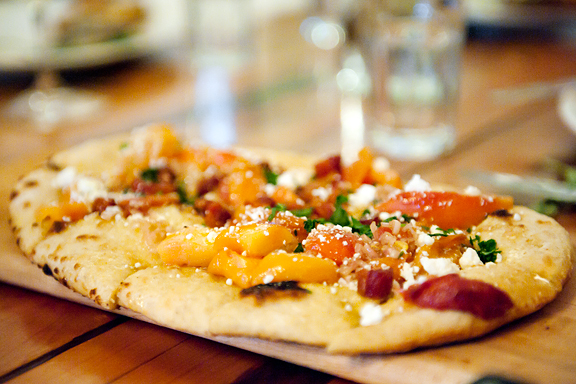 There are so many good restaurants in Boulder, but I have to say that the absolute best value in town has got to be Community Night. I think this was our eighth Comm Night and we never tire of it (partly because the menu is different every Monday night). We love to go with friends or bring out-of-town guests if they are visiting over a Monday night. Delicious fun is what it is.
half of our comm night table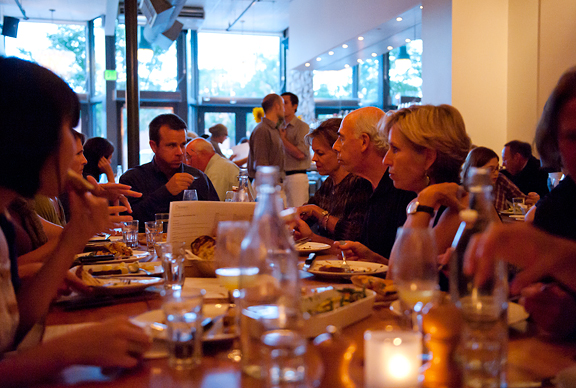 my mom loved this arugula, frisée, colorado peach, sweet corn, banyuls vinaigrette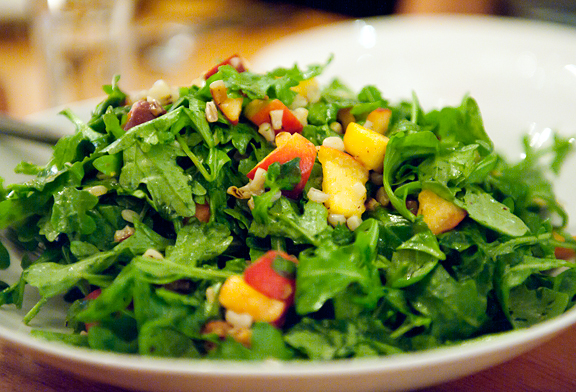 house cut tagliatelle, la quercia prosciutto, swiss chard, crushed tomato, parmesan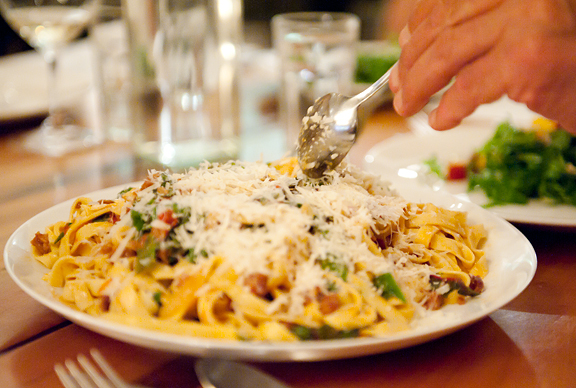 While my parents truly enjoyed the
intimate and special dinner at Flagstaff House
for my mom's birthday, I think The Kitchen was a completely new experience for them. The style of the food at Comm Night is more wholesome than fancy because the chefs let the ingredients speak for themselves. It pops with seasonal freshness in your mouth and the family-style dining brings everyone together as they oooh and ahhh over the delectable dishes. What a great evening.
part of dessert: chocolate torte and meringues with raspberries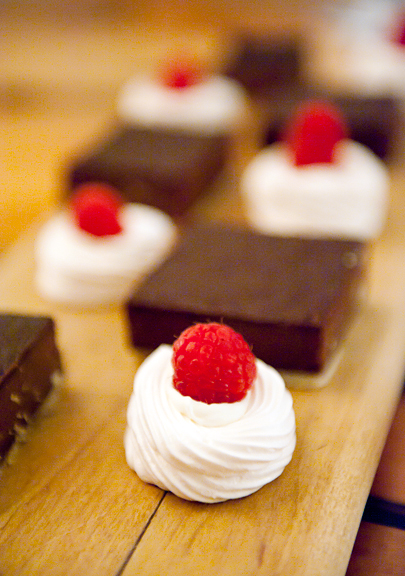 at the end of a fine evening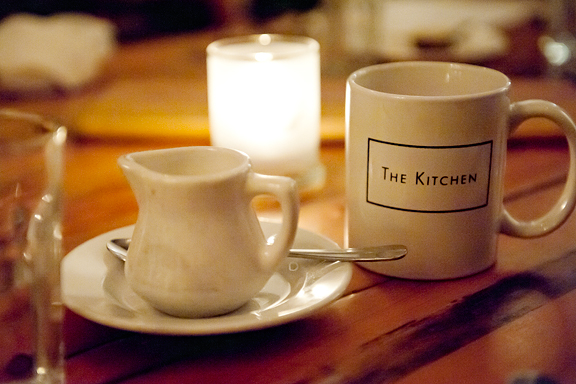 So you know how Jeremy is the pickier eater of the two of us? Well, there are a few foods that I have tried to like, but just couldn't. Blue cheese is one of them. You can either be astonished or glad because if I don't like blue cheese, that means there is more for you. I recently did a shoot for a client featuring fresh figs, blue cheese, and honey with candied walnuts. I have enough sense (barely) to know that this is a beautiful combination of flavors despite the fact that I don't eat blue cheese. So I put a call out on my Facebook page to see if any local friends liked blue cheese.
brown turkey figs from my local whole foods
figs are such gorgeous fruits
At a lunch with my betties a few weeks ago, they asked me what the blue cheese query was about. I explained what I was planning to shoot and how I needed people to come and eat this because I didn't want to waste the blue cheese. Boy, I never knew how the words "I need people to eat the blue cheese" could light up so many faces! Thankfully, Nichole instructed me to get some advice from the cheese gurus at Whole Foods on what kind of blue to pair with fresh figs because there are different kinds of blues (this, I did not fully appreciate).
gorgonzola dolce – soft and creamy
mashed into a paste
I actually bought two kinds of blue cheese: a soft Gorgonzola dolce for piping and a stronger crumbled Gorgonzola for some other shots. The dolce is nice and mild because you don't want it to overpower the delicate flavor of the fresh figs. I was told that the stronger blues like a Stilton are better suited to pair with dried figs – both of them pronounced flavors. I love this! You learn something every day.
quarter the figs just to the base
piping creamy dolce blue in the center
I am told that the combination was heavenly or at least quite good. This not only from the blue cheese lovers, but a blue cheese newb (that would be
Manisha
). I tried some. It was alright, but you know… if I'm not in love with it and it's high in fat and costs a lot of money, then I'm not going to make myself like it. Call me practical. However, I am positive this makes for a crowd-pleasing appetizer based on the smiles around the room. Get your fresh figs while they are in season!
drizzle the best honey you've got
pair with candied walnuts
Fresh Figs with Blue Cheese and Honey
[print recipe]
2 dozen fresh figs (brown turkey in this case)
4 oz. Gorgonzola dolce blue cheese, room temperature
a good honey (I used this brand)
candied walnuts (optional)
Top the figs and cut into quarters from the top down to, but not completely through, the base of the fig. Cream or whip the blue cheese (this won't work with crumbly blue cheese!) and fill a piping bag. Pipe cheese into the center of each fig. Drizzle honey over the figs and serve with candied walnuts (optional). Serves 24. [Actually, you can probably serve more than 24 with 4 ounces of soft blue cheese – it doesn't take much to fill up the little space in each fig.]