Recipe: mexican wedding cookies
Yeah, I'll pick u up! 1:15?
I looked at the text message on my iphone and then put it away. If Beth says 1:15, then she'll more likely arrive around 1:30. That's fine. We'd have plenty of time to get to the wedding. Plus it would be good to see Beth. I joked on Facebook that I was flying out to Seattle to see Beth, who lives 30 minutes away from me in Boulder. I hardly saw her all summer – we've both been so busy – but now she was going to be my date to the wedding since both of our fellas couldn't make the trip.
By 1:45 I was starting to worry, but there she appeared and we hopped into the car!
"So do you know where the wedding is?" Beth asked as she began to drive in a general northwest direction. I navigated from my phone map and we were doing fine until the draw bridge began to… draw… up.
"Was 2:00 when we were supposed to get there or when the ceremony starts?" I asked. Eventually the boat passed under the bridge. Eventually we began moving again. When we made it to the park, Beth changed into her dress while I blocked the view between passersby and the driver's seat. Just as she changed her shoes, I noticed a stream of people file out of the bathhouse toward the beach.
"Beth! Let's go!!"
We hustled after the line and stood among familiar smiling faces. I dropped my pack in the sand and loaded my cameras, grateful for the moment that I wasn't the hired photographer for this wedding. My dear friends, Andrew and Nicole, entered the grove of trees.

loved ones look on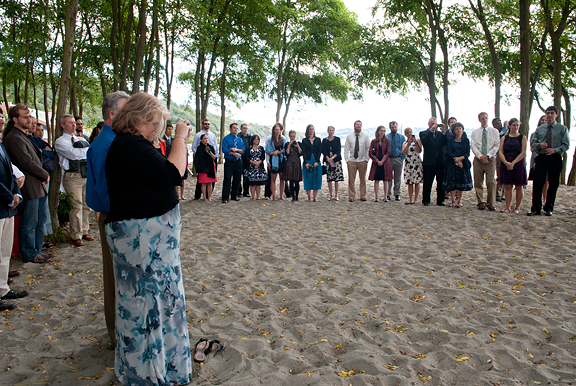 listening to the welcome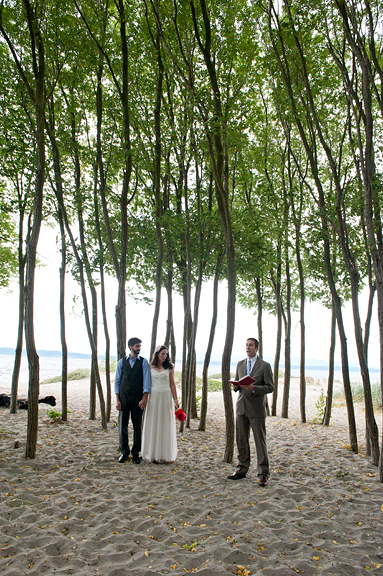 exchanging vows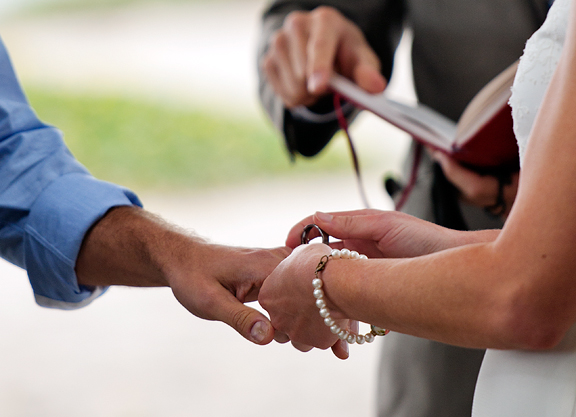 sealing the deal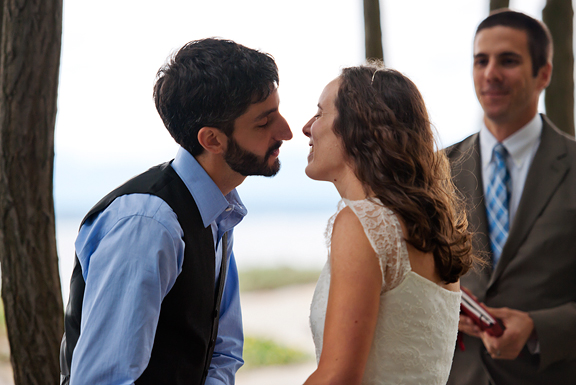 As most of my friends know, I am not a fan of weddings. Perhaps I'm mellowing with age (doubtful) or maybe it's because the people I'm closest to seem to throw the weddings that are the least offensive to my sensibilities – but it was a beautiful ceremony and I found myself suddenly overcome with happiness for my friends. I learned something that day. I can't manual focus to save my life when my vision is blurred by tears.
amazing pizzas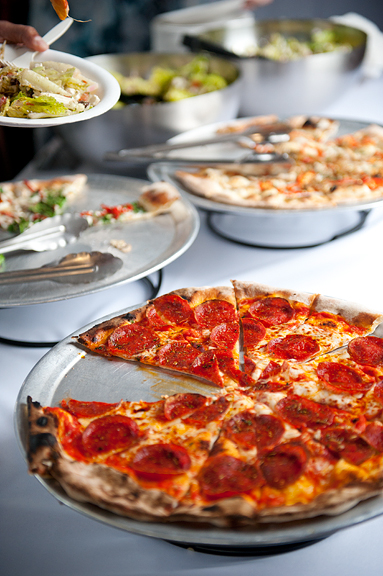 andrea is diggin' the ice cream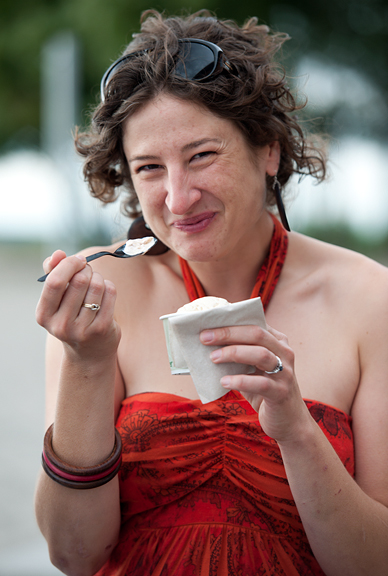 the bride gets her dessert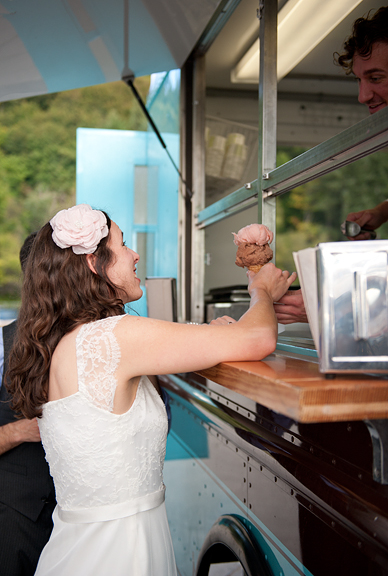 Back in the bathhouse, there were appetizers, wine, and beer. Andrew and Nicole are quite the beer aficionados. Instead of champagne flutes, they had crystal beer flutes. Dinner was catered by some terrific portable wood-fired oven pizza folks
Veraci Pizza
(thanks for the link, Nicole!) and the
Molly Moon
ice cream truck (same dude who served us at
IFBC 2010
!). Honestly, some of the better food I've enjoyed at a wedding. I ate five pieces of pizza… hey, they were super thin crust!
the bride is allowed some help while slack-lining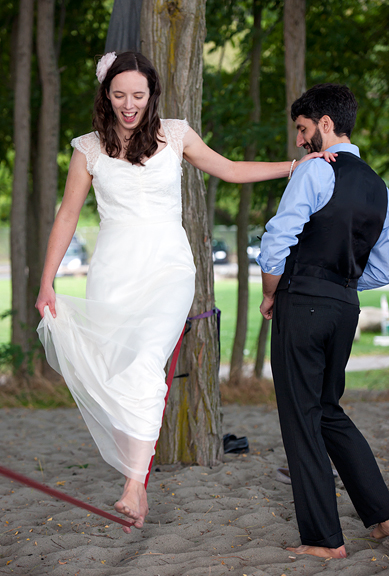 beth partakes in throwing disc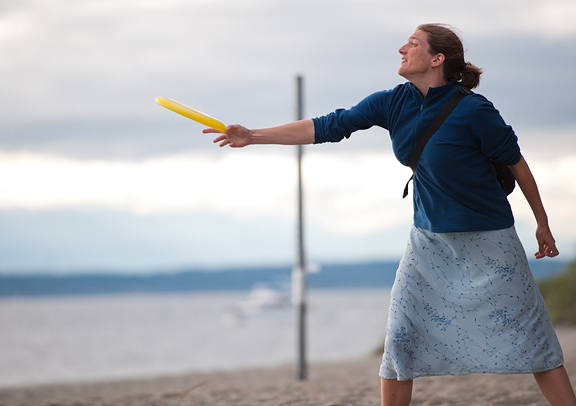 cute little baby gets in on the beach fun too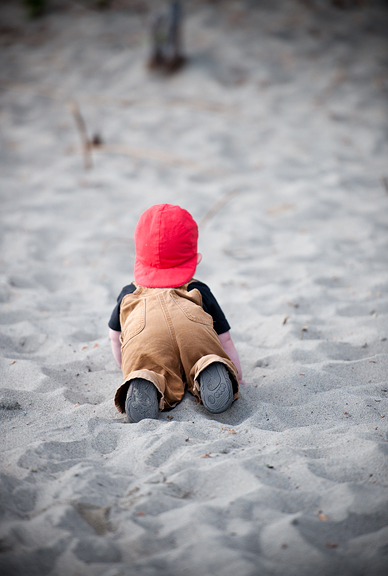 After slurping down their ice creams (in my case: watermelon sorbet), people wandered over to the slack line, grabbed frisbees from the box, took out the bocce ball set (a game you can play with a beer in your hand), and generally expanded out onto the beach. The National Weather Service said it would rain and then Sunday morning "PSYCHE!" – they changed the forecast to partly cloudy with a little glowing sun peeking through the clouds as their icon.
dahlias as the sun dropped toward the ocean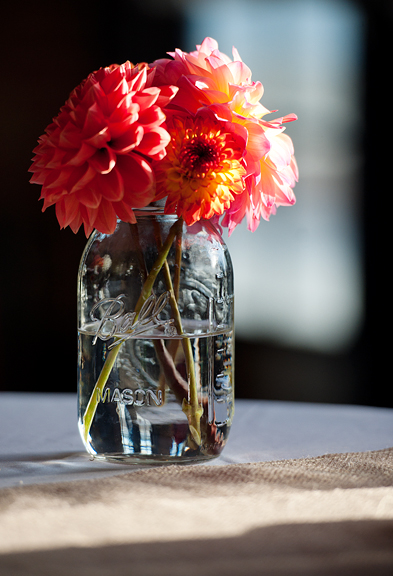 congratulations, you two! xo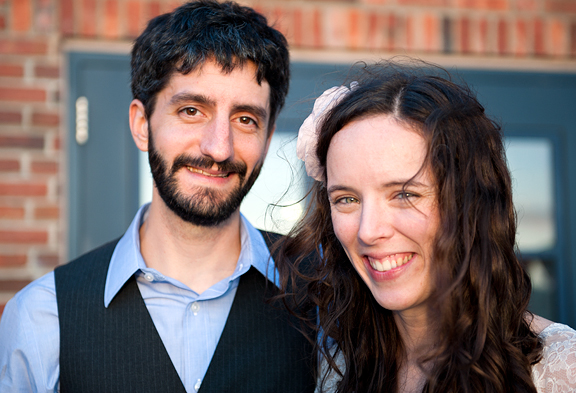 So when I made these cookies last week, I had not made the connection between the name
Mexican wedding cookies
and the fact that I was about to attend a wedding. It's curious because I don't make cookies all that much any more and because I generally don't attend weddings unless I'm shooting them. Actually, these are also known as Russian tea cakes or pecan sandies rolled in powdered sugar. I informed Nicole and several others that this would be the next recipe on the blog and everyone sort of moaned "I love those cookies!"
the nut: pecans
buttah, flour, powdered sugar
I always think that I don't love these cookies because they are shortbready which makes me think "dry". But then I make a batch and eat one for quality control and I'm surprised at how good they are. Well, it is probably in my best interest that I keep thinking they aren't a lovely little morsel to pop in your mouth. However, I implore you to make these if you haven't tried them yet. They're super easy to make too.
some homemade vanilla
the chopped pecans
The original recipe rolls the dough into little balls and leaves them that way on the baking sheet. That's a ball, not a cookie. I guess I'm shapist, but I want my cookie to be more of a fat disc. I just consulted with Jeremy on this and we determined that the shape I'm referring to is in fact, NOT an oblate spheroid, but more of a torus with the hole filled in. We were unaware of any proper term referring to the shape, so I will settle with fat disc. In any case, that's how I like my Mexican wedding cookies (I also think they bake more evenly this way).
pluck the dough and roll
squash into a fat disc
When you bake the cookies, I suggest selecting a few sacrificial lambs because underbaking leaves the center a little doughy and overbaking dries the whole thing out. As the bottoms turn golden, break one open to check how done it is. It's a pretty forgiving cookie, so don't worry too much.
cooling (yeah, these don't qualify as oblate spheroids)
roll in powdered sugar
Jeremy was kind enough to sample these with coffee and with tea. He thinks they're better paired with tea (the boy drinks Earl Grey, by the way), which might explain the Russian tea cakes name? When you eat these, take care if you are wearing dark colored clothing, because they have a tendency to dust you with powdered sugar. I used to bake these and bring them in to the office or my department and I'd see trails of powdered sugar leading away from the cookies.
worth the mess
Mexican Wedding Cookies (aka Russian Tea Cakes)
[print recipe]
from rec.food.cooking
2 1/4 cups (315 g) flour
1/3 cup (45 g) powdered sugar
8 oz. butter, softened
1 tsp vanilla
1 tbsp water
1 cup (~100 g) pecans, chopped fine
1 cup extra powdered sugar for rolling/dusting
Heat oven to 325°F. Place the butter in a large bowl and beat for 30 seconds. Add half of the flour, powdered sugar, vanilla, and water. Beat until blended then beat in the rest of the flour. Stir in the nuts. Pinch off dough and form 1-inch diameter balls and place on an ungreased cookie sheet. I like to flatten the dough balls a little with the base of a glass. Bake 20-25 minutes until the bottoms are golden brown. Remove from baking sheet and cool on cooking rack. When cookies are cooled, roll in powdered sugar. Makes 36 cookies.