Recipe: taro tapioca soup
gong xi fa tsai!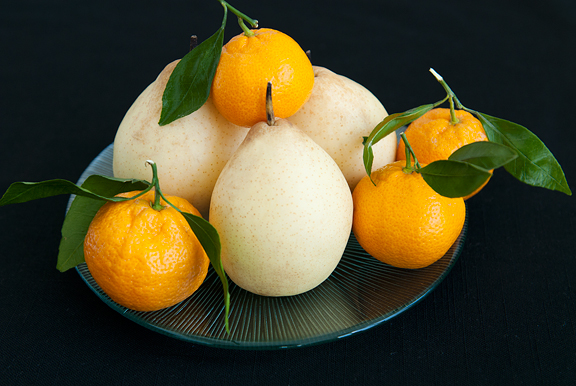 Xin nian kuai le. Wan shi ru yi.
Happy New Year, everyone! It's the year of the Rabbit. Rabbits are lucky little guys, so I wish you all a very lucky, happy, healthy, and fruitful year ahead. The house has been busy here at urb-central as it always is before Chinese New Year. We have spent the past few days preparing food, cleaning the house, following the news, and hunkering down during the wicked cold spell that had a hold on much of the country recently. A couple of weeks ago, my friend Kitt had posted a cool video of a young woman throwing boiling water into the -40°F air. Can you guess what happened? As Jeremy watched the outside temperature plummet the other night to -25°F, we wondered if we could get that same phenomenon to work. So we went outside on the deck to give it a try.

cool (literally)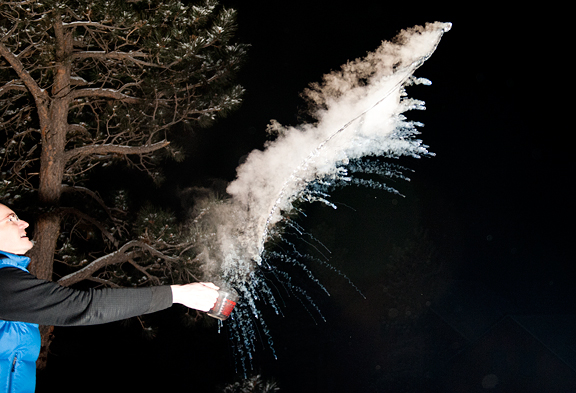 love the droplet trails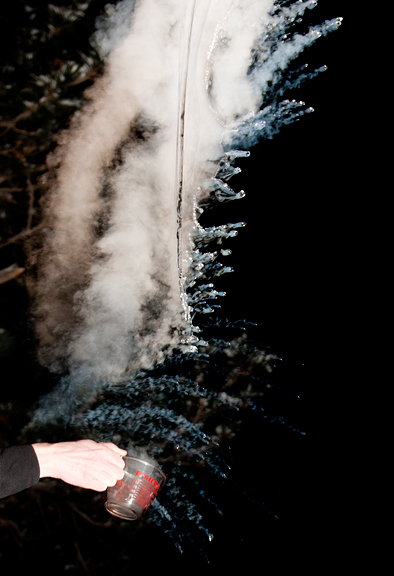 The water evaporates in the air before hitting the ground. I'm pretty sure our neighbors thought we were on crack tossing water off the deck and firing the flash several times in the night. [I guarantee you we are the most sober residents in this town.] The next morning, it was still -23°F. So before Jeremy left for work, he humored me and we tried another boiling water toss off the deck. And because it was daytime, I was able to shoot a nice sequence of it. You can see more of the
nighttime shots
and
larger daytime shots
on the photoblog.
science!!!

That was pretty COLD. Kaweah kept wanting to come out onto the deck with us because she equates baking her brains in the sun with walking onto the deck. But we've been keeping her inside the warm house since her old body gets very stiff when it's cold. A few times Jeremy has had to go and rescue her at night when she was let out to potty because she got stuck in the snow when her paws got so cold she couldn't walk. She's more susceptible to temperature extremes as she has aged, but she's not any smarter.
that's okay, we'll just keep her on the snuggy blankets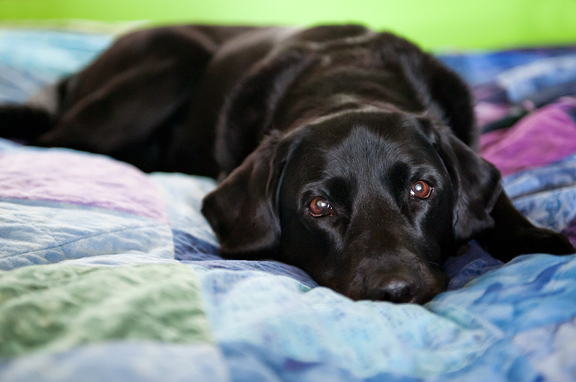 Right now, our house is clean and our refrigerator is full of lucky foods. Per tradition, we always clean the house on Chinese New Year's Eve because you can't clean the house for the first two weeks of the new year or else you will sweep out the good luck. This put me in a bit of a panic because I'm hosting something during that time period at my house. I also made a small feast for our New Year's Eve dinner – each dish or component represents some form of health, luck, fortune, and happiness.
fu is luck and it is upside down on our front door – it means "luck arrives"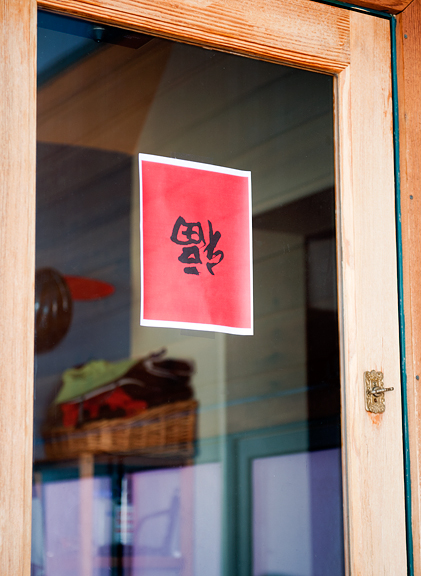 potstickers, soybean sprouts, lucky ten ingredient vegetables, lucky bean thread noodle soup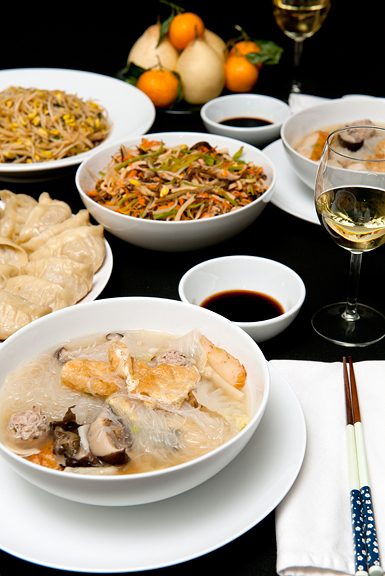 And then there is dessert. I almost always make western desserts when we entertain because most people I know aren't that thrilled with Asian or Chinese desserts. When I was a kid, the typical dessert in my house was fruit. On special occasions, my dad would make almond jello or sesame bananas, reading the recipe from a fat book packed with delicate, thin pages covered in Chinese characters. Kris and I would get so excited. At the real Chinese restaurants (the ones where the waiters can barely speak English), they would serve a warm sweet soup of some kind for dessert. Sometimes it was sweet red bean soup, sweet green bean soup, tapioca coconut soup, black sesame soup, or sweet peanut soup… Soup. And there was taro root soup.
taro root
coconut milk, taro root, sugar, tapioca
In the early days of our relationship, Jeremy would eye the soup and politely take a few sips. If we were in the company of my grandmother, he would finish his bowl (my grandma – she LOVES Jeremy). It's grown on him, but he doesn't indulge when I make sweet Chinese soups at home, so that's probably why I don't make them too often. But after our last trip to California, I decided it was time for me to try making something with taro root, because I really like it and Grandma tells me it's good for you.
peel the taro root
dice
One of the reasons I like taro root is because it is purple. Except in this case, it isn't purple. I bought these at my local Whole Foods and when I cut into them I was disappointed to see the white flesh. My mom said the white ones are fine, but she agreed that the purple taro is prettier. When you peel the taro root, there is a slimy, milky goo that gets on your hands and knife. I sent one flying across the kitchen as I tried to get a better grip to peel it. It's not recommended that you eat raw taro root because it's toxic. However, it is safe to eat when it's cooked.
mash the boiled taro root
stir in coconut milk
When I mashed the taro root, I left some chunks because I like biting into occasional pieces of the soft, starchy flesh. Mix the coconut milk in gradually, because the taro root mash is pretty thick. When the coconut milk is incorporated and the soup becomes more of a slurry, stir in the tapioca.
tapioca is ready when it cooks clear
stir in tapioca
Chinese desserts don't tend to be especially sweet in general, but you can adjust the amount of sugar to your liking. I really like this soup despite the disappointing absence of the purple taro root variety. It has a naturally thick consistency due to the starch of the taro root and the tapioca. The flavors are subtle and light. If you refrigerate the soup, it becomes almost pudding-like, but it resumes its soupy nature once reheated. Whether it's taro root soup or cookies or sweet rice cakes, just make sure you eat something sweet first thing in the morning on Lunar New Year. It ensures that sweet things come out of your mouth all year.
add some sugar
especially welcome on a cold evening
Taro Tapioca Soup
[print recipe]
3/4 cup tapioca (the tiny tapioca balls)
1 lb. taro root (preferably purple, but white works too), peeled and cut into large dice (about 1/2-inch)
8 oz. unsweetened coconut milk
1/2 cup sugar
In a medium saucepan, bring four cups of water to a boil. Add the taro root and cook until tender – about 20 minutes for fresh taro root. If you use frozen taro root then boil for about 5 or so minutes. Drain the taro root and mash it. Leave some chunks if you like. Boil another 2 cups of water in a saucepan (use same if you like). Add the tapioca to the water and boil for 5-6 minutes. Turn off the heat and cover the pan. Let it sit for 10-15 minutes. The tapioca is done when the pearls are translucent and you can no longer see the white center. Add the coconut milk to the taro root and stir until blended. Stir in the tapioca and sugar over medium heat until the sugar is dissolved. Serve warm. Serves 6.