If you know me even a little bit, you know that I love sushi. Going to college in southern California sealed my fate in so many ways including sushi and Jeremy. My litmus test for my first dinner date with Jeremy was at a popular sushi bar in Pasadena. If he couldn't handle the fish – out the airlock! But he loved it. Good thing too! When we first moved to Colorado, we were stunned at the number of sushi restaurants in Boulder. There are several – at least ten off the top of my head. But not all sushi restaurants in Boulder, Colorado are created equal. It didn't take long before I zeroed in on my favorite.

sushi tora in spring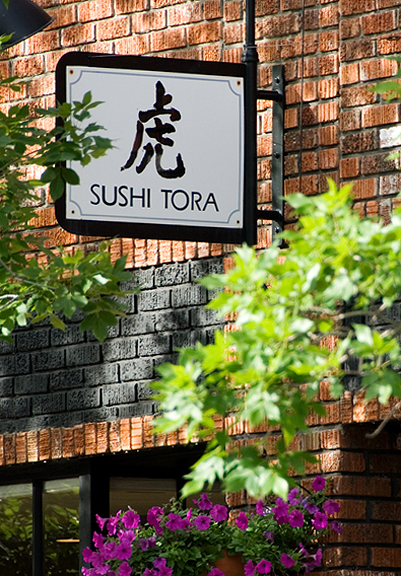 Sushi in Boulder is not inexpensive if your reference point is a major city on a coast. Once you get over the initial sticker shock, you come to learn that there is bad expensive sushi and good expensive sushi. Sushi Tora obviously boasts the Good Sushi. I'm no expert. I just know what I like. Their fish is consistently the freshest, best-prepared, and highest quality. I should note that I'm more of a sashimi and maki girl than a nigiri girl. It's where I take out-of-town guests who have a hankering for sushi. It's where I take my parents. They LOVED Tora and my folks are the first to wrinkle their noses and point out when a restaurant doesn't serve satisfactory food (that's where I get it from). I had to forgo sushi during my chemotherapy in 2008. Can you guess the first place we went for dinner when I got the all-clear from my oncologist? Tora, of course!
kampachi (amber jack) crudo with tobiko, orange oil, garlic, pepper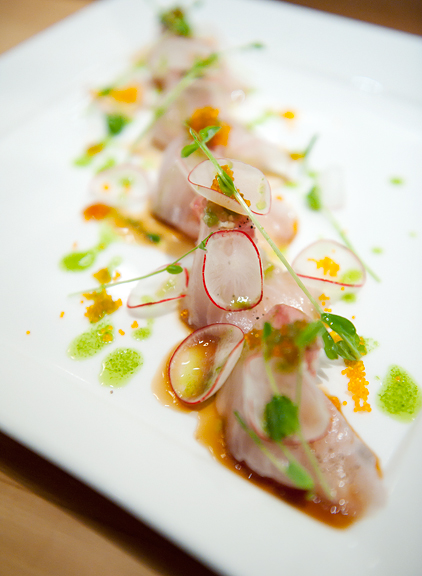 There have been some changes since I started going to Sushi Tora in 2006. Change in ownership for one. Change in head sushi chef too. For the past few years, my dining schedule has been pretty busy with so many places to choose from. I try to keep the variety alive and well. I'd go to sushi for more lunch meetings than anything else and that was always easier at the tables than at the bar. Sitting at the bar is the finger on the pulse of a sushi joint – sitting at a table is neither here nor there, but my white friends tend to prefer it. I saw the changes, but they didn't register in my head until I was invited to come in and meet the new chefs last December. I'm slow on the uptake, okay.
beef short rib and cabbage fried wontons with sweet soy sauce and spicy mustard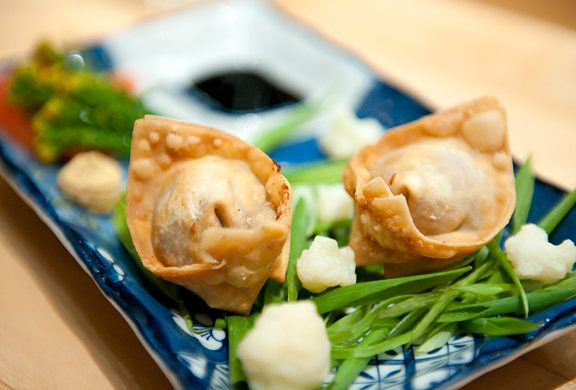 pork and ginger gyoza with ponzu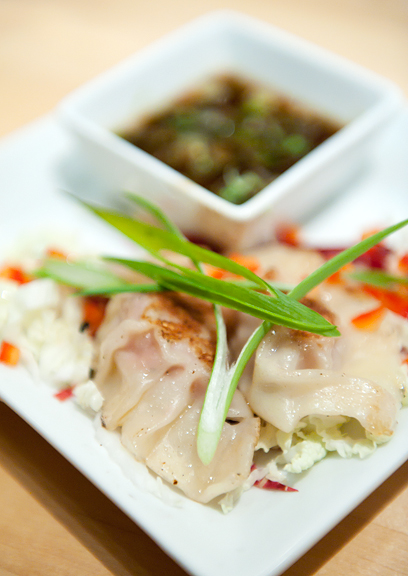 Head Chef Ray Srisamer and Chef Brian plated up some of their newest dishes for Jeremy and myself when we sat down at the bar. There is no doubt in my mind that these gentleman know their fish, understand how to create a fine plate, and are very good at what they do. Ray asked us what we generally like to order (sashimi, please!) and he set to work on the first masterpiece. We began with the kampachi crudo, which kinda blew our minds. The flavors and textures were quite a deviation from the traditional, yet they worked and worked well together. The presentation was gorgeous. Art. Sushi is art.
cold-smoked maplewood hamachi (yellowtail), candied garlic chips, white soy, orange oil, yucca chips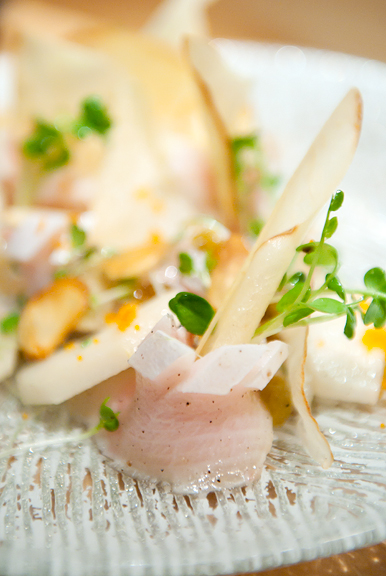 Kate, the manager at Tora, brought out two appetizers from the kitchen for us to sample. These were new to the menu: deep fried wontons with beef short rib filling and the pork and ginger gyoza. I know I'm biased about gyoza and any form of Asian dumpling because I make these myself, so it's no surprise that I thought they were fine… nothing mind-bending. But the wontons were terrific and different, filled with tender, succulent beef. I probably wouldn't order them myself as we aren't huge fans of kitchen menu items when we eat sushi, however these are sure to please. Next came the cold-smoked maplewood hamachi dotted with candied garlic chips (these were worth noshing on by themselves!), white soy sauce, orange oil, and yucca chips. I love hamachi. Yellowtail is my favorite. If a sushi bar can't serve good hamachi, it is dead to me. I've had hamachi at Tora countless times before and I love it there. So it pained me to feel so lukewarm about this hamachi. The smoked flavor was great. The firm texture was just right. Combination of flavors and ingredients – lovely. But it wasn't what my brain and tongue wanted. They wanted to appreciate that buttery smooth hamachi as it melts all over your mouth.
hon maguro zuke don (soy marinated blue fin tuna), fuji apple, fennel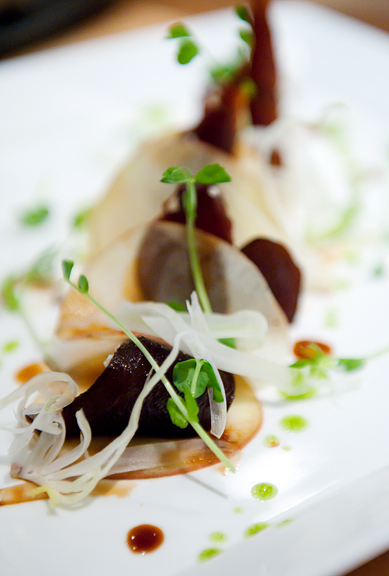 Ray and Brian asked what sorts of ingredients we liked and what sorts we avoided. I set one basic ground rule: no cheese and no cream cheese on my sushi. That just doesn't jive for me, but hey – I'm Chinese! They rolled out the hon maguro zuke don with thinly sliced fuji apple, and fennel. It was fine. I liked the apple and fennel more than the tuna because I prefer unadulterated tuna to the marinated kind which has a denser, drier chew to it. Our last dish for the evening, took some convincing, but Brian swore that goat cheese really lights up this plate.
maguro (tuna) with haystack goat cheese, fuji, pumpkin seed oil, soy-vinegar, sprouts
My one word for the tuna with goat cheese? Smooth. I think the pumpkin oil really tied it all together for me and because of that earthy flavor, the goat cheese worked. Certainly, it was worth it to try and I think these fellows create equally beautiful and satisfying plates. They are creative and new to me. But what I really want in my sushi bar is consistently fresh, high-quality fish that is well-prepared. I suffered notoriously awful service at my favorite sushi bar in South Pasadena for years because the fish and the chef were THAT GOOD. Jeremy and I left Sushi Tora that night feeling conflicted. I understand they wanted to introduce us to the new menu, that they are wanting to expand and set themselves apart from the other sushi bars in Boulder. That's fine.
chef ray presents beautiful hamachi before serving it to a fellow patron at the bar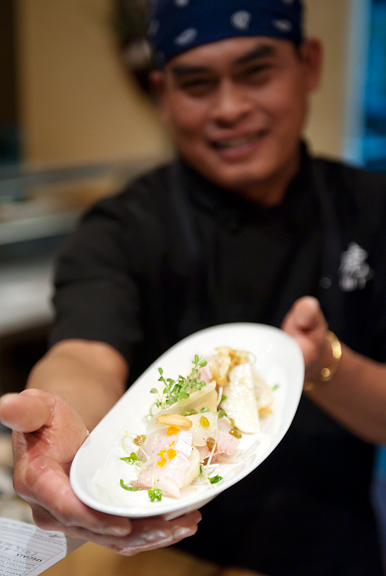 I think Tora did that exceedingly well in the past based on their fish alone. But who knows? The new menu items are so visually stunning and different, they may appeal to new customers. They may appeal to old customers. The dishes certainly took my brain and tastebuds on a fun and exciting ride, but they don't appeal to me
enough
to drag my order away from my favorites. And I have a long list of favorites at Sushi Tora. I have since returned and reverted back to my old habits. Call me boring. You already knew I was a creature of habit. I develop strong loyalties and Sushi Tora is one of them.
ahh, lovely sashimi – don't ever leave me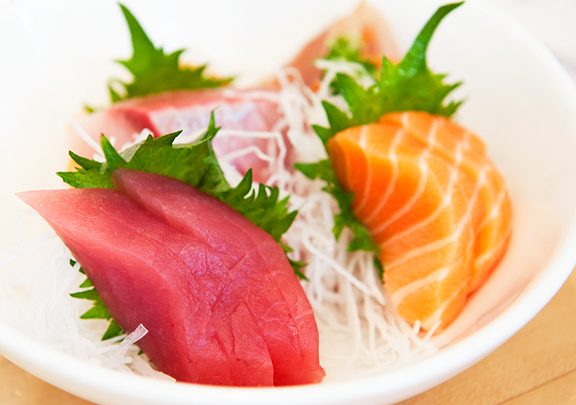 Kathya
asked me on twitter one day who had the best sushi in Boulder and I replied without a doubt, it was Tora. She had a client shoot in town recently and I suggested we meet up for lunch – at Sushi Tora. No need to piddle with any of the other joints in Boulder because life is short and we don't screw around. We sat at the bar and Ray expertly prepared our order. We shared some sashimi, maki, nigiri, and hama kama (grilled yellowtail collar) and we were sooooo happy.
maki and nigiri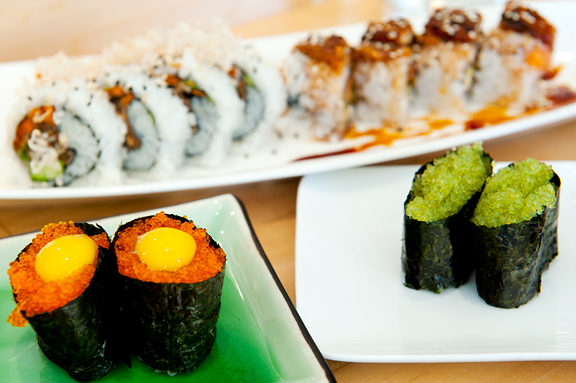 Perhaps Sushi Tora is different things to different patrons. In fact, I'm sure it is. The new menu is nice and all, but you guys already won my heart on your old menu. I don't mind if you have a little fun here and there as long as you keep coming home to me.
Sushi Tora
2014 10th St
Boulder, CO 80302
Ph: 303.444.2280
Twitter: @Sushitorabldr
Facebook: Sushi Tora fan page

Full Disclosure: Jeremy and I received a complimentary meal that included the first seven food photos above. I was under no obligation to positively review or write up Sushi Tora.