Recipe: chocolate pots de crème
This was supposed to be a rip-roaring weekend at the House of Butter (or rather, outside of the House of Butter, but you know what I mean). Unfortunately I dashed those plans on the Rocky Shores of Disappointment because I got an infection. Nothing that antibiotics won't take care of, but it's a bummer nonetheless. Since I am not supposed to be exposed to direct sunlight during the course of my meds, I worked through the weekend as best I could and managed to discover the surface of my desk. Whoa! That's a good feeling, especially when I had resigned myself to living with Mount Disaster until mid-November. Jeremy kept me company and worked on his research (and even did some massive internal maintenance on this blog). Kaweah was bored out of her gourd.

le sigh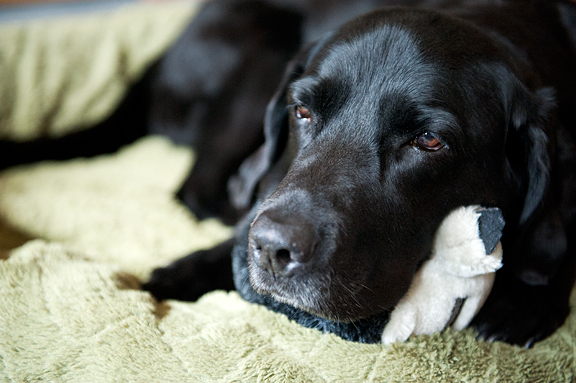 We have had a few spates of fall-like bordering on wintry weather around here. New snowfall in the high country has painted the high peaks with a light coat of white. Per Colorado's typical cycle, the next day was sunshine and blue skies – you know, to make the snowy peaks even prettier. Fall around here is less of fall and more of a tug-of-war between the last vestiges of summer and the raucous arrival of winter with some beautiful golden aspen littered throughout the mountains. Fall is also when I can tolerate chocolate again. I can't deal with chocolate in summer. Don't want to work with it, don't want to eat it. But as soon as the weather cools down, my thoughts around chocolate become less hostile… more friendly like.
chocolate, milk, eggs, vanilla bean, sugar, cocoa powder
split the vanilla bean and scrape the seeds out
pouring milk into a saucepan with the vanilla bean and seeds
When I was making these chocolate pots de crème, Jeremy asked what it was. I replied they are chocolate custards.
jeremy: Like crème brûlée?
me: No, there is no burnt sugar on top.
jeremy: Like flan?
me: There is no burnt sugar on the bottom.
jeremy: So it's like crème brûlée without the burnt sugar?
me: Uh, sure.

two eggs, one yolk
whisk sugar into the eggs and egg yolk
temper the hot, steeped milk into the eggs
To be honest, I didn't know what chocolate pots de crème were. I had an idea, but had never had one before and had never made it before. With the scorching days of summer a mere faded memory, I thought it was time to try it out… see what the fuss was about. The recipe itself is quite simple. I think with most recipes, you're halfway to success if you use good quality ingredients. All of my ingredients were organic except for the chocolate (Callebaut) and the cocoa powder (Droste). But what had me scouring the interwebs was the question of whether or not I could bake them in dainty porcelain rather than ovenproof ramekins. I found my answer from a
trusted source
.
mix in the melted chocolate
pour into vessels
add hot water to the baking pan
A kitchen towel at the bottom of the baking pan keeps your vessels from touching the hot pan. This prevents a large thermal gradient from building up in the vessel and possibly causing it to crack. Keeping the temperature low (300°F) will also help to prevent thermal stress on the vessel. Bear in mind if you use a hodgepodge of tea cups and ramekins and demitasses, that they will be done at different times. Physics dictates it thus. Also, pour the hot water into the pan near the tallest vessel so you don't have water billowing up and over the sides of the smaller ones. Ask me how I know this.
The centers should still jiggle just a touch when they are done, but don't worry – they will firm up. Remove them from the oven and let them cool, then refrigerate them for a couple of hours. A smooth and creamy chocolate custard is hard to beat. I'm quite partial to the itty bitty ones.

just the right size for a treat
chocolate velvet
Chocolate Pots de Crème
[print recipe]
slightly modified from La Tartine Gourmande
2 eggs
1 egg yolk
1/3 cup sugar
2 cups whole milk
1 vanilla bean, split open and seeds scraped out
100 g dark chocolate
2 tsps unsweetened cocoa powder
Place the milk, vanilla bean pod, and vanilla bean seeds in a saucepan over high heat. Let the milk come to a boil, then turn off the heat and cover the pan with a lid. Let steep for 30 minutes. Melt the chocolate in a double boiler and set aside until ready to use. Preheat oven to 300°F. In a medium bowl, beat the eggs, egg yolk and sugar together. Reheat the vanilla and milk until just boiling and remove from heat. Slowly add a little of the hot milk to the eggs while whisking to temper the mixture and to avoid cooking the eggs. Keep adding the hot milk until it is fully incorporated into the eggs. Add the melted chocolate and cocoa powder to the milk. Pour the custard into individual ramekins or tea cups. Skim the foam off the tops of any of the custards. Place the custards vessels in a baking dish or roasting pan and fill the pan with hot water until the vessels are half immersed, taking care not to let water spill up and into the custards. Bake in oven for about 30 minutes, depending on how large your custards are. When they are done, the middles should jiggle slightly, but the edges should be firm. Remove the custards from the oven and let them cool in the water bath. Cover with plastic and refrigerate before serving. (They'll firm up more in the refrigerator).