Recipe: tonkatsu (japanese pork cutlet)
The fall shoot is yellow-overload for me. I tend to go where the aspens are and that means gold against dark pine green here in Colorado. It took some getting used to since I grew up on the East Coast and spent many a graduate school year in the northeast where maples are ablazing in glorious reds, oranges, yellows. That's not to say that we don't have our share of the reds here. We do! Those plants that gave us glorious wildflowers in summer do double duty and provide striking splashes of red in the backcountry as evidenced on a recent hike.

sticky geranium leaves turning red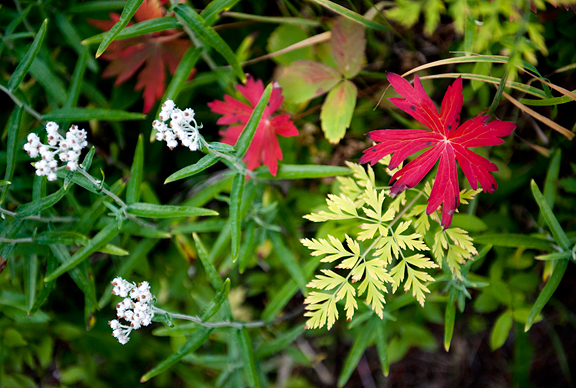 more sticky geranium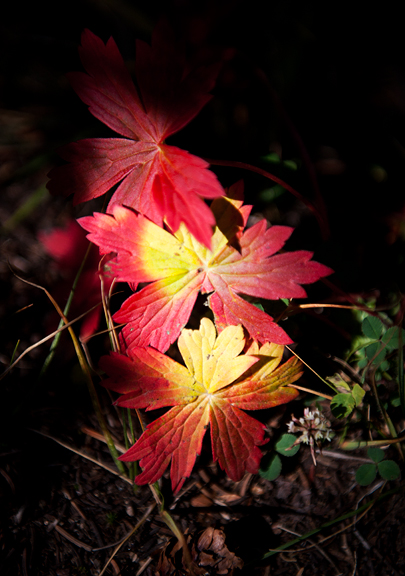 columbine leaves growing in a rock crevice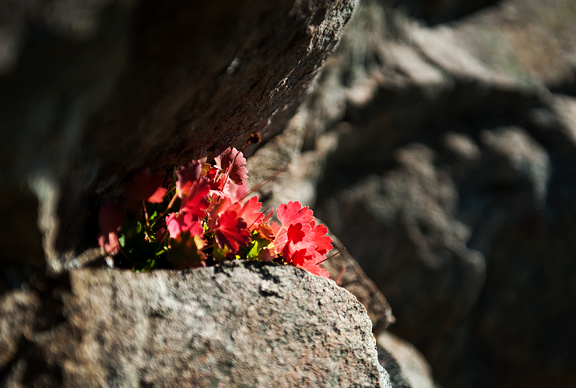 fireweed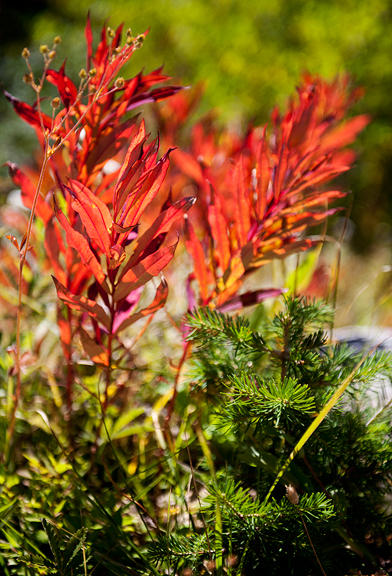 king's (or rose?) crown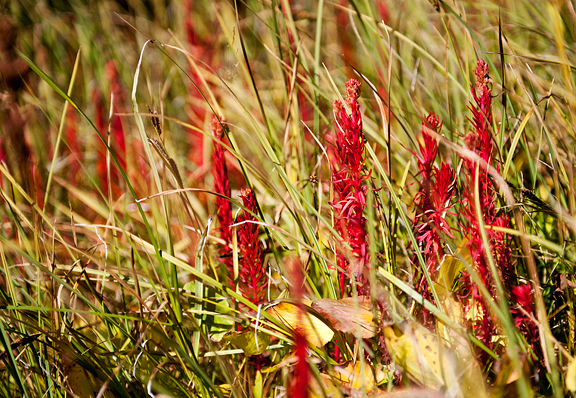 September has always been my favorite month because it is my birthday month and my birthday usually coincided with the first day of fall. The first day of fall is an abstract concept in places like southern Virginia. But in Colorado's high country, fall plays for reals and I love it. Jeremy and I got to the trailhead in the dark and hiked via headlamps for the first hour in sub-freezing temperatures. When the sun made her intentions known, we shut off the lamps and admired sunrise from a high vantage point. We continued on and marveled at the frost that encrusted the ground, the plants, even the tiny late season wildflowers. Alpine plants are
tough
. Coming around a bend in the trail, I looked up and gasped, silently grabbing Jeremy's arm as he walked up behind me. In the bluish light of dawn under the forest canopy stood an enormous bull moose. He was massive and towered above us even 20 feet away. At once, the moose reared its head up and back, the entirety of its enormous body flowing fluidly behind the head and diving into the woods, silently and effortlessly.
sunrise on the valley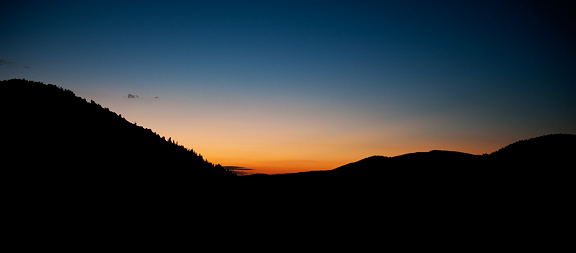 the frost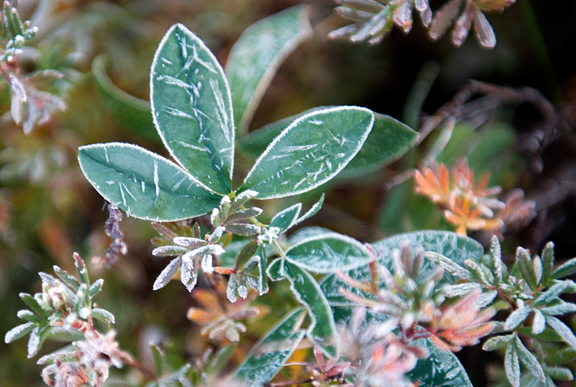 jeremy walks ahead of the sun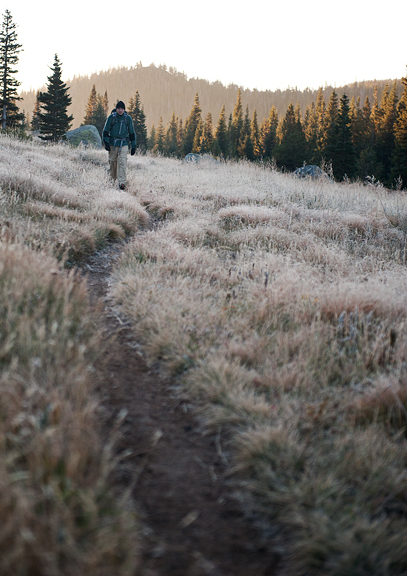 We heard bull elk bugling in the distance and saw a handful of mule deer feeding in the meadows. It's a busy time of year for everyone. While we are secretly doing our snow dances every day, this is our favorite weather for hiking when you can see your breath on the air into mid-morning and the sun is regarded as a welcome friend rather than an oppressive tyrant.
a few of the early aspens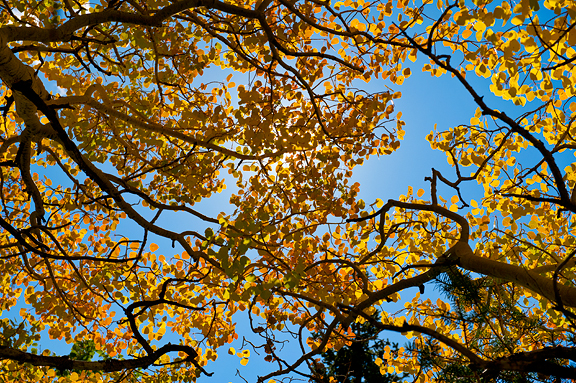 a few snowfields linger in the chutes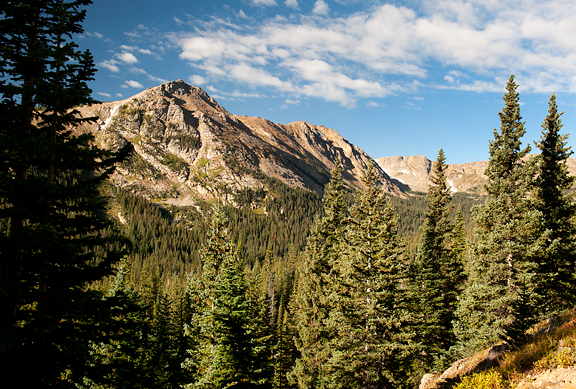 After a hike, we're always hungry because we rarely eat much for breakfast (it's hard to stomach much food at 4am) and we typically graze infrequently on the trail. The temptation to make a beeline straight from the trailhead to a burger joint or the pizza shack is high, but we try to avoid it by having good leftovers at home to heat up and dig into immediately. In this case, I had tonkatsu – Japanese pork cutlet – in the refrigerator. I like to make extra because Jeremy loves it for lunch. It's a dish I've seen on just about every menu in a sushi bar, but I never ordered it because I'm such a nut about sushi and sashimi. After seeing
Marc post about it
, I bookmarked the recipe and didn't look at my bookmarks again until a few months ago.
start by slicing cabbage
and soaking it in water
A traditional accompaniment is sliced cabbage and since you soak it in water for about an hour, it's advised that you start with that step first. Once you get the cabbage soaking, break out the pork loin! Well, I used pork loin chops. You just need pork loin chops, salt, pepper, an egg, flour, and panko (flaky Japanese bread crumbs – flaky as in texture, not in terms of reliability). And oil for frying.
pork, egg, panko
trim any fat or silverskin from the pork
Once the pork is trimmed, it gets tenderized. I don't own a meat tenderizer, but that's okay. Marc's instructions said you could use the back of a chef's knife to drum across the meat in a crosshatch pattern to tenderize it. It totally worked. Just don't get carried away and fling the knife up because you know, the sharp side is pointing
at your face
.
tenderize the pork on both sides
season both sides with salt and pepper
The pork chops I used were about an inch thick and I tenderized them down to about 3/4-inch thickness. When they are all done, season both sides of each chop with salt and pepper and give it a little rub.
dredge in flour
dip in egg then dip in panko
I guess I don't really dredge the pork cutlets in flour, I coat them. It's an OCD thing, I think. I just make sure that the flour is everywhere before dipping it in the beaten egg and then rolling it in the panko. I also press the panko onto the pork to get good coverage. This is a messy fingers kind of job. Just letting you know. I try to bread the pork just before I place it in the hot frying oil. Depending on the thickness of the pork (I've done this with thinner cutlets too) the cook time will vary from a few minutes per side to 4-5 minutes per side. Use your judgment.
breaded and ready to fry
slice the cutlet
To serve, you can (you don't have to) slice the cutlet up and set alongside some drained cabbage, a bowl of steamed rice, and some tonkatsu sauce. I don't know how to make tonkatsu sauce, I just bought it from the Asian grocery store. I'm sure if you made it yourself it would be much better than store-bought. And that's it! But I still won't order it in the restaurant because I think the homemade version rocks.
simply satisfying
Tonkatsu (Japanese Pork Cutlet)
[print recipe]
from No Recipes
1/4 head of cabbage, finely shredded (use mandoline or a good sharp knife)
4 1-inch thick center cut pork chops
1 cup all-purpose flour for dredging
salt and pepper to taste
1 egg beaten
1 cup panko (Japanese breadcrumbs)
oil for frying
Tonkatsu sauce
Soak shredded cabbage in a bowl of cold ice water for an hour. This prevents the cabbage from wilting and dilutes some of the stronger sulfur odors. Trim any fat or silverskin from the pork. Tenderize the cutlets until they are about 3/4-inch thick. I don't have a meat tenderizer, but Marc said you could use a chef's knife by striking the pork in a drumming motion across the surface and repeat at 90° from the first direction to create a crosshatch pattern. Season both sides of each piece of pork with salt and pepper, then dredge in flour. Pat the flour on to ensure a good distribution. Place the beaten egg in a shallow bowl and the panko crumbs in another shallow bowl next to it. Heat about 3/4-inch of oil in a heavy pan over medium-high heat. For each cutlet of pork, dip it in the egg to coat completely, then dip it in the panko to coat completely (both sides). Press panko onto the cutlet to make sure you get good adhesion. When the oil is hot (it should sizzle when you toss a panko crumb in), carefully place the crusted pork cutlet into the oil. Let fry until the bottom is golden brown and then turn the cutlet over to fry the other side. Marc actually measures the internal temperature of the pork to 137°F in the thickest section to determine when it's done. I just go by color of the cutlet. Remove the cutlet from the oil and set on a cooling rack or paper towels to rest for 5 minutes. Slice the tonkatsu or leave whole. Serve with drained cabbage, steamed rice, and some tonkatsu sauce. Serves 4.