Recipe: albóndigas soup
With the arrival of each new month, I have a little routine of running through the house flipping all of our calendars. We have several calendars just like we have several clocks, because I'm all time-conscious. I could have sworn it was just yesterday that I flipped to November. Is this what happens when you get old?! December is going to be a good month, because I say so. We already have an inch of highly-anticipated snow on the deck as I type. I am hoping December will make up for what November was lacking in blessed frozen precipitation. And then I have my schedule of handmade gifts for those people that have been very good to us like Kaweah's Camp Crazy, our Subaru service team, the local post office (yes, even the ornery employee), Jeremy's administrative staff, our vets, and my oncologist (the best one in the whole wide world). It just so happens that we'll have new toys of our own to break in this month.

(left to right) my waxless touring skis, my teles, jeremy's teles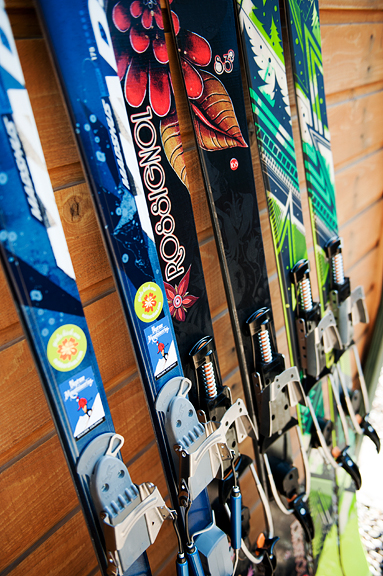 While I'm ridiculously excited to have all of this new gear, I'm also grateful that we only upgrade our skis every four to five years because we're having bread and water for the next 12 months. Actually, it's been 13 years since we upgraded our waxless touring skis and let me just say, technology can be a beautiful thing when you wait a decade.
So earlier this week I was sitting at my desk one morning, typing emails in a horrible posture when Jeremy said, "Come look at these birds in the yard!" I jumped up from my seat and *twang*. My back has been recovering rather quickly. Although it feels slow as hell to me, I recognize that going from being unable to stand to being able to ride my bike in 48 hours is definite improvement. This has happened before in the past, so I know what works. Ice is my friend. Say it with me, everyone. I ice my back a couple of times a day, lying with my back on the floor, legs bent at 90 degrees and calves resting on a chair. I lay a quilt and pillow on the floor, then go to the freezer to get my ice pack. And without fail, upon my return there is a little occupy movement going on. Every. Single. Time.

hey, thanks for setting this up for me!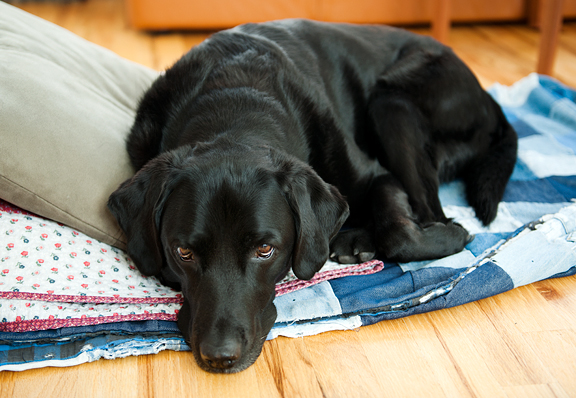 I make her move, but only enough for me to lie down next to her. Kaweah loves it when people get on the floor because she thinks they're going to play. We had to establish that there was no playing going on while I iced my back. She settles for resting her head on my stomach and cuddling, periodically raising her head and sniffing around to check for treats (I know, she's crazy – she is food obsessed 24/7). She's become incredibly sweet in her old age.
We are having a lot of soups and stews in this house and it is without a doubt very absolutely awesome amazing. I load them with vegetables, they serve us for several meals, and the cooking warms the house with wonderful savory aromas. I had a batch of navy bean soup on the stove this evening as the sun dropped below the Continental Divide. There were nice clouds that I expected to light up on the bellies, but they were duds – gray, lifeless. I stood at the windows tapping my foot on the ground and scrunched my mouth to one side. Back to the soup… But you know, there is a reward for patience. Most of the time, it is a fizzle, but I kept checking every 20 minutes and after nearly an hour past local sunset, I started to see a yellow glow. This was a good sign. I took my photo equipment out onto the deck. I set up my gear while watching pale yellows become golds which touched off oranges, pinks, and reds that painted these textured cloudscapes. Kaweah ambled about the deck checking the grill for any overlooked goodies. The clouds were not high, they hugged the horizon but stretched from east to west (as far as I could see). Even though most people think they need a wide angle lens to capture something big, I find I use my telephoto zoom as much as my wides if not more so.

seven image pano stitch

like fire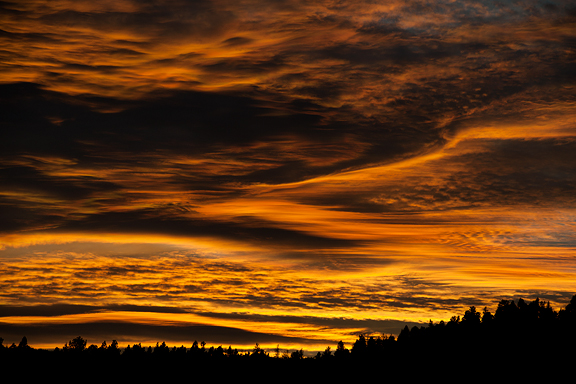 eerie patterns to the south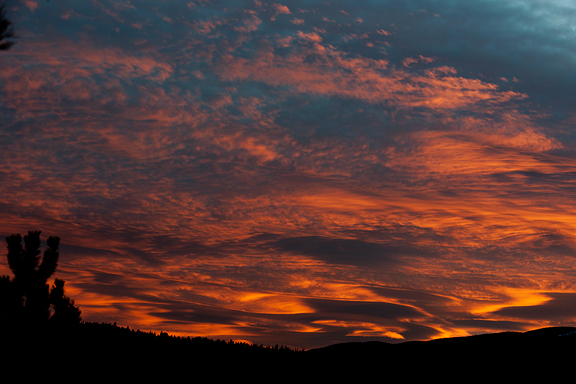 sunset rainbow of colors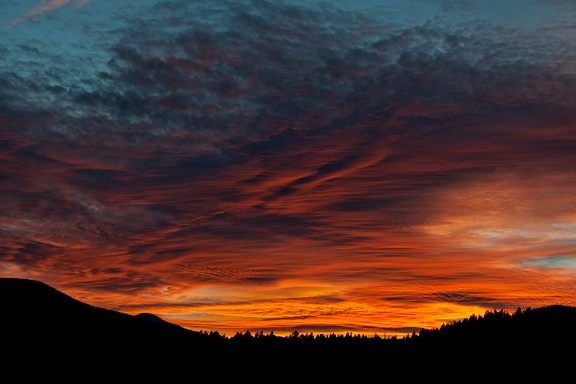 You can find the entire set
on my photoblog
.
Now back to the soups. I've had this one in a couple of Mexican restaurants when I lived in Southern California. It was a simple meatball soup, albóndigas soup. Usually the broth was thin and there were swirls of cabbage, carrot, and onion floating about with a grain of rice here and there alongside three small meatballs. I found it comforting despite how plain it was and how cheaply it was made. I didn't know it was cheaply made, I just thought they were all this way. At some point my mother-in-law gifted me this terrific New Mexican cookbook – The Border Cookbook, which I didn't really cook from until my in-laws moved from New Mexico to Colorado and my supply of good New Mexican fare was cut off. When we moved to Colorado, I began to tag recipes until the book looked like it was growing a thick lawn of bright pink post-it tabs out the top. I had albóndigas soup marked forever and I finally made it this week.

soup base: carrots, zucchini, onion, cumin, oregano, rice, salt, garlic, chipotle chiles in adobo sauce, tomatoes
everything is chopped, shredded, ground, or minced
adding broth, tomatoes, carrots, chiles to the sautéed onions, garlic, and spices
This version is far heartier than those token bowls of albóndigas soup I got at restaurants. Loaded with vegetables and a good amount of spice, I couldn't wait for it to finish cooking. The meatballs are made with beef and pork, but the book says there are some variations depending on region. You could use chicken instead of beef, and some meatballs are wrapped around a pitted green olive. Instead of a crumbled corn tortilla, you could use rice, cornmeal, or breadcrumbs for the binding agent. Some regions add macaroni to the soup rather than rice. So it appears that anything goes – as long as it goes in your belleh.
cilantro, garlic, corn tortilla, beef, pork, zucchini, spices, egg
place it all in a bowl
mix it together
I don't know why, but I always have this temptation to make meatballs enormous. That might be because I'm a
lion's head meatball
kinda girl. My dad makes the best ones. Anyway, I was *really good* about keeping these small, about 3/4-inch in diameter. I wound up with about 28. The recipe calls for cooking them in boiling water for 3-4 minutes to reduce the grease. Word. Timing-wise, it all works out great. Mise en place the soup and while that is simmering for about 20 minutes, prep and make the meatballs. By the time the meatballs have been cooked and drained, it should be time to plop them into the soup along with the zucchini and rice. Let that simmer for 30 minutes and you're golden!
forming meatballs
cooked and drained
last step – add the meatballs, zucchini, and rice
Okay, that's not the last step. The last step is scarfing down a bowl of this fine soup. The chipotle chile and adobo sauce give it a rich smokey-earthy flavor with just a hint of chemical heat. I only added one teaspoon of the sauce because I was afraid of making it too spicy for Jeremy (he likes the spice, but as we get older, our bodies start stickin' it to us). The meatballs are tender and meaty, although I can really taste the corn tortilla in there and I love it. If you have this the next day, expect the rice to have soaked up a good deal of the liquid. Add more water, reheat, and enjoy. It's lovely.
that's not a margarita, but if it makes you happier, go ahead and pretend it is
chocked full of goodness
Albóndigas Soup
[print recipe]
from The Border Cookbook by Cheryl Alters Jamison and Bill Jamison
soup
1 tbsp vegetable oil
1/2 medium onion, chopped
3 cloves garlic, minced
1/2 tsp dried oregano, preferably Mexican
1/4 tsp cumin seeds, toasted and ground (or ground cumin)
6 cups beef stock
2 cups crushed tomatoes
1 canned chipotle chile plus 1-2 tsps adobo sauce
2 carrots, grated
1 tsp salt
1/2 cup grated zucchini
1/4 cup uncooked rice
albóndigas
1/2 lb ground beef
1/4 lb bulk chorizo or ground pork
1/4 cup grated zucchini
1 egg
1 clove garlic, minced
1 stale small corn tortilla, processed to crumbs
1 tbsp fresh cilantro, minced
1/2 tsp salt
1/4 tsp cumin seeds, toasted and ground (or ground cumin)
1/4 tsp dried oregano, preferably Mexican
Heat the vegetable oil in a large stock pot over medium heat and sauté the onion, garlic, oregano, and cumin until onions are soft. Add the beef stock, tomatoes, chipotle, carrots, and salt. Bring to a boil then reduce to a simmer (medium-low heat) for 20 minutes.
Make the albóndigas: Combine all of the meatball ingredients in a bowl and mix well. Pinch off about a tablespoon of filling and roll it into a ball about 3/4-inch in diameter. Bring 2-3 inches of water to a boil in a medium to large saucepan. Add the meatballs and boil for 3-4 minutes (this is for reducing some of the grease). Drain the meatballs and discard the water. Add the meatballs, zucchini, and rice to the soup and simmer for another 30 minutes. Serve hot and garnish with chopped fresh cilantro and mint. Serves 6.