Recipe: chinese lion's head meatballs
Have you entered to win a scarf made by yours truly yet? You've got one more day. And even if you live in let's say, a volcano, you can always give the scarf as a gift to someone you like! Or you could give it to your sworn enemy as a gesture of good will as opposed to a swift kick in the shins. Just sayin'.
Jeremy and I attended a tweet up in Boulder Tuesday evening at Centro hosted by Rick Bakas (follow on Twitter @RickBakas) and St. Supéry. I know it seems backwards, but Twitter has kept me connected with many of my global blog friends while introducing me to several local people – many of whom I get to meet in real life (IRL) at tweet ups, community events, and the like. Plus, it's so nice to finally speak to these good people without having to worry about that 140 character limit.

there were five wines for tasting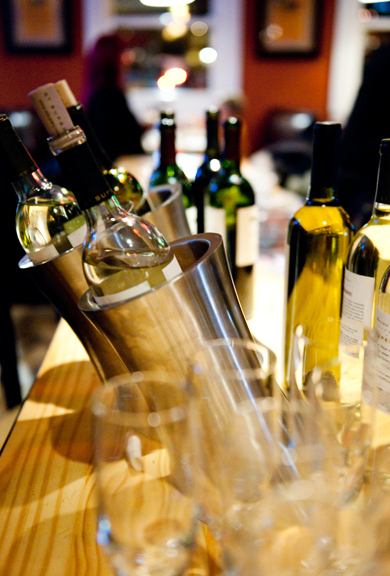 centro filled up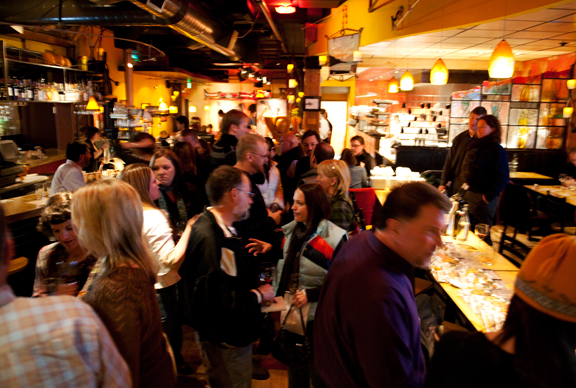 centro serves up latin fare in a lively atmosphere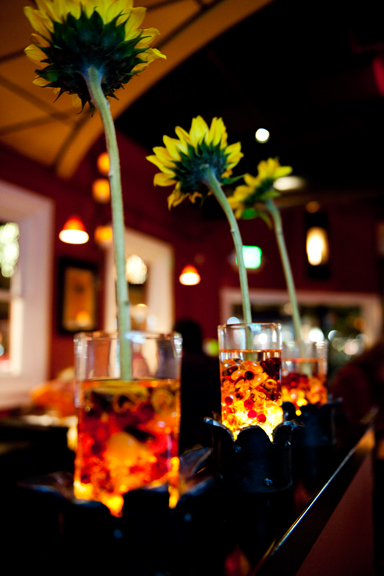 the wall o' live tweets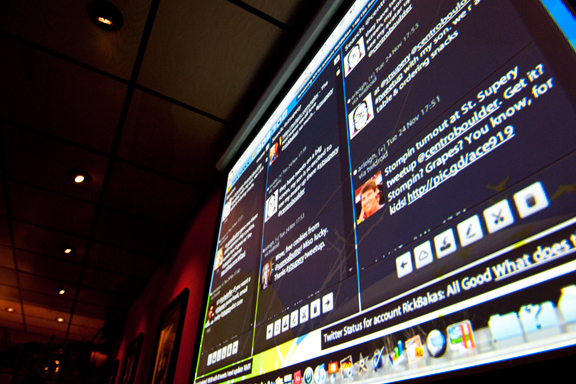 kurt heckel brings great wines like st. supéry to all of colorado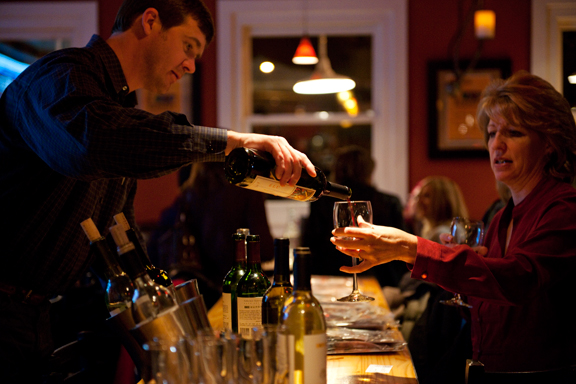 Thanksgiving is just around the corner and I have done zero with respect to Thanksgiving dinner. I'm not all that worried. I know we'll have dinner, but it won't be a Thanksgiving dinner this year. It will be… dinner (something that swims or at least used to swim). The thought of a giant meal makes me sleepy which in turn makes me want to go play in the snow and burn a lot of calories. Hey – no one ever said I made any sense! My Dad has been known to boycott the traditional turkey ever since I left home for college, so it isn't all that out of character for me to follow in his footsteps.
A specialty that my dad makes is called Lion's head meatballs. These are giant Chinese pork meatballs that are tender, full of flavor, and very moist. Two years ago when I was at my parents' home, I asked my dad to show me how to make the recipe and it took me a couple of tries to get it right in my own kitchen. It's one of Jeremy's favorite dishes and my parents always make some whenever we visit.

ground pork, green onions, ginger, bamboo shoots, chinese mushrooms
coat the meatballs in flour
The trick to really tender meatballs is to add chicken broth to the pork meat. You wouldn't expect the mixture to hold that much liquid, but it does! My dad adds just enough until the pork filling is nearly at capacity. That's living life on the edge. He also likes to make the meatballs somewhere in the neighborhood of a half pound each. My mom prefers to make them smaller because they're more manageable and they run a lower risk of falling apart during the cooking process. When I discussed this with my folks, my dad informed my mom that these were lion's head meatballs, not kitty cat's head meatballs. My dad cracks me up. I tend to make them smaller, like 1/4 to 1/3 pound each.
gently frying the meatballs to get a good brown outer layer
the fried meatballs nestled in a bed of napa cabbage
The frying – oh how I hate the frying. My parents have a great outdoor cooking range set up on their deck whose BTU output leaves my kitchen range in the dust. Still, it's very doable in your kitchen as long as you don't mind the utter mess it makes. Once the meatballs are fried to a golden brown, they are gently removed from the hot oil and placed in a tall dish or pot lined with napa cabbage leaves. Mom and Dad use a tall Corningware dish which they cover and bake in the oven and then steam in their giant steamers. I discovered that placing mine in a Dutch oven and baking in the oven or simmering on the stove works as well. Just make sure there is enough liquid from the sauce to braise the hell out of everything and you're pretty much good to go.
sautéing ginger and green onions
simmering the sauce
The sauce is mainly ginger, green onions, chicken broth, soy sauce, sesame oil, and tree ears. You can find tree ears dried in almost any Asian market or fresh in the really good Asian markets and at some gourmet non-Asian grocers. Don't omit the tree ears. They become melt-in-your-mouth amazing in this dish. The napa cabbage is also phenomenally good because everything absorbs the combination of flavors from the meatballs and the sauce and the vegetables.
pouring the sauce over the meatballs before steaming
after steaming
My dad says if the meatball is dry and grainy then, and I quote, "you have failed." The meatball should be tender and almost creamy. Dad tells me (because he is constantly experimenting) that if you really want a creamy texture, add some soft tofu to the pork mixture. My aunt, who is another amazing cook (see, they're everywhere in my family) has adapted the recipe for a vegetarian version. She replaces the pork with a combination of tofu and minced yiu-tiao (Chinese doughnut that is neither savory nor sweet and is really only found in the better Asian markets). I've had it before at her house and the vegetarian version rocks as much as the carnivore version.
serve with steamed rice
Chinese Lion's Head Meatballs
[print recipe]
2 lbs. (1 kg) ground pork
1 cup (100 g) green onions, minced
1/4 cup (23 g) ginger, minced
1 cup (220 g) Chinese black mushrooms, rehydrated, trimmed, and minced
1 cup (155 g) bamboo shoots, minced
1/4 cup soy sauce
2 tbsps sesame oil
2 tbsps Chinese cooking sherry (shao xing)
dash white pepper
salt to taste (I used about 1 tsp)
2 tbsps flour
2 cups chicken broth
1 cup flour for dredging
vegetable oil for frying
8-12 whole leaves of Napa cabbage
sauce
3 stalks green onions, cut into 1-inch slices
2-inch piece ginger, cut into thin slices
2 tbsps soy sauce
dash sesame oil
1/2 tsp sugar
1 tbsp Chinese cooking sherry (shao xing)
3-4 cups chicken broth
1 cup Chinese tree ears, roughly chopped
1-2 tbsps cornstarch
Make the meatballs: In a large bowl, mix the pork, green onions, ginger, mushrooms, bamboo shoots, soy sauce, sesame oil, Chinese cooking sherry, white pepper, and salt together. Sprinkle the 2 tablespoons of flour over the pork and mix well. Pour a little chicken broth in at a time, mixing the liquid into the filling. Keep adding and mixing – it should hold together. Cover the pork and place in the freezer for 20 minutes. Heat 2-3 inches of vegetable oil in a medium saucepan or a large wok to 350°F. Place a cup of flour in a shallow bowl. Remove the pork from the freezer and quickly mold 4 large meatballs or 8 smaller meatballs. Gently coat a meatball in flour and use a large spoon to ease it into the hot oil. It will bubble and splatter, so be careful (this is when you really don't want to have used a pan that is too small or it will boil over). Let it fry for 3-4 minutes and then gently turn it over to fry the other side for another 3 minutes until the outer layer holds the shape of the meatball. Remove from the oil with a slotted spoon and set on paper towels. Repeat with the remaining meatballs making sure they don't break apart when you handle them.
Make the sauce: In a clean medium saucepan over high heat, heat a tablespoon of the frying oil and sauté the green onions and ginger together until fragrant. Add the soy sauce, sesame oil, sugar, sherry, and chicken broth. When the liquid comes to a boil, toss in the tree ears. Mix the cornstarch with a little water (like a few tablespoons of water) and add it to the sauce – stirring the mix in to help thicken it. Turn off the heat.
Assemble: In a large baking dish with a lid or an ovenproof pot with a lid (Dutch oven works), arrange the cabbage leaves on the base so that the leafy parts radiate outward. Place the meatballs on top of the leaves and pour the sauce including all of the tree ears, ginger, and green onions over the meatballs. The liquid should cover 1/2 way up the meatballs. Close the lid. You can either bake in a 350°F oven for an hour or set the pot over a stove to simmer for an hour. Serve hot with rice.