Recipe: pumpkin peanut butter dog treats
Dogs have such great attitudes. They're always happy, always hopeful, always up for anything. Maybe not ALL dogs, but most dogs – especially the ones I meet on the trail or at the beach or basically anyplace outside. We have one of those happy, hopeful pups. I swear she makes every day that much better with her wagging tail, sweet disposition, and general goofiness.

rejoicing in the snow (just like her people)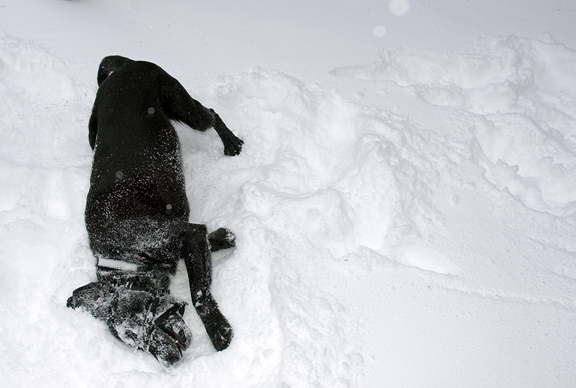 People often ask what we feed Kaweah, because she has a shiny, healthy coat. Iams. We used to feed her regular Iams, but now she's on Iams for "mature" dogs. However, her dog food doesn't make her coat shiny. Genetics makes her coat shiny. Kaweah comes from good stock and we see that more and more as she ages. She's been a healthy dog for her 13+ years. It helps that she's got great muscle tone and isn't overweight. Of course, given her druthers, Kaweah would eat 24/7. The act of eating a treat (or anything for that matter) is probably Kaweah's favorite activity. So we try to maximize the joy by giving her little treats. She's not smart enough to realize that five little treats are less than five giant treats.
ready for a treat after an icy, cold swim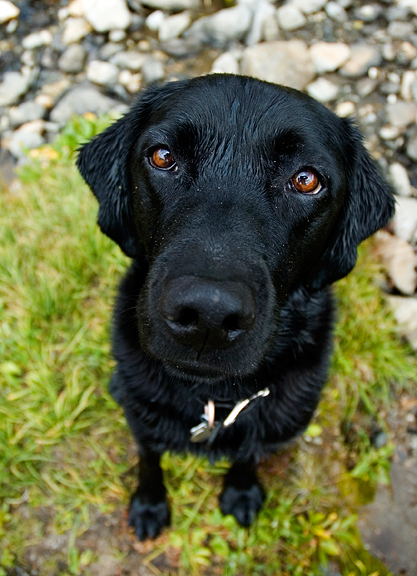 Store-bought dog treats are not inexpensive, so I started making treats for Kaweah at home. The good news is that they are way cheaper than store-bought treats and really easy to make. The better news is that she loves loves loves these treats.
whole wheat flour, eggs, pumpkin purée, peanut butter
mix it all together
I got this recipe from my friend,
Anita
. When I saw her last fall, she gave me a little bag of homemade dog treats to give to Kaweah. As any self-respecting Labrador Retriever would, Kaweah gobbled them down with gusto. I mean, more so than usual. I had made dog treats in the past, but the dough was a pain to handle and I didn't really like the recipe. Anita's recipe is healthier and includes pumpkin, which is good for pups.
it mixes into a leathery dough
form a ball
This dough is far more forgiving and easy to work with. It comes together in no time with a stand mixer and it wasn't too sticky. Now, I'm always doing something in the kitchen and Kaweah's level of interest varies from complete obliviousness (when I make people cookies) to rapt attention (when I'm working with raw meat). Maybe it was the peanut butter, but she was on me like static cling from the moment I started making these treats.
roll out the dough
pick a cutter
I chose a little 1-inch heart-shaped cutter for her biscuits. You can make them as big or as small as you like. Jeremy informed me that I could save some time by cutting straight lines in the dough with a knife. I looked at him, shocked and wounded, "But they TASTE better when they are heart-shaped!" I was kidding, sort of. I wad the scraps together, roll them out, and cut more hearts until there's no more dough.
cut out the shapes
line them on a baking sheet
The great thing about this dough is that it doesn't spread when you bake it, so I was able to pack 50+ hearts on my baking sheet. They do puff up, but they won't go melting into one another. A single batch yielded 100+ adorable, heart-shaped biscuits. Anita bakes her dog treats to a soft and chewy texture. I want mine to be more durable to take on hikes and skis, so I baked mine for 30 minutes so they'd be hard and crunchy.
baked and slightly puffed
to say she's obsessed with these treats would be an understatement
These are Kaweah's new favorite treats. For the first few days after I made them, she would walk up to one of us, make eye contact, then point her body in the direction of the pantry closet (where we keep her treats). If we moved in that direction, she would walk in place with anticipation in front of the pantry door. Crazy pup. Crazy, happy pup.
moments before a giant stream of drool dripped from her mouth
Pumpkin Peanut Butter Dog Treats
[print recipe]
from my dear friend Anita at Dessert First
2 1/2 cups whole wheat flour
2 large eggs
2/3 cup pumpkin purée, canned or fresh
3 tbsps peanut butter
Preheat the oven to 350°F. Place all ingredients in the mixing bowl of a stand mixer fitted with a paddle attachment. Mix on medium for about a minute or until the dough looks like a bunch of little dough balls. If you pinch a piece and it crumbles, add a little water. If it's really sticky, it's too wet and you'll need to add a little flour. Gather the dough together and form into a ball. Place on a lightly floured work surface and roll it out to about 1/4-inch thickness. You can either use a cookie cutter to cut out cute shapes or use a knife to cut squares or strips. I am pretty sure the dog doesn't care, but I rather prefer the cute shapes. I gather the scraps together and roll them out again and again until I've used up the dough. Place the cookies on a baking sheet. They can be crowded pretty close together since they don't expand much. Bake 15-20 minutes for softer treats or 30 minutes for hard treats (Kaweah likes crunchy treats, just like her person – me). Let cool completely. Makes 100+ 1-inch heart-shaped dog treats.
Soft treats will last no more than a few days on the counter, perhaps a week in the refrigerator. You can try freezing them for longer storage.