Recipe: peach upside down cake
It would seem that everyone on the flats got word of the leaves turning and came in droves to the mountains over the weekend. Either that or they were looking for their final summer jaunt before the autumnal equinox arrives this Saturday. Bluebird skies and gold stands mark the start of my favorite season. We lose our daylight hours fastest this time of year.

cottonwoods gone yellow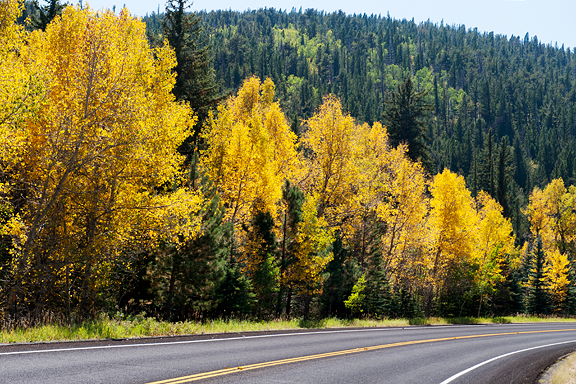 sunsets don't linger as long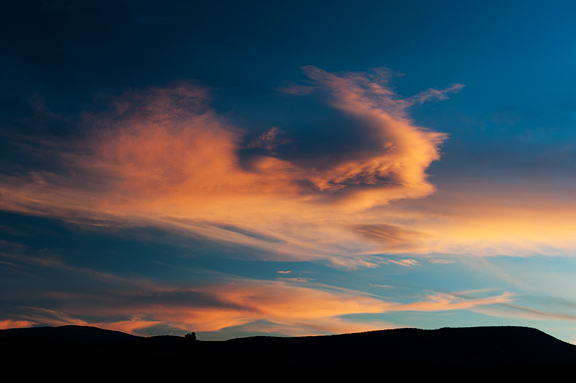 We drove in the opposite direction from most of the traffic and joined my parents for dinner at our
favorite sushi bar
in Boulder. Fall is when they leave Colorado, because they aren't big fans of winter. I think they had a nice summer here though, with all of the happy hours, exploring, dinners, lunches, visits, bottles of wine consumed, and Kaweah-time.
hamachili special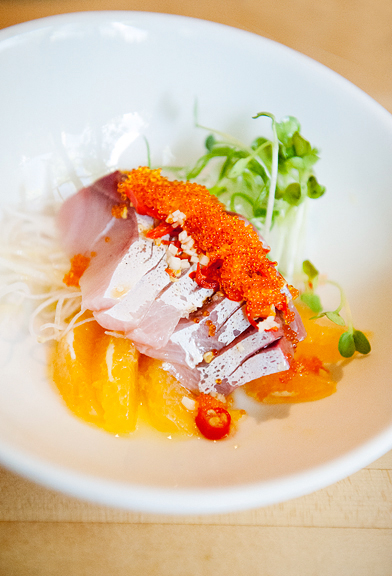 And the farmers market was abuzz with activity. People were looking to get their summer loving on, but it started to look like the season was winding down. At the northern end of the market, there was a sign where I normally bought my peaches, "Sold out! See you next year!" That was like a little knife in my gut.
greens, peppers, eggplants, onions…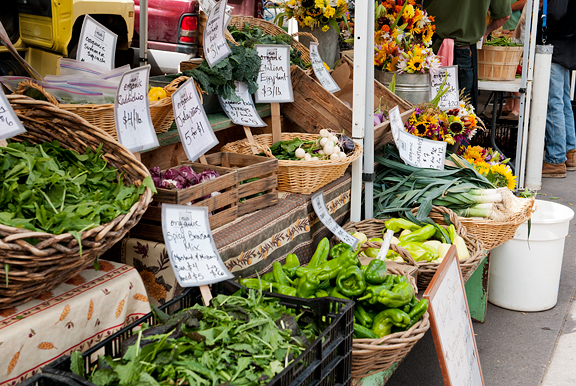 and still some tomatoes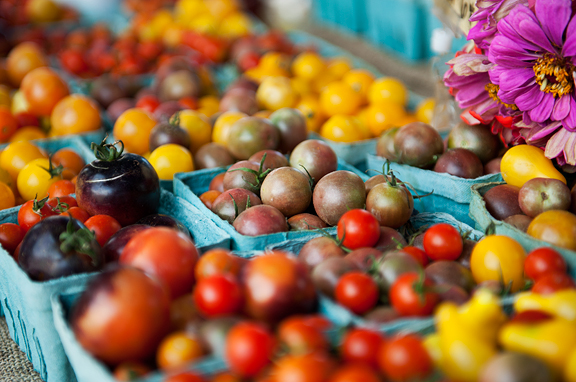 I promised if you came back today, I'd have something other than tomatoes. I did manage a few pounds of late season peaches from Colorado's western slope. Sweet, juicy, almost buttery. Panic sets in when you realize these sunshiny orbs are on their way out for the year and a sudden urge to make
yet another batch of jam
overrides all reason. I did just that and still had a few pounds left over. It's been a while since I've baked a cake…
peaches, butter, sugars, flour, milk, vanilla, eggs, baking soda, salt
There is an ever-growing list of recipes I want to make. I should say
lists
, because they reside on sticky notes – both virtual and physical, scraps of paper, notes on my iPhone, emails to myself. Fruity upside down cakes surfaced recently. They have great appeal because I'm more of a fruit girl than a cake girl and then there is that whole business of caramelized goodness. Why not use some of the last peaches?
melt the butter and brown sugar
cook until it bubbles
Something I learned about the peaches this summer was that different varieties marched through the markets. When I first got my grubby little hands on peaches for jamming in July, they were clingstone peaches. Good thing I was jamming them because it was like a peach murder scene trying to get those buggers off the pits. Thankfully, this late season batch was of the freestone variety – which easily releases from the pit and makes for pretty slices.
wonderful
arrange in the pan
Whipping up the cake batter is relatively straightforward: cream the butter and sugar, add vanilla and eggs (one at a time, please), stir in half of the dry ingredients, stir in the milk, then add the rest of the dry ingredients. Right now, I'm all for quick and easy.
beat an egg into the butter and sugar
fold in some flour mixture
stir in the milk
fold the rest of the dry ingredients in until just combined
I was a little too excited about making this peach upside down cake, and failed to note that the recipe called for a 10-inch skillet. I don't own a 10-inch cast iron skillet. Mine is 12-inches. This became evident to me when I was spreading the batter over the peaches. Huh, I wonder why there seems to be so little batter… This 20 percent increase in radius results in a 44 percent increase in surface area. I crossed my fingers that the batter would spread and expand, and popped it into the oven.
pour the batter over the fruit
lo! it's a short cake, but it covered the pan!
It's a good idea to let the cake cool in the pan a little bit before trying to invert it onto a plate. Cast iron has an impressive heat capacity as does caramelized sugar. Remember that. Of course, you don't want to let it cool completely such that it doesn't release from the pan (or only half releases, which may result in many tears). I imagine the same holds true if you use a cake pan except for the heat capacity part. Despite my thin cake, it all held together and came out beautifully. But the best part was that it tasted like buttery, peach heaven in a cake. Definitely a dessert worth sharing.
peachy
bffs: peach upside down cake and vanilla bean ice cream
Peach Upside Down Cake
[print recipe]
from the great David Lebovitz
3 tbsps unsalted butter
3/4 cup light brown sugar
3-4 large peaches, peeled and sliced thick (like 3/4-inch thick)
cake
8 tbsps unsalted butter, softened
3/4 cup sugar
1 tsp vanilla extract
2 eggs, room temperature
1 1/2 cups (210 g) flour
1 1/2 tsps baking powder, aluminum-free
1/4 tsp salt
1/2 cup (125 ml) whole milk, room temperature
Notes: You can use a 10-inch cast iron skillet or a 9-inch cake pan for this recipe, although David does not recommend using a spring form pan (because you're caramelizing butter and sugar which will likely leak and make a huge mess – like everywhere). I used a 12-inch cast iron skillet (I don't have a 10-inch) and it worked just fine, although I would have preferred a little more cake to go with the fruit.
Place 3 tablespoons of unsalted butter and the light brown sugar in your skillet or cake pan over high heat and stir until the sugar has melted. It should begin to bubble, at which point you should remove it from the heat and let it cool. Place the peach slices down in the pan in a radial pattern (just make it look nice). Preheat the oven to 350°F while you make the cake batter. Beat the 8 tablespoons of butter and sugar together until they are fluffy. Beat in the vanilla, then beat an egg in until smooth and repeat for the last egg. In a separate bowl, mix the flour, baking powder, and salt together. Stir half of the dry ingredients into the batter. Stir in the milk. Then stir in the rest of the dry ingredients until just mixed (don't overmix the batter). Pour the batter over the peaches in the pan, spreading it around to nooks and crannies in the fruit. Bake 45-60 minutes or until the edges of the cake pull from the sides and the center is not gooey. Take the pan out of the oven and let cool 20 minutes. Flip the cake onto a plate. It's best to do this by setting the plate on the pan and, while wearing oven mitts, inverting the pan onto the plate. The cake should release, but beware of caramelized sugar that could both burn you and make a mess. Serve warm. Serves 8-10.