Recipe: thai chicken, asparagus, and baby corn
It's so good to be back in Colorado. I say that every time I return. I feel it every time I return. Vermontshire, Verhampshire, New Hampmont, Vermont, New Hampshire – they're wonderful and I learned so much and had a great time. But my heart truly sings when I catch sight of the Rocky Mountains, Colorado's bluebird skies, my cuddly Kaweah girl, and most of all my sweet Jeremy. Also, the skiing in Colorado ain't bad!

me and mah tele betties at breckenridge last week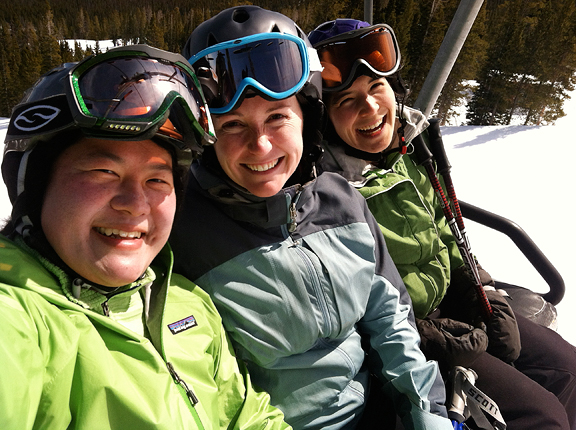 I'm tired despite having done not a lick of exercise on this last trip. It's partly because I find being in social situations exhausting and partly because air travel makes me cranky. Don't mistake me for an introvert, though! I'm a good little extrovert, but it tires me out to navigate the dynamics of several very different personalities while keeping an eye open for photos and keeping my ears open to absorb the information being shared. It might also be because I stayed up until 2 am talking with this gal…
selfie with ellen at logan airport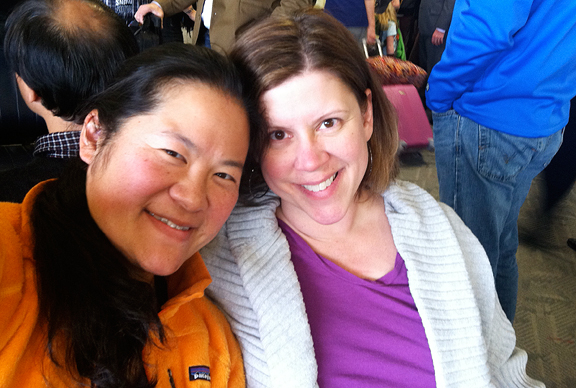 I invited Ellen to come with me on my trip to Verhampshire for two reasons: 1) to put her in contact with a potential maple syrup supplier and 2) because I knew I wouldn't place a pillow over her face in the middle of the night. I know myself well enough to identify who I can and won't travel with, which is good because it has prevented many an attempted homicide. Today's recipe is for my awesome travel buddy and friend, Ellen, because I know she loves quick and easy Thai recipes (don't we all?!).
Back when I reproduced my favorite Thai sizzling beef dish, I managed to trigger a deep craving for other Thai dishes that I haven't had in a while. One of the simplest and most delightful would have to be a basic chicken and vegetable stir-fry. You can use whatever vegetables you like and tinker with the sauce to taste, but it is quick, easy, and immensely satisfying.

chicken thighs, asparagus, green onions, garlic, sugar, cornstarch, baby corn, straw mushrooms, vinegar, vegetable oil, fish sauce, dark soy sauce, oyster sauce
mix the sauce ingredients together
slice the asparagus on the diagonal
all of the meat and vegetables prepped
I suppose there is a time and a place for chicken breasts, but I am really partial to dark meat. I think the flavor and moisture retention is superior. Given my druthers, I choose dark meat. And while I'm doling out my opinions, I like fat asparagus more than skinny asparagus. Skinny asparagus may have a place somewhere, but for this stir-fry I think fat asparagus makes more sense and gives you something to sink your teeth into.
adding chicken to the hot oil and garlic
set aside the cooked chicken
add baby corn and straw mushrooms to the sautéed asparagus
I've forgotten how wonderful a quick and fragrant stir-fry can be. As the days get longer, I find myself less inclined to hang about the kitchen and more inclined to get out and do something active. The prep on this dish takes no more than 15 minutes and the actual cooking is done within 5 minutes. Awesome. That leaves plenty of time for taking Kaweah on walkies, hitting up the spring corn snow, or hopping down to Boulder.
mix in the cooked chicken and green onions
stir in the sauce
add the cornstarch mixture to thicken the sauce
Even though I am a self-proclaimed noodle girl, there are some dishes that just go perfectly with rice and this is one of them. I can happily dish myself a bowl of rice topped with this Thai chicken and vegetable stir-fry and call it good. Very good.
a satisfying stir fry of chicken and vegetables
Thai Chicken, Asparagus, and Baby Corn
[print recipe]
2 tbsps vegetable oil
1 large clove garlic, minced
1/2 cup green onions, cut into 1-inch strips
1 lb. chicken (thigh meat preferred, but breast meat is fine), cut into 1/2-inch pieces
1 1/2 tbsps fish sauce
1 1/2 tbsps oyster sauce
2 tsps dark soy sauce
2 tsps white vinegar
1 tsp sugar
1 lb. fresh asparagus (fat asparagus is better), cut diagonally into 1-inch pieces
15 oz. baby corn
15 oz. straw mushrooms
2 tsps cornstarch
1/2 cup water
Heat a tablespoon of vegetable oil in a large frying pan or wok over high heat. Stir in the garlic until fragrant (less than 30 seconds). Add the chicken to the pan and stir-fry until just cooked. Remove from pan and set aside. Combine the fish sauce, oyster sauce, dark soy sauce, white vinegar, and sugar in a small bowl or cup. Stir to dissolve the sugar and set aside. Add the second tablespoon of vegetable oil to the pan or wok over high heat. Add the asparagus and sauté until the spears become a deep green. Stir in the baby corn and mushrooms. Add the cooked chicken back into the pan with the green onions. Pour in the sauce mixture and give everything a good stir to coat everything evenly. Mix the cornstarch with the water and stir it into the pan to thicken the sauce. Serve hot. Serves 4-6.

more goodness from the use real butter archives