Recipe: pistachio almond cake
Mother's Day is coming up this Sunday. Don't freak out or anything. I'm telling this to you now so you can get your act together with a couple of days to spare. My mom called Monday and sternly warned that under no uncertain terms, she would be very very upset with me if I sent her anything for Mother's Day. She couldn't see my furrowed brow and sideways scrunched mouth as I looked at the shipping receipt on my desk. Both she and my MIL are getting some amazing Helliemae's caramels (jasmine and classic salt, if you must know). Hey, at least I listened to her sage advice on retirement accounts when I was 21.

flowers for all of the moms out there, because they make the world a better place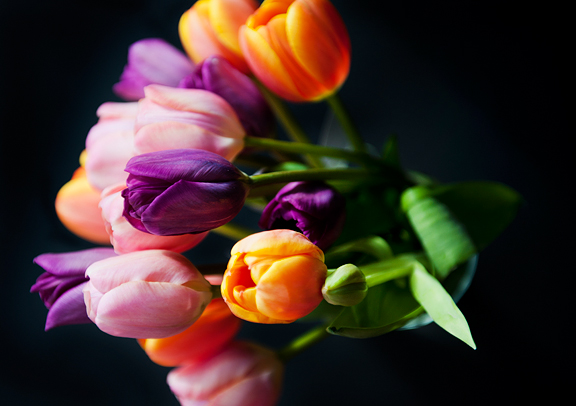 Last month,
Courtney
posted a photo on Facebook of a slice of cake she had gotten at a bakery. It was an almond pistachio cake with whipped cream and it looked incredibly good. I said as much and she confirmed my suspicions. I have a slight love affair/obsession with pistachios because they have such a beautiful flavor and they are green, which is the best color ever. So of course, I went looking about the interwebs for a good pistachio cake recipe. I died a little bit with every recipe that called for instant pistachio-flavored pudding mix, but eventually I did find one that appealed to me and I thought it fitting to post a cake before Mother's Day in case you wanted to bake something special for Mom.
kaweah kept creeping around during the shoot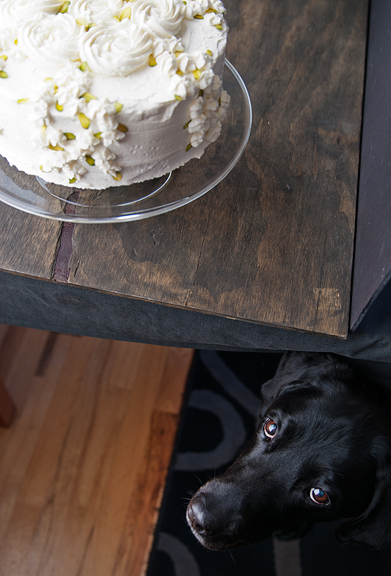 Ultimately, I converged on the idea of two layers of pistachio cake and one layer of almond cake, all frosted with whipped cream. You are welcome to add jam layers, chocolate ganache, soaking syrups (mmm, amaretto soaking syrup!), swap the whipped cream frosting out for buttercream frosting. The point is – make a cake that you (or Mom) will love. The first step for me was to make pistachio paste because I can't source it easily and I was delighted to find a recipe for it on
Ellie's blog
. If you can purchase Love'n Bake's pistachio paste, that will save you quite a handsome chunk of time.
pistachios, corn syrup, sugar, water
blanch the pistachios and remove the skins (time-consuming task)
blender it all up (actually, I recommend a food processor over a blender)
a beautiful green paste
You don't have to blanch the pistachios, but I find removal of the skins helps to preserve the delicate green color of the nuts and blanching is the easiest way to do this. Also, use raw unsalted pistachios because those will give you the truest pistachio flavor. One batch makes quite a lot of paste which you can refrigerate or freeze for later. The cake recipe only calls for a half cup of the pistachio paste.
vanilla, buter, baking powder, salt, pistachio paste, sugar, sour cream, pistachios, eggs, flour
mixing the chopped pistachios and pistachio paste into the batter
divide the batter into two buttered and lined baking pans
let the cakes cool
The pistachio cake recipe makes two 9-inch cakes. These are not light, fluffy, airy, spongy cakes. Rather, they are closer in density to a quick bread which makes sense considering all of the nut paste and ground nuts. My cakes always cave a little bit (or a lot) in the center because of my altitude. However, as long as I can cut an even 3/4-inch layer from each cake, that's all I need. The rest of the trimmings make for great snacking. For the almond cake, I planned on only one layer sandwiched between the two pistachio cake layers.
butter, eggs, almond paste, flour, sugar, baking powder, salt, vanilla, almond extract
grind the sugar, almond paste, 1/4 cup of flour together
add the butter
blend in the eggs one at a time
I wanted an almond cake that was similar in density to the pistachio cakes to avoid any structural instability. This makes a somewhat tall 9-inch layer cake (about 2.5-inches tall at the highest point), but the center cratered quite a bit (again, it's my elevation) such that I could get at most a 1-inch layer from the cake. I cut it to 3/4-inch to match the other two cake layers. The cake on its own is fantastic.
mix in the flour mixture
pour the batter into a greased and lined pan
cooling
Considering how delicate whipped cream is, I knew there was no way to use regular whipped cream between such heavy layers of cake. It would just squeeze out the sides. I had read about stabilized whipped cream frosting and decided to go with a simple method that uses gelatin to increase the strength of the frosting. Not only was it pretty straightforward to make, but it held up perfectly.
confectioners sugar, water, gelatin, heavy cream
soften the gelatin in the water
pour a little scalded cream over the gelatin
pour the rest of the cream into a bowl with the sugar
beat to medium peaks
when the gelatin mixture is the consistency of egg whites, beat that into the whipped cream
H'okay! With all of the parts made, assembly is quick. I always slice even cake layers when I make layer cakes for several reasons: 1) I get a lot of cratering at my elevation 2) even layers make for much prettier cakes 3) you use a lot less frosting if you don't have to fill in gaps (be they in the center or on the edges) and 4) I'm OCD and I have standards. The basic order of the cake is pistachio cake, whipped cream, almond cake, whipped cream, pistachio cake. Spread a crumb coat around the sides and then a final layer of whipped cream frosting over the crumb coat and on the top to make the entire cake white.
layers trimmed and ready
spreading whipped cream frosting
finishing coat over the crumb coat
decorate
Decorate the cake however you like: pistachios (chopped, sliced, whole), more whipped cream frosting, fresh berries or other fruit, chocolate shavings or curls or decorations, candied violets, fresh (non-poisonous, please) flowers, sprinkles, etc. I kept mine simple, piping whipped cream frosting and adding slices of pistachios here and there. It was more like a garden theme. It's spring. Stuff is blooming.
from above
my strategy was to pipe flowers to cover any mess ups
serving a slice
The cake weighs a metric ton. You can probably work your biceps just lifting a bite from your plate to your mouth. As I mentioned before, the cake layers are dense, so the whipped cream frosting is a nice light balance to the cakes. And because the cake layers are dense, they retain moisture quite well – so perhaps a soaking syrup isn't necessary. Overall, you get a slice of cake with good weight, great buttery and nutty flavors, and an airy whipped cream frosting that doesn't weep or break down after 3 days in the refrigerator. What a nice thing to make for your mom!
doesn't mom deserve the best?
Pistachio Almond Cake
[print recipe]
pistachio paste (if you don't have pistachio paste make this first, you need 1/2 cup)
from Kitchen Wench
1 lb. pistachios, raw, unsalted, and shelled
8 oz. sugar
1 tbsp corn syrup
1/3 cup water
Boil a quart of water in a medium saucepan. Add the pistachios and boil for 3-4 minutes. Drain and remove the skins (most should come right off). This can be a time-consuming step if you have a lot of pistachios, so give yourself plenty of time. Spread the skinned pistachios on a baking sheet and let dry or place in a very low oven (100°C or 225°F) for 10-15 minutes – but don't let the pistachios brown or the flavor will be altered. Place the pistachios, sugar, corn syrup, and water in a food processor and blitz until smooth. Store in an airtight container in the refrigerator for a month or the freezer for longer. Makes about 3-4 cups.
pistachio cake
from this site
2 1/2 cups cake flour (use all-purpose flour @8500 ft.)
1 tbsp baking powder (use 1 tsp baking powder @8500 ft.)
1/2 tsp salt
1 cup (8 oz.) unsalted butter, room temperature
2 cups granulated sugar
4 eggs
3 tsps vanilla
1 cup sour cream
1/2 cup pistachio paste
1/2 cup pistachio nuts, finely chopped
Preheat oven to 350°F. Butter two 9×2-inch round baking pans. Line the bottoms with parchment and butter the parchment. Sift the flour, baking powder, and salt together in a medium bowl. Set aside. In the bowl of a stand mixer, cream the butter for 2 minutes on medium speed with the paddle attachment. Add the sugar and beat until light and fluffy. Beat in the eggs one at a time, beating well after each addition until blended. Add the vanilla and beat until incorporated. Slowly beat in half of the dry ingredients, then half of the sour cream, then the remaining half of the dry ingredients, and then the rest of the sour cream. Stir the pistachio paste and pistachio nuts into the batter until just blended. Pour half the batter into each of the two baking pans. Bake for 30-40 minutes (start checking at 30, mine took 40 minutes) until a toothpick inserted in the center comes out clean. Let cool for 10 minutes and then remove from pan. Remove the parchment from the base of the cakes.
almond cake
from David Lebovitz
1 1/3 cups (265g) sugar
8 oz. almond paste (225g)
3/4 + 1/4 cup (140g total) flour
1 1/2 tsp baking powder (1 tsp @8500 ft.)
3/4 tsp salt
1 cup (225g) unsalted butter, cubed and room temperature
1 tsp vanilla
1 tsp almond extract
6 eggs, room temperature
Oven 325°F. Butter, parchment, and butter a 9×3-inch round baking pan. Grind the sugar, almond paste, and 1/4 cup of flour in a food processor until it resembles sand. Whisk the remaining 3/4 cup of flour, baking powder, and salt together in a bowl. Set aside. Add the butter, vanilla extract, and almond extract to the almond paste mixture in the food processor and blend until smooth and fluffy. Add the eggs to the batter, one at a time, pulsing to incorporate after each addition. Scrape the sides of the bowl down as necessary. Add half of the flour mixture and pulse until combined. Add the rest of the flour mixture and stir until just combined. Pour the batter into the cake pan and bake 55-65 minutes or until the top is deep brown and the center is set. Let the cake cool completely before removing it from the pan. If it sticks to the bottom, hold the pan over a burner for a few seconds and the cake should release when inverted.
stabilized whipped cream frosting
from this site
2 tsps unflavored gelatin powder (about 1 envelope)
1/2 cup cold water
4 cups heavy whipping cream
1/2 cup confectioners sugar
Sprinkle the gelatin over the cold water in a small bowl. Scald 1/2 cup cream (bring it to a boil then remove immediately) and pour it over the gelatin. Stir until the gelatin is dissolved into the cream. Refrigerate the gelatin for 10-15 minutes until it reaches the consistency of egg whites. Whisk until it is smooth. Place the remaining whipped cream and confectioners sugar in a mixing bowl and whip until soft peaks (don't overwhip because you will have to whip in the gelatin). Add the gelatin to the whipped cream and whip for another 10-20 seconds until medium peaks.
Assembly: With a serrated knife, trim each of the cake layers to the same height (mine were 3/4-inch). Set the trimmings aside for snacking. Place a pistachio cake layer, bottom side down, on the serving plate. Line the edges of the cake with strips of wax paper by tucking each strip just under the edge of the cake. Spread a cup or more of the whipped cream frosting over the cake layer. Set the almond cake layer on the whipped cream frosting. Spread another cup or more of the frosting over the almond cake. Repeat with the last pistachio cake layer (bottom side up). Crumb coat the edge of the cake by spreading a thin layer of frosting all around the sides to seal any gaps and lock down any crumbs. Frost the sides and top of the cake with more whipped cream frosting. Decorate as desired. Refrigerate the cake. Serves 12-16.
more goodness from the use real butter archives