Recipe: banh mi
We enjoyed a slight cooldown with sporadic bursts of rain over the weekend in Crested Butte. I'm still a sniveling mess when it comes to hot weather. However, I'm slowly adjusting to the heat and that thick layer of sunblock such that I can be seen in the same place as the sun. And it's totally amazing.

trail running along the slate river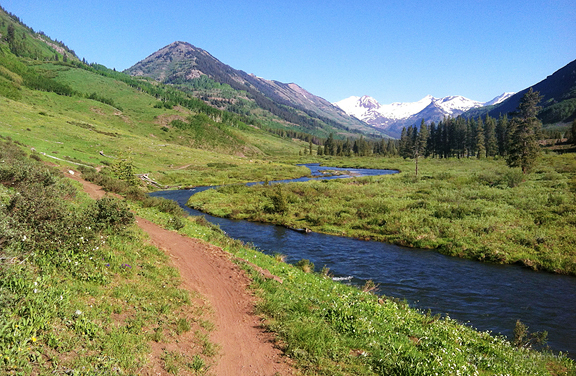 riding the lupine trail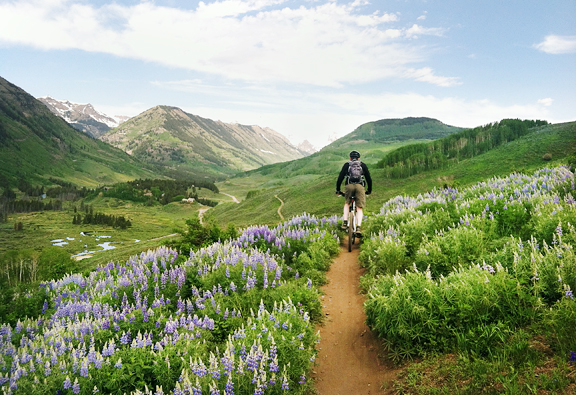 and always thankful for sunset – particularly the colorful ones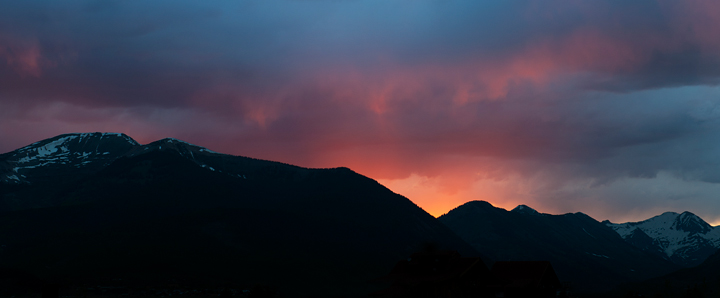 Jeremy and I are still getting our bearings straight on restaurants in town. We have our perennial favorites from the past several years traveling through Crested Butte, but now we're checking out the other places to see if they're worth the cash or just another resort town trap. One evening, we went for a stroll after dinner and came upon a cute small batch ice cream store (I'll write about it later). Jeremy ordered a scoop of ice cream for himself and I grabbed a little scoop for Kaweah.
make that a scoop dog for kaweah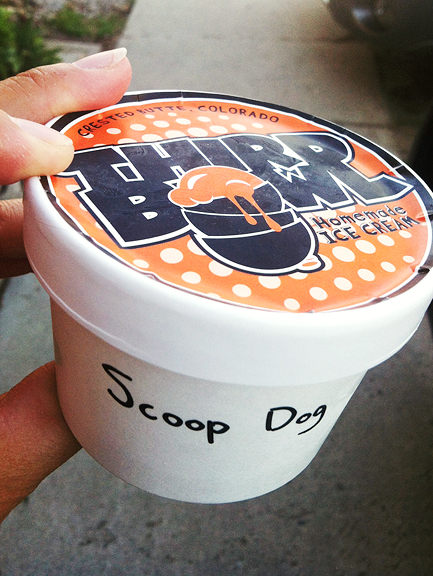 It cost as much as Jeremy's single scoop of cowboy coffee ice cream, but Kaweah's scoop dog was a peanut butter, maple, bacon ice cream just for dogs. How awesome, right? We have been giving her short sessions with the scoop dog over the past few days. She's so enamored with her new treat that she's taken to pointing at the freezer where we store it.
kaweah's lick of approval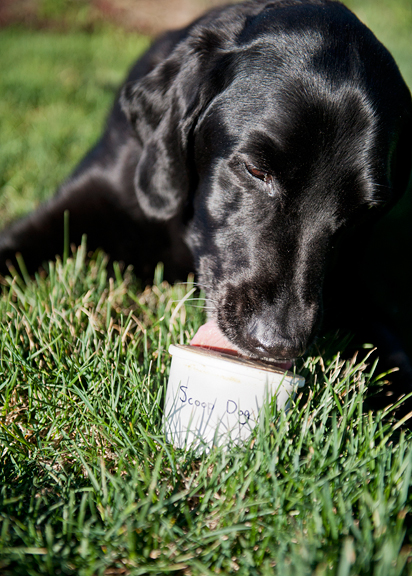 So far I've been cooking relatively simple fare in Crested Butte because our kitchen has the bare minimum of what I consider a working kitchen. The pantry is another issue altogether. Crested Butte may boast some excellent restaurants, but the groceries are another story – especially if you stock an Asian pantry. I have a long list of Asian staples to buy on my next trip to the Asian grocer back home. Before you know it, I'll be whipping up my old favorites in the new place. Like banh mi – the marriage of wonderful southeast Asian flavors IN A SANDWICH. Be still my heart.
for the pork: pork loin, chili garlic sauce, shallots, soy sauce, fish sauce, brown sugar
minced garlic and sliced shallots
The marinade is for Vietnamese pork chops, but I thought I'd apply it to thinly sliced pork loin chops and see how it went in a banh mi sandwich. I mean everything is great in a sandwich, right?
place the garlic, shallots, chili garlic paste, soy sauce, fish sauce, and brown sugar in a ziploc
slice the pork into large thin pieces
about 1/4-inch thickness
I marinated the pork for a couple of hours, but I think they could have benefited from a few more hours. The plan was to grill the meat because it's less cleanup, but the ferocious winds sort of shut that whole thing down. No problem! It's easy enough to pan fry them in a little peanut oil – about 3 minutes a side, if that.
marinating pork
browned in a sauté pan
And now you're ready to make yourself a lovely banh mi sandwich. I have to tell you that the first time I tried banh mi was in Little Saigon with
Todd and Diane
, who introduced me to all manner of heavenly Vietnamese treats. I couldn't believe this sandwich had been missing from my life for 37 years. Each bite is an incantation of umami, fresh herbs, bright and sweet pickled crunchy vegetables, creamy heady pâté, and fresh crusty and soft bread. It is just so right.
pâté, pork, cilantro, pickled daikon radish and carrots, french bread
i really like to load mine up with the pickled vegetables
top it off with the bread
There is a great deal of leeway with what you can put in your banh mi. Chicken, tofu, beef, ham, sausages, etc. I just happen to be a huge fan of pork. But please, for the love of all that is good, please don't skip the Vietnamese pickled vegetables, because that is the best stuff on the planet. Now, I like this recipe, but I have to tell you that I also like the marinade for
this grilled lemongrass pork
recipe. Either would be great, so if you are looking for some variety in your sandwiches, I've given you two right here.
okay, i just drooled
the sandwiches are so good, we took them backcountry skiing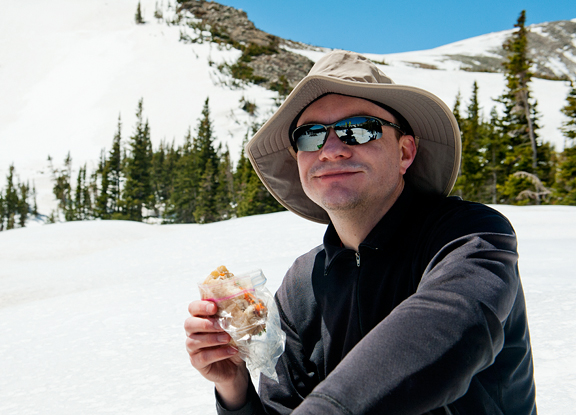 Banh Mi
[print recipe]
1 lb. pork loin chops or pork loin
4 tbsps soy sauce
2 tbsps fish sauce
2 tsps brown sugar
1/2 tsp chili garlic paste
3 cloves garlic, smashed
4 shallots, sliced
2 tbsps peanut oil (if pan frying the pork)
1 long baguette of crusty french bread
4 oz. pâté
2 cups Vietnamese pickled carrots and daikon radish
1-2 cups fresh cilantro
Prepare the pork: Carefully cut the pork loin into 1/4-inch thick slices (I managed about 3-4 slices from each chop). Combine the soy sauce, fish sauce, brown sugar, chili garlic paste, smashed garlic, and sliced shallots in a ziploc bag or a medium bowl. Add the pork slices, seal or cover, and let marinate for 1-4 hours in the refrigerator. If grilling, skewer the marinated pork and cook over medium-high or high heat for 3-4 minutes. Flip the skewers and cook another 3-4 minutes. If you aren't grilling, you can heat the peanut oil in a large, wide sauté pan over high heat and add the pork in a single layer when the oil is hot. Let cook for 3 minutes, then flip the pieces over and cook for another 3 minutes. Remove the pork from the grill or sauté pan.
Assemble the banh mi: Cut the baguette into four equal pieces. Slice each piece lengthwise. Lightly toast the bread in the oven or on the grill (enough for the outside to crisp, but the inside remains soft). For each sandwich, spread an ounce (about 2 tablespoons) of pâté on one of the slices of bread. Layer a few slices of pork, Vietnamese pickled daikon radish and carrots, and several sprigs of fresh cilantro. Top with the other half of bread and serve. Makes 4 medium banh mi sandwiches.
more goodness from the use real butter archives