Recipe: banana peanut butter pupsicles
We're back home in Nederland and it's been ass hot here on the Front Range. Not only has it been ass hot, but pine pollen season is in full swing. We haven't had any rain to wash away the pollen such that when the winds blow, giant clouds of thick yellow blegh go swirling into the air for miles. So of course the windows stay closed during the day and the house just gets plain old angry hot (or perhaps that's me?).

i bet this fox was running for the nearest stream to cool off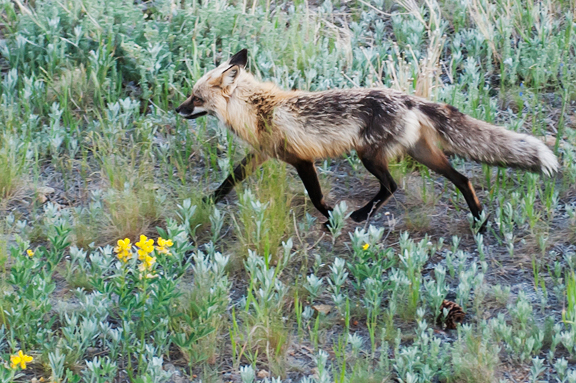 Kaweah's susceptibility to the heat has increased with her old age. After seeing how much she enjoyed the scoop dog frozen treat in Crested Butte, I decided to make some at home for her. I didn't want to make it dairy-based as we try to keep her dairy intake to a minimum because it gives her gas. So I went with my favorite non-dairy ice cream recipe:
single ingredient ice cream
. The ice cream base is made entirely of bananas, which she loves, and I added some other goodies to sweeten the deal for her.
ripe bananas, peanut butter, bacon, carrot
slice the bananas
place them in a vessel and freeze them
Before you chide me for feeding my dog organic Sunday bacon, let me state that the bacon is for us (the people) and that I only chopped up 2 slices for her treats. All of the ingredients are things Kaweah loves. Maybe your dog is more of a cookies and cream type of pup? Crumble some dog biscuits and stir them in. Who doesn't love mix-ins? Mmmmm, mix-ins….
peanut butter, crumbled cooked bacon, shredded carrots
frozen bananas get blitzed in the food processor
adding peanut butter to the silky "ice cream"
mix-ins: carrot and bacon
Because it was so dang hot in my house, the "ice cream" base was melting quickly. If you want to see what the whole process looks like, please go to
this post
. You can use a food processor or a blender, although the less powerful blenders may need a little liquid to coax the bananas along. Add whatever you feel comfortable giving your dog: water, milk, almond milk, beef broth (hey – the dog is eating it, not you). As for how to freeze the ice cream, I made a half dozen hemispheres in my silicone bombe molds and had enough leftover to fill two glass ramekins. Do whatever works for you in terms of dog safety (no popsicle sticks for Kaweah because she WILL eat them) and mess factor.
stir it together quickly
piping into the molds
popping them out while frozen
hemispherical frozen treats for the puppers
Kaweah was so excited when I made these that she was underfoot the entire time and panting like a maniac, because she pants in anticipation of two things: 1) beef and 2) anything that she's pretty sure is for her. We gave the pup one of the ramekins on the deck after her half-dinner (we call them halfie meals). She ate that thing like it was her JOB. I actually like the ramekin because we let her eat a fraction at a time. When we take it away from her, we just pop it in a ziploc bag and chuck it back in the freezer. I'll probably put the hemispherical bombes into a ramekin too for ease of slobber containment.
verdict: delicious!
that is one happy pup
Banana Peanut Butter Pupsicles
[print recipe]
6 ripe bananas
3 tbsps creamy peanut butter
1/2 cup carrot, shredded
2 slices bacon, cooked and crumbled
Note: The add-ins and flavorings are entirely up to you, but bananas are the base of the "ice cream". Please, don't add things like chocolate, grapes, or other ingredients that are toxic or dangerous for dogs!
Peel the bananas and slice into 1/2-inch thick disks. Place the slices in a bowl or ziploc bag and freeze the slices solid (about 2 hours or more, depending on the enthusiasm of your freezer). Place the frozen slices of banana into a food processor or a blender and pulse to break down the fruit. This will require scraping down the sides of the bowl often, but keep doing it because the bananas will eventually become a soft-serve consistency. If using a blender that just spins its blades, you can add a little liquid (milk, almond milk, water, juice – no grape juice!, beef broth) to help it along. When the ice cream is smooth, add the peanut butter (if using) and blend for a few seconds to incorporate. Stir in the carrot and bacon (or other mix-ins). Divide the soft ice cream among ramekins or shallow vessels and freeze. Makes 3 cups of ice cream (about 6-8 ramekins).
more goodness from the use real butter archives