Recipe: grass jelly and ai-yu jelly
I love the idea of summer. It's when everything is happening. It's a visual overload in the mountains. The thing I have trouble with is the heat, and by trouble, I mean I hate the heat. I have sworn enemies in this world and the heat is one of them. It makes me cranky and sad and angry all at once. Jeremy and I both recognize this, so there are things we do to minimize the crankiness like hiking, biking, or trail running early in the morning when the air is cool, the sun is low, and the mosquitoes are still slow. It also means we have the trails mostly to ourselves, which is awesome.

wildflowers greet the mountains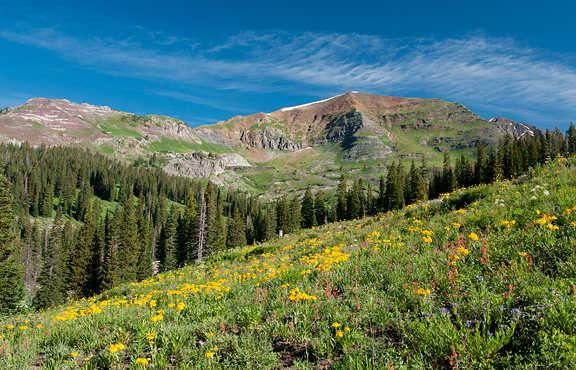 flowers fill an alpine meadow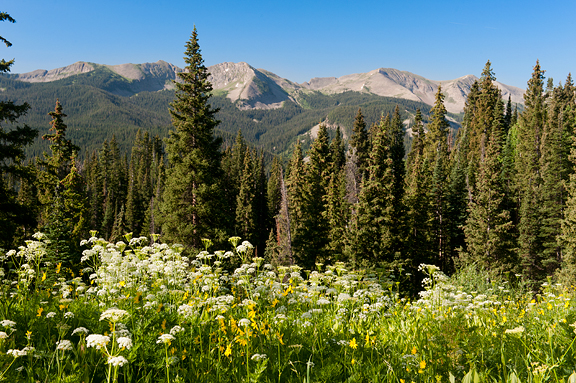 the view from the trail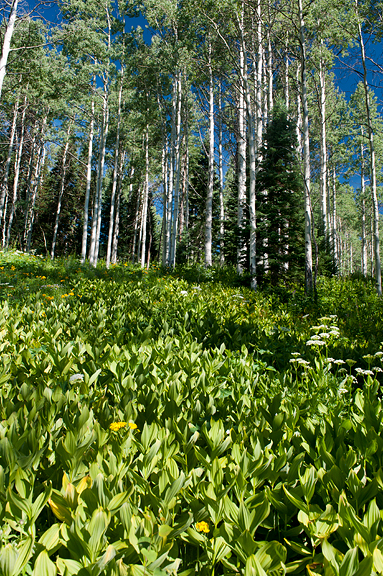 If we are lucky, the monsoons bring moisture into Colorado from the south and we get a daily cycle of glorious and dramatic thunderstorms and rain every afternoon like clockwork. Our bluebird skies turn into menacing, roiling clouds over the mountains. Cool winds and heavy rains seem to wash away the dreaded heat, even if only for an evening. It's wonderful.
storm building over crested butte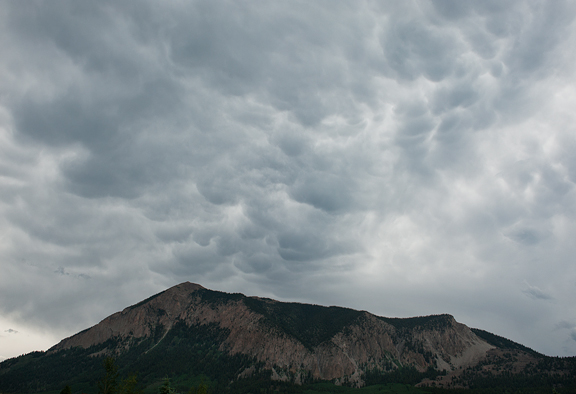 But sometimes the storms fizzle and there is no relief. Times like these require taking matters into your own hands. We don't have the benefit of air conditioning because we rarely need it. I try cooling off with ice cold drinks, sorbets, frozen treats, and one of my childhood favorites: grass jelly. I know it sounds odd, but it is really wonderful stuff. It's like an herbal tea gelatin. Another similar jelly that I preferred when I was younger (probably because it was sweeter) is
ai-yu
jelly, made from the gel of a seed of a variety of fig.
grass jelly and ai-yu jelly
you just need the jelly, lemons, and sugar
I have only ever found these jellies in Asian grocery stores, usually canned since I never looked for a fresh version (I don't know if they make that). You can add any sweetener (honey, maple syrup, agave, sugar) to the jelly, which is actually more of a gelatin. I make a simple syrup with organic cane sugar and water. But I don't stop there. I like some fresh lemon juice to give a little more dimension to the ensemble. When I was on chemo, sweet things tasted so flat because I had lost my taste for sour. So I am especially fond of a little tartness in my sweets these days.
making simple syrup
juice the lemons
As a kid, I thought a black gelatin was really odd. It didn't look pretty like all of those rainbow colors of gelatin that my friends ate. But I loved the flavor and found it especially refreshing on the hottest of Virginia summer days. I kept it my little secret between me and all of my (Chinese) people. It comes out of the can just like cranberry sauce – in the shape of the can. My childhood friend (another American-born Chinese) told me her mother prepared grass jelly too, but squeezed it through a ricer which made it look like little black worms. We laughed and laughed and then I told myself to never ever ever do that. I guess I was extra sensitive to my non-Asian friends' perceptions of the foods I ate at home. I like to neatly slice it up into cubes or sloppily slice it into random polyhedra.
slice and dice the grass jelly
pour some lemon juice
add sweetener to taste
stir in some ice
You can treat the jelly like boba (the giant tapioca pearls that are simultaneously delicious, fun, and a choking hazard) and put it in milk tea or slushies, or you can drink it like a beverage on its own. I have always served it in a bowl and enjoyed the jelly as a cold soup. If you do drink it from a glass, then it's probably in your best interest to chop the jelly up into smaller pieces. The grass jelly tastes like a delicate herbal tea and the
ai-yu
jelly is slightly sweet, almost fruity. Both are fantastic for cooling off and kinda fun to eat.
grass jelly
ai-yu jelly
Grass Jelly and Ai-Yu Jelly
[print recipe]
3 tbsps sugar
1/2 cup water
1 can grass jelly (or ai-yu jelly)
2 lemons, juice of
1 cup ice
Combine the sugar and water in a small saucepan over high heat. Stir to dissolve the sugar and bring to a boil. Remove the simple syrup from heat and let cool. Dice the jelly into 1/2-inch cubes or slice at random into smaller pieces if planning to serve as a beverage. Place the jelly in a large bowl or pitcher and add simple syrup and lemon juice to taste. Stir in the ice. Ladle into bowls or pour into glasses. Serves 4.
more goodness from the use real butter archives