Recipe: chanterelle mushroom hand pies
Autumn is the fleetingest of fleeting seasons in the mountains, or so it seems. Sunday felt like real winter as we hiked snowy trails, falling snowflakes caught up in our hair and settling on our hats, gloves, and the tops of our packs. Our last trail run left my calves sore from all the slipping and sliding on ice. Not quite enough snow to ski, but enough to warrant wearing traction devices for running. Shoulder season puts me in a mindset for winter. I can't wait!

high winds sculpt beautiful clouds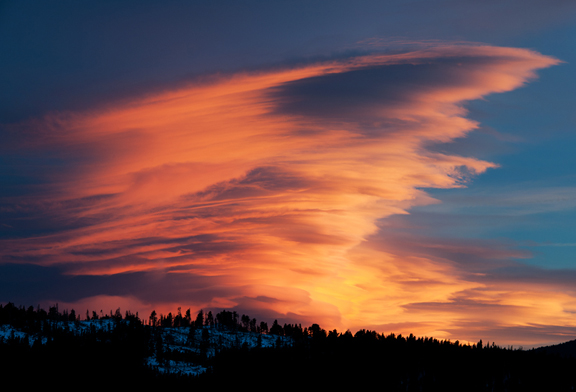 snowy stream crossings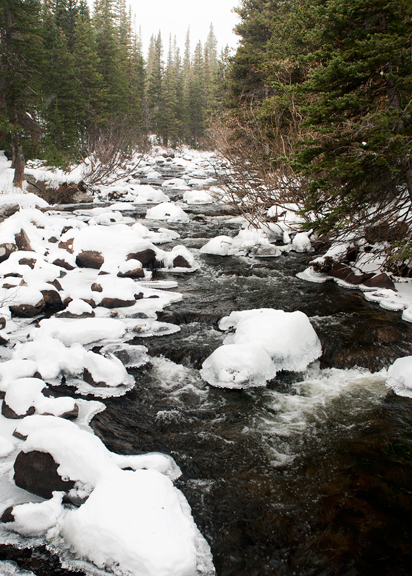 Cold is relative. Two months ago, 40°F felt chilly to me. Now, it feels warm as we enjoy temperatures dipping below freezing. I know in a few months, 40°F will be a veritable heat wave. Jeremy is a little more sensitive to the cold than I am. It's probably because I have plenty of personal warmth (read: body fat) and he doesn't. His hands and feet are always cold. He turns on his seat heater in both cars starting in September all the way through June. I saw a box of hand warmers for sale at Costco last week – 40 pair for something like $15. Then I had a mental image of taping an entire suit of hand warmers to Jeremy's body and chuckled to myself. Moving on to the refrigerated produce section, I got the vegetables I needed and proceeded to leave – until I spotted something magical. It was nearly the equivalent joy of finding a porcini in the mountains – except this was a whole pound of fresh chanterelle mushrooms for $9. I grabbed one. I didn't know what I was going to do with it, but I knew I was going to do
something
.
let's make hand pies!
chanterelles, puff pastry, gruyère, egg, garlic, butter, salt, bacon, thyme, wine, cream, pepper
brush the mushrooms clean
While I absolutely love hunting for porcini and feeling its sturdiness as I coax it out of the ground or its substantial weight in my hand, I must admit that chanterelles have won my tastebuds over. They're not as delicate as the porcini in flavor, so I am more comfortable mixing chanties up with other ingredients.
make the mushroom filling
sauté the chanterelles in butter
add the garlic
cook the wine until it's gone
Hand pies. Yes. I have a minor obsession with hand pies. Sweet hand pies are great, but savory hand pies are like the ultimate in awesome portable small food. It's a self-contained meal in your hand that travels well and is easy – nay, a joy – to devour. You can make these small for appetizers or larger (like mine) for a meal. And don't feel like you have to use puff pastry dough either! Pie crust, pizza dough, or phyllo dough are perfectly acceptable too.
stir in cream
and thyme
reduce to a thick sauce
You will want to reduce the cream in the sauce to a fairly thick consistency. When it cools, it will thicken further. This is good otherwise you'll be dealing with an oozy mess when you try to stuff the dough with the mushroom filling. If you find the sauce is too runny, just let it simmer longer OR refrigerate it and the cream will solidify. It makes for easier assembly and less cussing.
the fillings: gruyère cheese, bacon, chanterelle mushroom filling
everything is prepped and ready
make the egg wash: whisk egg yolk and cream
cut the pastry dough
Because I had a pound of chanterelles, I figured a pound of puff pastry dough would be enough. But I only used half of my filling, so the recipe below is based on one pound of pastry dough and a half pound of mushrooms. As for the shape, I chose triangles for the aesthetics, but I'll tell you that squares are probably the best because you don't have these small angles to shove filling into (after folding the dough over and pinching the edges together, I gently mushed the filling into the corners). Circles are great too, except it's hard to reuse the trimmings of puff pastry dough and I would rather not waste any of it.
filling and cheese
and don't forget a sprinkle of bacon
crimp the edges
Although the pastries did open a few seams during baking, they didn't leak or disembowel the way fruit hand pies do. I think that's because the filling is already cooked and there isn't nearly as much liquid to generate steam – and thus blow up your pastry – as there is in fresh blueberries. Oh, the bacon is purely optional. If you want to make this vegetarian, just omit the bacon… but realize that someone somewhere will be crying real tears over that decision.
brush with egg wash
slice vents in the tops
ready to bake
golden perfection
I like to bake my hand pies to a deep golden color which results in a little browning at the edges. It's mostly because I want the puff pastry to bake all the way through. Underbaked puff pastry is like a dough that never realizes its true potential. The result is a flaky pastry cradling a rich creamy filling with luscious bites of chanterelle punctuated with bacon, Gruyère, and hints of wine and thyme. But these are no snacks… a single hand pie, a glass of wine, and perhaps a bowl of soup or a salad round out a wonderfully satisfying meal. They're like hand warmers, but they also warm your belly.
a stack of delightfulness
what's not to enjoy?
flaky pastry heaven
Chanterelle Mushroom Hand Pies
[print recipe]
2 tbsps butter, unsalted
1/2 lb. fresh chanterelle mushrooms (or other mushroom, but chanties are the best), brushed clean and sliced
2 cloves garlic, minced
1/3 cup white wine
1/2 cup heavy cream
1 tsp thyme, chopped
salt to taste
black pepper, freshly ground to taste
2 slices bacon, cooked and crumbled
2 oz. Gruyère cheese, shredded
1 lb. puff pastry dough
egg wash
1 egg yolk
1/2 cup heavy cream
Make the chanterelle filling: Melt the butter in a sauté pan over high heat. Add the mushrooms and sauté until cooked. Toss the garlic into the pan and sauté until the garlic becomes fragrant. Pour in the white wine and let the wine come to a boil. Let it boil until the liquid is gone. Stir the cream and thyme into the pan and reduce the heat to medium. Simmer the sauce until the cream thickens to the consistency of a thick gravy. Remove from heat. Season with salt and pepper to taste. Let the mushroom filling cool – it makes it much easier to handle.
Assemble the hand pies: Preheat the oven to 425°F. Mise en place the mushroom filling, bacon crumbles, and Gruyère cheese. Roll the pastry dough out on a lightly floured surface to a 12×12-inch square. Cut the dough into 8 equal-size pieces (triangles, rectangles, squares, circles, whatever you like). Place a spoonful of mushroom filling on one half of a piece of pastry dough, leaving about 1/2-inch margin to the edge of the dough. Sprinkle some bacon and cheese on top. Fold the other half of the dough over the filling, matching up the edges. Pinch the edges closed and crimp with a fork. Place the hand pie on a parchment-lined baking sheet. Repeat with the rest of the pastry dough. Whisk the egg and cream together until mixed. Brush each pastry with egg wash and use a sharp knife to slice three vents in the tops of each hand pie. Bake for 20 minutes or until the dough is golden and baked through. Remove from oven and set the pastries on a cooling rack. Serve warm. Makes 8 hand-size mushroom hand pies.
more goodness from the use real butter archives