Recipe: porcini mushroom quiche
I'm running on fumes here, logging a handful of hours of sleep a night. I think summer is Crazy Time, because there is Just.Too.Much going on. Oh, it's all good stuff, but it never lets up… until autumn. Early morning is our favorite time to get outside for hiking, biking, trail running. The sun is low and the air is nice and cool (or cold if we're lucky) and very few people are out and about in the mountains. It's a great time to see wildlife too, because they tend to be morning types.

cross a lovely mountain stream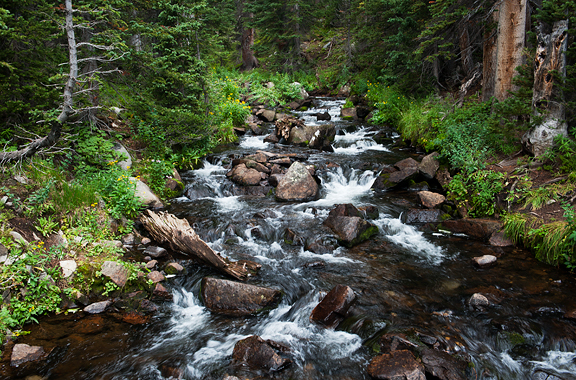 visit a nice, cold alpine lake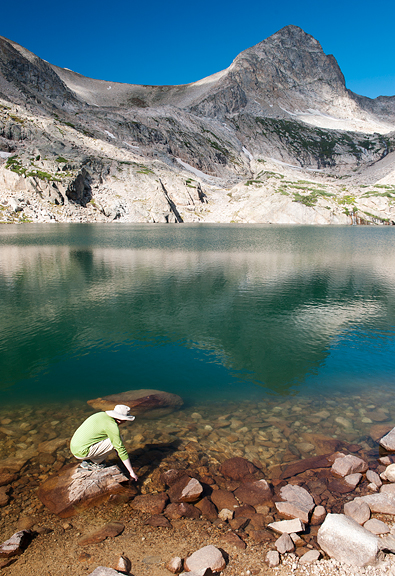 spot some pretty rose crown (or queen's crown) blooming in the high country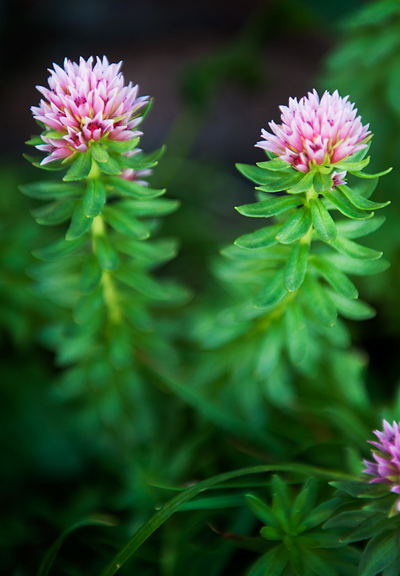 Afternoons of late have been solely dedicated to food. Some of it is shooting food and most of it is processing the gems of summer for Future Me to cook with and enjoy from October through June.
15 pounds of tomatoes: sauced and diced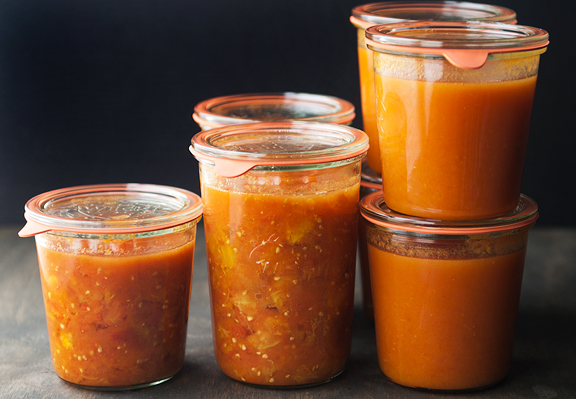 You'd think I'd catch a break at night, but that's the time to catch up on emails, photo processing, computer stuff and other work. But wait! We've had a string of awesome nighttime lightning storms marching overhead, dumping rain, and lighting up our skies. Jeremy and I were admiring one such storm Monday night from our deck door (because it's fun to watch when danger of death is low). I had my camera running on timed, long exposures and caught a few nice strikes.
i just love the squigglies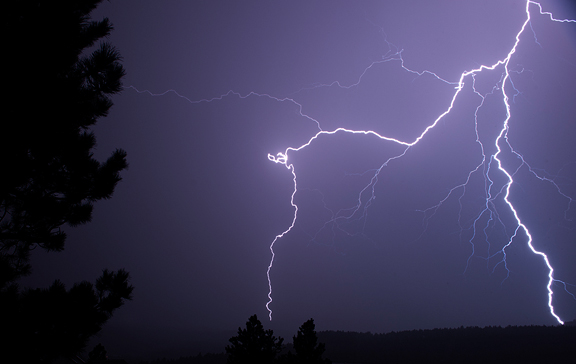 As the strikes became more frequent and drew closer, I pointed the camera at our local ridge. A few more lightning bolts fired out of my field of view and I questioned my decision to move the camera. Then a giant column of blinding light struck repeatedly for several seconds on the ridge in front of us. It caused us to jump and we both involuntarily closed our eyes because it was so bloody bright! We heard cracking and popping in addition to multiple thunderous booms. I couldn't see for several seconds, but when I blinked, I could see the negative image of the bolt across my field of view. It saturated my exposure, so I had to crank the processing to tease it out. It was really effing cool.
mother nature, you win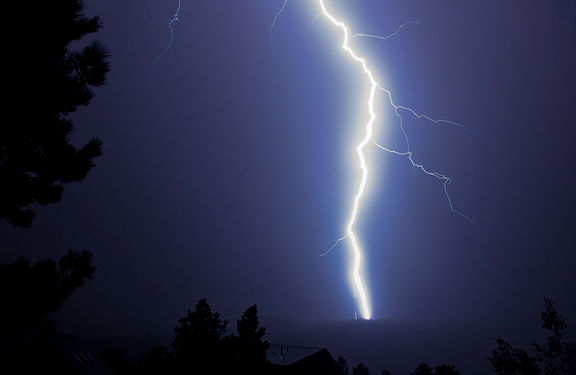 As tired as I am, I'm sad to report that my early mornings spent foraging in the mountains are coming to an end until next summer (I think). I'll be grateful for the sleep, but will surely miss those treasure hunts with my pal
Wendy
.
especially when we find beauties like this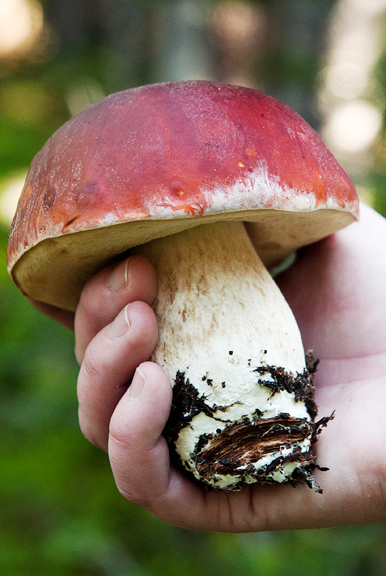 So let's do one last fresh porcini mushroom recipe, shall we? I've been wanting to make a quiche with fresh porcinis ever since last summer. The delicate flavor of a fresh porcini profiles nicely with cheeses, dairy, eggs, butter – always with the butter. The majority of you probably don't have access to fresh porcini and that's okay. Feel free to substitute another fresh mushroom here. Personally, I'd go for something more exciting than a white button mushroom if you can find it. Just don't be picking random mushrooms from the ground without knowing 100% for sure 1) what it is and 2) that it is edible and non-poisonous. I'm serious – don't be stupid or I'll have to come over and slap you.
the filling: milk, cream, onion, eggs, mushrooms, gruyère, butter, flour, salt, prosciutto
let's make the crust first: butter, ice water, flour, sugar, salt
The quiche crust requires a little bit of refrigeration time, so while that's happening you can prep the filling which will take some time. The crust comes together easily enough with a food processor, but if you don't have one you can cut the butter into the flour old school: with a pastry cutter or two knives. I divided my dough into two halves since I baked two 6-inch quiches instead of a standard 9- or 10-inch quiche.
place the butter, flour, salt, and sugar into the processor
pulse to coarse meal
add ice water
it should lump together
form flattened disc(s) and wrap in plastic
The dough chills in the refrigerator for an hour which is just about the amount of time you'll need to get the onions caramelized and the mushrooms sautéed. There is no shortcut to caramelizing onions. It takes me about 30 minutes to do it properly and the results are totally worth the time. The mushrooms take a few minutes to brown in butter, but I do recommend dry sautéing them first in a hot pan to give them an initial wilt. It helps to reduce the amount of butter they soak up.
slice the onions thin
slice the mushrooms to 1/4-inch thickness
pan-sear the mushrooms
When the dough is chilled, unwrap it and place it on a lightly floured work-surface or on the plastic it was wrapped in. Roll it out to about 1/8-inch thickness. It doesn't have to be perfectly round, just roundish and larger than your baking dish by a couple of inches. This crust requires blind baking, so have some pie weights or dried beans handy.
rolling out the dough
line the baking dish with the pastry dough
crimp the edges, line the dough with foil, fill with pie weights or dried beans
After blind baking the crust, the assembly is quick. Toss the shredded cheese with flour and layer it with the mushrooms, caramelized onions, and prosciutto in the quiche crust. Ladle the liquid filling over everything without breaching the crust.
whisk the eggs, cream, and milk together
fill the shells with the mushrooms, onions, cheese, and prosciutto
pour the egg filling into the quiche
garnish with some choice slices of mushroom
My little quiches baked up beautifully without any overflow in the oven (i.e. filling overflow, burning on the oven floor, excessive cussing). It's best to let them cool before cutting into them if you want to avoid the ooze effect. Slices will hold their shape better when room temperature or slightly warmed. Jeremy and I split one for dinner and I gave the other one to my parents to enjoy (which they did). The flavors lean toward creamy and sweet (from the caramelized onions), but the salt of the prosciutto is a nice balance. The bites of porcini interspersed throughout the quiche lend a meaty texture and earthy umami-ish taste to it all. It's simply lovely and sophisticated and delicate. Too bad I'll have to wait until next year to make more – I may just break down and use a different mushroom until then.
baked golden
let it cool before serving
a rich and satisfying slice
Porcini Mushroom Quiche
[print recipe]
crust
1 1/4 cups all-purpose flour
1/2 tsp salt
1/4 tsp sugar
1/2 cup (1 stick) unsalted butter, chilled and cut into small pieces
2-3 tbsps ice water
filling
2 tbsps olive oil
1 large yellow onion, trimmed and sliced thin
1/4 tsp sea salt
8 oz. fresh porcini mushrooms or other fresh mushrooms, sliced 1/4-inch thick
2 tbsps unsalted butter
1/4 tsp sea salt
8 oz. Gruyère cheese, shredded
1 tbsp flour
3-4 slices prosciutto, cut roughly into strips
3 large eggs
1 cup whole milk
1/2 cup heavy cream
1/4 tsp salt
Make the crust: Combine the flour, salt, and sugar in the bowl of a food processor. Place the butter in the bowl. Pulse the butter into the dry ingredients until the mixture resembles coarse crumbs (about 8-10 seconds). While the processor is running, add one tablespoon of ice water at a time until the dough begins to lump together. Turn the dough out onto a work surface and form a flattened disk (or two, if using 6-inch baking dishes). Wrap the dough in plastic and refrigerate for at least one hour. Preheat the oven to 400°F. Roll the dough out to 1/8-inch thickness on a lightly-floured work surface or on the sheet of plastic it was wrapped in. The pastry should be at least an inch or two larger than the baking dish itself. Line your 9- or 10-inch baking dish with the dough (or 6-inch dishes with the two pieces of dough). Crimp the edges of the pastry. Line the dough with a sheet of foil and fill the foil with pie weights or dried beans. Blind bake the shells for 8-9 minutes, then remove the weights and the foil and bake the crust for another 2-3 minutes. Let cool.
Caramelize the onions: Heat the olive oil in a large sauté pan over high heat. When the oil is hot, add the onions and sprinkle the salt on them. Sauté until the onions become soft and translucent (a few minutes). Continue to cook the onions until they begin to brown, then reduce the heat to medium and let them cook, stirring them about every few minutes to prevent burning. The onions are done when they are deep amber in color and taste sweet. The total time should take about 30 minutes. Remove from the pan and set aside.
Sauté the porcinis: Place a clean sauté pan over high heat. Add the mushroom slices and let them dry out for a minute on the hot pan. Flip them over and let them dry out for another minute. Add the butter to the pan. As the butter melts, flip the mushrooms again and let them brown in the butter (a few minutes) before flipping again to brown the other sides (add more butter if necessary). Sprinkle sea salt over the mushrooms. Remove from pan when the mushrooms are cooked through. Reserve a few nice looking slices for garnish.
Make the quiche: Preheat oven to 350°F. Toss the cheese with the flour in a small bowl. Gently mix in the mushrooms, caramelized onions, and prosciutto with the cheese. Fill the quiche crust with the mixture. In a medium bowl, whisk the eggs, milk, and cream together. Pour the egg mixture over the filling up to the edge of the crust. Garnish the tops with the good slices of mushrooms. Bake 30-40 minutes until the tops are golden brown and the middle doesn't jiggle too much (a little jiggle is okay – a lot of jiggle means it isn't cooked). Remove from oven and let cool to warm or room temperature before serving. Serves 6-8.
more goodness from the use real butter archives