Recipe: baked brie with cranberries and pistachios
The time has come for folks to don their elastic waistband clothing. I know this because I've been working 'round the clock for several days stirring, mixing, cooking, caramelizing, tempering, dipping, rolling, slicing, and baking goodies for distribution. I completed phase 1 of my cookie schedule on Friday morning. I've been working phase 2 all weekend (with some time taken out for Kaweah's birthday celebration).

phase 1 cookies plus jams and homemade spice rubs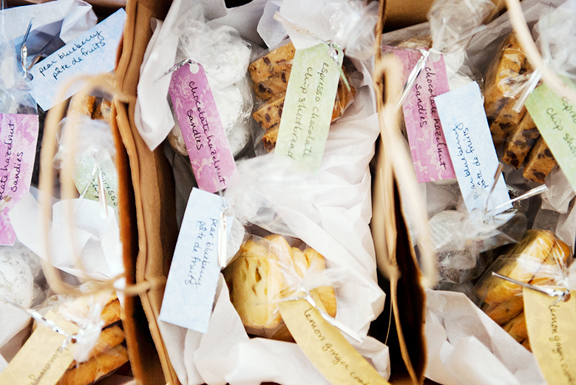 But full on debauchery should not be limited to desserts and sweet bites this time of year. I am a card-carrying member of the savory clan – those of us who opt for potato chips over chocolate chip cookies any day. Appetizers and salty snacks forevah!! When I last had my parents over for dinner, I tried a baked brie appetizer with cranberries and pistachios that was a sort of compromise between salty and sweet. It's the perfect thing for holiday parties because it's quick, easy, and the results are lovely.
a wheel of brie, an orange, water, cranberries, pistachios, and sugar
grate orange zest into the cranberries
add water to the cranberries, sugar, and orange zest
The first rule of baked brie is to get a whole wheel. If you purchase a wedge, all of the contents of your wedge of nice brie will ooze out and onto the baking sheet when you bake the cheese. That's no way to party. If it's a big gathering, get a large wheel or multiple small wheels. If it's a more intimate group, one of the smaller rounds should suffice.
bake the brie for 10 minutes
the cranberry sauce should be ready in about 10 minutes
coarsely crush or chop the pistachios
Try to use raw shelled pistachios if you can. They are sweeter and have a gorgeous green color that contrasts beautifully with the deep jewel red cranberries. You can leave them whole or give them a quick smash or chop – your preference. Prep the cranberry sauce and the pistachios ahead of time to minimize the time between taking the cheese out of the oven and serving it.
spoon cranberry sauce over the baked brie
top with pistachios and finish with orange zest
A little extra touch I added (not pictured) was to drizzle a some Grand Marnier over the toppings. It's totally optional, but I ask you… how can you go wrong with booze and cheese? I'm not even a cheese fan, but I loved this combination of flavors and textures. Creamy, rich, and salty cheese. Tart and slightly sweet cranberries. Nutty, earthy, crunchy pistachios. All of it gets tied together with bright floral notes from the orange zest. Be sure to enjoy it in all its warm, oozy goodness.
quick, easy, beautiful, delectable
i'm bringing the party to you
Baked Brie with Cranberries and Pistachios
[print recipe]
from Gimme Some Oven
6-inch whole wheel of brie (or whatever size you like, as long as there are enough toppings)
2 cups cranberry sauce
1/2 cup shelled raw pistachios, coarsely crushed
zest of 1/2 an orange
cranberry sauce
2 cups cranberries, fresh or frozen
1/2 cup sugar
1/2 cup water
zest of 1/2 an orange
1-2 tbsps Grand Marnier (optional)
Preheat the oven to 350°F.
Make the cranberry sauce: Place the cranberries, sugar, water, and orange zest in a small saucepan over high heat. Stir to dissolve the sugar. Bring the mixture to a boil and reduce to a simmer for 10 minutes. Remove from heat.
Prepare the brie: Place the whole wheel of brie on a parchment-lined or foil-lined baking sheet. Bake for 10 minutes. Remove the brie from the oven and gently set on a serving plate (if you manhandle the cheese too much, it might bust a leak). Top with cranberry sauce. Sprinkle pistachios on top. Finish with orange zest. If you are feeling frisky, drizzle a little Grand Marnier over it. Serve immediately (it is not so great when cold) with crackers, sliced baguette, or crostini. Serves 4-8 as an appetizer (depending on how hungry and cheesy people are).
more goodness from the use real butter archives