I'm convinced the reason so many people dislike winter is because they live in a place with crappy winters, don't know how to do any winter activities, or both. Winter can be slushy, dreary, icy, awful. But winter can also be fluffy, powdery, sunny, fun, and invigorating. In Crested Butte, Colorado – winter is a dream.
Some of the finest skiing and riding in the country can be had up the road at Crested Butte Mountain Resort. And there are loads of backcountry routes into breathtaking high country mere minutes from town. But did you know that Crested Butte also boasts an incredible network of 55 km of groomed nordic trails managed by the Crested Butte Nordic Center?

the nordic center based in town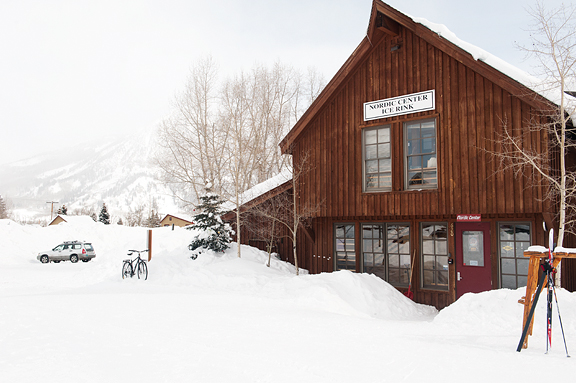 inside: rentals, ticket and pass sales, equipment, information, friendly people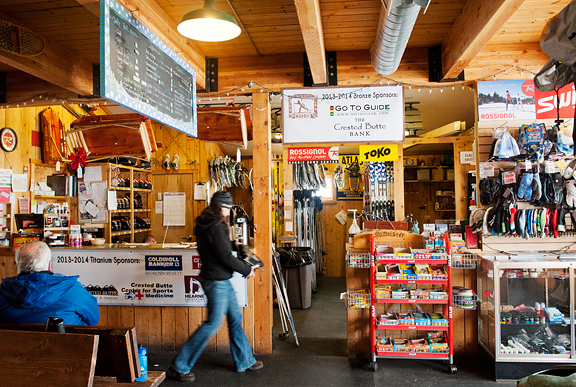 I know Crested Butte is the Wildflower Capital of Colorado, but I didn't know it is also the Nordic Ski Capital of Colorado (according to the Nordic Center, but I'll give it to them). Adjacent to the center is a large outdoor ice rink which abuts a sort of sled park (it is a skate park in summer). The center rents ice skates, snow shoes, skate skis, cross-country skis, and assorted accessories. They also offer lessons, free clinics, and sponsor several
night ski/five course dinners at the Magic Meadows Yurt
throughout the winter.
jeremy enjoys exploring the trail network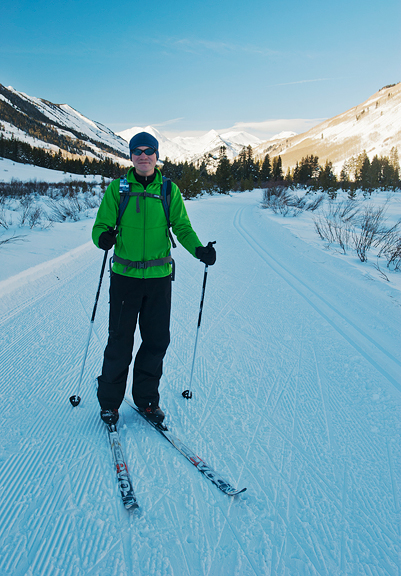 the trail to the yurt in daylight (there are designated dog-friendly trails in the network)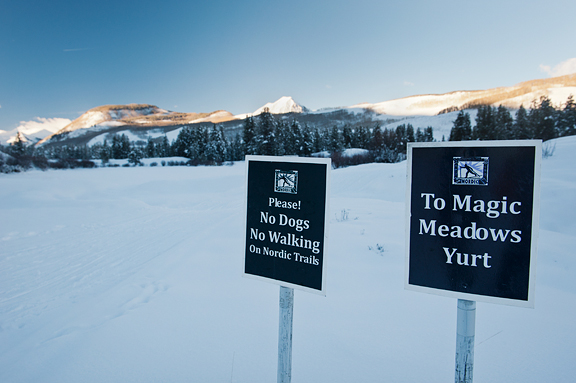 On a friend's recommendation, Jeremy and I signed up for the winter solstice yurt dinner. It's a 1 mile ski or snowshoe on the nordic trails to the yurt after sunset. Dinner goes from about 6:00 pm to 9:00 pm (roughly), and then you ski back at night. As season pass holders, we each get a $20 discount on the dinner (was $70/person at the time, now is $75). Our friend, Erin, visited us over the solstice and signed up for the dinner too. Anyone attending the dinner has the option to bring their own skis/snowshoes or get a free ski/snowshoe rental from the Nordic Center. We all ski, but you don't have to know how to ski to enjoy this tremendously fun evening.
the yurt, nestled in the trees and snow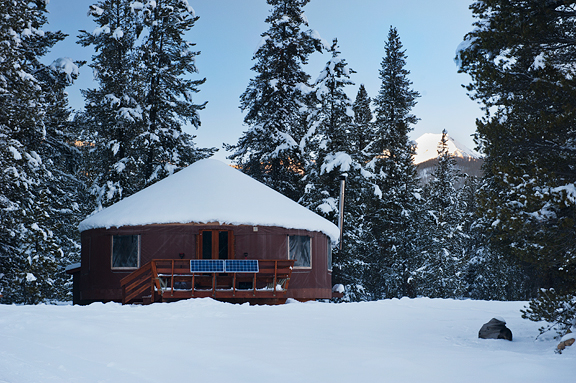 "come forth into the light of things, let nature be your teacher" – william wordsworth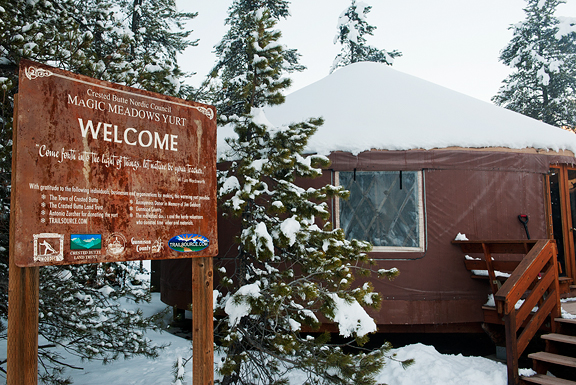 We picked up Erin's skis from the Nordic Center at 5:00 pm (they won't loan them out earlier than that for the dinners) and drove to the Gronk trailhead. It takes 30 minutes (on average) to ski out there. The friendly fellow working the desk suggested we arrive at the yurt around 6:00 pm when they start with appetizers. It was getting dark when we headed out, but the trail to the yurt is marked with lit tiki torches and it was super fun skiing in the dark and passing all of the snow shoers. Of course, everyone on skate skis flew past us.
The Magic Meadows Yurt is only accessible in winter, which makes it extra special. Park your skis or snowshoes outside on the racks and head inside to the warm and cozy yurt. We had no idea what to expect inside, but it was far cushier than we imagined it would be. The interior had rustic mountain-style decor alongside lovely local photography. A wood stove heated the entire space from the east wall and the whole place was romantically lit.

erin and jeremy outside the yurt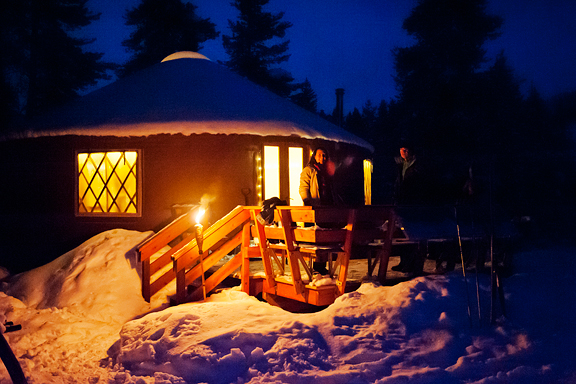 the interior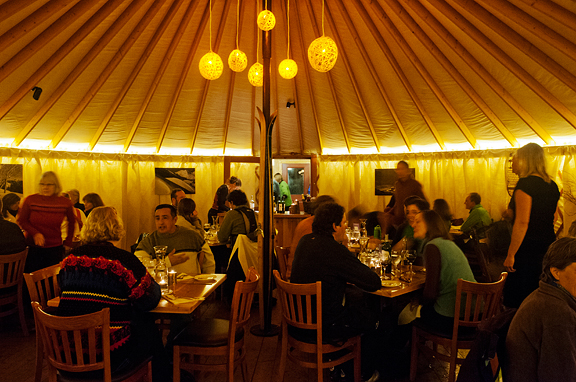 We were among the earlier guests and were seated between the wood stove and the beverage service station at our own private table. Live music (acoustic guitar and vocalist) filled the room as other diners trickled in. On the advice of our friend, we brought comfy shoes to slip into for the evening. We also brought headlamps because it's a (good) habit, although there is one communal headlamp provided for guests who want to use the porta potty outside.
Once seated, the two wait staff (volunteers) took drink orders. Alcohol and tip are paid separately, so bring cash or credit card with you if you plan to imbibe or tip (you should tip otherwise you're sort of a douchebag). We waited about 30 minutes before finally seeing the first plate. I think the caterer (I believe it was Creative Catering) may have been running late as well as waiting for last minute stragglers to arrive.

goat cheese, pesto, roasted garlic on crostini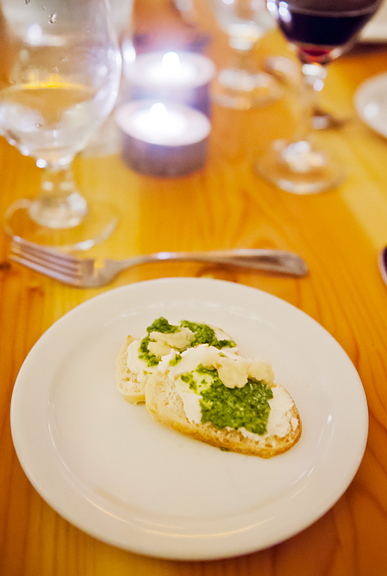 We devoured the crostini because were famished. We were told the garlic was roasted, but it tasted pretty raw to me. I mean, I love raw garlic, but Jeremy wasn't as much of a fan. The thing to remember (and I had to remind Jeremy a couple of times later in the week) is that the caterer is doing all of this in the backcountry with a teeny tiny portable kitchen space out back (not in the yurt, but a small closet-like box behind the yurt) for 25 diners.
mixed greens salad with pear, pomegranate, feta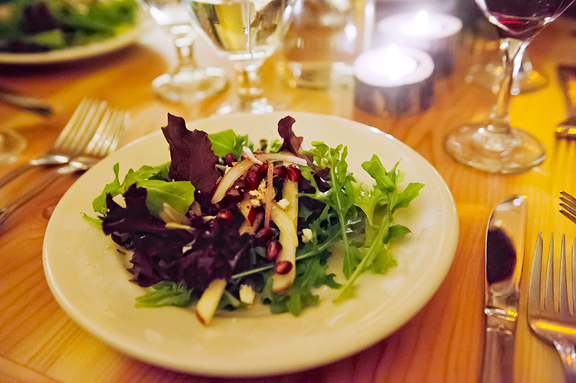 butternut squash soup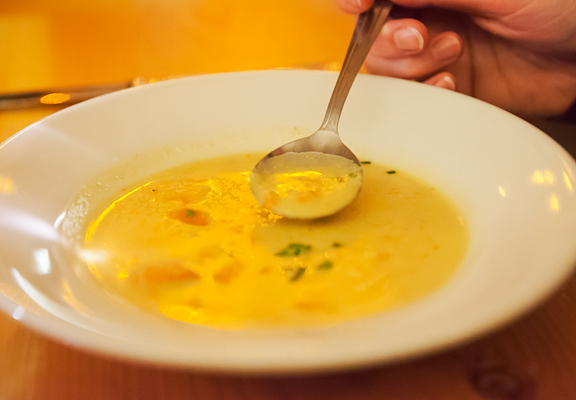 My salad of mixed greens was delightfully refreshing with bright bites from the pomegranate and pear, and tartness from the vinaigrette. A nice palate cleanser. There seemed to be a long wait between courses, so we chatted and drank a lot of water and polished off our bread. Eventually bowls of lovely, smooth butternut squash soup found their way to our table. The flavors and spices were just right and especially warming on this first day of winter. The chef makes an effort to source local, seasonal ingredients whenever possible.
It had been three hours since we left the trailhead, with lots of water (or wine) consumption, before our mains arrived. It would be at least another hour and a half before we could get back to the car. Feeling it wasn't wise to hold out any longer, we waited our turns to head out to the porta potty.

jeremy's main: steak au poivre, brandy cream sauce, garlic mashed potatoes, roasted carrots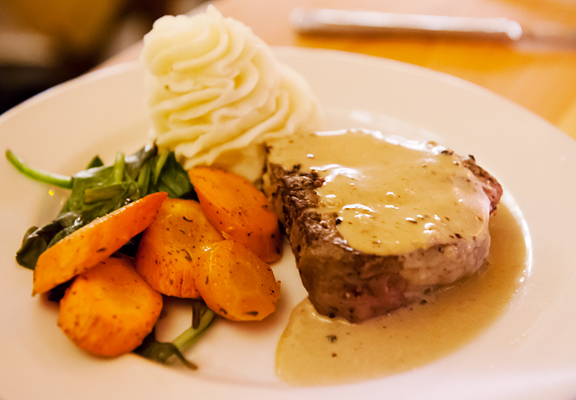 my main: herb-crusted salmon with lemon aioli, rice pilaf, and chard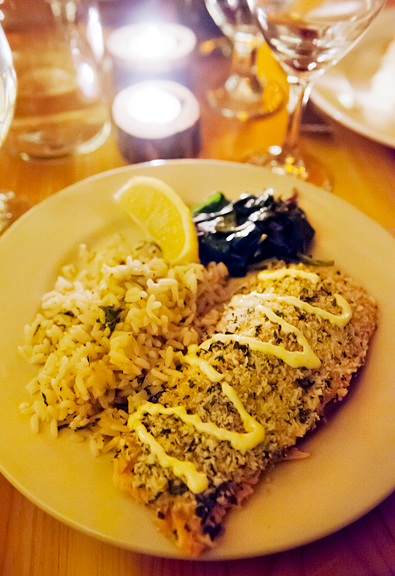 Back to the food. We selected our mains when we purchased our seats for the dinner. There was a choice between salmon, chicken, steak, and mushroom risotto. Erin and Jeremy ordered the steak and I opted for the salmon (only because I wanted to avoid the dairy in the brandy cream sauce). The food was good. It wasn't exceptional, but it was solid and deeply satisfying. Considering it was prepared in the backcountry, it was phenomenal.
Dessert, the final course, arrived at nearly 9:00. I took a bite and let Jeremy finish the rest of mine. I'm not so much of a chocolate fan, but it seems everyone's default dessert these days is a flourless chocolate cake. It was fine, just not especially inspiring for me (Jeremy liked his just fine).

flourless chocolate cake with berry coulis and whipped cream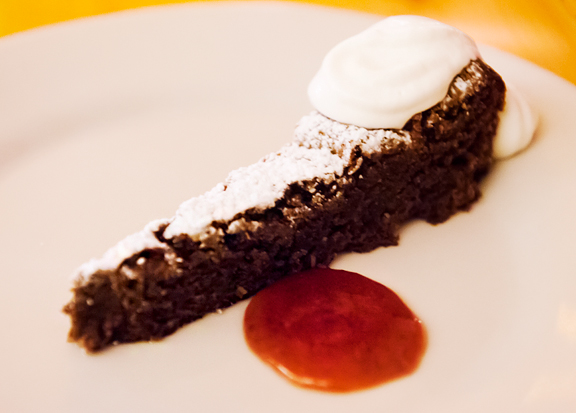 We all had that trip back to the trailhead in the cold and dark on our minds. We settled up the wine tab and the tips for the two friendly servers and put our ski boots on. The thought of leaving the warmth of the yurt sent a shiver down my spine, but once we were outside on the deck under the stars, I felt renewed. A party of skate skiers took off before us and the glow of their headlamps disappeared quickly into the night. We followed, making good time in the darkness.
The skiing warmed us up lickety split as we unzipped jackets and passed people walking with their snowshoes in their hands. (I didn't see a single snowshoer with their snowshoes on their feet by the end of the evening.) The moon had not yet cleared Mount Crested Butte's massive form in the night sky, but the glow behind the mountain indicated it would happen soon. We drove by the Nordic Center (which was open late for some reason, possibly for the yurt diners?) to return Erin's skis.
All in all it was an incredibly fun experience skiing out at night to dine on gourmet fare in the middle of a winter paradise on the first day of winter. Considering the effort that goes into hosting these dinners and the fact that it benefits the Crested Butte Nordic Center, we felt it was a fantastic evening. So if you're in Crested Butte in winter and you want to go beyond typical fine dining, check the Magic Meadows Yurt Dinners schedule for upcoming dates and book yourself a little magic.
Magic Meadows Yurt Dinners
Crested Butte Nordic Center
620 Second Street
Crested Butte, CO 81224
Hours: M-F 8:00 am – 6:00 pm, Sat & Sun 7:00 am – 7:00 pm
Phone: (970)-349-1706
Email: info@cbnordic.org
Twitter: @cbnordic
Facebook: Crested Butte Nordic Center Facebook Page
Full Disclosure: No comps. All opinions are mine.