Recipe: korean barbecue pork lettuce wraps
Spring is just around the corner. In fact, I can see it from where I stand. The R-word is even in the forecast… RAIN. That kinda kills the snowpack, but then it is supposed to turn to snow. Whatever form of water falls from the sky, we have promised ourselves to enjoy this time – the end of winter. It's been such a lovely season that we thought it fitting to say farewell to winter from Crested Butte.

mount whetstone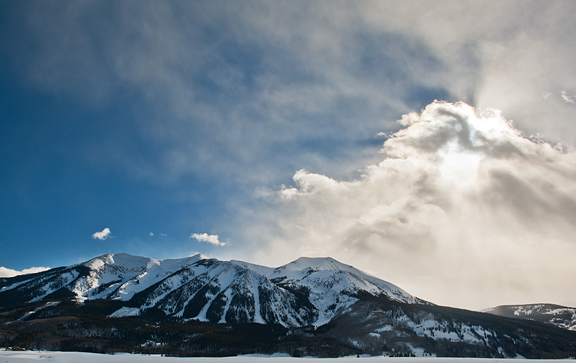 paradise divide and the slate river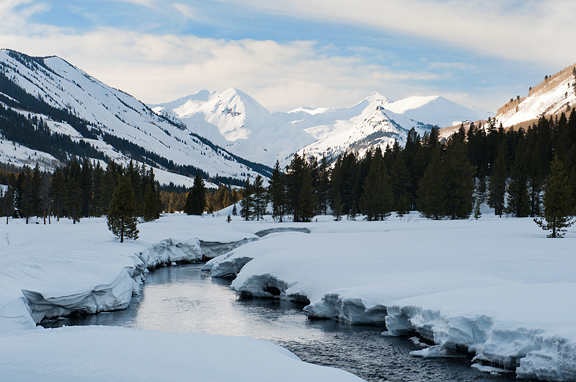 blowing snow on mount emmons at sunset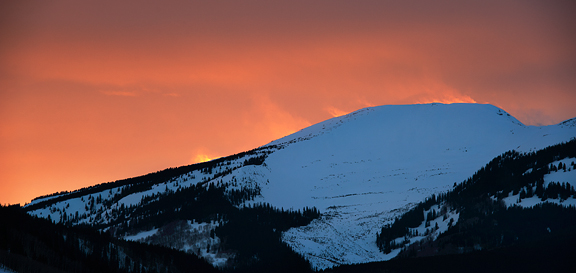 The last time I was about to leave the Front Range for Crested Butte, I had a grocery date with
Wendy
at the new HMart in Westminster. It's a Korean/Asian grocery store that is closer to me than its Aurora branch in southeast Denver. We wandered around checking out all of the products on offer, catching up on all manner of gossip and cooking and life stuff. As we passed into the meat department, a little Korean woman was grilling marinated pork samples. We each tried it and smiled at one another. Good stuff. The woman placed her hand on a stack of packaged marinated pork and said, "For sale!" Since I was leaving town soon, I declined. Walking toward the fish tanks, Wendy and I leaned into one another and whispered, "I could totally make that at home!" And so I eventually did.
pork shoulder, black pepper, sesame oil, soy sauce, pear, onion, green onions, garlic, ginger, sugar (not pictured: gochuchang)
chopping the pear
pear, onion, garlic, ginger
puréed
I considered using the
galbi (Korean barbecue short ribs)
recipe, just subbing the pork for the beef, but then I found a Korean barbecue pork recipe. They're very similar and both have excellent results. The pork recipe called for gochuchang, but when I opened my container of the chili paste, it had dried up into a dark red rock. So I proceeded without it, but I'll certainly use it next time.
sliced green onions
pouring soy sauce into the purée with sesame oil and black pepper
adding the sugar
You can use whichever cut of pork you prefer. I went for pork shoulder because I like the dark meat. Pork loin or pork belly works just as well. Try to cut slices about 2 inches by 2 inches by 1/8-inch thickness. It just makes for easier handling. Combine the pork and marinade in a ziploc bag or a bowl and refrigerate. The minimum marinate time is 30 minutes, but I like to push it to 24 hours. Anywhere from 4-8 hours should suffice.
slice the pork
ready to marinate
refrigerate for up to 24 hours
While the pork takes on the nice marinade, you can make the coleslaw. I'd give the coleslaw 2-4 hours for the flavors to integrate, so don't mix it together right before serving the dish. The Korean coleslaw involves slicing, shredding, and mincing of the vegetables, then tossing it all together with the dressing.
sesame oil, soy sauce, black pepper, sweet onion, red and green cabbages, green onions, red pepper flakes, garlic, salt, sugar, carrots (not pictured: rice vinegar)
shred the cabbage
thin slices of sweet onion
all of the vegetables prepped
I was supposed to add sesame seeds to the dressing, but I somehow overlooked them and forgot. Add sesame seeds if you like. I'm a little bummed to have left those out because they contribute both flavor and texture. The dressing takes seconds to whip up. And if you think that it looks like a small amount of dressing for an awful lot of coleslaw, you're not alone. I thought the same thing. Turns out, it's perfect. Not too much, not too little.
pouring the sesame oil and soy sauce
whisking in the rice vinegar
pour the dressing over the slaw
toss to coat
When you are ready, you can grill or pan fry the pork. I prefer grilling because it keeps the mess outside and doesn't require any additional oil (except a little to grease the grill grates). If you do grill the pork on skewers, take care not to squash them all together or they will take longer to cook. Or you can fry the pork in a little bit of oil in a cast iron skillet – something that will give a nice browned finish to the meat.
skewered
grilling
Serve the pork with lettuce (I like butter or bib lettuce), steamed rice, the Korean coleslaw, and kimchi. Add whatever else you like to it – some Korean hot sauce if that's your thing. This is known as
sangchu ssam
(lettuce wrap) and it can be an appetizer or a meal. Jeremy and I enjoyed it for several meals and it was a lovely combination of vegetables, spice (mmm, kimchi!), rice, and meat. Seeing as our days are getting warmer, this will probably make several appearances at our house this spring and summer!
the spread: korean barbecue pork, korean coleslaw, lettuce, rice, kimchi
ready to eat
Korean Barbecue Pork Lettuce Wraps
[print recipe]
2 lbs. Korean barbecue pork
3-4 cups Korean coleslaw
2 heads butter lettuce or lettuce of your preference
4 cups steamed rice
3-4 cups kimchi
korean barbecue pork
from Maangchi.com
2 lbs. pork
1 medium pear, quartered and cored
1 small onion, chopped into large pieces
8 cloves garlic
1 tbsp fresh ginger, peeled and sliced
2 green onions, chopped
4 tbsps soy sauce
2 tbsps sugar
1/4 tsp black pepper
1 tbsp sesame oil
6 tbsps gochuchang (optional, but good if you like spicy)
korean coleslaw
from About.com
1 small head of cabbage, shredded
1 cup red cabbage, shredded
1 small sweet onion, sliced thin
4 green onions, chopped
1 large carrot, julienned
3 cloves garlic, minced
2 tbsps soy sauce
2 tbsps rice vinegar
2 tbsps sugar
1 tbsp sesame oil
2 tbsps crushed red pepper flakes
salt and pepper to taste
Marinate the pork: Slice the pork into 1/8-inch thick slices (about 2 inches by 2 inches). Place the pear, onion, garlic, and ginger into the bowl of a food processor or in a blender and purée until it has the consistency of applesauce. Empty the purée into a medium bowl. Add the green onions, soy sauce, sugar, black pepper, sesame oil, and if using, the gochuchang into the bowl. Stir to combine. Put the pork slices with the marinade into a large ziploc bag and seal. Mix the pork and marinade together until evenly distributed. Refrigerate for at least 30 minutes or up to 24 hours.
Make the Korean coleslaw: Place the cabbages, onions, carrot, and garlic into a large bowl. In a smaller bowl, whisk together the soy sauce, vinegar, sugar, sesame oil, red pepper flakes, and salt and pepper. Pour the dressing over the vegetables and toss to coat. Let it sit in the refrigerator for a few hours.
Assemble the lettuce wraps: Skewer the pork slices (don't pack them too tight) and grill on high flame about 4 minutes a side (8 minutes total) or pan fry the pieces in a skillet with a little vegetable oil over high heat until they are done (5-8 minutes). Serve the pork alongside the Korean coleslaw, lettuce leaves, steamed rice, and kimchi. Wrap a little pork, rice, coleslaw, and kimchi in a lettuce leaf and enjoy. Serves 4-8 depending if appetizer or main meal.
more goodness from the use real butter archives