Recipe: roasted strawberry ice cream
I hope Mother's Day was a good one for all of you moms out there. I gave my mom a call earlier in the day and my dad got on the phone to discuss wine, health, Kaweah, and other things. When he was done, Mom and I were able to chat. She's always been like that – letting everyone else go first. I used to think that was a mom thing, but I've learned over the years that it is MY mom's thing. She still moms me to this day and I'm still learning how special she is. Last month on the ski lift, I told my girlfriend that Mom is always reminding me about retirement contribution deadlines and limits. I said it as if it was a bit of a drag, but my friend turned to me, "You're so lucky to have someone looking out for you like that. We don't get that kind of advice from anyone in our families." I'm so glad she said that, because it dope-slapped me into recognizing that my mom has always looked out for my (and now, Jeremy's) best interests since the day she brought me into this world.

thanks for everything, mom – i love you!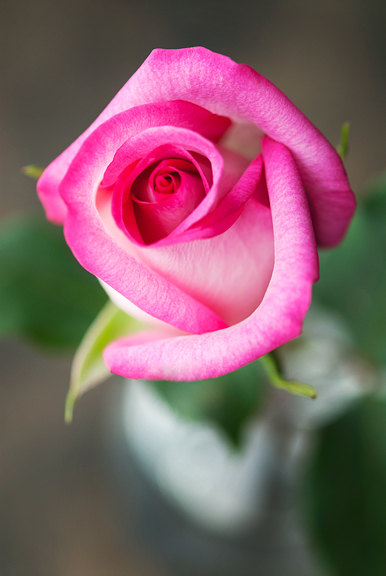 Dad had taken Mom out for a nice lunch, so they decided to opt out of some yacht club shindig later in the day. Actually, yacht clubs don't have shindigs – I believe it was a fancy cocktail party at the marina. Mom said, "We just can't eat that much after a big lunch, and it's too hot anyway. It's 84 degrees." I blinked. We had 5 inches of snow on our deck and it was still coming down. Kaweah was curled up in her doggy bed wrapped in her flannel quilt. It's always around this time of year I'm about ready to concede the snow to the progression of the seasons. And then it snows. And then I begin to salivate in anticipation of more ski days. Jeremy and I logged some long trail runs on Saturday since they wouldn't be clear of snow for several days.
the storm engulfing the mountains (and eventually me) on my trail run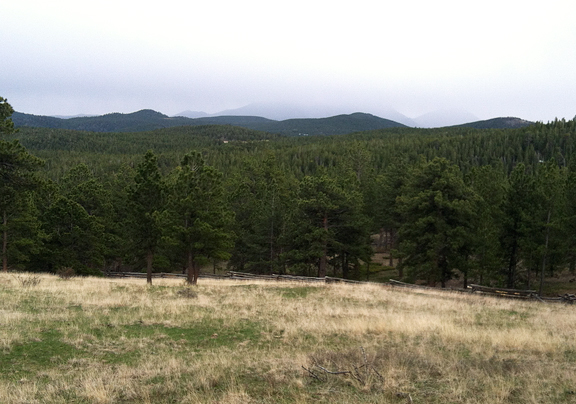 MOAR snow!!!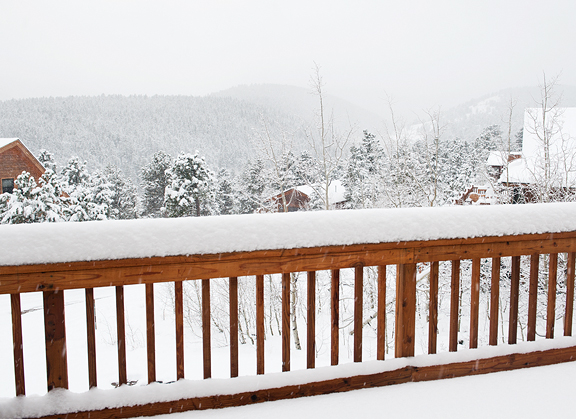 I'll let you in on a little secret. It's not uncommon for Colorado to get snow in May. It happens more often than one might deduce from all of the howls of incredulity on the flats. I'm good with it, as you know. I'm never fully ready to accept the blast furnace of summer.
may of 2008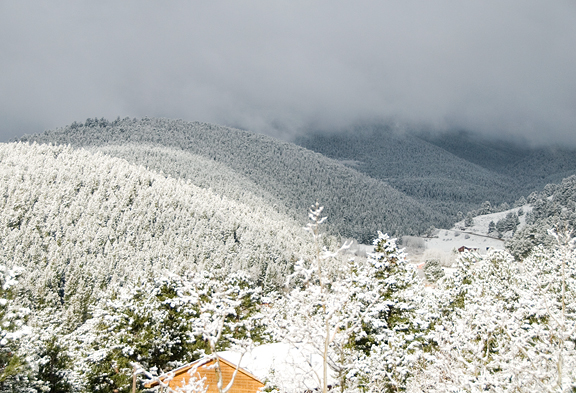 may of 2011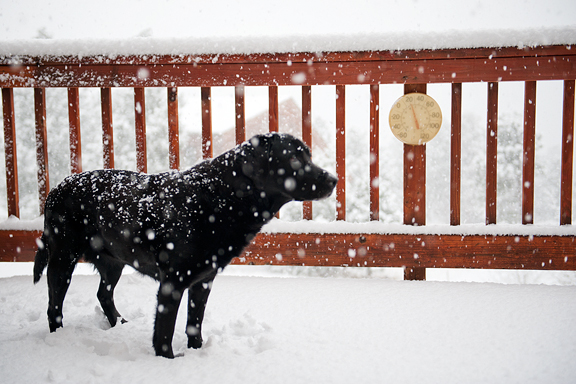 may of 2012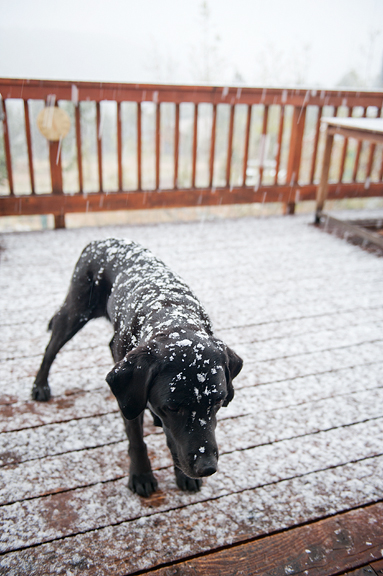 may of 2013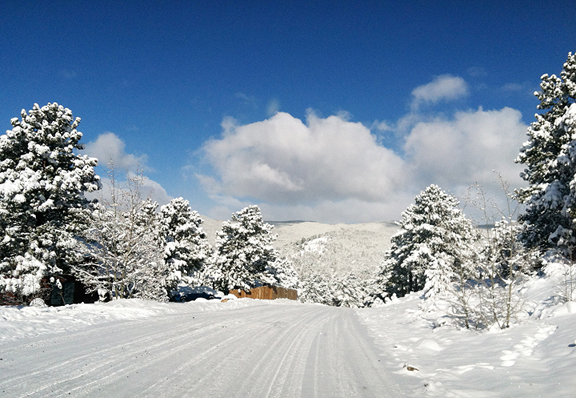 Here's another little secret I learned this past week. There is strawberry ice cream and then there is STRAWBERRY ice cream. 'Tis the season for juicy red strawberries and I was determined to find a good and proper strawberry ice cream recipe. Scouring my books and the interwebs, I came across a recipe from
Zoë
who is as knowledgeable and trustworthy as she is friendly and kind. The trick to intensely strawberry-flavored ice cream is to roast the berries. If you've ever roasted vegetables, you know that it concentrates the flavors and enhances the sweetness.
eggs, vanilla extract, corn syrup, vanilla bean, sugar, more sugar, salt, balsamic vinegar, strawberries, cream, milk
At first blush, I was dubious of the necessity of the balsamic vinegar. I knew a little acid was necessary to bring out the bright flavors of the berries, but I considered a dash of lemon juice after the strawberries were roasted. But Zoë and others have all sung the praises of balsamic vinegar, so I took a chance on it. You know what? DO IT. It's fantastic and not really discernible other than the whole thing tasting like amazing punch-you-in-the-face strawberry awesomeness.
toss the berries with balsamic vinegar
and sugar
place on a silpat mat on a rimmed baking sheet to roast
The roasting takes 30 to 45 minutes, so allow yourself time to do that. You could also do it a day or two ahead and just keep the roasted strawberry mash in the refrigerator until you are ready to stir it into the custard. The custard I used is my go to
vanilla ice cream
. Vanilla and strawberries and cream are a magical food triumvirate, much in the way that corn and lime and chile are. Certain combinations just reside in the stratosphere.
warm the sugar, salt, milk, and half of the cream
steep the vanilla bean seeds and pod in the warmed milk mixture
When the vanilla bean is done steeping (30 minutes), I like to reheat the milk until it starts to steam but isn't boiling. Whisking the egg yolks, slowly pour a little of the hot milk mixture into yolks. You want to add a little at a time to "temper" the egg yolks. If you added all of the hot liquid at once, the yolks would cook. Tempering raises the temperature of the yolks a little at a time so there isn't such a shock to the proteins when you incorporate the hot milk mixture. Stirring and heating this combination over medium heat will result in a lovely thickened custard – your ice cream base.
tempering the yolks with hot milk mixture
custard thick enough to coat the back of a spoon or spatula
strain the custard through a fine-mesh sieve
stir in the remaining cup of cream
By now, the strawberries should be done. Try to scrape as much of the caramelized sugar as you can with the berries into a bowl. You want all of the juices too. Don't worry if the sugar is hardened, it will dissolve when you mash the berries up. The corn syrup (which is NOT high fructose corn syrup) is added to keep the ice cream smooth. You only need a couple of tablespoons.
roasted berries
mash them with a potato masher or a fork
add corn syrup
Stir the berry mash into the ice cream custard. You probably have a vanilla bean floating around in there. Leave it in there while the custard cools. You can cool it quickly over an ice bath or you can cover it with plastic and pop it into the refrigerator to chill completely. When the custard is completely chilled, churn it in your ice cream machine according to the manufacturer's directions. This recipe makes nearly two quarts of ice cream, so it began to overflow a little in my ice cream machine (not a problem, just a mess).
pour the berry mash into the ice cream custard
stir to combine
In this house, I have always been the strawberry ice cream fan. Jeremy has NEVER been a fan of strawberry ice cream. It was just boring to him and he has always opted for other ice cream flavors over strawberry. When I gave him a spoonful of the just-churned ice cream, he made those mmm mmm mmm noises typically reserved for anything in the chocolate family. "What was that?" I asked. "That is so good!" Yes, it is so good that he has had a scoop (or two) every night after dinner since I made this ice cream on Friday. It really is dreamy, and this is coming from me – a true strawberry ice cream lover. It's even more amazing dolled up with some fresh macerated strawberries and whipped cream. Now you have the secret. With great power comes great responsibility. Go forth and enjoy.
strawberry sundae
the ice cream is hiding under there
don't mind if i do
Roasted Strawberry Ice Cream
[print recipe]
based on this recipe at Zoë Bakes
vanilla ice cream base from here
1 cup whole milk
2 cups heavy cream
3/4 cup sugar
pinch salt
1 vanilla bean, split
6 large egg yolks
1 tsp vanilla extract
roasted strawberry mash
1 lb. strawberries, washed and hulled
1 tbsp balsamic vinegar
2 tbsps sugar
2 tbsps corn syrup
Start the vanilla ice cream: In a medium saucepan, warm the milk, 1 cup of cream, 3/4 cup sugar, and salt over medium heat. Stir to dissolve the sugar. When the milk starts to steam, turn off the heat. Using the tip of a paring knife, scrape the seeds from the vanilla bean pod. Place the seeds and the whole pod into the heated milk. Cover with a tight-fitting lid and let steep for 30 minutes.
Roast the strawberries: Oven 300°F. If the strawberries are large, cut them in half. Place the strawberries in a medium bowl and toss with the balsamic vinegar and 2 tablespoons of sugar. Line a rimmed baking sheet with a silpat mat. Pour the strawberries into the center of the baking sheet. Roast for 30-45 minutes until the juices start running from the strawberries and the berries look slightly mushy. Remove from oven and scrape everything (juices and caramelized sugar) into the same medium bowl. Mash the berries with a fork or a potato masher. Stir in the corn syrup. Set aside.
Make the ice cream: Warm the milk mixture up over medium heat until steaming. Place the yolks in a medium bowl and break them up with a whisk. Whisk in a half cup of the warm milk mixture until blended. Whisk in another half cup of the warm milk. Scrape the egg mixture back into the pan with the rest of the milk mixture, whisking to incorporate. Set the pan over medium heat and stir constantly, making sure to get the corners of the pan, until the custard thickens and can coat the back of a spoon. Strain the custard through a fine mesh sieve into a large bowl. Add the remaining cup of heavy cream. Stir in the vanilla extract and the roasted strawberry mash. Chill the custard in the refrigerator (covered) or over an ice bath. When the custard is completely chilled, remove the vanilla bean pod and churn the custard in your ice cream machine according to the manufacturer's directions. Freeze the ice cream. Makes 1 3/4 quarts.
more goodness from the use real butter archives