Recipe: strawberry sorbet
I haven't called. I haven't emailed. I haven't blogged. Summer is my busiest time of year. We're still a month out before true summer, but as soon as the snow has cleared from the ground around our house, we call it summer. This is a painful time for me because I can't sleep in summer what with all of this amazing daylight. You want to do everything like hike, bike, backpack, travel, cook, entertain, and meet up with all of your people. And work. I wake up with that "not enough sleep" headache and then recall all of the great things I have lined up for the day and I snap right out of sleep-deprivation into happy anticipation. The problem is that there is just too much happy going on, which as you know isn't really a problem…

andrew at atlas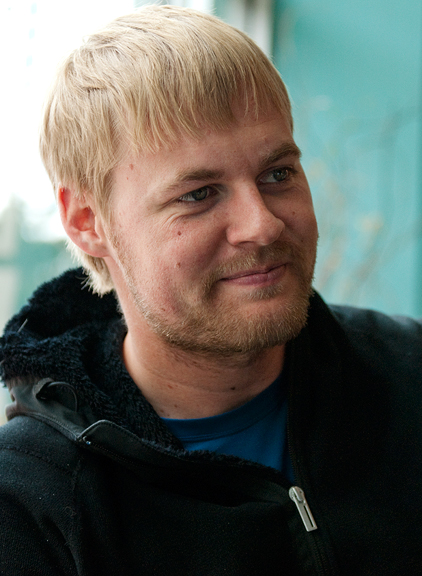 this is what happens when the curious get their hands on your unattended camera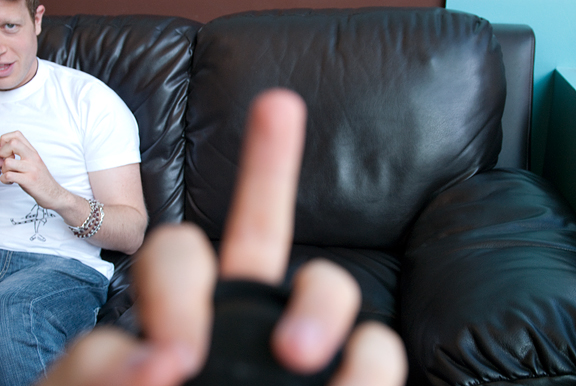 oh i love me some salad (mod market in boulder)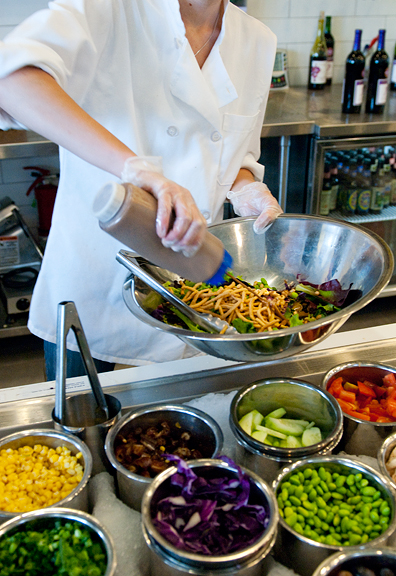 At a recent stitch-n-bitch, it came to my attention that some of my friends cringe at the sight of their photographs appearing on
urb
. We are, of course, our own worst critics. While my friends are beyond beautiful to me, I'll just stick to the food and the crafts. This time we had a special SNB for one of the lot who will be wedded in less than three weeks. We made the favors for her wedding and they are oh so adorable – honey from her own bees.
Manisha
and I will be shooting the wedding, so I guess she knows to expect 95% food shots – KIDDING!
nichole's fabulous grilled vegetable salad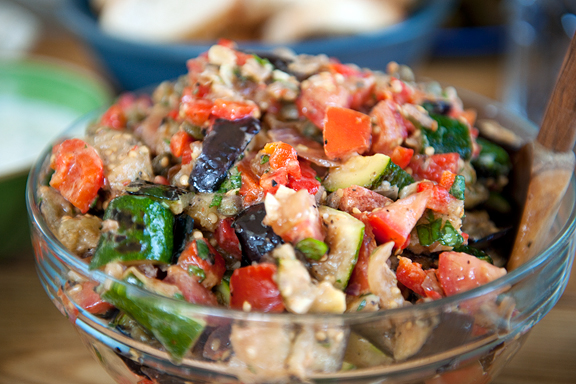 rose lemonade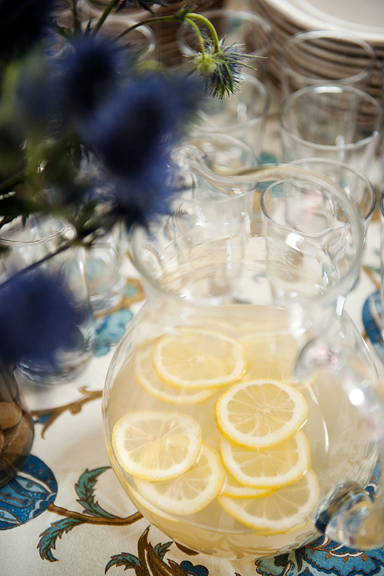 the favors are all done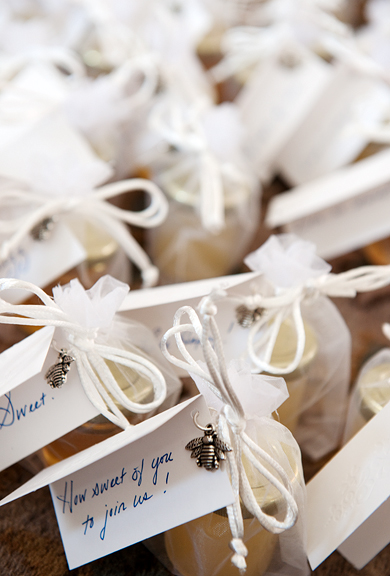 It was a lovely weekend here with sunshine and oodles of bird activity. I have yet to get myself down to the Boulder Farmer's Market because I really prefer to remain up in the mountains on the weekends. Jeremy and I spent most of the weekend working, but we did manage to get out for a survey of our local woods. The snow is almost completely melted and the aspens have yet to sprout their shiny green leaves. However, I spied many many arnica leaves emerging from the forest floor and to my delight – the pasque flowers are in full bloom. Yay for summer!
kaweah settles into her brutal summer routine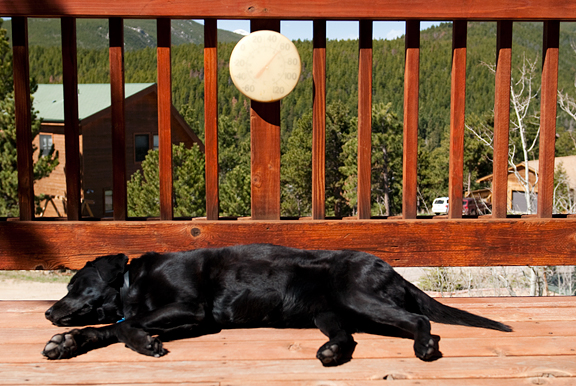 our pasque flowers are in bloom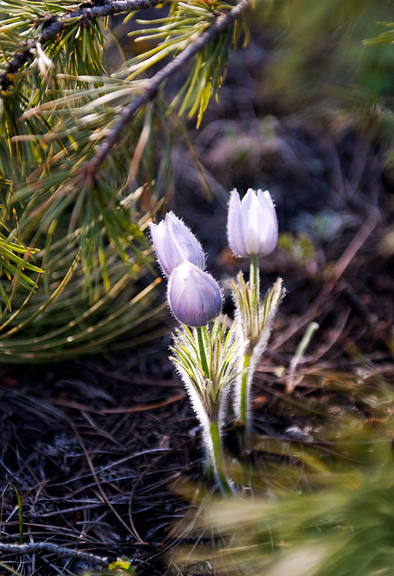 I'm fairly certain in one month I'll be moaning and groaning about the "heat" and wishing for fall to bitch-slap us back into reality. For now though, we are very much enjoying those fruits that usher in the summer months. Strawberries do exactly that. When I see those luscious deep red berries appear in the stores it makes me want to jump up and down and clap my hands.
i love me organic strawberries something fierce
hulling the berries
It's a wonder that I post as many fruit recipes as I do because my favorite way to enjoy fruit is to eat it straight. My second favorite way to enjoy fruit is to have it in a sorbet when the heat starts to make me cranky – around 70°F. Dairy messes with my tummy, so I always opt for sorbet. After devouring strawberries in California on our last photo shoot, I declared, "I need to make strawberry sorbet."
add water
blender the hell out of it
Sorbet is so simple: strawberries, sugar, water, lime or lemon juice, a little bit of booze. I debated whether or not to leave the seeds in, but wound up a little obsessed with getting a silky texture. Because the seeds were so darn small, they would pass right through all of my sieves except for my one fine mesh sieve. Oh boy – that took forever (okay, it took 45 minutes). "This had better be worth it," I muttered to Jeremy. To pass the time, I asked him some hypothetical questions on the Earth's gravity as we pass through the center of the planet.
strain baby, strain
some citrus to give that extra boost of flavor
Nary a seed made it into the sorbet, which is nice because they always manage to lodge themselves in a couple of irritating crevices in my molars. I stirred in a little gin (had no vodka on hand) because a bit of booze helps to keep it smooth and soft. It lowers the freezing point of the liquid and results in finer crystals. The original recipe called for far more sugar than I thought necessary, so I reduced the sugar and found it to be just right for my tastes.
sugar
gin
Once the slurry was mixed together, I let it chill in the refrigerator for a few hours before churning it in the ice cream machine. My friend told me his favorite stage of ice cream was when it came right out of the machine because it was still soft, but frozen. I dipped a spoon into the sorbet as it spun around. It felt like silk on my tongue. Silky sorbet is hard to beat.
pouring into the ice cream machine
ready for the freezer
The 45 minutes of pressing strawberry purée through the sieve was worth it. Jeremy doesn't usually dig on the sorbets because he has a regimen of ice creams to finish (I always have egg yolks leftover, so I always make ice cream and it is his job to eat them), but he was particularly fond of the strawberry sorbet. A keeper!
keep cool as the mercury rises
Strawberry Sorbet
[print recipe]
adapted from Group Recipes
1 lb. ripe organic strawberries, hulled
1/2 cup cold water
1/2 cup sugar (more to taste)
1 tbsp lime or lemon juice
1 tbsp vodka
a pinch of salt
Purée the strawberries and cold water in a blender until smooth. Strain the purée through a fine mesh sieve if you want a smooth sorbet. If you want the seeds in the sorbet, then skip the straining. Stir in the remaining ingredients until the sugar is dissolved. Refrigerate the strawberry purée until it is cold. Pour the contents into your ice cream maker and churn for 30 minutes per the instructions on your machine. Freeze. Makes just under a quart.