Recipe: huckleberry mess
It was a great weekend for ski touring since there was plenty of new snow that fell AND STAYED IN PLACE. If you live in the Front Range, it feels like you rent snow more than anything else because it falls and then gets blown into the next county to the east within 24 hours. Erin and I took turns breaking trail through the powder so Banjo wouldn't have to body plow the whole way up. Normally he doesn't mind body plowing through snow, but it was 2°F and we wanted to keep our furball buddy comfortable and safe.

winter did not forsake us!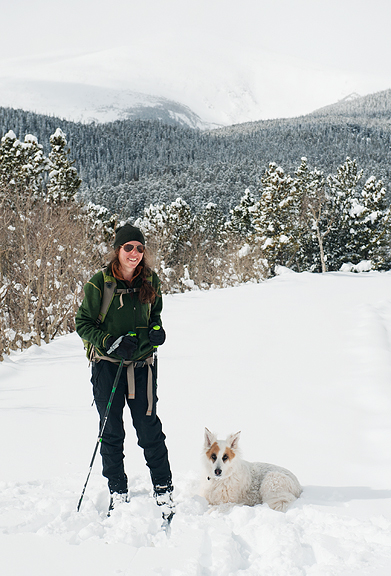 banjo was having a blast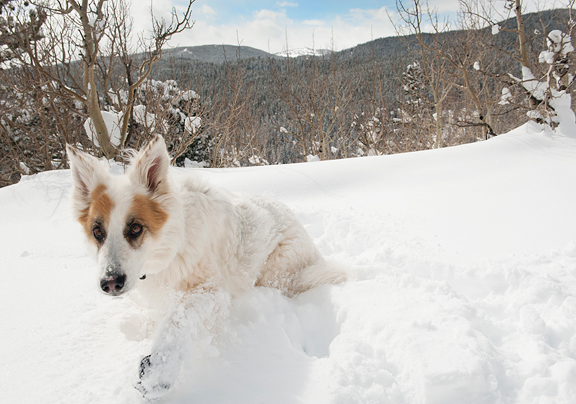 on my ski tour with jeremy, sunday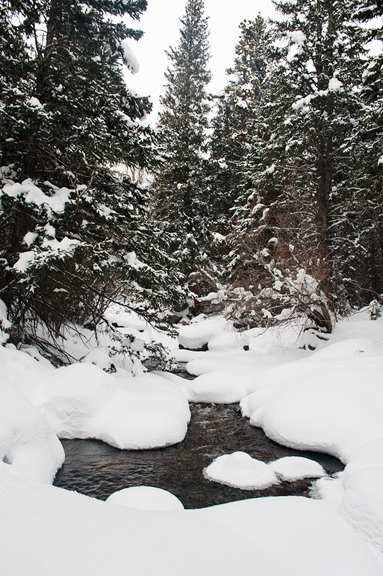 Last week, I had baked a batch of
huckleberry meringues
to distribute to friends for the Chinese New Year. I saved one out for Jeremy because he is so fond of them. But before he could eat it, I decided to serve it up with some extra goodies. I personally find meringues a little dull. They're fun to make and beautiful to look at, but when I eat a meringue straight up, it isn't terribly exciting. Pop a meringue on top of a cloud of whipped cream and fruit, and you've transformed "meh" into "wow!".
wow!
This is nothing new. It's basically an
Eton mess
with huckleberries in place of strawberries. Obviously, I don't have access to fresh huckleberries in March, but I *DO* have heaps of frozen huckleberries squirreled away in my chest freezer. I thought the frozen berries could benefit from a little lemon, sugar, and heat to make a nice sauce. Jeremy was so utterly smitten with this dessert, that he suggested I blog the recipe. I didn't think that was necessary, but you can see who got his way.
so i made another batch of huckleberry meringues
whipping cream, vanilla extract, almond extract, huckleberries, lemon, meringues, and sugar (divided)
If you don't have huckleberries, you can use frozen (or fresh) blueberries. If you really WANT huckleberries, there are places online that sell frozen hucks – just do a search on "frozen huckleberries". Make your meringues first – a day ahead if you can. These large ones take me about four hours to bake and then another hour to cool. In my dry climate, I like to let them sit out for a day to dry more. The centers of my meringues are a little underdone. The centers become slightly chewy as they dry out, resulting in an amazing texture (well, I like it). Make the sauce and whipped cream right before serving. You can also make the sauce ahead of time and refrigerate it until you are ready to assemble the mess.
combine the huckleberries, lemon juice, and sugar
simmer until the juices thicken
Whip the cream right before serving because freshly whipped cream just doesn't keep that well in the refrigerator. It loses its structure and begins to run – just not as dignified as whipped cream ought to be. I like to flavor mine with a little sugar, vanilla extract, and a touch of almond extract. Beat the cream to medium peaks so that it holds a shape, but is still pillowy enough to form soft blobs. Fight the urge to overwhip the cream. We're going for smooth, not chunky.
add sugar to the cream
and the extracts like vanilla
whip to medium peaks
Assembly is simple. Drop a big dollop of whipped cream into your bowl. Pour some of that precious huckleberry sauce over the whipped cream. Top it off with a giant meringue. That's it. It's hard to imagine how something so easy could be THIS amazing, but it is. I'm sure it's lovely with blueberries, but if you can source the huckleberries – I urge you to do so. It's quite the experience.
whipped cream, huckleberry sauce, huckleberry meringues
oh heck, how about more whipped cream?
the topper
After my ski tour with Erin, I packed some of the meringues for her to take home. Because Erin was my partner in crime on our huckstravaganza this summer, I know that she has her own secret stash of frozen huckleberries in her freezer. I quickly rattled off the instructions for a huckleberry mess and told her she should make it, only realizing later that I probably should have written it down for her. Another good reason to post the recipe. When I finished shooting the huck mess, I sent two bowls over to our neighbors. Upon returning the bowls tonight, they informed us that this was their new favorite dessert of all time (they've sampled many of the desserts I've posted here). Jeremy smiled and nodded as if to say, "Right?!?!" I have to agree. The huck mess is a simple combination of bright, tart fruit with fluffy, smooth cream and the crunchy, chewiness of a perfect meringue, but it is so much more than that. Such a beautiful and delicious mess.
serve immediately
enjoy immediately
Huckleberry Mess
[print recipe]
4 large huckleberry (or plain) meringues
huckleberry (or blueberry) sauce
whipped cream
huckleberry sauce
1 1/2 cups huckleberries, fresh or frozen (or use blueberries)
2 tbsps lemon juice, fresh
3 tbsps sugar
whipped cream
1 1/2 cups heavy whipping cream, very cold
1 tbsp sugar
1 tsp vanilla extract
1/4 tsp almond extract
Make the meringues well ahead of time because they require about 4 hours in the oven and about an hour to cool. They can be made up to a few days ahead as long as you can keep the meringues in a dry environment.
Make the huckleberry sauce: Place the berries, lemon juice, and sugar in a small saucepan over medium heat. As liquid begins to form at the bottom of the pan, stir the sauce to help dissolve the sugar. Continue to stir until the liquid begins to boil (a few minutes depending on how frozen the berries are). Reduce to a simmer and let the sauce simmer for a few minutes until the liquid runs like a thin syrup (it will thicken as it cools). Remove from heat and let cool.
Whip the cream: Place the whipping cream, sugar, vanilla extract, and almond extract in a bowl. Whip with a whisk attachment or beaters until medium peaks.
Assembly: Divvy the whipped cream, meringues, and huckleberry sauce among four bowls. Serve immediately. Serves 4.
more goodness from the use real butter archives