Recipe: ginger shrub dark and stormy cocktail
We have entered this lovely stormy pattern of snow, snow, and more snow. Hey – better late than never. Our wonderful neighbor always gets up early after a big snowfall and snow blowers his driveway, our driveway, the common driveway, and the other neighbors' driveways. Sometimes I'll take fresh baked cookies over, or maybe a coconut custard tart, or perhaps some cinnamon rolls. I love neighborly neighbors. Before the latest round of storms, we enjoyed a lull of 2 sunny days with no wind. NO WIND. So rare and yet so coveted! I scrambled to get my work done and then grabbed my skis for a solo skin into the mountains before the sun retired for the day.

beautiful, quiet, solitude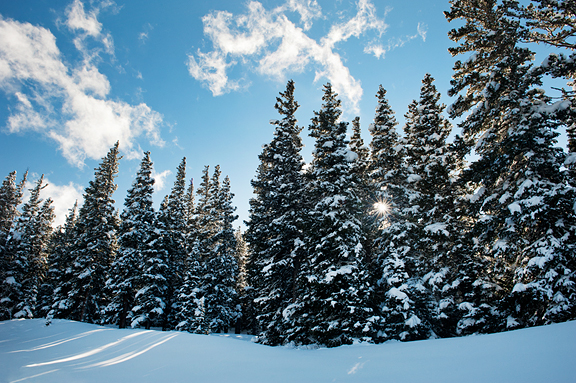 The clouds moved in a few days later and the snow has been falling ever since. In winter, we pay attention to the weather not just for the ski potential, but to avoid unnecessary travel when conditions in the canyon are hazardous. I managed to take care of all business in town on Wednesday morning, driving back up the canyon just as the snow and clouds blotted out the sun above, but Jeremy had meetings that went into late afternoon when the storm was fully underway. He planned to take the bus home (usually a safer option during storms), but had to wait a couple of hours at the RTD station while emergency crews cleared an accident that had closed the entire canyon. When he finally got home several hours after he had left his office, I handed him a cocktail – because I knew he needed it. It was a dark and stormy, which seemed appropriate.
But this dark and stormy was made with ginger shrub rather than ginger beer. My friend, Cindi, asked me for a ginger shrub recipe earlier this month because her husband loves the stuff, but didn't want to keep paying major cash for bottle after bottle. I didn't have a recipe that I had tried, but shrubs are pretty straightforward to make. I did a quick search, looked over a couple of recipes, and sent along the one that looked best with the caveat that I hadn't tested it.

ginger, cider vinegar, sugar
slice the ginger
it's just these three things: ginger, vinegar, sugar
Most shrub recipes I found involving ginger pair it with another fruit like pear, peach, blueberry. Those all sounded lovely, but the request was for ginger shrub. I got an email from Cindi a few days later with a photo of the ginger shrub that her husband had bottled. He gave it a thumbs up. Curious to try it myself, I grabbed some ginger from the refrigerator (I always have lots of ginger in my house) and set to work.
heat the vinegar and the ginger
pour it into a glass or steel vessel and let it cool to room temperature
cover and let it sit for 24 hours at room temperature
All of the shrubs I've made before were cold-processed because the flavors (
peach
,
strawberry
,
huckleberry
) benefit from the non-cooking method. Ginger is far less delicate than summer fruits, so I figured the heat-process method would be fine.
strain the ginger out
my yield was about 7 ounces
heat the liquid and sugar together
let cool then refrigerate (i gave it a week)
Ginger shrub makes a nice mock ginger beer if you add it to sparkling water. I like it with a big squeeze of lime too. That's where the dark and stormy comes in. Traditionally, a dark and stormy cocktail is just dark rum with ginger beer and lime for garnish. This version has that shrubby zing from the vinegar and some lime juice to boot. Normally you would shake the shrub, rum, and lime juice together, then top off with soda water, but I did it backwards in the photo to achieve that stratified look.
ginger shrub, limes, seltzer water, dark rum
juice a lime
measured out
pour in the soda water
add lime juice
pour in the rum and ginger shrub
Mountain living has its stressors – different from urban and suburban stressors (thank goodness), but we accept them to live in paradise. The cocktail hit the spot as Jeremy plopped down into a chair and took a sip. His eyes widened. "That's REALLY good!" he squeaked in both surprise and exhaustion. Jeremy has always maintained indifference to shrubs in general, but he's partial to ginger and he's partial to booze. I'm not much of a boozer, but I am quite fond of this ginger shrub. Ginger is both refreshing and warming, with a clean flavor that works well on its own or plays nicely with others. Endless possibilities, but first, make this super easy ginger shrub!
the ginger shrub dark and stormy
garnish with lime
Ginger Shrub Dark and Stormy Cocktail
[print recipe]
ginger shrub
from this old page
1/2 cup fresh ginger, peeled and sliced
1 cup cider vinegar
1/2 to 1 cup sugar (depending on how sweet you want it)
Heat the peeled ginger slices and the cider vinegar in a small saucepan until the vinegar begins to simmer at the edges of the pan. Remove from heat and pour the contents into a glass, pyrex, or steel vessel. Let it cool completely, then cover it with plastic wrap or a lid and let it sit for 24 hours at room temperature. Strain the liquid without pressing the ginger for 5 minutes. Your liquid yield should be anywhere from 2/3 to almost 1 cup. Discard the ginger and pour the liquid into a small saucepan. Add the sugar. Stir over high heat until it comes to a boil, then reduce to a simmer for 2-3 minutes. Cool completely. Pour into a glass jar and cover. Refrigerate. Store for several months. Makes about 1 1/2 cups (if using 1 cup sugar).
dark and stormy cocktail
from Shub and Co.
ice
2 oz. dark rum
1 oz. fresh lime juice
1 oz. ginger shrub
3-4 oz. club soda
lime for garnish
Fill a highball glass with ice. Pour the dark rum, lime juice, and ginger shrub into the glass. Top with club soda. Stir. Garnish with lime. Makes 1 cocktail.
more goodness from the use real butter archives