Recipe: home-cured corned beef
Winter has been like a rude dinner guest, showing up three months late – but she's that dinner guest that I forgive because I love her so much. Most of the Colorado mountains have been catching up on their share of snow in the last couple of weeks, as if winter were trying to make up for being such a slacker for most of the season. I love winter very much, but I'll tell you what… I love winter in March because there are more daylight hours and the storms are bigger and everyone is jazzed because they know spring (skiing) is right around the corner.

even this guy (an abert's squirrel) is in a good mood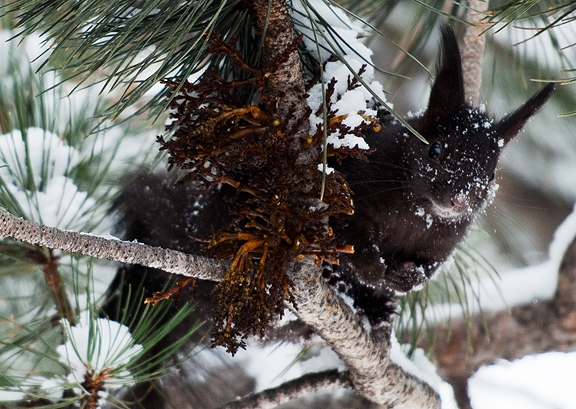 Typically around this time of year, I'll start to see corned beef briskets in the big refrigerator bins at the grocery store. You know what I'm referring to don't you? It's where they put the turkeys before Thanksgiving and Christmas, the hams before Easter, and giant racks of ribs before the Fourth of July. On occasion I've purchased a corned beef and boiled it at home, but this year I decided that it was high time I tried curing my own seeing as I had everything at home except for a brisket (easy enough to get) and pink curing salt.
my friends at savory spice shop had it (they have practically everything)
Pink curing salt isn't necessary to enjoy corned beef and I debated omitting it altogether. However, it is responsible for that signature deep pink color as opposed to grey – which is the color of corned beef if you don't use pink curing salt. It's also supposed to help with the flavor. Don't confuse pink curing salt with pink salt – one is edible (pink salt like Himalayan pink salt) and one is not (pink curing salt). The instructions on the package suggested 1 teaspoon of curing salt for 5 pounds of meat, but
Elise's recipe
calls for 5 teaspoons for 4-5 pounds of meat. The spice shop staff and I discussed it at length while I consulted
Michael Ruhlman's recipe
for a tie breaker. His version lists 4 teaspoons for 5 pounds of meat, so I thought Elise's 5 teaspoons were legit. With my pink curing salt in hand, I was ready to cure some brisket. First up: make the pickling spice.
peppercorns, mustard seeds, cloves, bay leaves, allspice, cinnamon stick, ground ginger, cardamom pods, coriander seeds, red pepper flakes
place the peppercorns, allspice, mustard, cardamom, red pepper, cloves, and coriander in a frying pan
heat until the mustard seeds pop and the spices become fragrant
Pre-made pickling spice mixes are available if you want to purchase them, but I had so many of the components I figured why not make my own. It helps me learn more about the various spices and how they are used. After toasting the spices in a frying pan, you want to smash the spices up a little. I've tried using the bottom of a frying pan to crush them and they wind up flying in all directions. The mortar and pestle work best for me.
lightly crush the spices
stir in crushed bay leaves and ground ginger
ready to cure: beef brisket, kosher salt, brown sugar, pink curing salt, pickling spices (and cinnamon stick)
Once the pickling spices are mixed, the next step is to make the brine. It's mostly water and salt, but the pickling spices, a little sugar, and the pink curing salt all contribute to the distinct flavor of corned beef. Give yourself plenty of time to prepare the brine because it needs to boil, cool, and the chill completely before the brisket can take the big plunge.
adding salt to the water, sugar, and spices
in goes the pink curing salt
when it comes to a boil, remove from heat and let it cool
refrigerate the brine until it is chilled
Home-cured corned beef should not be rushed. I started my brine the day before and then began curing the brisket the following morning after the brine had several hours to hang out in the refrigerator. I also made half as much brine as the recipe lists because I cured the brisket in a 2-gallon ziploc freezer bag. If you don't want to or can't get these super handy bags, it's perfectly fine to place the brisket in a pan big enough for the brisket and the brine, and cover it with brine. Just make sure you make the full amount of brine. The curing time is anywhere from 5-7 days, so find some space in your refrigerator for this short-term resident.
place the brisket and brine in the bag
squeeze out as much air as possible and seal the bag
after curing, wash off the brine with cold water
ready to cook: corned beef and pickling spices
At this stage, you decide how to cook the corned beef: bake (I've never tried this before), crock-pot, conventional stove top, or pressure cooker. I went with the pressure cooker because it requires less energy and because the it gives me more reliable results when it comes to tough cuts of meat like a brisket. Unfortunately, my pressure cooker doesn't have a footprint as large as my 4 pound brisket, so I had to lop the ends off to make it fit. [Placing the brisket diagonally in your pressure cooker isn't a good solution.] Be sure that there is enough water (at least an inch, but I chose 2 inches) above your brisket for two reasons: 1) the less water there is, the saltier your corned beef will be and 2) the pressure cooker runs on high for 90 minutes, so you really want to make sure you have enough water for the duration.
slicing off the ends (see how red it is in the middle!)
adding water to the beef and the pickling spices
practically falling-apart tender when done
sliced thin against the grain
We ended up dining on super tender, perfectly-flavored corned beef. It was better than any I had purchased pre-brined before. Was it worth the time and effort? Sure. The only thing that I wrestled with was the cost. My brisket was $32 at Costco, but an equivalent weight for the pre-brined corned beef is a fraction of that cost. I'm not enough of a die-hard Irishwoman (I'm not Irish at all, I'm Chinese) that I must eat corned beef at a certain time of the year, but I am enough of a cook that I'm glad to know how to cure and cook my own should I want to. It's pretty easy to do. It just requires time and planning.
i'm more of a roasted vegetables person than a boiled vegetables person
tender and flavorful corned beef
Home-Cured Corned Beef
[print recipe]
from Simply Recipes
pickling spices
1 tbsp whole allspice berries
1 tbsp whole mustard seeds, brown or yellow
1 tbsp coriander seeds
1 tbsp red pepper flakes
1 tbsp whole cloves
1 tbsp whole black peppercorns
9 whole green cardamom pods
6 large bay leaves, crumbled
2 tsps ground ginger
1/2 stick cinnamon
brine
1 gallon water
2 cups kosher salt
5 tsps pink curing salt (optional, but it's what makes corned beef pink rather than grey and it adds flavor)
3 tbsps pickling spices + cinnamon stick
1/2 cup brown sugar
brisket
4-5 lbs. beef brisket
1 tbsp pickling spices
Prepare the pickling spices: Toast the allspice, mustard, coriander, red pepper, cloves, peppercorns, and cardamom in a small frying pan over high heat until fragrant. When you hear the mustard seeds begin to pop, remove the pan from the heat. Crush the spices a little with a mortar and pestle (or use a the bottom of a frying pan on a flat surface – but that can be messy). Stir in the crumbled bay leaves and the ground ginger. Keep the cinnamon stick with the spices.
Make the brine: If you plan to brine the beef in a large pot, make the full recipe for the brine. If you plan to brine the brisket in a 2-gallon freezer ziploc bag, you only need to make half of the brine recipe. Bring the water, kosher salt, pink curing salt, pickling spices, cinnamon stick, and brown sugar to a boil in a medium or large pot. Remove from heat and let the brine cool to room temperature. Refrigerate until completely chilled.
Brine the brisket: Place the brisket in a pan or shallow vessel large enough for it to lay flat and hold enough liquid to cover the brisket. The meat will float, so weigh it down with something heavy. Pour the brine over the brisket until it is completely covered. If using a 2-gallon freezer ziploc bag (that's what I used), you only need half of the brine recipe. Place the brisket in the bag and pour the brine over it. Push as much air out of the bag as possible and seal it. Place the bag in a large flat pan (to catch any leaks). Refrigerate the brisket in the brine for 5-7 days, flipping each day to ensure even brining.
Cook the corned beef: Remove the brisket from the brine and rinse it with cold water. Place the brisket in a pot that is just big enough to fit the brisket. If the brisket is too big, you can cut it in half or cut off the ends and place them on top. Cover the beef with 1-2 inches of water and add a tablespoon of pickling spices. For conventional stovetop method: Bring the water to a boil, then reduce to barely a simmer and cook for 3-4 hours until the meat is fork tender. If using a pressure cooker: Cook on high pressure for 90 minutes (I have a Fagor Duo 8-quart), then allow natural release.
Remove the meat from the liquid and store in the refrigerator or slice thin against the grain. You can use the liquid for boiling vegetables/cabbage.

more goodness from the use real butter archives