Recipe: texas barbecue beef brisket
Having grown up in Virginia, the butt of our local jokes was usually West Virginia. When I headed to California for college, I began to hear a lot of jokes about Texas – especially after I met Jeremy, the native son of New Mexico. The one I heard most was:
Why is it so windy in New Mexico?
Because Texas sucks and Arizona blows.
I'm sure you can replace the states in that with any set of neighboring states, but it's quite amusing to see how tickled folks from New Mexico are when they deliver the punch line… every time. The point is, it is not cool to love anything about Texas in the company I keep.
Well, I have to make an exception – two, in fact. I love Kathryn, who is a Texan transplanted to Norway, and I LOVE Texas-style barbecue beef brisket à la Dr. Hogly Wogly's Tyler Texas Bar-B-Que (in Van Nuys, CA no less!). My former house president and good friend, Jack (oops! another Texan… make that three things I love about Texas), introduced me to The Doctor. It's a hole-in-the-wall joint nestled between skanky billboards advertising gentlemen's clubs and adult bookstores on Sepulveda Boulevard [8136 Sepulveda Blvd., Van Nuys, CA (818) 902-9046]. The waitresses are strapping ladies, not a single one under size 14 or shorter than 5 feet 10 inches, who can haul pounds of barbecue chicken, pork ribs, beef brisket, hot links, and the most delicious and decidedly non-vegetarian baked beans. Come to think of it, I don't think a single thing on their menu is vegetarian… except possibly the lemonade and iced tea.
The Doctor is one of our favorite go-to eats when we visit So Cal, and their beef brisket is one of our favorite items on the menu. It sells out on Mother's Day, Father's Day, you name it. F'ing Good Stuff. A couple of weeks ago, a magazine editor contacted me asking if I had a nice photo of barbecue beef brisket. Um, I didn't have any good ones and I usually barbecue pork because I am from Virginia where Pork is King. Ever since that email exchange, I have had barbecue beef brisket on the brain.

4.5 pounds of brisket with a healthy slab of fat on the other side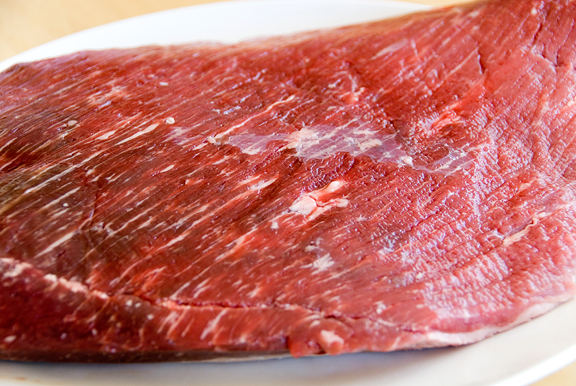 None of my barbecue books (all two of them) have Texas-style recipes. Believe it or not, I settled for a recipe on the (Pittsburgh) Post-Gazette Food section website. But hold on! It's a recipe for Texas Beef Brisket from
Celebrating Barbecue
by Dotty Griffith. I had to give it a go.
a simple rub: salt, paprika, pepper, garlic powder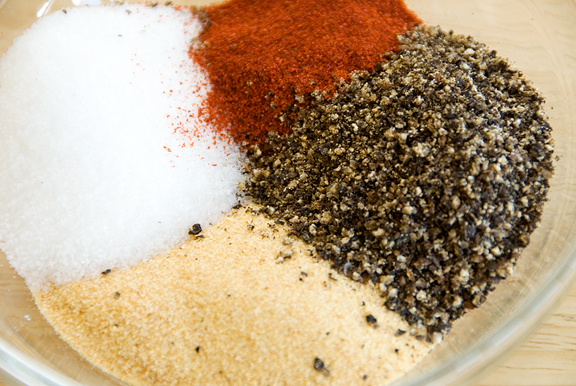 coat that baby well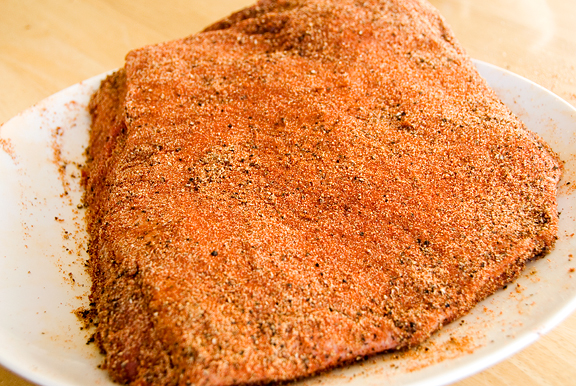 I've actually done quite a bit of grilling/barbecuing the past couple of days. It's just that time of year, you know? Good thing too, because today – Memorial Day – is cold, foggy, and drizzling outside, but my fridge is full of leftover
galbi
and beef brisket, and I have some pulled pork finishing in the oven (to give to our neighbors).
charring the fatty side on the grill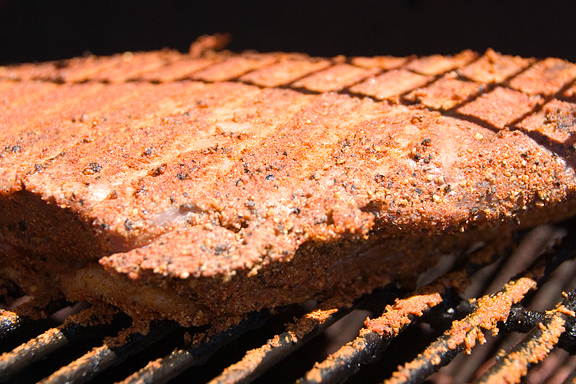 set in a baking pan and cover with foil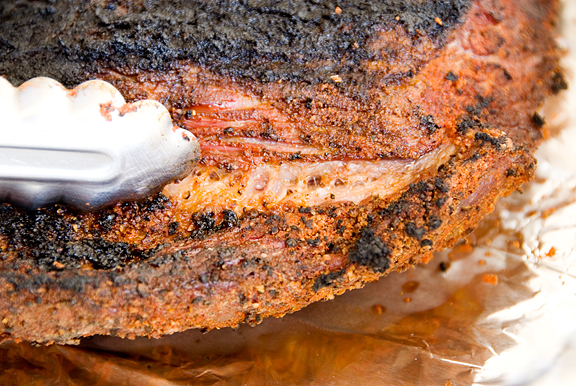 I know barbecue purists will argue for charcoal and smoke, but I can't do that here without risking the very real danger of burning down my entire town and then some. It's dry, it's windy, we have a bark beetle infestation killing our pine forests, and my house is made of wood. Luckily, this recipe has a fail-safe technique which I took liberties with in using my gas grill. After charring the fatty side, it goes into the oven for 4-5 hours. I'm including both techniques in the recipe below.
prep the lone-star barbecue sauce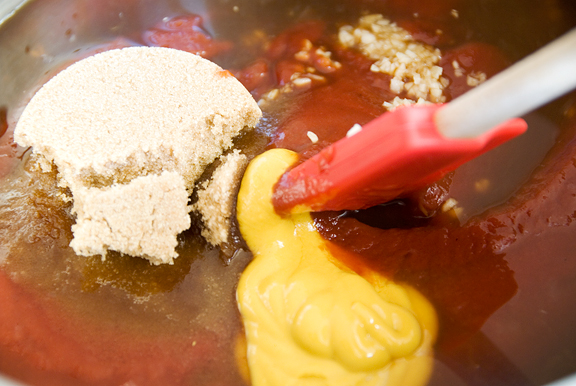 At this point, I usually want to mess with the recipe or swap out a different sauce. I like the Mutha sauce from Dinosaur BBQ, but I also love a sweeter Kansas City barbecue sauce recipe I got from a (tall and handsome) business school student neighbor when we were in grad school. But I was good and I stuck with the sauce in this recipe. I like that it calls for 1/4 cup of pan drippings in the end.
trimming off the layer of fat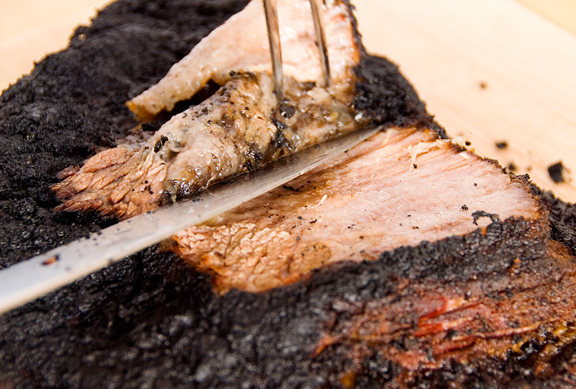 slice the brisket against the grain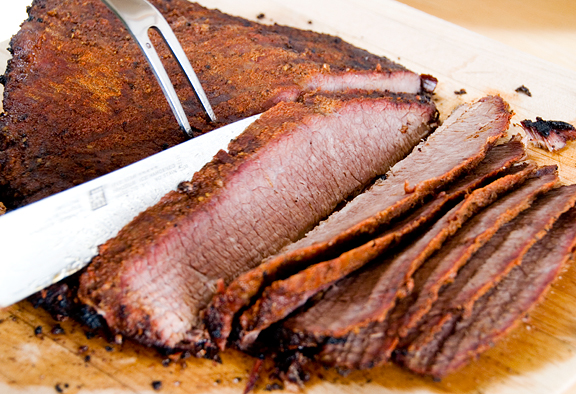 That is some good brisket. It's not quite the same as Dr. Hogly Wogly's, but it's close. The sauce at The Doctor's is spicier and I think the beef is juicier. Perhaps I should have used the wet mop? Will require more research (i.e. trip to So Cal and to see The Doctor), but for now, this recipe works for me. I hope it works for you too.
carnivores rejoice!
Texas Beef Brisket Barbecue
[print recipe]
Celebrating Barbecue by Dotty Griffith
8-10 lbs. beef brisket, untrimmed (thick layer of fat on one side) (I used a 4.5 lb. slab)
Texas Dry Rub, or salt and black pepper to taste
Texas Wet Mop, optional
Lone Star Barbecue Sauce
texas dry rub
2 tbsps salt
2 tbsps black pepper
2 tbsps paprika
2 tbsps garlic powder
In an airtight container with a lid, combine the salt, pepper, paprika, and garlic powder. Shake to mix well. Sprinkle over the entire surface of the meat, concentrating on the fat layer. Rub or press into the fat and meat. Makes 1/2 cup.
texas wet mop
1 tsp salt
1 tsp dry mustard
1 tsp chili powder
2 tsps paprika
1/3 cup vegetable oil
2 cloves garlic, crushed
1 large (or 2 small) bay leaf
1 tsp red pepper sauce
1/2 cup Worcestershire sauce
1/3 cup cider vinegar
1 tbsp soy sauce
3 1/4 cups beef stock
In a medium saucepan, combine the salt, dry mustard, chili powder, paprika and vegetable oil. Stir to make a paste. Add the remaining ingredients slowly, stirring all the while. Place over medium heat and bring to a boil. Remove from the heat and allow to cool. Pour into a container with a tight-fitting lid and refrigerate until ready to use. Brush the mop on beef or ribs while barbecuing over dry (no water pan), indirect heat. Makes 1 quart.
lone star barbecue sauce
1 1/4 cups ketchup
1/3 cup Worcestershire sauce
1/3 cup lemon juice
1/3 cup packed brown sugar
1 tbsp yellow mustard
1/4 cup water
1 clove garlic, crushed
1/4 cup (1/2 stick) butter or pan drippings from barbecue
Combine the ketchup, Worcestershire sauce, lemon juice, brown sugar, mustard, water and garlic in a medium saucepan. Place over very low heat and simmer, stirring occasionally, 1 hour. For really smoky flavor, place on the grill away from the heat source during the last hour of smoking. Stir in the butter or drippings and cook 15 minutes longer. Pour into a container with a tight-fitting lid and refrigerate to store, up to 2 weeks. Makes about 3 cups.
Note: To obtain pan drippings, place a drip pan under the brisket during cooking or save the juices that collect while the meat rests during slicing. You can also heat some of the fat trimmings to obtain some fat drippings. If using the fail-safe technique of barbecuing brisket, as described with the accompanying recipe, the meat drippings collect in the foil and can easily be spooned up and added to the sauce.
Beef Brisket Long Technique: Generously coat all sides of the brisket, particularly the fat layer, with the rub or salt and pepper. Cover and let the meat come to room temperature, about 1 hour. Meanwhile, prepare a fire by lighting wood or a combination of wood and charcoal in the firebox of a cooker or at the end of a barrel smoker opposite the end with the vent or chimney. Or light the coals in a water smoker. Or preheat a gas smoker/grill. When the fire has burned down to glowing embers or the coals are covered with gray ash, place the brisket on the grate but not directly over the coals. Or place a full pan of water over the coals or hot lava rocks, then add the grate and brisket. The fire should be low, 225-250°F. Cover the cooker and smoke the brisket, turning every hour or so, until it is tender and the internal temperature reaches 180 to 190 degrees on an instant-read thermometer, 8 to 10 hours. Tend the fire by adding wood (or wood embers from a separate fire) or coals to keep it from going out and to keep the temperature inside the cooker between 225-300°F. If using a mop (basting is advisable only when cooking without a water pan), brush it on when turning the brisket or after tending the fire. When the brisket is charred and tender (a fork should insert easily), remove it from the cooker and allow to rest about 20 minutes. Trim off the fat layer and cut brisket in thin slices across the grain. Serve with warm barbecue sauce, if desired. Or stack several slices in a sandwich bun spread lightly with sauce. Add more sauce, as desired. Serves 10-12.
Beef Brisket Fail-Safe Technique: The following technique produces smoky, tender brisket and cuts the time almost in half. Generously coat all sides of the brisket, particularly the fat layer, with the rub or salt and pepper. Cover and let the meat come to room temperature, about 1 hour. Light a fire in a charcoal grill that is big enough to hold the brisket. Allow the coals to burn until covered with gray ash. Place the brisket on the grill, fat side down. Grill the brisket about 45 minutes or until the fat is charred, turning when necessary to stop fat from dripping into the fire. Squirt flare-ups with water to douse the flames. Remove the brisket from the grill. *Jen's Note: I grilled over gas flame (medium) directly for 20 minutes until the fat side was charred then indirect heat for 20 minutes. Preheat the oven to 250°F. Place the brisket on a double thickness of aluminum foil in a shallow roasting pan. Wrap it tightly and bake for 4 to 5 hours or until the meat is very tender. Remove the brisket from the oven and peel back the foil. Increase the oven temperature to 350°F. Return the brisket to the oven and roast, uncovered, for 30 minutes to crisp the top layer of fat. Allow the meat to rest for 20 minutes. Trim off the fat layer and cut across the grain into thin slices. Serve with barbecue sauce.