Recipe: corned beef hash
Several posts back, a reader (Jasmine) asked how I got started skiing. I wish I could say I began as a little toddler, the way these badass little Colorado munchkins do – but I didn't. I spent my youth on the water, sailing with my dad and my sister. I didn't begin the love affair with gliding on snow until I was 22 years old when I was visiting Jeremy's family over the holidays and they took me to the bunny hill at their local mountain.
Jeremy is a phenomenal teacher when it comes to most things. Skiing is not one of those things. He learned to alpine ski as a kid, for crying out loud. The first thing he did was point down the hill and say, "Just head over there." As soon as I began moving, I realized that he had neglected to tell me how to stop. I proceeded to crash into the ground while making a mental note not to listen to that guy. Despite the terrible first lesson, I really loved skiing. Living in Southern California, we managed to get 5-8 days a year if we were lucky.
Then we moved to Ithaca, New York where we picked up cross country skiing (it's free and we were graduate students). We continued logging single digit alpine days each year whenever we visited family in New Mexico. Upon our return to Southern California, we would spend a couple of weekends each year skiing at Mammoth Mountain. This was the first time I had seen a person telemark ski. I was riding solo on the lift watching this fellow carve graceful turns down the mountain such that I missed getting off the chair and had to do the "jump off and roll out of the way" move. But it was worth it.
We learned to telemark ski (with proper instruction) during our first winter in Colorado, ten years ago, and I've never touched a pair of alpine skis since. Being locals, skiing is no longer limited to vacations or weekends – it's something we do for regular exercise during our snow months… September through June if we're lucky! We ski the resorts, the backcountry, the local trails, the nordic centers: telemark, ski touring (skins and scales), classic, and most recently skate skiing. I love skiing. It kept me sane during my chemotherapy in 2008 and it keeps me happy and healthy now. So that's the love affair in a nutshell!

surprise powder day on the local mountain, friday afternoon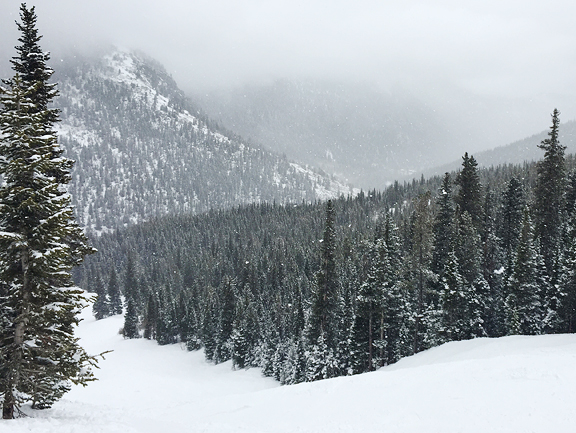 sunny weekend ski tour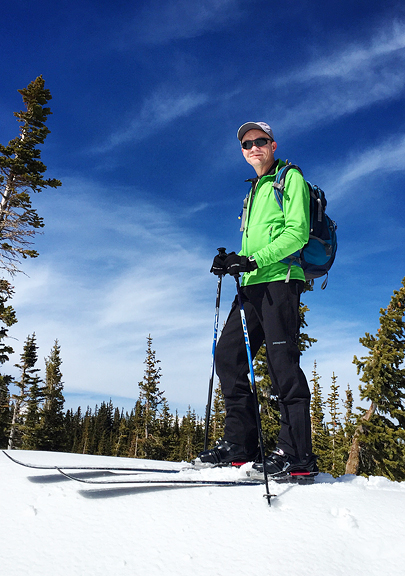 the snow was sticky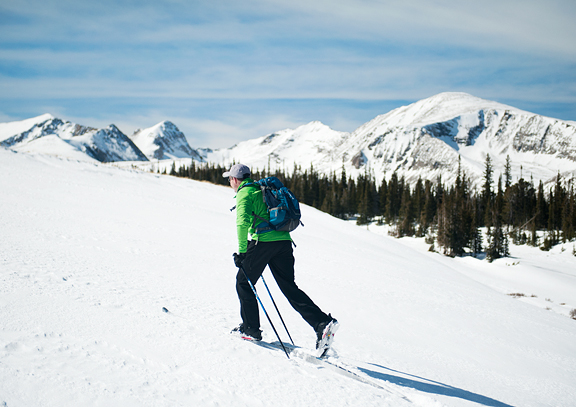 great views of the indian peaks
65 degrees on the local trails – it was so warm i wore my running skirt instead of ski pants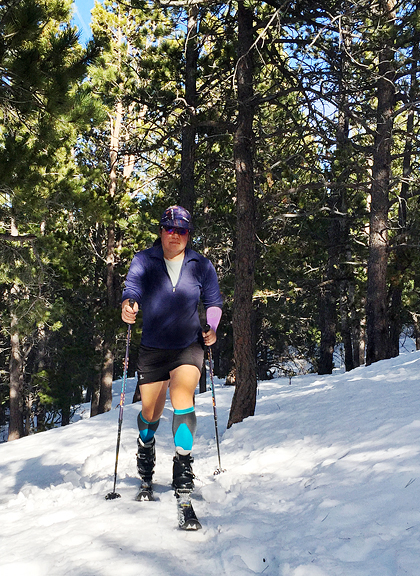 Right, but enough about skiing (we still have a few more months to talk about skiing). If you are serving corned beef for Saint Patrick's Day or just because they happen to be on sale EVERYWHERE, you might be fortunate enough to have some left over. I am actually far more excited about leftover corned beef than the corned beef itself. We ate a couple of slices of corned beef with roasted vegetables, but I already had plans for the leftovers which were actually 90% of the brisket. We enjoyed delicious reuben sandwiches with melty swiss cheese and loads of sauerkraut, and then I made corned beef hash – because I'm a savory breakfast kind of girl and this is filled with ALL OF THE GOOD THINGS.
parsley, potatoes, red bell pepper, onion, eggs, salt, butter, corned beef, cream, pepper
chop the corned beef into chunks
pulse them into a coarse chop
dice the potatoes
It's a quick prep: chop and dice. Boil the potato cubes in water for a few minutes until they are just tender, then drain them. Start sautéing the onions and peppers until they just start to brown at the edges. Now here is where I deviate from the recipe (I've made this a couple of times now) – instead of adding the potatoes to the onions and peppers, I think it's better to remove the onions and peppers from the skillet so you can brown the potatoes on their own. My reason for this is because I like my potatoes golden on the edges and it's hard for them to get proper contact with the pan if all these onions and peppers are in the way. TOTALLY in the way. Get them outta there so the potatoes can do their magical thing which is to get crisp and brown on the outside while remaining soft and fluffy on the inside. Right.
ready to get cooking
draining the boiled potatoes
melt the butter in a large skillet
sauté the onions and peppers
Of course, the first time I made this recipe (and photographed it) I goofed and added the potatoes and the corned beef to the onions and peppers at the same time. The pan was so crowded that the potatoes never seemed to brown and the corned beef began to get too crisp. That's why I suggest cooking the potatoes alone. If you don't care, then add the potatoes to the onions and peppers, then add the corned beef after the potatoes have had their skillet time. One step that I thought was unnecessary was the addition of cream to the skillet. But after reading positive comments on the recipe page from folks who had tried the recipe, I thought "Oh heck, why not?" The cream (like butter) adds a nice hit of rich flavor. And the final step is to make a little hole in the skillet (or four if using the large skillet) and crack an egg into each hole.
adding corned beef (the potatoes should have been added and cooked before the corned beef)
browning and crisping
cream – yes, do this!
add an egg if you like
This is one of those ultimate savory breakfast meals with everything in one dish. The egg is not mandatory, but we LOVE the egg. I like mine with a runny yolk, so I just drop the egg in and let it cook until I think it's ready. Jeremy prefers his egg broken over-hard, so I let it cook a little before breaking the yolk and then I let the egg cook halfway before flipping it over in the hash. There will be bits of corned beef and potato stuck to the egg, and that's a wonderful thing. Top it off with some salt, pepper, and fresh parsley (a few dashes of hot sauce can't hurt either). Not only is this a fantastic breakfast for using up leftover corned beef, but it makes a most excellent dinner, too.
corned beef hash with egg, coffee, juice, and toast
runny yolky goodness
Corned Beef Hash
[print recipe]
from Epicurious
1 lb. yukon gold potatoes, peeled and cut into 1/4-inch dice
1 lb. corned beef, chopped into 1-inch chunks
2 tbsps unsalted butter
1 medium onion, medium dice
1 red bell pepper, cored and cut into 1/4-inch dice
3 tbsps vegetable oil
salt and pepper to taste
1/4 cup heavy cream
4 eggs (optional)
1 tbsp parsley, chopped
Bring a quart of water to a boil in a medium saucepan. Add the diced potatoes to the boiling water and cook until just tender (took me 5 minutes). Drain the potatoes and set aside. Place the chunks of corned beef in a food processor and pulse until coarsely chopped. Set aside. Melt the butter in a skillet over medium high heat. Sauté the onions and peppers in the butter until the onions turn translucent and begin to brown at the edges. Remove the onions and peppers to a small bowl.
Add 2 tablespoons of vegetable oil to the skillet and add the potatoes. Let them brown on one side (4-5 minutes) then flip the potatoes to brown on another side (you can't brown all the sides, you'll be there forever). Return the onions and peppers to the skillet with the potatoes. Stir in the corned beef and let cook for 2-3 minutes. Flip sections over and let the other side brown (another 2-3 minutes). Season with salt and pepper and stir the cream into the hash. Let it cook for a minute. If serving with eggs, make a hole in the hash in the skillet for each egg. Add 1/4 tablespoon of oil in each hole, then crack an egg into each hole. Cook until the eggs achieve desired doneness (you may want to cover the pan if you want the tops of the eggs to cook faster). Serve hot. Serves 4.
more goodness from the use real butter archives