Recipe: strawberry pâte de fruits
For the past several days, I've watched white clouds build over the mountains, turn dark, and then blot out the sun by mid afternoon. The black-bellied clouds swoop down with winds, lightning, and rain – only to march away before dinner. This pattern is more typical of summer than spring, but I like the rain. It keeps things cool and wet which is better than dry and burning (wildfires). And every time it rains, I cross my fingers that up high in the mountains, it's falling as snow. Wishful thinking.

ski day #101 – because i can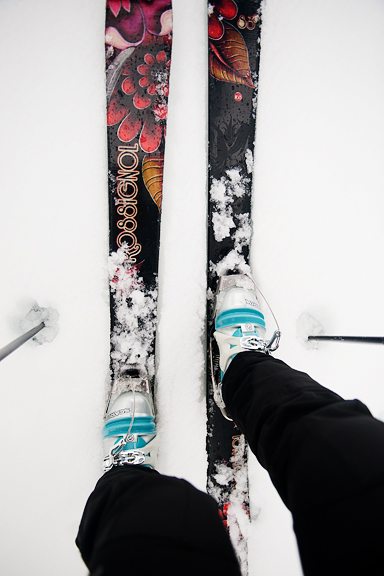 dramatic weather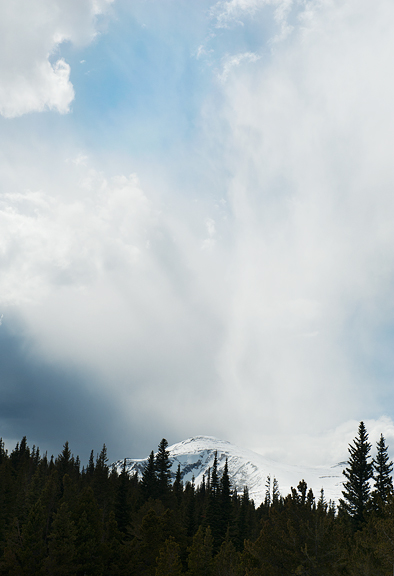 my favorite cherry tree in the canyon in full bloom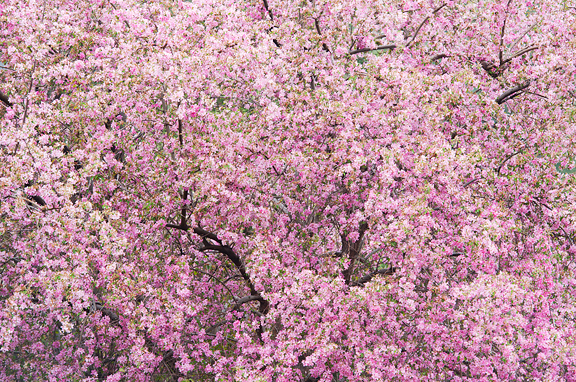 Before my trip to Virginia, I debated what sorts of goodies to bring to my parents – more specifically, my mom. It had to be something that traveled well and didn't take up a lot of space. I thought chocolate-dipped strawberries would be great except they are über perishable. Why not chocolate-dipped strawberry pâte de fruits? The first step is to make the pâte de fruits.
sugar, lemon, butter, strawberries, liquid pectin
hull the berries
chopped berries, juiced lemon, and everything else
pop the berries in a blender and purée
A pound of strawberries gave me about 2 cups of purée. I strained the purée through a medium mesh sieve, but I think my Vitamix does such a good job of blendering the hell out of things that only a very few seeds were strained out. You can substitute other berries in for the strawberries or do a combination of berries. Combine the purée, sugar, and lemon juice in a large pot and bring it to a boil. Some recipes tell you to boil for X number of minutes, but that's assuming you are at sea level. A target temperature is far more accurate and consistent – especially for those of us who live more than a mile above sea level. My target was 220°F (203°F at 8500 feet above sea level – subtract 1°F for every 500 feet above sea level). Use a candy thermometer to monitor the progress. The temperature will rise quickly and then it will just sit below your target temperature for several minutes (like 10 or more for me). Keep stirring to prevent the purée from burning – it will eventually get there. My temperature did drop twice for a minute or so, which was odd, but it did recover and finally hit the target. Anyone experience this while candy making?
straining the purée
combining the purée, sugar, and lemon juice
once you reach the target temperature, stir in the butter
after boiling for 3 minutes, stir in the pectin
When the mixture is ready, pour it into a baking pan. I grabbed the wrong pan and used a 9×9 inch rather than an 8×8 inch pan, so I didn't bother pushing the jelly into the corners. Also, while shooting the pan, the jelly set up before I could smooth the top. If you wind up with pieces of candy that have uneven surfaces, those are perfect candidates for popping into your mouth. But if there are too many to pop into your mouth, you can always enrobe them in tempered chocolate. Amiright?
pour the mixture into a parchment-lined pan
let it set up (preferably with a smooth surface)
turn the jelly out onto a cutting surface
roll in sugar for classic pâte de fruits
I rolled a third of the fruit jellies in sugar and reserved the rest for dipping in chocolate. I don't recommend rolling them in sugar and then dipping them in chocolate. I'm not sure if that thought even crossed your mind, but – just don't. It's messy and weird. I prefer to use dark chocolate because it behaves better than milk or white chocolate when tempering and it tastes better (in my opinion). You don't have to temper your chocolate, you can just melt it and dip your candies and it will be adequate, I'm sure. But if you want that shiny finish and that nice snap of the chocolate, then you might want to temper the chocolate. I basically heat my chocolate over a water bath until it reaches 112°F and remove it from the water bath. The temperature usually continues to rise to about 124°F. You want it to get to 118°F (116°F for milk and white chocolates), but don't let it get above 180°F because it will burn.
Cool the chocolate over an ice bath or on an ice pack, stirring and agitating the chocolate with a spatula (to encourage crystal realignment) until it reaches 95°F. At this point, remove the bowl from the ice and toss in a small handful of the same solid chocolate into the melted chocolate. The solid chocolate is tempered (in my case, chips) and will help to seed the rest of the chocolate. Continue stirring and agitating the melted chocolate. Dark chocolate (bittersweet and semi-sweet) is in temper between 89-91°F, white and milk chocolates are between 85-87°F. These are the temperature ranges where you want to dip your jellies into the chocolate – try not to let the chocolate fall out of the range. The temperature will continue to drop, so I like to layer a few kitchen towels over the pan of hot water (the water bath) and set the bowl on top to keep my chocolate in that temperature range (89-91°F). You'll have to monitor the temperature and move the bowl off the pan and back on to maintain temper, but you get used to it after a few times.

melting chocolate over a water bath
seeding at 95°f
dipping the jelly in tempered chocolate
drying on a silpat
The pâte de fruits turned out really well. The sugar-rolled jellies were pretty and fruity, but the chocolate-dipped jellies were almost like chocolate-dipped strawberries. I had extra berries on hand, so I dipped a few while the chocolate was still in temper. Definitely use ripe, in-season berries for this because the flavor comes through so beautifully in these confections. They make lovely gifts or nice petit fours at the end of a meal or for an afternoon tea. My mom loved them – and so did my dad!
sugared or chocolate-dipped
a little treat for someone special
big flavor in small packages
Strawberry Pâte de Fruits
[print recipe]
1 lb. strawberries, hulled, puréed, and strained – should yield 2 cups of purée (you can use any berries)
2 1/2 cups sugar
1 tbsp lemon juice, fresh
1 tbsp unsalted butter
6 oz. liquid pectin
granulated sugar for rolling or dark chocolate for enrobing
Line an 8×8 inch pan with parchment paper. Stir the strawberry purée, sugar, and lemon juice together in a large heavy-bottomed pot. Clip a candy thermometer to the side of the pot, making sure the measuring end is in the strawberry mixture. Set the pot over medium-high heat, stirring occasionally. The strawberry purée will foam quite a bit – just keep stirring – it will eventually settle down as the mixture thickens. Let the purée boil, stirring to keep the bottom from burning. You want to target a temperature of 220°F (203°F at 8500 feet elevation). Once the temperature is reached, stir in the butter and boil for another 3 minutes. Stir in the pectin and boil for 1 minute. Remove from heat and pour the mixture into your prepared pan.
Let the fruit jelly set (this takes anywhere from a few hours to overnight depending on your humidity and other factors). Once the jelly is set, turn it out onto a clean cutting board and slice into squares or whatever shapes you like. It's sticky, so clean your knife or cutting tool between slices. Roll in sugar or enrobe in tempered chocolate (I talk about the seed method for tempering chocolate in this post). Makes 64 1-inch squares. Store in airtight container for up to a week. Refrigerate if room temperature is warm.

more goodness from the use real butter archives