Recipe: the mediterranean pizza
Where did that little bundle of puppy go?
It would seem that all of those kibbles went into making Neva's legs and body longer over the last week. She's gaining weight at a good pace according to the vet. But when we look at her growing body, her head looks as if it is the same size as the day we got her. "When is your little face going to catch up to the rest of you?" I ask Neva each morning. She just tilts her velvety head trying to puzzle out if that string of mumbo jumbo from my mouth means food is coming or we're going outside to play.
Some people say to enjoy puppyhood because it's over in a flash. Truth be told, it wasn't the puppy I wanted, but the dog she's going to become. That isn't to say that I dislike puppies – I love my little girl – it's just that puppies are a lot of work. I suspect this is why so many people abandon dogs when they discover how hard it is to raise a puppy or wind up with a less than ideal companion. Honestly, people are such idiots. Dogs aren't small kitchen appliances to be tossed on the street for curbside pickup (even small kitchen appliances should be recycled responsibly!), they are living creatures.
Neva's training is coming along – not as quickly as we would like, but I think our expectations are a bit unrealistic. She's a puppy after all, and we've been keeping her busy with all sorts of new activities. It's important to introduce Neva to the things she will be doing for the rest of her doggy days: road trips around Colorado, riding bumpy mountain roads, snow, trails, spending time in wild places. We took her to Crested Butte over the weekend, because it's doggy paradise and her second home.

lots of snow on cottonwood pass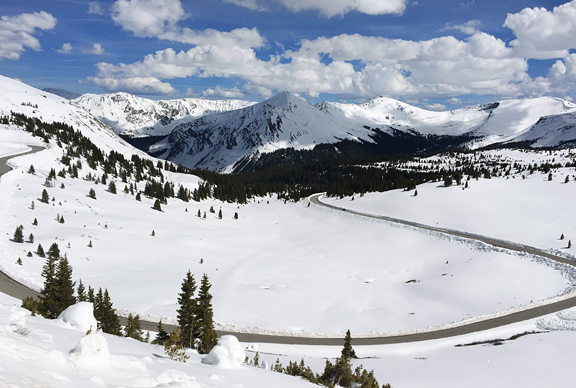 neva on the continental divide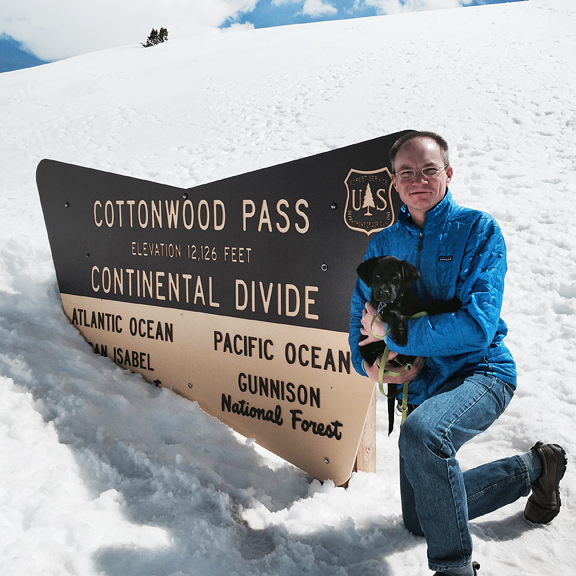 the view from the taylor reservoir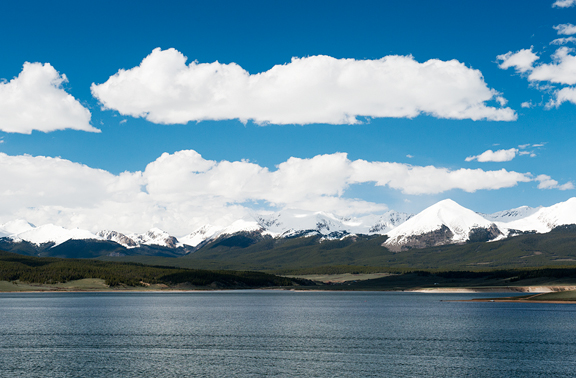 Folks have been asking what books we are using to train Neva. We read
Perfect Puppy in 7 Days: How to Start Your Puppy Off Right
and
How to Behave So Your Dog Behaves
, both books by Dr. Sophia Yin. Of course, as soon as Neva arrived, we haven't had a moment (or maybe it's the energy) to reference the books. I'm hoping to tackle that now that The Crud has begun to leave my lungs. What we like about Dr. Yin's approach is how training is based on positive experiences rather than punishment and fear. Some methods have worked really well so far and others not as much, but I believe each dog will react differently to situations. We just use the books as guides and fill in the rest with experience, empathy, and our own observations.
glacier lilies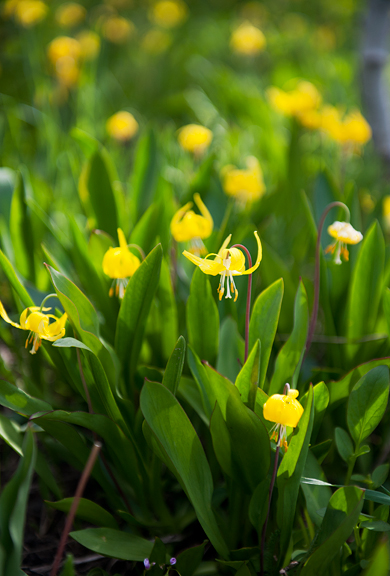 neva on her first real hike!
relaxing among the dandelions and larkspur blossoms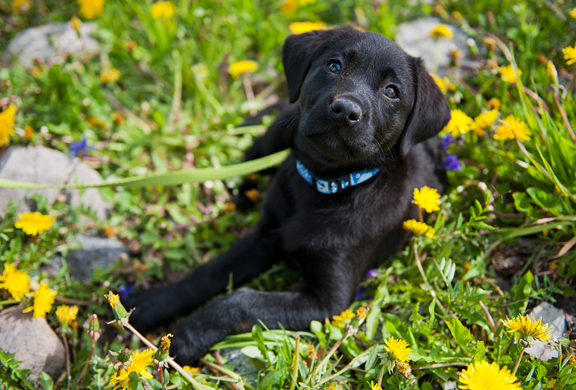 so happy to see wildflowers again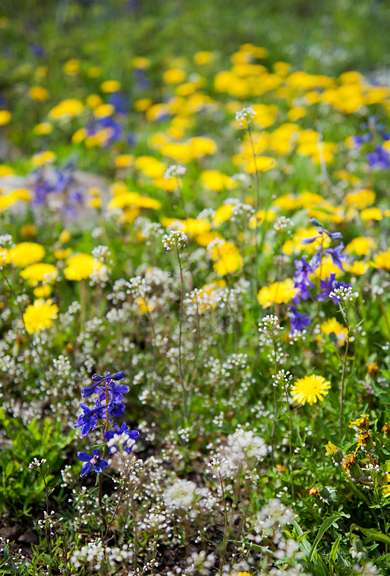 Not everything has gone smoothly. Neva has had her share of accidents in the house which can be attributed almost entirely to human error – we misread her behavior or we weren't paying attention. She's doing much better on the leash, but right now every trail is new to her and full of distractions. Heck, EVERYTHING is new to her, she's just a puppy. Neva is scared of bikes and cars when they are coming toward her (she sits or hides behind our legs), but then she wants to romp after them when they pass. We have learned how to calm her down when she's overstimulated during play – something we didn't understand or learn to recognize in Kaweah when she was a puppy. Overall, I think Neva is doing really well. She likes us and we love her. We are pouring a lot of effort and love into this little lady so she can have a really happy life.
walking through spring aspens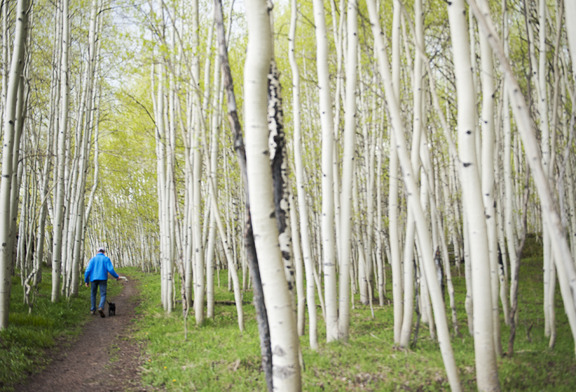 tired puppy in the land of beautiful mountains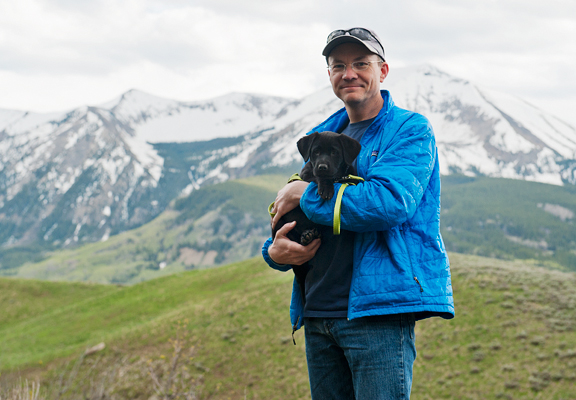 sunlit aspens just starting to leaf out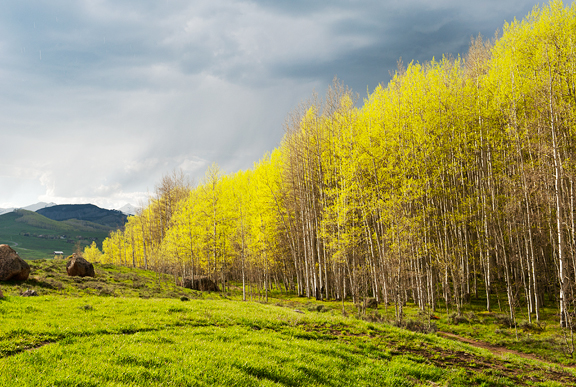 spring green stands under the watchful eye of crested butte mountain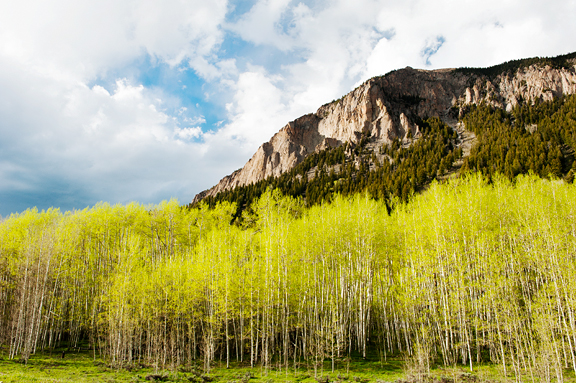 neva's second playdate with banjo – she's tuckered out!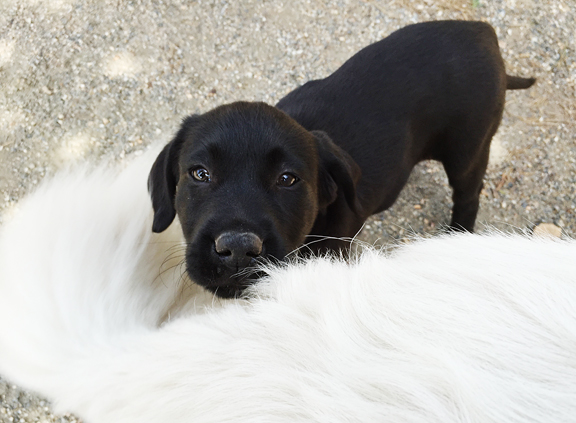 And summer has finally arrived around here. Warm, sunny days punctuated with moody afternoon thunderstorms have been the norm this week. Naturally, my semi-lucid thoughts have turned to outdoor grilling and entertaining friends. Everything points to "simple" right now because the Puppy Vortex demands payment in time – lots of time. An easy vegetarian pizza we used to order from our local pizza joint in Nederland is the Nediterranean. I say "used to order" because we make it at home now and it's way better.
olive oil, black pepper, mozzarella, pizza dough, olives, feta, pesto, roasted peppers, sundried tomatoes, pine nuts, salt, garlic
prepped toppings
The original pizza didn't use mozzarella, but I add it to increase the cheese factor. Feel free to stick with just feta, just mozz, or a combination of the two. Even though the base sauce is pesto, I still like to brush the dough with olive oil and then sprinkle some minced garlic, salt, and pepper. My intention was to give the outer crust a nice bit of flavor, but discovered it was great on the entire pizza.
dress the dough with olive oil, garlic, salt, and pepper
spread some pesto
distribute the mozzarella, sundried tomatoes, and roasted peppers
Pizzas are highly customizable, which means you can omit those ingredients you dislike and add the ones you prefer. Just remember the golden rule – don't overload your pizza with too many toppings. If you do, then the pizza won't cook through as evenly (some parts may burn while others are still uncooked) and the toppings might all slide off the crust into your lap.
finish topping with olives, feta, and pine nuts
bake or grill on a pizza stone
and you're ready to eat
We have so many favorite variations on pizza, but this is a nice vegetarian option for entertaining or if you have a non-meat eater in the house. I particularly like the pine nuts – little delicious fatty nuggets of sweetness that get toasty in the grill. The flavors are bright and not too heavy the way some pizzas can be – perfect for summer!
enjoy with salad and a glass of wine
The Mediterranean Pizza
[print recipe]
inspired by Backcountry Pizza
cornmeal
2 8-oz. balls of pizza dough (I used olive oil pizza dough)
1 tbsp olive oil
2 cloves garlic, minced
sea salt
freshly ground black pepper
1/2 cup pesto
1/4 – 1/2 lb. mozzarella cheese, cut into chunks
1/4 cup sundried tomatoes, sliced
1/4 cup roasted peppers, sliced
1/4 cup kalamata olives, pitted and sliced in half
1/4 – 1/2 cup feta cheese, crumbled
2 tbsps pine nuts
If using an oven: Place your pizza stone on the center or lower third rack of your oven. Preheat the oven to the highest temperature (mine is 550°F). If you don't have a pizza stone, you can bake your pizza the way you normally bake pizza. If using a grill: Place your pizza stone on the grill and turn the flame or heat the coals to high heat. Close the lid. We're aiming for 450°F to 500°F.
Make the pizza: Sprinkle cornmeal on your pizza peel – enough to keep the dough from sticking to the peel. On your work surface, roll or toss a pizza dough ball to about 12-inches in diameter. If you need it, use flour to prevent sticking to the work surface. Set the dough on the pizza peel. Brush olive oil on the dough. Sprinkle garlic, sea salt, and black pepper over the olive oil. Evenly spread 2-3 tablespoons of pesto on the dough (use more or less as needed). Distribute mozzarella, sundried tomatoes, roasted peppers, olives, feta, and pine nuts on top. Take care not to over load the pizza.
Bake: Before baking the first pizza, shake the peel to make sure the pizza isn't sticking (if it is, gently use a dough scraper or a knife to unstick it and toss a little cornmeal or flour underneath the trouble spot between the dough and the peel). Set the tip of the peel on the far end of the pizza stone and give it a jiggle so that the pizza begins to slide off and the edge is resting on the stone. Pull the peel out from under the pizza at an angle (to encourage the pizza to disengage). Bake for 8-10 minutes, or until the cheese is bubbling and the crust is browned (but not burnt). If you get puffy bubbles of dough rising up during baking, puncture them with a meat fork (or a skewer, something sharp) to deflate the pockets. When done, remove from heat and serve. Repeat for the rest of the pizzas. Serve hot. Makes two 12-inch pizzas.
more goodness from the use real butter archives