Recipe: miso peanut butter vegetable dip
We now have a 10 week old puppy who consistently sits to ask for things like food, water, toys, to be let out of her crate, to have a ball tossed, to be let back inside, to be petted. You may wonder why she has to request water – why we don't have a bowl lying around for her to take drinks as needed… After Neva takes a big drink, she loves to place her paw on the side of the dish and tip the whole thing over. It was funny the first time and not as funny the next 10 times. But she's a lab and true to her breed, she loves the water. We wanted to get her swimming, but right now our lakes are cold with snow melt and she hasn't received her leptospirosis vaccinations yet (they start in a couple of weeks). So we're taking baby steps starting with Kaweah's old baby pool. Kaweah never cared much for it (she was a hardcore girl – she wanted her frozen mountain lakes), but it's perfect for Neva at this stage on a hot, sunny day.

jeremy introduces her to ankle-deep water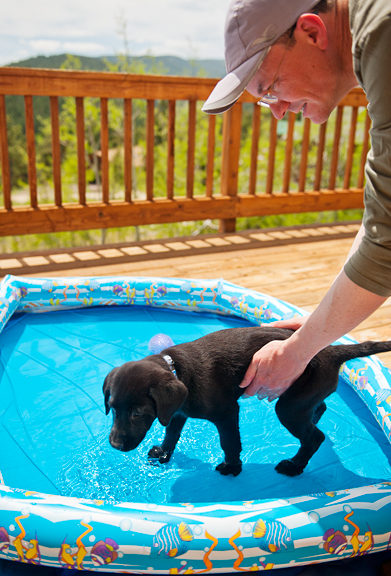 she warmed up to it when we tossed in her spiky ball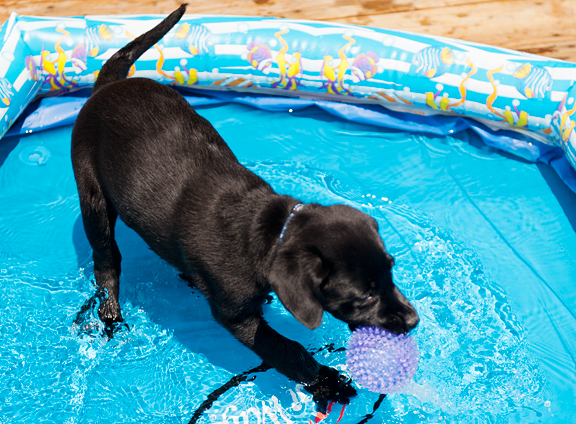 really getting into the fun with a flying leap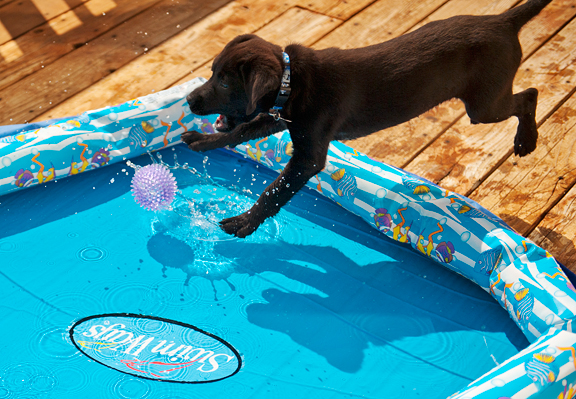 Everything was great until Neva fetched the ball, dropped the ball, and promptly squatted to relieve herself in the pool. We are still getting to know Neva's bladder schedule, which is to say, we still have occasional accidents. But it's all a big learning curve – which food works best for her digestion, what time of day is best for training, when she needs naps and when she needs play. It's hard to believe we have only had Neva for two weeks because it feels like months.
running her brains out in a field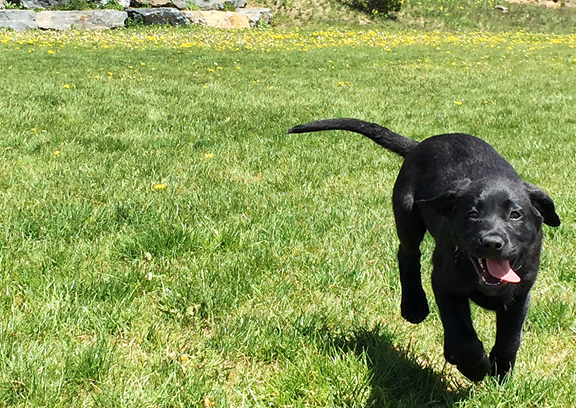 tired and plopped down in the middle of the trail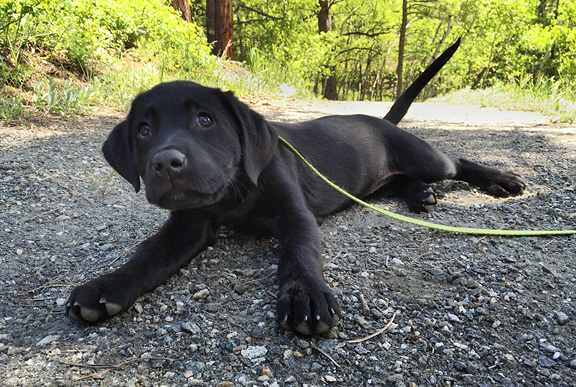 Jeremy and I are trying our best to do right by the puppy's training as well as live our lives (sleep, eat, get work done). It feels as if we aren't succeeding at any of it. For the first week, I wore the same clothes for days in a row because I couldn't see the point of putting something clean on only to get dogged up again. But you can't let a puppy put the kibosh on everything. Over the weekend, a good childhood friend came into town for a conference – so we had her and two other close mutual childhood friends over for dinner. I even showered and wore clean clothes! I figured, if I could manage to put dinner on the table, then we could declare the night a victory. I missed out on half of the conversations because Jeremy and I tag-teamed supervising the puppy, but it was wonderful to spend time catching up, especially since I hadn't seen the out-of-town friend in over 20 years.
a toast to reunions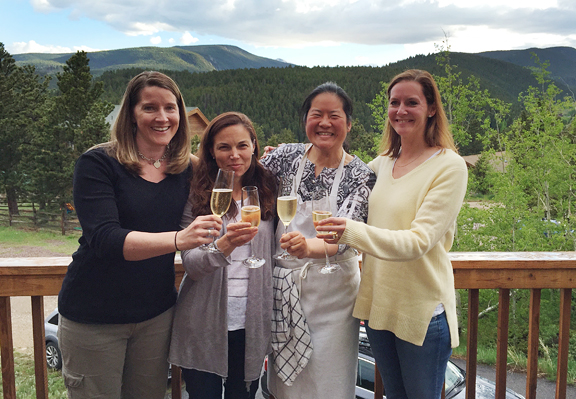 Summer is when entertaining at our house really gets underway. The only folks who visit in winter are the ones who truly love winter and the ones who don't know any better. Our short mountain summers are green and pleasant, which make for great dinner parties, grilling, and views from the deck. Typically, I like to experiment with different recipes, but lately – because of the puppy vortex and in the interest of my own sanity – I'm sticking with super simple menus. One thing I love to serve when the weather turns warm is crudités with dip, but sometimes I tire of sour cream or mayonnaise dips. A few weeks ago I tried a couple of miso-based dips and really fell in love with this miso peanut butter dip. It's just the right salty and sweet to go with a variety of fresh vegetables. And it's easy.
peanut butter, white miso paste, mirin, rice vinegar, sake, honey
Six ingredients. Just measure and stir together. I like the more delicate flavor of white miso paste, but if you want a stronger miso flavor, you can use red miso paste. It takes a few minutes to make the dip, but you can store it in the refrigerator for a few days ahead of serving. Just give it time to come to room temperature before serving or else the dip will be quite thick when it is cold (because of the peanut butter).
measured out
stir everything together
it should be smooth
My two favorite vegetables to eat with this dip are carrots and cucumbers, but every vegetable I've tried tastes great with it. And if you want to make the dip vegan-friendly, just substitute sugar for the honey. It's a nice change from my standard rotation of dips, and it is perfectly light and clean tasting for the summer party season or for a healthy summer snack.
with peppers, carrots, radishes, purple snow peas, and persian cucumbers
i have no problems eating my vegetables
dippy dippy
Miso Peanut Butter Vegetable Dip
[print recipe]
modified from this recipe
3 tbsps miso paste (I use white miso paste – use red miso paste for stronger miso flavor)
3 tbsps creamy peanut butter or tahini
1 tbsp honey
1 tbsp mirin
1 tbsp rice vinegar
1 tbsp sake
Whisk all of the ingredients together until smooth. Serve with crudités or refrigerate for up to 3 days (let come to room temperature before serving). Makes just over 1/2 cup of dip.
more goodness from the use real butter archives