Recipe: huckleberry brown butter tarts
Shouldn't we have had a good old snow storm by now? Nederland has received some rain, some morning frost, and snow in the high peaks, but the aspens in our front yard are still mostly green. What the whut? Because the weather continues to coast through Indian Summer, I keep putting off things like trimming back the yard or waxing my skis. Thankfully, the nights are cooler – almost chilly. It won't be long before we make the switch to flannel sheets. Unfortunately, Neva's internal puppy clock has not shifted with the sun and she still wakes up around 5:30 am which is a dark, lonely, and groggy time of day for humans.

i love the mix of reds, oranges, yellows, and greens against the blue colorado sky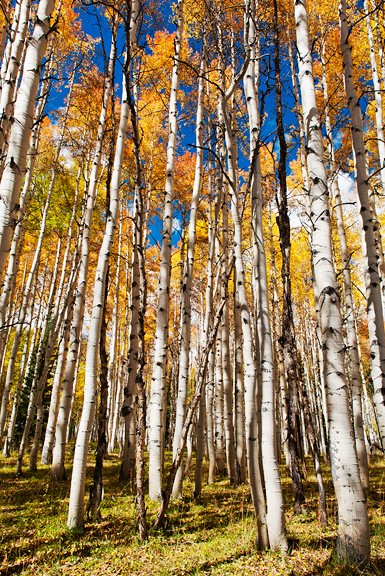 reds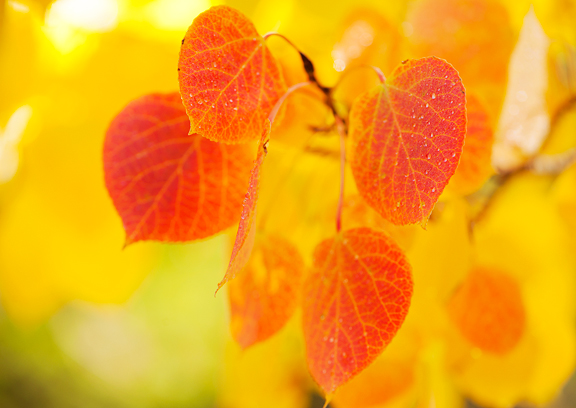 fresh snow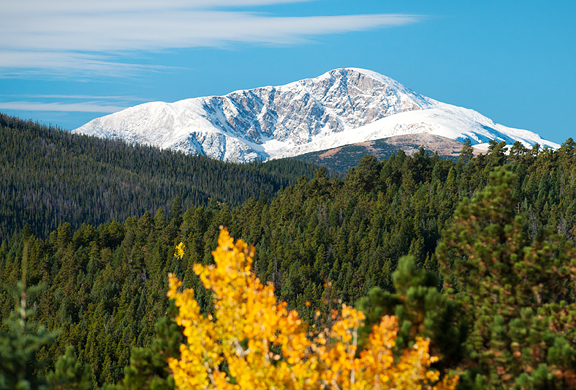 the bed hog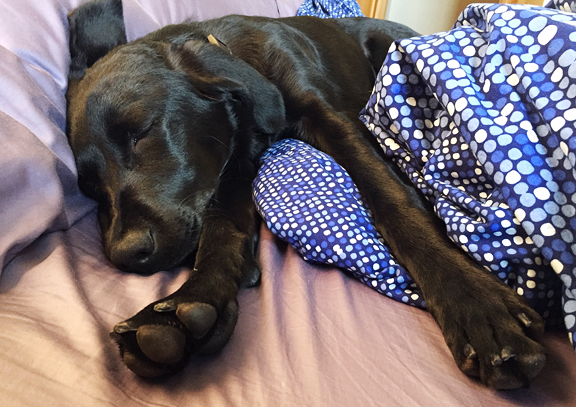 Neva's routine used to be: wake up, whimper in her crate, go out to potty, eat breakfast, go crazy. Now as an older pup, she wakes up, chews her toy in her crate until someone wakes up (usually me), goes out to potty, eats breakfast, and then hops on the bed for an after-breakfast nap. It makes for a more coherent existence, not to mention she's a real snuggle bunny – that is until she wants you to wake up and puts her paw on your face. But we are liking the earlier starts to our days as long as we aren't up too late working the night before.
After four months with Neva, she's getting the hang of being a Colorado dog which includes eating wild raspberries, wild strawberries, and mountain huckleberries. Neva, like Kaweah, picks up all manner of things off the trails in her mouth. Unlike Kaweah, she spits them out rather than eating them. So when I gave her a huckleberry to eat for the first time, she was uncertain of what to do. I squished it so she'd taste the juices right away and she was eager for another. Sometimes she'd sniff them out and eat them off the huckleberry plants (which is why I leave her at home when I'm harvesting hucks). And because huckleberries have an incredible smell (sometimes I open a ziploc bag of hucks, stick my nose in and inhale deeply), Neva comes running when I make anything with huckleberries – like these huckleberry brown butter tarts.

start with the dough: butter, sugar, flour, lemon juice, salt, ice water
pulse the flour, salt, sugar, and butter together (to the little peas stage)
add the lemon and ice water
pulse until it just comes together
divvy the dough in half and refrigerate
These tarts are essentially the same as the
strawberry brown butter tarts
I made this past spring. I had to wait until I had fresh huckleberries to work with because I suspected that frozen huckleberries would be too watery (I could be wrong, it's just a hunch). I also added some lemon zest in with the huckleberries because it really brings out the brightness of that fruit. I think any sort of berry works well in this tart, but yeah… huckleberries are the ace number one super champion berry of all time in the universe. I think some of you might be able to get some at farmer's markets on the west coast. As always, you can use blueberries instead.
the filling: sugar, salt, half a vanilla bean, butter, flour, huckleberries, lemon, eggs
browned butter, lemon zest, vanilla bean seeds, and everything else
whisk the eggs, sugar, vanilla bean seeds, and salt together
fold in the flour
whisk the browned butter into the batter
This recipe can be made as a large 9-inch tart, but for me, the appeal of individual tarts far outweighs the extra work. If you do make individual tarts, the more typical 4-inch tart molds with removable bottoms (and you really do want removable bottoms) that are about an inch tall are not going to cut it. They don't have enough volume. Don't go smaller than 4-inch diameter tart pans and make sure you get the ones that are 2-inches high. I got mine from a local gourmet cooking store, but you can probably find them at a similar store near you or online. They ain't cheap.
using a 6-inch ring mold to cut out the pastry for 4-inch tarts
lining the pans with dough
cutting out topping decorations from the scraps
dock the bottoms of the pastry with a fork
blind bake the crusts
Aside from wrangling the pastry crust, everything else is pretty simple. Toss the berries with the lemon zest, mix up the brown butter batter, assemble the tarts and bake. You don't have to do little cutout pastry decorations on top – you could go with a lattice or other top crust as you like. I find the method of scattering little cutouts over the batter to be the easiest and cutest. And I like to bake my tarts on a baking sheet because there will be some melted butter seeping out the bottom and you want to catch any of the batter or berry juices that might bubble over during oven time.
mixing huckleberries and lemon zest
fill the baked pastry shells with berries and brown butter batter
arrange the top crust to your liking
once baked, let the tarts cool a little before removing from tins
Those strawberry brown butter tarts I made this past spring were heavenly. Truly. These huckleberry brown butter tarts kick those strawberry brown butter tarts in the hoohoo. Oh man. Sublime doesn't EVEN begin to describe it. Maybe I'm biased because I spent hours combing the mountainside for these huckleberries (and every backache was worth it), but one bite is enough to make your eyes roll back into your head and transport you to Someplace Awesome. So do try to find some hucks for these tarts if you can, but I'm certain a blueberry version (or blackberry, or raspberry, or strawberry) would be a fine substitute. Buttery, flaky, fruity, jammy, wonderful.
gooey, sweet, tart, buttery
individual tarts are good because you don't feel like you have to share
behold the huckleberry goodness
Huckleberry Brown Butter Tarts
[print recipe]
from Dessert First
crust
2 cups (250 g) all-purpose flour
1 tsp salt
1 tbsp granulated sugar
1 cup (8 oz. or 225 g) unsalted butter, very cold and cut into 1-inch pieces
1/2 cup (120 ml) ice water
1 tsp lemon juice
filling
1/2 cup (4 oz. or 115 g) unsalted butter
2 large eggs
1/2 cup (100 g) granulated sugar
1/2 tsp vanilla bean paste (or seeds scraped from 1/2 vanilla bean or 1/2 tsp vanilla extract)
1/2 tsp salt
1/4 cup (30 g) all-purpose flour
12 oz. (about 2 1/2 cups) fresh huckleberries
1 tbsp lemon zest, grated
Prepare the dough: Place the flour, 1 teaspoon salt, 1 tablespoon of granulated sugar, and 1 cup of cold butter pieces in a food processor fitted with the metal blade. Pulse until the lumps in the mixture resemble small peas. Combine the ice water and lemon juice in a vessel. Pour a little ice water at a time into the flour mixture while pulsing the dough to incorporate the liquid. Stop when the dough just starts to come together. Divide the dough into halves, wrap in plastic and chill in the refrigerator for at least 30 minutes.
Make the crusts: Roll the dough to 1/4-inch thickness on a lightly floured work surface. Cut out six 6-inch circles from the dough. Line six 4-inch diameter by 2-inch high tart tins (with removable bottoms) with the dough circles. [If you aren't planning a crust topping that requires a continuous sheet of dough like me, then you can roll out both rounds of dough to get your crust circles, and use the leftover scraps for your topping shapes. This reduces the need to recombine scraps and re-roll the dough.] Prick (dock) the bottoms of the crusts with a fork several times. Place the tins in the refrigerator for 20 minutes. Cut the rest of the dough into desired shapes for the topping and refrigerate.
Brown the butter: Melt the butter in a small saucepan over medium-high heat. When the butter is melted and begins to foam, gently swirl or stir the butter. As the solids begin to brown (this takes a few minutes), continue to stir. You don't HAVE to stir, but I found it helped keeping the solids from burning (and sticking) to the bottom of my pan. When the solids have browned and the butter takes on a golden color and starts to smell nutty, remove from heat.
Make the batter: In a medium bowl, whisk the eggs, 1/2 cup granulated sugar, 1/2 teaspoon vanilla bean paste (or whatever you're using), and 1/2 teaspoon salt together until foamy. Sprinkle the flour over the mixture and gently fold in until incorporated. Whisk in the brown butter.
Make the tarts: Preheat oven to 350°F. Line each tart dough with parchment paper and fill with pie weights (I used dried beans). Bake for 15 minutes. Remove from oven and let cool. Remove the pie weights and parchment paper. Leave the oven on. Toss the huckleberries with the lemon zest. Divvy up the huckleberries among the tarts. Pour the batter over the berries until the berries are just covered. Distribute your pastry cut-outs over the tops of the tarts. Bake 25 minutes until the tops are browned. Remove from oven and let cool completely before removing from pans (you may need to loosen the edges with the tip of a sharp knife if the filling bubbled over the crust). Makes six 4-inch tarts. Should keep for up to 2 days in an airtight container.
more goodness from the use real butter archives