Recipe: chocolate-dipped key lime pears
Oh weekend, I hardly knew ya. We are always up for a ski, provided there is decent snow. But we haven't had much snow lately, so we took Neva for a hike to scope out part of the high country. It was rocks and dirt, then ice, then snow, then snirt and more rocks. Patchy conditions annoy me more than anything because it's a pain to get your skis on and off every twenty feet, but it also sucks to have to get microspikes on and off your shoes. I suppose we could snowshoe, except we swore off snowshoing the day we learned to ski in the backcountry. The mere thought of going back to snowshoes is a major snoozefest (sorry snowshoers, but I speak the truth). Eventually we reached consistent snow cover, then really decent snow for skiing (which meant not so great for hiking). Snow began to fall from the sky and Jeremy squeezed my hand through our gloves.

which way to go? jeremy looks left and neva looks right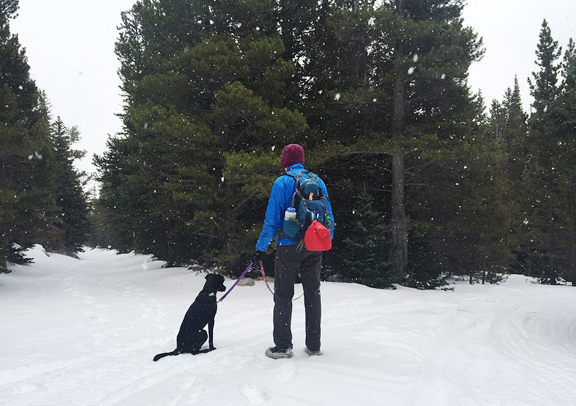 The snow didn't last long and then the winds arrived to make the snowpack sucky. I battled kitchen disasters then went to bed early to ward off a potential cold. Instead of trying to make a ski day the next morning, we opted for a round of fetch at the elementary school soccer field and then spent several hours cleaning out the basement. Neva thought the fetch part was great, but had a lesser opinion of the house cleaning.
catching the ball in mid air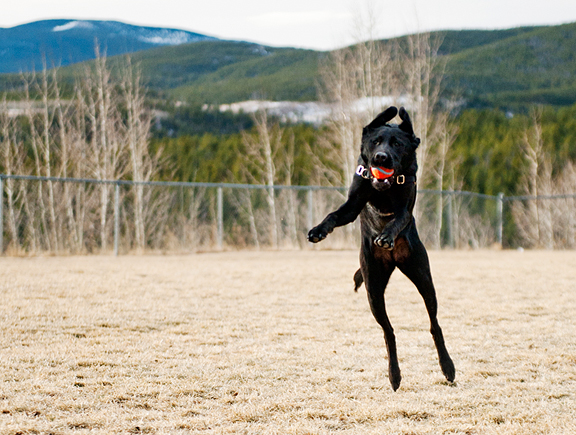 floating back to earth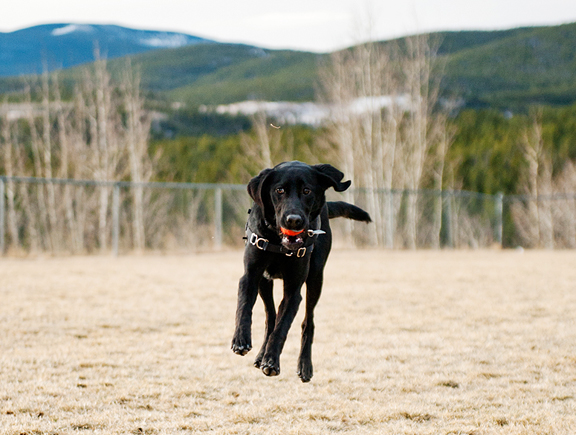 I always forget how much I enjoy pears until they are practically screaming at me from the produce aisle in November. For a while when we were without a dog, Jeremy and I adhered to a strict rule of not sharing a pear between two people. It's a superstition that Grandma and a lot of Chinese people follow – because the Chinese word for pear sounds the same as the Chinese word for "split up". Now with Neva, we can all three share a pear safely (Neva is loving little nibbles of pear).
A few years ago, I was in San Francisco visiting Recchiuti Confections when I spied their key lime pears – wafer thin slices of pear soaked in key lime juice and dipped in dark chocolate. I purchased a box to bring home for Jeremy, because he likes pears and he loves chocolate. They were spendy, so each slice was precious. Each slice really was precious. I became obsessed. When I returned to San Francisco later, I decided to purchase Michael Recchiuti's cookbook for the sole purpose of getting the recipe for the key lime pears. My pal, Lisa (whose blog is Lisa is Bossy, but my mom has since named her "Lisa is the Boss"), asked if I was going to blog it. I said yes, of course. That was more than a couple of years ago. So it's time to make good on my word.

water, sugar, bartlett pears, key limes, and chocolate
A word on ingredients. The recipe instructs you to use bartlett pears that are green and hard. Please do this. I have made this recipe twice. The first time was with bartlett pears that were green and rock hard. They turned out beautifully (as you will see). The second batch that I attempted this past weekend was a lot harder to deal with because I couldn't find bartletts (I only went to one store), so I used the hardest variety I could find – red D'anjou pears. Those didn't work well at all. The flesh is too soft and they nearly disintegrate during the soaking process. So absolutely follow the recipe on the pear variety and hardness unless you like to make yourself miserable. For chocolate, please use a good quality dark chocolate. There aren't many ingredients in the recipe, but the quality makes all the difference. And finally, if you can't find key limes, you can use regular limes. You won't need as many because they're much larger.
make a sugar syrup with water and sugar
juice the key limes
add the lime juice to the syrup
Juicing the key limes is quite the chore. These guys are tiny and there are a lot of them to juice. It helps to soften them by rolling each one on a hard surface before cutting it in half. I juiced mine on an electric juicer to maximize the output. After you make the key lime syrup, let it cool to room temperature. Slice the pears with a good sharp knife. You'll want to use most of the middle slices and save the ends for snacking. Try to keep the stem on if you can as it makes for easier dipping and pretty presentation. The point is to get some nice cross sections that resemble a pear shape. Soak the slices in the cooled syrup anywhere from overnight to four days. I soaked mine all four days.
slice the pears
soak the slices
When the slices have soaked long enough, pat the slices dry and arrange them on a baking sheet lined with parchment paper. These are going to bake low and slow until they become dry and crisp – for a couple of hours or more. The slices will turn brown, there's no way around that, but they will be delicious. Oh, and don't toss out that syrup, which is now a lovely key lime pear syrup. Reserve it for cocktails or add a little to seltzer water for a refreshing drink. No waste!
pat the slices dry
ready to bake
save that syrup!
browned and crisp
At this point, you can store the pear slices until you are ready to dip them in chocolate, but let's go ahead and dip those suckers now. If you don't care about tempering your chocolate, you can melt it slowly over a water bath, dip the slices in the melted chocolate, and let them cool on parchment paper or a silpat. It will work, but it won't be as wonderful as dipping them in tempered chocolate. Tempered chocolate has a nice snap, a beautiful shine, and it won't melt as easily an untempered chocolate. I use a
seed method
which is suitable for me (a home cook). In my experience, it's hard to keep chocolate in temper (within the small temperature range of a few degrees) unless you use at least a pound of chocolate. More is better. You can use any leftover tempered chocolate to coat other things (oreo cookies, dried fruit, nuts, etc.) or just pour little discs of chocolate on wax paper to cool and use again later. I had some issues with my chocolate coming out of temper, which you can see in the progression of dipped slices, but I was able to bring it back into the temperature range.
stirring the chocolate and watching the temperature come down
dipping (shake off the excess)
drying (slices with streaks are the ones that came out of temper)
My key lime pear slices were not quite the perfection that you can get from Recchiuti, but they were pretty close. I think my layer of chocolate could have been thinner, but the confluence of sweet pear and tart key lime enrobed in a delicate shell of dark chocolate is an elegant party in your mouth. These make for beautiful gifts, too.
a batch of key lime pears
little, but indulgent
thinner than a thin mint
Chocolate-Dipped Key Lime Pears
[print recipe]
from Chocolate Obsession: Confections and Treats to Create and Savor by Michael Recchiuti and Fran Gage
2 cups granulated cane sugar
13 oz. water
1 cup key lime juice (about 15 key limes)
3 medium bartlett pears, green and hard
1 lb. tempered bittersweet (65-70%) chocolate
Place the sugar and water in a medium saucepan over medium heat. Stir until the sugar dissolves. Let the syrup simmer for 3 minutes. Remove the syrup from the heat and stir in the lime juice. Let the lime syrup cool to room temperature. Place the syrup in a baking dish or a wide bowl.
Slicing lengthwise, cut off the first 1/2-inch or more of each pear (eat or discard) until you get nice pear-shaped cross sections. Begin slicing 1/16-inch thick slices through the middle, stopping 1/2-inch from the other end (eat or discard). Remove any seeds from your slices. Submerge the slices in the cooled lime syrup. Cover and refrigerate the slices overnight, up to 4 days.
Preheat oven to 225°F. Line three 12×18-inch sheet pans with parchment paper. Pat the pear slices dry and arrange them on the baking sheets. Bake the slices for about 2 hours, rotating the pans every 30 minutes to encourage even drying. The slices should be a medium brown when finished and completely dry and crisp. Mine took 3 hours. If by 2 hours, your slices are still a little damp, lower the temperature to 200°F (to prevent overbrowning) and let them continue to dry until crisp. Let the slices cool. You can store the slices until you are ready to coat them in chocolate another day or you can coat them in chocolate now.
Temper the chocolate until it reaches the proper target temperature. [You can read about the seed tempering method here: http://userealbutter.com/2008/12/12/chocolate-truffles-recipe/] When the chocolate is ready, dip each pear slice into the tempered chocolate, let the excess drip off, then set it on parchment paper or a silpat sheet to cool. When the chocolate has completely cooled, store the slices in an airtight container for up to 2 weeks. Makes about 4 dozen.
more goodness from the use real butter archives