Recipe: onion rings
We've had a short dry spell of windy, sunny days this week which makes a powder hound whimper and cry. But lack of powder merely means it is high time to hit the Nordic trails. What I love about the network of Nordic trails at our local hill (Eldora) is that they are forested and thus protected from those notorious winds that batter us from October to May. Clouds race across the sky throughout the day, giving us a shot at some nice displays come sunset if the clouds and the sun are in the right place at the right time.

things that make you smile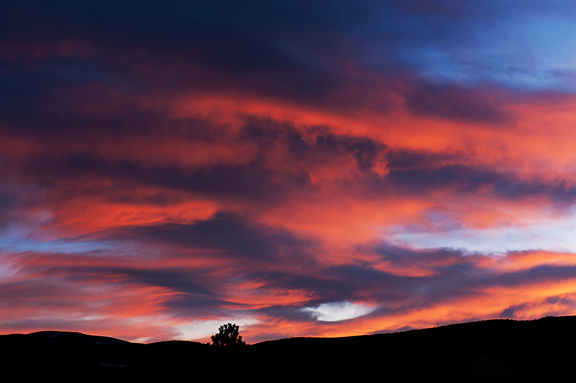 skate skiing in a hall of trees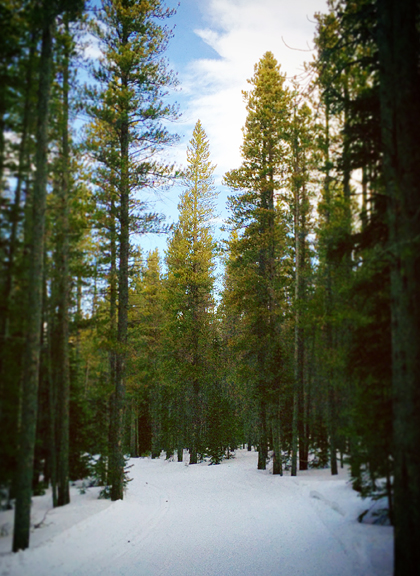 Neva had such a fun time at doggy day care on Tuesday that she was sacked out all of Tuesday night and most of Wednesday day. She curled up in her dog bed while I worked – dozing away or lazily watching me. Each time I walked past her, I would cover her with her blankie (Kaweah's old blanket), add a toy for her to play with, or feed her a treat. Neva was feeling loungy and enjoying it. I enjoyed it, too!
she is still a baby puppy to me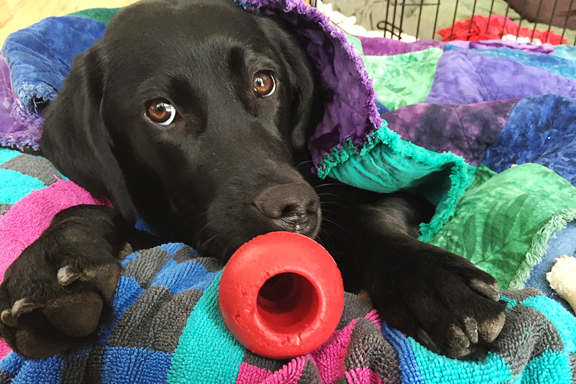 I'm feeling peppier these days and I realized it's because the sun is setting later. I know this because our living room lamp timer was last set to come on when it got dark – around 4:30 in late December. Now, it clicks on while daylight is still spilling into our house. It also means Chinese new year is on the horizon. This year, it starts February 8, requiring all of the preparation and cleaning to be done by February 7 – lunar new year's eve. February 7 is also the Superbowl, which means very little to me other than empty ski slopes Sunday afternoon. But the Superbowl is one of those events that even the non-sportsball fans can enjoy because there are gatherings full of sportsball party foods.
One such staple would have to be the onion ring. Make that a beer-battered onion ring. I have been searching lo these many years for a good onion ring recipe and I finally found one – from the Food Lab at Serious Eats.

onions, cornstarch, beer, paprika, baking powder, baking soda, salt, flour, vodka
A key to J. Kenji López-Alt's foolproof onion rings is to remove the thin inner membrane of each onion ring. This helps to keep the onion tender on the inside and ensures that the onion breaks with each bite instead of snaking out of the fried batter when you first bite into it. The easiest way to get rid of the membrane is to freeze the onion slices, thaw them in lukewarm water, and pull the membrane away.
separate the rings
freeze for an hour or up to a month
thaw in lukewarm water
the membrane should peel right off
You can start heating the frying oil in a wide pot or wok while you peel the onion rings. To make the batter, mix the dry ingredients (except the salt) together in a bowl. In a liquid measuring cup, combine the beer and vodka. Slowly stir the liquid into the flour mixture until you get a batter thick enough to leave a ribbon when drizzled on itself.
whisk the dry ingredients together
combine the vodka and beer
stir the wet ingredients into the dry ingredients
Now you're ready to dip and fry. You'll probably need to work in batches since it's unlikely you can fry all of the rings in one go. I did mine in three batches. Dip each ring into the batter, let any excess drip off, then carefully lower it into the oil. I found that using my fingers was easiest as I let the bottom half of the onion ring submerge in the oil before I let go. This helped to avoid any splashing of hot oil. Fry for a couple of minutes before flipping the rings and frying another two minutes until the batter is golden brown. I drained mine on a cooling rack to maintain a crisp exterior, but you can set them on paper towels to soak up excess oil. If you want to keep the onion rings warm while the rest of the batches cook, pop them in a warm oven (200°F) until you are ready to serve them.
onion rings at the ready
dipping
fried
season with salt
I've sampled many an onion ring and I have to say that these are as good as the best of them. The outside is crisp, delicate, and nicely flavored. The inside is tender and sweet. The big surprise was how much Jeremy liked them (and ate them up). He has always favored fries over onion rings, but he really enjoyed the taste and texture of these beauties. So if you're looking for a winning party food or just an exceptional snack for yourself, this recipe is the perfect onion ring.
party is served
a classic combination
Onion Rings
[print recipe]
from The Food Lab at Serious Eats
2 large onions, cut into 1/2-inch thick rounds
2 qts. peanut oil
1 cup all-purpose flour
1/2 cup cornstarch
1 tsp baking powder
1/4 tsp baking soda
1/2 tsp paprika
3/4 cup light-flavored beer, cold
1/4 cup 80-proof vodka
kosher salt
Separate the onion slices into individual rings and place them all in a large ziploc bag. Freeze the onions for at least an hour (but no more than 1 month). Remove the onions from the freezer and place the rings in a large bowl to thaw under lukewarm running water. Pat the rings dry with paper towels and peel away the inner membrane of each ring.
Heat the oil to 375°F (350°F for my elevation at 8500 ft.) in a wide vessel like a wok or a Dutch oven (I use a wide stock pot). Whisk the flour, cornstarch, baking powder, baking soda, and paprika together in a medium mixing bowl. Combine the beer and the vodka in a liquid measuring cup. Slowly whisk the beer mixture into the flour mixture until the batter leaves a trail if drizzled on itself. You might not use up all of the liquid. A few small lumps in the batter are okay. Dip an onion ring into the batter. Let the excess batter drip off and then lower the onion into the hot oil, releasing it before you burn your fingers. Repeat for a third of the onion rings. Let the onion rings fry for about 2 minutes. Flip the rings and let them fry another 2 minutes until they are a deep golden brown. Remove them to a cooling rack to drain. Toss the rings in a bowl with salt. Fry the rest of the onions in batches. Keep the onion rings warm on a rack set on a rimmed baking sheet in a 200°F oven until you are ready to serve them. Serve hot (immediately). Serves 4.

more goodness from the use real butter archives