Recipe: posole
Autumn in the mountains is a love affair with Indian Summer and early season winter snow storms. The trajectory of the sun across the sky incorporates a more horizontal component in the fall rather than shooting straight up high by 6 am in summer, which makes for cool morning trail runs that don't require sunblock. Chilly nights mean we welcome Neva snuggling between us on the bed, but daytime temperatures remain pleasant enough that windows and deck doors let mountain air flow gently through the house. If we're lucky, precipitation comes in frozen form. We were lucky this week.

we measured three inches at home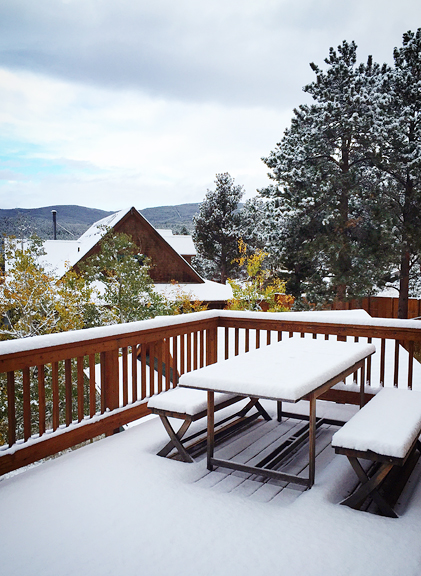 it got up to 6 inches in the backcountry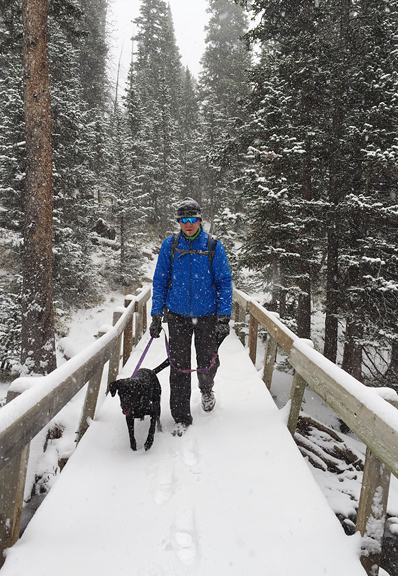 On our hike, Neva bounded and pounced in the snow for quite some time. I wonder what that little puppy brain remembers from last winter. She loves the snow so much, but does she understand that this happens each year or is every day a surprise for her? I suspect the latter. We saw a moose at one of the lakes, running away from us or the crazy windy horizontal snow, or both. Neva lost her mind, but she was leashed (this is why we keep her on a leash!), so she lost her mind in a 6 foot radius around Jeremy. She gets really excited when she sees horses, moose, elk, deer, cattle, people, grass blowing in the wind… pretty much anything. You can see the short video on
my Instagram
and hear Neva crying like a nut at the end.
But within 24 hours, the sun was back and the snow in town had melted away. Our local trails are crunchy underfoot with brown and yellow leaves that used to adorn the aspen trees above. The smell of autumn hangs on the air – musty and a little sweet. It smells wise to me, like it knows something that we don't. Now is a good time to process photos from the fall shoot, because the majesty of autumn in the mountains is so fleeting that I sometimes forget what I saw.

sunset on the beckwith mountains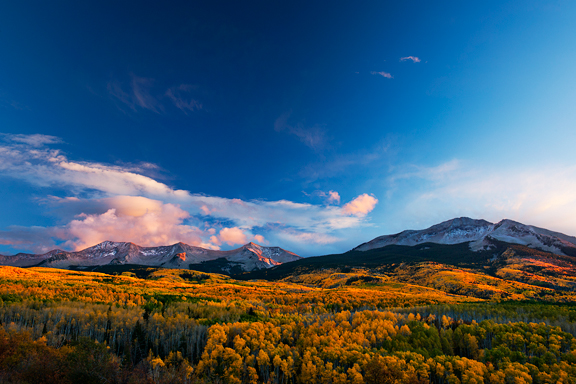 aspen leaves light up in the sun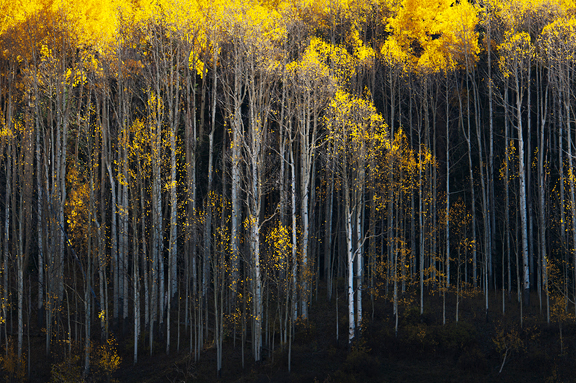 I recently went through our chest freezer to take inventory of what has been lurking deep in the corners all year. I didn't roast any green chiles at the end of this summer because I knew I had several bags adrift in the freezer sea as well as a new shipment of several pounds of gorgeous roasted red and green chiles from
The Hatch Chile Store
in New Mexico. Well, let's just say we are going to be having a lot of green chile dishes this winter, which is perfect because one of my favorites is posole.
a pound of diced green chiles (skinned and seeded)
hominy, limes, garlic, green chiles, pork shoulder, dried new mexico red chiles, salt, oregano
This recipe, which I believe my mother-in-law gave me years ago, was posted way back in the day such that I felt it needed an update – especially since I now use my pressure cooker! I've doubled the recipe in the photos here, but the written recipe below is for a single batch. If you love posole, you'll want to double it, for sure. I list instructions for both conventional stove top cooking and pressure cooker (you can also use a crock pot/slow cooker). If you don't concern yourself with steps like de-fatting the broth or starting with dried hominy, this is relatively quick and easy to make. I include those steps, too – but they are all optional. While I had planned (and prefer) to make posole from dried hominy, I couldn't find it in the three grocery stores I checked in Boulder – so ultimately I had to go with canned.
There are several bags of dried New Mexico red chiles in my pantry. Much like the state of my chest freezer, the chiles have not been properly labeled or organized. I grabbed the best looking whole chiles and discovered later that these were from the bag of HOT chiles. Use what heat level suits your tastes. I typically work with medium chiles because hot can be a bit too spicy for Jeremy and I find mild to be boring. A quick rinse with water renders the chile pods pliable so that you can lop off the stems and scrape out the seeds.

scraping the seeds from the chile pods
mincing garlic
I used to drop the pork shoulder into a pot of water with the hominy, lime juice, and red chiles, but these days I prefer to give the pork a quick sear first. The browning in the pan and on the pork means more flavor, but you can skip that step and the posole will still be great. When I can find a bone-in pork shoulder, I will opt for that over a boneless piece because the bone will lend more oomph to the broth.
season the pork shoulder with salt
sear on all sides
in the same pot, add the lime juice, hominy, and red chiles
add enough water to cover the ingredients
At this point you are looking at a three-hour simmer or an hour in the pressure cooker or perhaps 8 hours in a slow-cooker. So many options. The goal is to get that pork tender enough to fall apart when you so much as glance at it. The resulting broth can be de-fatted as you like or not. When I shred the pork, I usually discard any hunks of fat or connective tissue and the bone if there is one. Chop or purée the red chiles into a paste. I prefer a smooth paste, so I use my immersion blender to make quick work of that task (and fast cleanup).
after an hour in the pressure cooker
straining the broth
shred the pork
pick out the red chiles
purée the red chiles
From here everything goes into the big pot and simmers for 30 minutes. I usually top mine off with some more water because I like my posole to be soupy rather than stewy. And if you feel that the posole is too soupy, just simmer it down to the consistency that makes you happy.
components: hominy, broth, pork, green chiles, oregano, salt, garlic, red chile purée
place it in a big pot
ladle in the broth (and any additional water you may want)
simmer for 30 minutes
Tempting as it may be to dive into your posole when it's done cooking, it really does benefit from a day of melding flavors in the refrigerator. There's a little heat (or a lot in the most recent batch), tang, umami (from the pork), and the sweet earthiness of the hominy. I typically enjoy my posole topped with diced tomatoes, avocado, and a generous squeeze of lime juice. Jeremy likes a bowl of posole with avocado and a warm flour tortilla on the side. Posole makes for a satisfying meal or you can serve it as part of a larger dinner. I always make a double batch and freeze half of it for quick meals later on. They never last in that freezer for very long.
great with avocado, lime, and a warm flour tortilla
a hearty bowl of soup
loaded with hominy, pork, and green chiles
Full disclosure: I received several pounds of New Mexico Hatch green chile varieties from The Hatch Chile Store with no obligation on my part.
Posole
[print recipe]
modified from my mother-in-law's recipe
2 25-oz. cans hominy, drained (about 6 cups cooked) or 1 1/2 cups dried hominy
1 1/2 lbs. lean pork shoulder (2 lbs. if bone-in)
1 tsp salt
1 tbsp vegetable oil
1 lime, juice of
4 dried New Mexico red chiles, rinsed, stems and seeds removed
6 large roasted (Hatch) green chiles, skinned, seeded, and diced (about 8 oz. or 1 cup)
3 cloves garlic, minced
1/4 tsp dried Mexican oregano
1 tbsp salt
Note: If using dried hominy, soak the kernels in water overnight (8-12 hours). Drain the soaking water. Place the hominy in a pot and add fresh water until the kernels are covered by 2-3 inches of water. If cooking the traditional stove-top method, bring the water to a boil then reduce to a simmer for 90 minutes to 2 hours until the kernels are tender. If using a pressure cooker, place the kernels in the pot and pour in 4 cups of fresh water. Add a dash of vegetable oil (to break up any foam). Seal and lock the lid of the pressure cooker, set the pressure to high (level 2 for my Fagor Duo 8) over high heat. Cook at pressure for 20 minutes, then turn off the heat and allow natural release of pressure. Drain the hominy.
Cook the posole: Season the pork on all sides with 1 teaspoon of salt. Heat the vegetable oil in your stock pot or pressure cooker over high heat and sear the pork on all sides (about 2 minutes a side). Add the hominy, lime juice, and red chiles to the pork. Fill the pot with water until the ingredients are covered.
Conventional method: Bring the liquid to a boil, then reduce to a simmer. Cover and let simmer for 3 hours.
Pressure cooker: Seal and lock the lid of the pressure cooker. Set the pressure to high (level 2 on my Fagor Duo 8). Cook at pressure for an hour, turn off heat and allow for natural release of pressure.
Process the ingredients: When the posole is done cooking, remove the pork to a large bowl or plate. Pick out the red chiles and set aside in another bowl. Strain the hominy, reserving the liquid. Shred the pork and discard any bone and connective or fatty tissue. Purée the red chiles with an immersion blender or a food processor or blender.
De-fat the broth (optional): Hot method: Ladle the soup into a gallon ziploc bag (use more bags if needed). Seal the bag. Hold a top corner while lowering the opposite bottom corner of the bag into your cook pot. Use the tip of a sharp knife to cut a slit in the bottom corner of the bag. Allow the liquid to empty from the bag – the fat layer should be visible on the top. Before the fat layer reaches the slit in the bag, pinch it shut (be careful if the liquid is hot!) and discard the bag. Cold method: Pour the liquid into a vessel and allow to cool. Refrigerate overnight and skim off any solid fats from the surface.
Finish making the soup: Place the shredded pork, red chile purée, hominy, broth, green chiles, garlic, oregano, and salt in the cook pot. Add more water if you desire a soupier consistency. Bring to a boil. Reduce heat and let simmer 30 minutes. Adjust seasoning (salt) to taste. Serve with warm flour tortillas, diced avocado, and lime wedges. Serves 4-6. Freezes well for make-ahead.
more goodness from the use real butter archives