Recipe: breakfast mess
You may have had trouble commenting last week after we updated the spam filter because it wasn't letting any comments through. I think it is fixed now. Do let us know if you encounter problems. Thanks! -jen
We finally pulled the trigger this past week and sent Neva to doggy training camp. I had mixed feelings about leaving her as we drove away. On the one hand, I am quite attached to that little girl. On the other hand, Jeremy and I felt we had gone as far as we could working with Neva, and that we needed professional guidance. I say "we" because it's not all on Neva. She is in very good care for the next couple of weeks and early reports from Claire show Neva has made great progress in a short time – and she's having fun! This is promising and I feel we have made the right decision for her and for us. I'll share our experience in a dedicated post after Neva finishes camp for those of you interested in how all of this pans out. In the meantime, you can follow her training on Instagram at @backcountrybuddies or Facebook at Backcountry Buddies Dog Training.
It has been awfully quiet without our pup roaming about. Jeremy and I both have a habit of walking into a room and scanning around for Neva – usually lounging on the couch, in her bed, on the floor, by the deck door. But a no-pup house means greater flexibility in our schedules, so we took the opportunity to spend a weekend away. First we indulged in a couple of days skiing at Steamboat Springs, then we hit up Devil's Thumb Ranch on the way home for a morning of skate skiing at their lovely Nordic Center. It was a sort of mini skication even though I know everyone thinks all we ever do is ski (mostly true).

hello steamboat springs!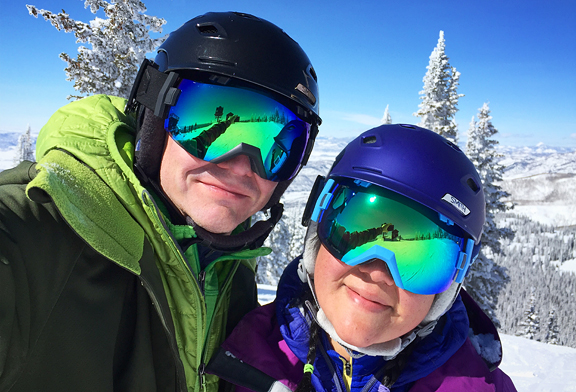 trees plastered in snow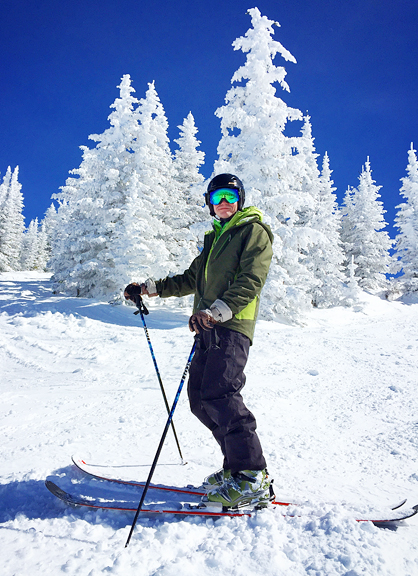 kampachi with apple and grilled avocado at yamakawa (formerly known as yama)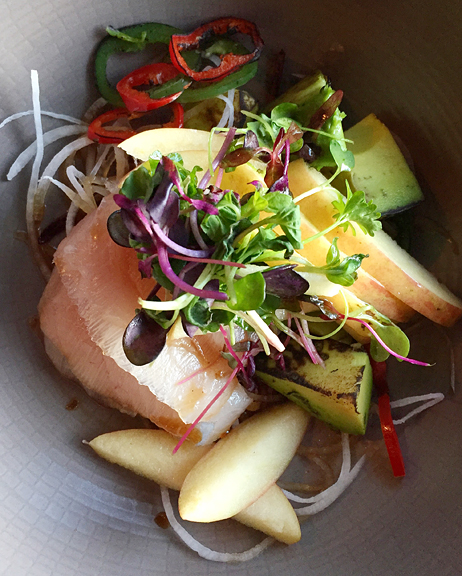 black out: walu walu marinated in squid ink served with squid ink-infused tobiko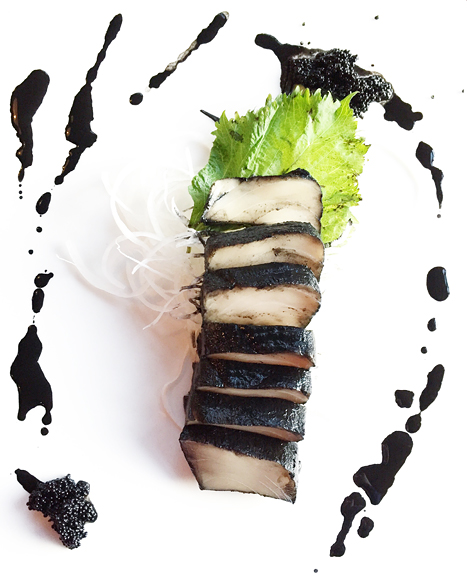 snow, sun, and fun at devil's thumb ranch nordic center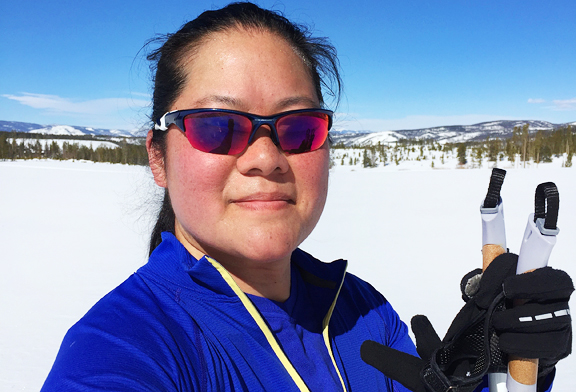 jeremy takes another lap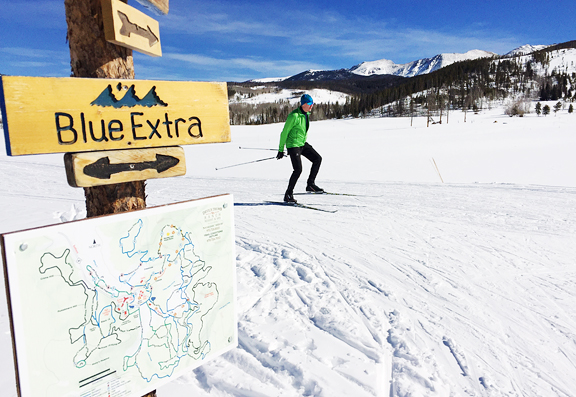 a pretty sunset to close out a great weekend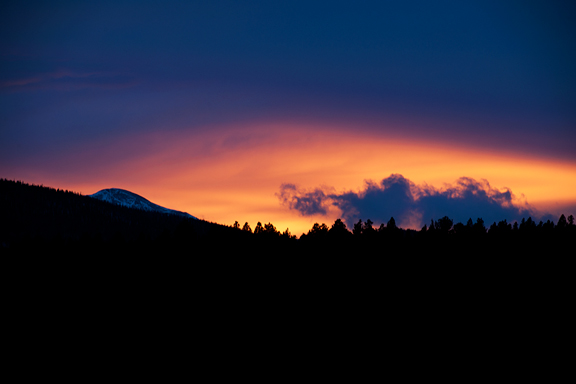 Breakfast tends to be an oft neglected and skipped meal in our house. I know they say it is the most important meal of the day and I do make an effort, but sometimes it is all I can do to eat a piece of fruit. Other times I am not terribly excited about what is on offer because I am not such a fan of sweet breakfasts. It is likely the fault of my Chinese immigrant upbringing that I would choose a savory bowl of congee loaded to the gills with spicy pickled radishes, shredded pork, ginger, green onions, and a soy sauce egg over say, a doughnut. Now, if we have house guests, I make the effort to provide a proper breakfast. Sometimes it is sweet, sometimes savory, sometimes a bit of both. My favorite is when there are leftover
hash browns
, bacon,
biscuits and sausage gravy
or whatnot the day after the guests have left, and we pile everything on a plate or better yet, a bowl, and call it good. That's because it is SO good. Jeremy and I refer to it as breakfast mess and it's awesome because you can put whatever you like in it.
Free will can be a terrible thing (just look at rush hour traffic), but in this instance it's the best thing ever. You know how breakfast menus give you a choice of bacon OR sausage? When we make a breakfast mess, we opt for bacon AND sausage. Not too much, mind you, but a little bit of each is beautiful to behold… and eat.

making sausage gravy
frying up the bacon
The flexibility of the breakfast mess is what makes it so perfect. My preference is to make all of the components from scratch – it tastes better that way. But let's be realistic, no one wants to spend three hours on breakfast (well, I don't). Maybe you don't have all or even some of these things as leftovers. Sometimes shortcuts are necessary due to time constraints or limited kitchen access or lack of proper ingredients. In that case, I can see buying biscuits in that can that everyone is afraid of because it pops open all crazy-like. How about frozen hash browns, or pre-cooked bacon (I assume such a thing exists)?
i start with yukon gold potatoes
fresh hash brown potatoes in the skillet
If you are gluten-free, it's easy enough to leave out any of the gluten-bearing foods or make/purchase those items without gluten. Instead of biscuits, maybe you prefer french toast, waffles, or toast. If dairy free, you might skip the cream gravy or make it more like a traditional turkey gravy. Vegetarian? Turn the sausage cream gravy into a mushroom cream gravy. The one component that suffers when reheated as leftovers is eggs. It changes the texture be they scrambled eggs or sunny side up. I try to make those fresh, but everything else can be warmed in the microwave, on the stove, in the oven.
cutting biscuits
bake golden
sunny side up for me
The toughest part of this whole ensemble is getting everything ready at the same time and serving it hot. As anyone who lives with a food blogger knows, Jeremy hasn't enjoyed a hot meal since 2004 – ha ha! Keep in mind that a little bit of everything adds up to a lot of food. I originally planned on one biscuit for each of us, but they were huge and we agreed that half a biscuit was more than enough. There was also the option of topping the hash browns with some shredded cheddar. When I mentioned it to Jeremy, his eyes glazed over in anticipatory food coma, so I didn't bother with the cheese.
bacon, hash browns, biscuits, eggs, sausage cream gravy
setting half a biscuit on a bed of hash browns
pour some sausage cream gravy
add an egg, a strip of bacon, and a dash of tabasco
How good was this breakfast mess? SO GOOD! Does it taste better in a bowl? Yes, yes it absolutely does. Isn't that a lot of calories? This is why we are constantly skiing. If you are one of those people who likes to keep your foods compartmentalized (i.e. you don't like your foods to touch each other), a breakfast mess can either be therapeutic or traumatic. For the rest of us, it is comfort food to the nth power! Like I said above, it's whatever you want it to be. This breakfast mess is probably my favorite version, but my southern background is thinking to try grits, waffle, fried chicken, and syrup. And a vegetarian version would include home-style potatoes, sautéed zucchini, onions, and mushrooms with scrambled eggs, cheddar cheese, roasted tomatoes, avocado, and toast. What's your favorite combination?
round the whole thing out with a grapefruit half and some coffee
runny yolks make my heart go pitter patter
fuel for the next adventure
Breakfast Mess
[print recipe]
Note: The breakfast mess is whatever you want it to be, so this version is merely a suggestion. Use home-style potatoes instead of hash browns. Sausage links or hot links in place of bacon. Mushroom cream gravy rather than sausage cream gravy. Scrambled eggs with vegetables. Waffles or pancakes instead of biscuits. Add cheese or caramelized onions. Go for it!
hash brown potatoes
buttermilk biscuits
sausage gravy
bacon (fried to desired doneness)
eggs (fried, scrambled, poached, however you like them)
hash brown potatoes
1 lb. potatoes (organic Yukon golds are my favorites)
2-4 tbsps vegetable oil
salt
Peel and grate the potatoes. Squeeze as much liquid from the shredded potatoes as possible (do this a small handful at a time). Discard the liquid. Pour a couple tablespoons of vegetable oil in a cast iron skillet and heat over medium flame. When the oil is hot (test by dropping a shred of potato on the pan – it should sizzle), add the potato evenly over the skillet and press down with the back of a spatula. When the bottom begins to brown (around 5 minutes or more) sprinkle some salt over the potatoes and carefully flip the hash browns over (you can do it in sections if it's too big to flip in one go). We want golden, not burnt potatoes, so watch the heat level and reduce the heat if it's starting to burn. You can add more oil if needed to help the other side crisp up nicely. Sprinkle a little salt on the browned top and let cook until the bottom has a nice golden color. Serve hot. Serves 2-4 people.
buttermilk biscuits
2 cups all-purpose flour
2 tsps baking powder
1 tsp fine sea salt
1/2 tsp baking soda
8 tbsps unsalted butter, cold and cut into small pieces
1 cup buttermilk, cold
Preheat the oven to 425°F. Line a baking sheet with parchment paper. Whisk the flour, baking powder, salt, and baking soda together in a large bowl. Add the butter to the flour mixture and toss with the flour to coat. Freeze for 10 minutes. Cut the butter into the flour until the largest pieces are the size of a pea. Drizzle the buttermilk into the flour-butter mixture and stir until it is just shaggy and begins to come together. Turn it out onto a lightly floured work surface and pat the dough together into a 1-inch thick circle. Use a 2.5-inch diameter biscuit cutter and cut straight down into the dough without twisting the cutter (twisting will prevent rising). Reform the scraps and continue cutting. This should yield about 8 biscuits. Set the biscuits spaced evenly apart on the parchment-lined baking sheet. Bake for 15-16 minutes until golden (careful not to burn the bottoms).
sausage gravy
3 tbsps unsalted butter
16 oz. breakfast sausage in bulk (or removed from casings)
1/2 cup all-purpose flour
1 tsp fine salt
2 tsps black pepper
1/8 tsp cayenne pepper
4 cups whole milk
Heat the butter in a large frying pan over medium-high heat until it is foamy. Add the sausage to the pan and cook, breaking up large lumps with a spatula or spoon. Cook for about 5 minutes or until any pink color is mostly gone. Reduce the heat to medium and sprinkle the flour, salt, pepper, and cayenne over the sausage. Stir it in for a minute until the flour is cooked. Gradually stir in the milk, scraping the pan to include the browned bits off the bottom. Let the milk come to a simmer while stirring occasionally. Continue to stir and let the milk simmer until it thickens (about a minute). Season to taste and keep the gravy warm. Makes about 3 cups.
Assemble the mess: Put a little bit of everything in a bowl!
more goodness from the use real butter archives