I watched longingly as the gentleman opened his car door at the trailhead and let his chunky yellow dog plop out. Tail wagging, gently bouncing in place with excitement, the pup's eyes were steadfastly trained on his human. The man paid him little attention as he gathered his day pack and rummaged around for a hat. He didn't have to pay attention, because the dog was right at his side making slight adjustments to avoid getting stepped on – like a good dance partner.
"Why can't Neva be good like that?" I said this to Jeremy and to myself EVERY TIME I spotted a good dog, because my dog was not a good dog. She was a crazy dog. It felt like most people had a good dog without even trying, and we had a maniac despite our best efforts. We had Neva.
We had been determined to train Neva, our second dog, from the beginning when we brought her home in late May of 2015. Springtime in the mountains was the perfect opportunity to introduce Neva to all of the world that would be her doggy life with us. She met other dogs, played in the snow, hiked on trails, learned to swim, got tons of exercise, and grew into a leggy, athletic, smallish Labrador Retriever. We trained Neva ourselves following the guidance of "Perfect Puppy in 7 Days" by Dr. Sophia Yin, because yeah, we wanted a perfect puppy.

meeting banjo (and getting a treat from jeremy)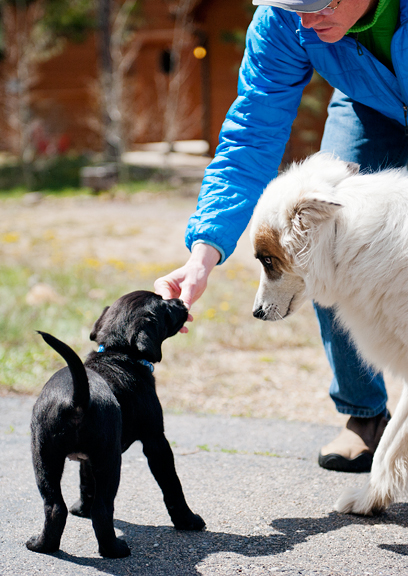 relaxing in the flowers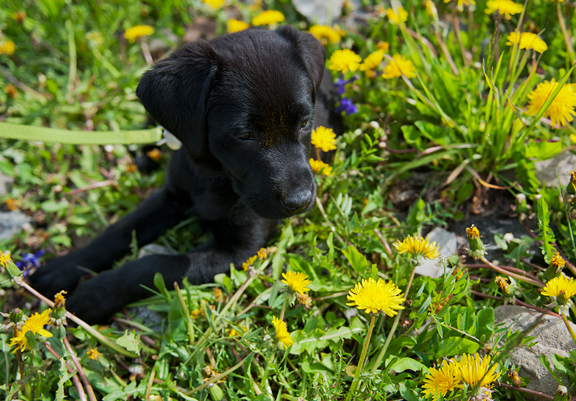 biting pants seemed like more fun than actual hiking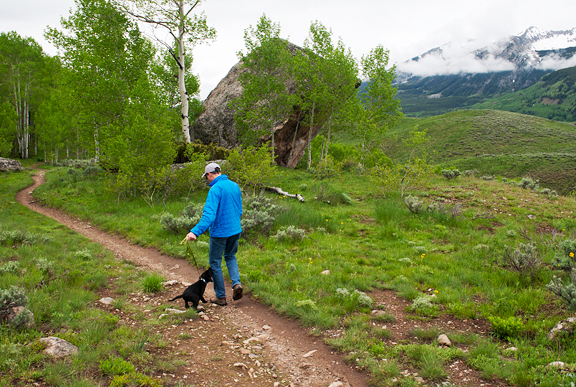 this one actually retrieves!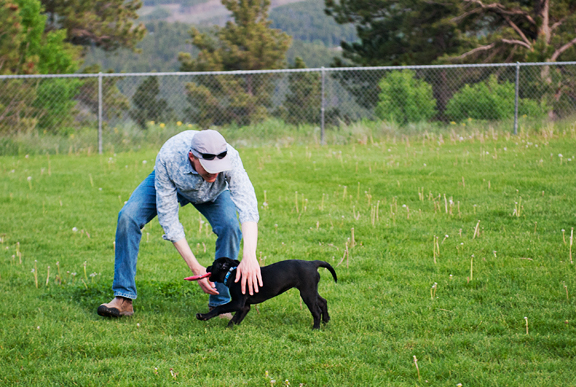 testing her first night in the tent (on the deck)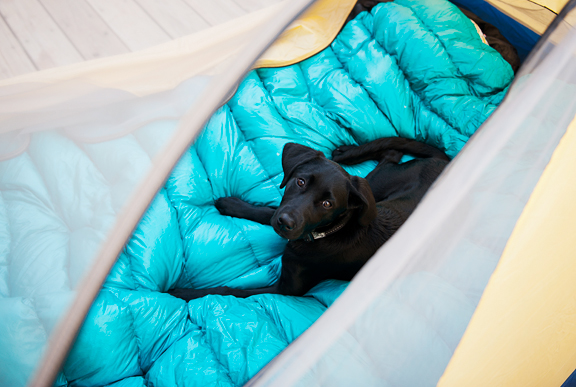 Neva landed far from perfect, but we would have been happy with a half-perfect or even a quarter-perfect dog. Training Neva proved difficult from the start, which made loving Neva
harder than I thought it would be
. We got there eventually. We put a lot of time and effort into Neva, but she never seemed to be anything other than crazy. At almost two years old, our biggest issues with Neva were 1) she would run off when she wasn't on leash and 2) she pulled on the leash as if she were running off anyway. That's a bit of an over simplification. Bred for hunting, Neva's nose catches every scent on the air or ground and her instinct is to track every single one. Add to that the fact that her excitement level would shoot from zero to 100 mph in an instant and we had ourselves a dog that we didn't know how to handle. This made time in the backcountry particularly difficult.
A friend suggested trying an e-collar – a stimulation collar which can be adjusted to a range of 100 different levels used for training dogs – used more like a tap on the shoulder to get their attention. She had great success with her own dog, Gretel, on the e-collar. We went ahead and bought one, but waited to try it out until after our friend emailed us her "notes". I was nervous about using the e-collar incorrectly and potentially making Neva's training even harder. Turned out the notes were instructions written specifically for Gretel by a professional dog trainer. There was a thorough analysis of Gretel's behaviors, reactions in certain situations, and needs from her person. I read through the instructions several times, coming to the realization that what I needed was not the e-collar, but the dog trainer, Backcountry Buddies.

the e-collar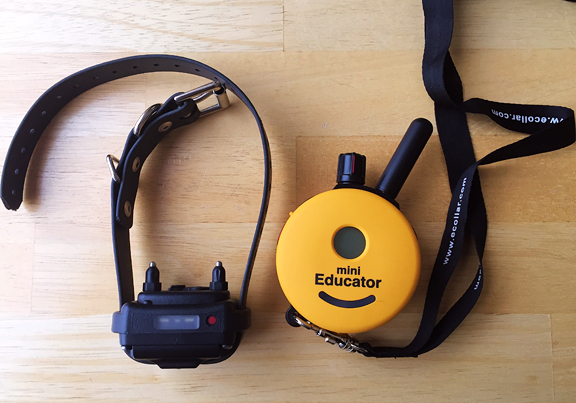 I checked out the website and
Facebook page
, and read reviews before contacting Backcountry Buddies. I exchanged emails with Claire describing Neva's behaviors and our goals for her training. [
Note:
Claire is not the only trainer at Backcountry Buddies, but she was our main point of contact.] In Late January, Claire came up to our house for an hour to meet Neva, administered a few behavior tests (to check for aggression – Neva isn't aggressive, thank goodness), and gave us a consultation. She assessed Neva's personality and told us that she thought Neva could benefit from their program. Claire described how the program works: two weeks of intensive training for Neva at Backcountry Buddies without visitation, then if after two weeks Neva requires more work, they keep her for another week of training at no additional cost. There were also warnings, like if the dog became unmanageable due to separation anxiety, we would be called to come get her and receive a refund. Before leaving, Claire showed us a few basic training exercises to practice with Neva to prepare her for camp if we decided to send her.
We had a good feeling about Claire based on her ability to read Neva, and how confidently she worked with the pup in such a short time. Neva was already very much in love with Claire. After we reserved a spot for Neva, Claire sent "homework" instructions for Neva and us in the month preceding camp and we submitted our down payment for the Board and Train 14-day Obedience 2/Adventure Prep.
On March 1, 2017, we drove Neva down to Westminster and got her acquainted with her new surroundings. She paced about in anxious frenzied excitement. Claire went over a bullet list on her whiteboard of our goals for Neva's training, asking if there was anything else to add, then ran through her training plan based on the progress Neva may or may not make. We must have given Claire the impression that Neva was a completely feral remedial maniac because she didn't seem to have high expectations. Our attitude towards our dogs has always been one of pessimistic realism as opposed to delusional wishful thinking (people who think their dogs are angels when, in fact, they're assholes). Even though it was a relief to drop Neva off and let someone else deal with Crazy, by the end of the day I was already missing her.

dropping neva off with claire at backcountry buddies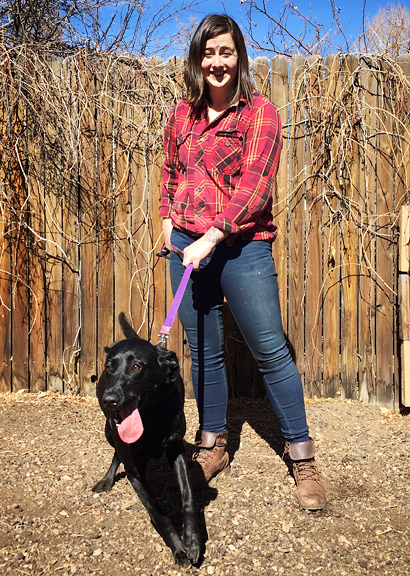 Claire communicated within a few minutes after we left Backcountry Buddies. My heart sank, as I envisioned Neva terrorizing the chickens in the yard. It turned out to be a video of Neva pacing and panting nervously about in the kennel area – what Claire labeled as her "before" video. She was visibly stressed. Within a few minutes, I got a second video of Neva lying quietly at Claire's feet, still a little anxious, but noticeably more relaxed and at ease. This was after Claire taught Neva a little exercise to help her calm down. It was an amazing difference and I credit Claire with identifying Neva's issues and targeting them with the right remedies that neither punished her nor made her scared or upset.
We ended up receiving multiple texts, photos, and videos from Claire on a daily basis. Neva adjusted quickly to the new environment and working for her meals (obedience training for her kibbles), so much so that Claire said she'd be ready to start e-collar training two days into her stay. We watched videos of Neva walking calmly and obediently on a leash and wondered if that was really our dog. Was it that Claire was a professional or that we were complete idiots or both? Claire was quick to point out that Neva is not an "easy" dog because it was necessary to use some nuanced techniques to work with her, but that she was picking up the training surprisingly fast. She reassured me that we had clearly done a lot of work with her because she was so receptive to human guidance. The latent "Chinese mother" in me was relieved that Neva had not brought shame upon our family, but really – we just wanted Neva to be open to the training and to learn something… and to stop making us crazy.

on a walkie with the transitional leash (courtesy backcountry buddies)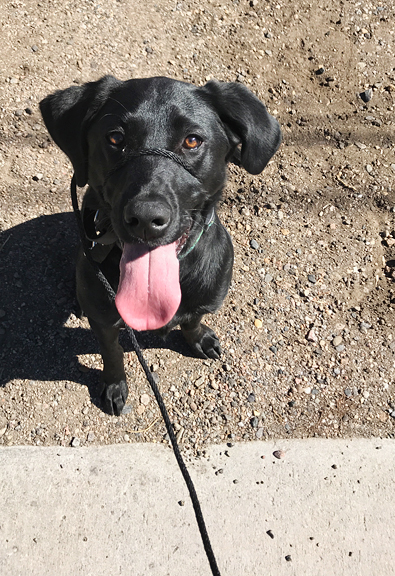 confusion: she hears chickens (courtesy backcountry buddies)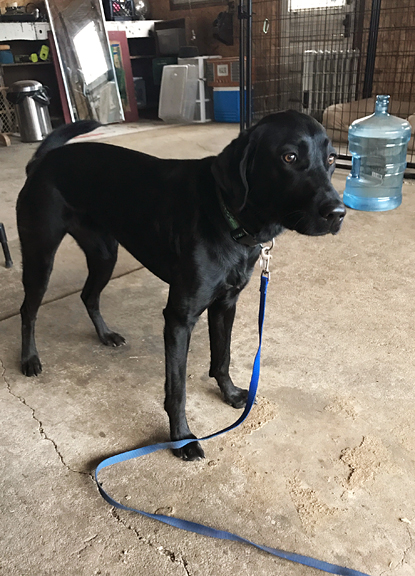 neva hanging with gretel (courtesy backcountry buddies)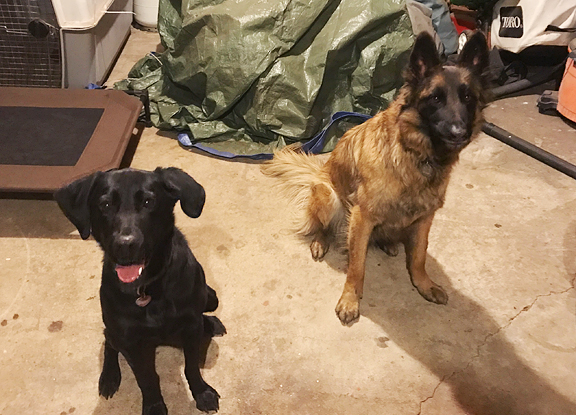 trying the e-collar at the park (courtesy backcountry buddies)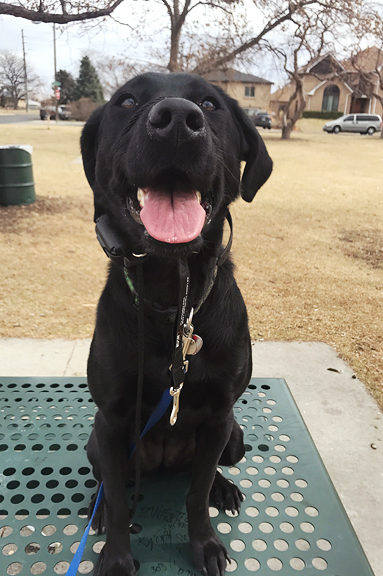 a morning off from training, playing with trout, claire's malinois (courtesy backcountry buddies)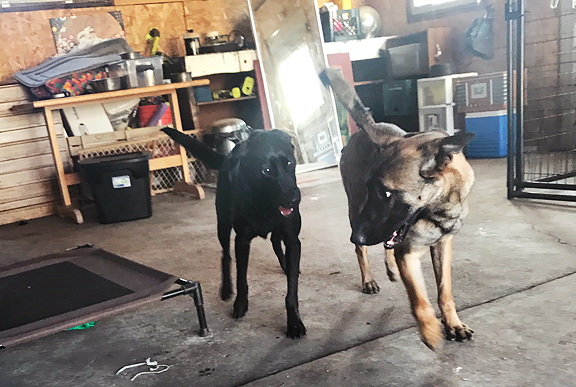 hiking with the e-collar (courtesy backcountry buddies)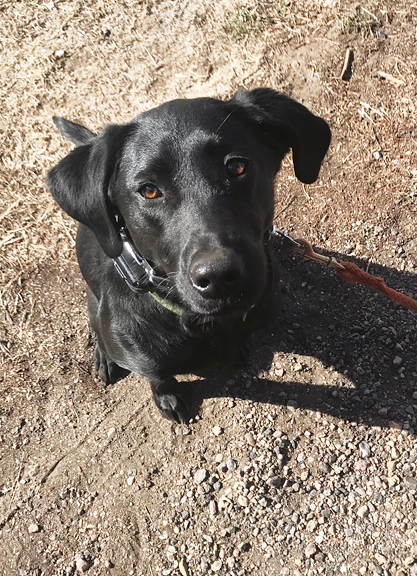 in town with claire (courtesy backcountry buddies)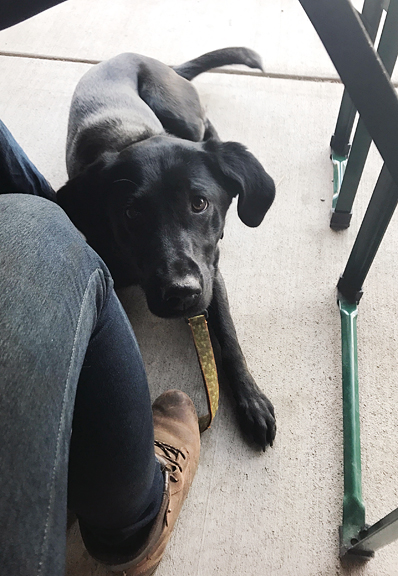 On pickup day, Claire spent 90 minutes training US to work with Neva. She had already emailed a set of go-home instructions for Neva so we could review them and ask any questions during pickup. In addition to Neva's belongings, Claire handed over several items specific to Neva's training for various settings (collars, transitional leash, kong). Claire might select a completely different set of tools for a different dog. She shared how and when to use them and stressed that it isn't the tools, but the training that begets a good pup. We practiced the e-collar with Neva and syncing up with Claire's commands and methods so we could continue the work at home. Neva would have to earn her meals (not sure for how long, but she's still working for them five weeks later) and we needed to stick to her training.
I'm sure some people think you send your dog away to camp and a perfectly trained and obedient dog is returned to you. While I would choose that option every single time, it doesn't work that way. We sought out a professional, like Claire, to assess Neva and figure out the best way to communicate with her so she could be a good dog. Ultimately, because Neva is a working dog breed, she needs direction from her humans. Without that direction, Neva can become anxious and overstimulated, spiraling into a frenzied state. Claire told us, "Neva needs a 'job'".

claire was pretty attached to neva after 2 weeks (and vice versa)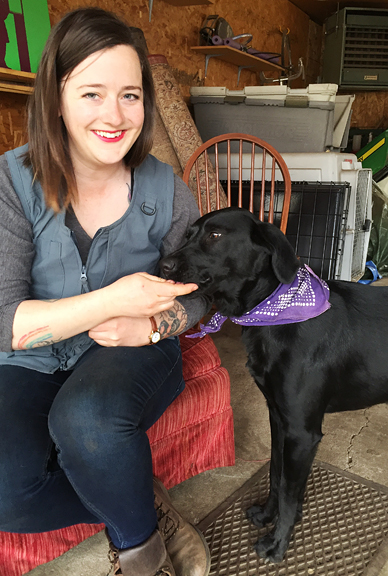 jeremy practices "stay" with neva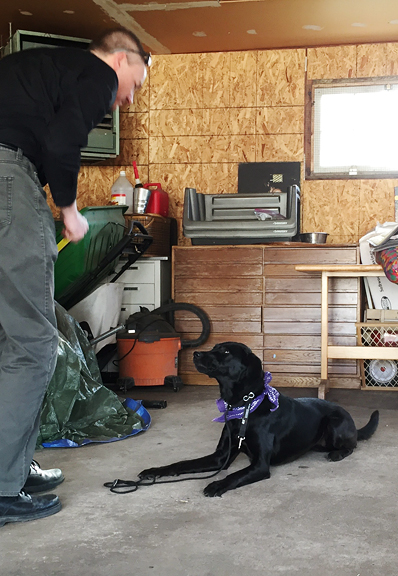 walking neva on the street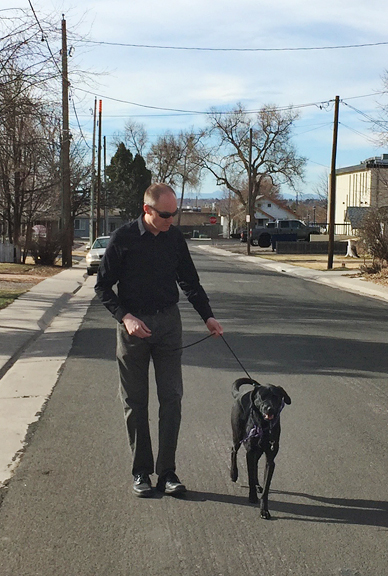 Neva's training at Backcountry Buddies didn't always translate directly to our mountain home environment, but we anticipated as much. Our local trails were still under snow for many weeks, which made it hard for us to maneuver around the dog during leash work. However, we found Neva had improved in terms of her attention to us and her responsiveness to commands. This didn't mean she was perfect, but we finally had a way to get through that seemingly impenetrable dome of frantic behavior and help her focus on a task and on us in high-distraction situations. She still pulled on her leash, but not as much or as recklessly as before. And we could see that she was trying – really trying – to contain her excitement and be a good girl.
A couple of items that have helped with Neva's home training are Dog Food Rolls and treat caddies. Claire uses the food rolls in her dog training. They smell strongly of Hickory Farms summer sausage, and Neva is pretty keen on them. We call it flog, short for food log, and it is considered a high-value treat (i.e. hard for Neva to ignore). I cut them up into a medium dice and use these for outdoor training. Neva will eat anything indoors, so we usually stick to her kibble, but shy of raw beef or stinky cheese, flog works best when competing with all of the creatures and smells on the trail. We carry Neva's treats in caddies that I picked up at our local hardware store ($12 each). The clip hooks onto a pack belt, pack shoulder strap loop (like on a running pack), belt, pocket, or whatever you want to hang it on. Or you can clip a carabiner through the top loop. There is a cinch to keep the treats from spilling out when you lean over, and an extra pocket for poop bags. Claire uses a vest for her dog treats because she does this for a living and she's hardcore.

dog food roll, flog (food log)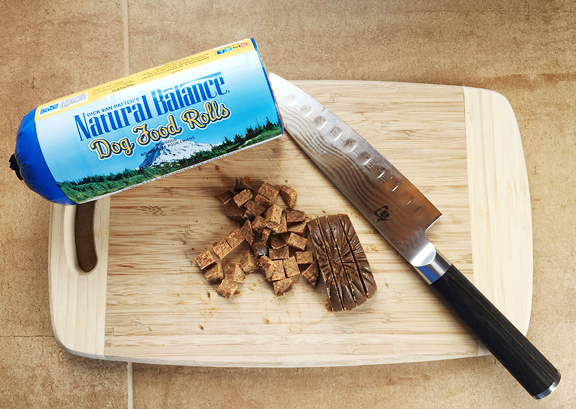 dog treat caddies: open (left) and cinched (right)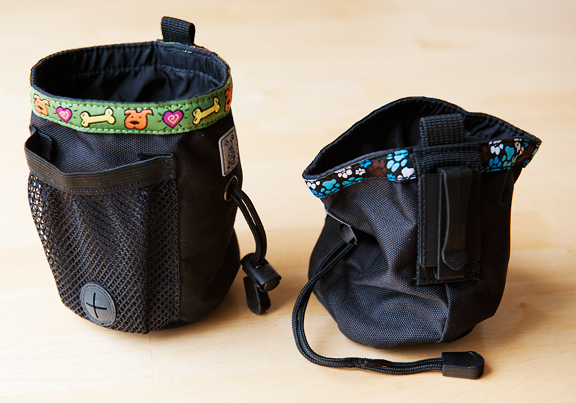 from above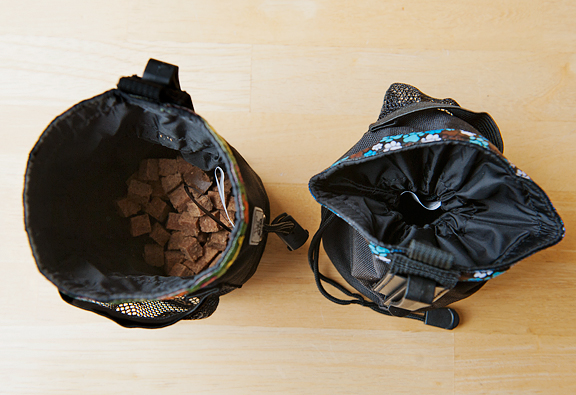 Part of our training agreement with Backcountry Buddies includes unlimited email, text, or phone consultation after camp and a one hour followup visit. Early on (within 24 hours of being home), a situation arose that Jeremy and I were unsure how best to handle. I emailed Claire and received a multi-page response with assessment, feedback, and advice which was not only reassuring, but included tips on identifying the behavior in the future to prevent escalation. We felt so much better with this authoritative guidance and I wonder if perhaps that is how Neva feels when we give her clear instructions and she's not left guessing. Because Neva can't talk, we have to be observant and read the sources of her confusion or anxiety, and then we need to effectively communicate what she should do. This ensures that she's not only having fun, but also safe.
In the month since Neva came home from camp, we have taken her skate skiing, uphill skiing, trail running, and on short hikes, implementing some techniques and commands we all learned from Backcountry Buddies. Neva is going to require a lot of work through this summer, but Chinese mother expectations aside, she has come a long way and shown improvement in all activities. I know that one of Claire's goals was to have Neva earn off-leash freedom. Neither Jeremy nor I felt this was a priority, mainly because we spend a good bit of our outdoor time in wilderness areas where dogs are required to be on leash and because we don't think dogs should be allowed to terrorize wildlife (which the majority of loose dogs do).
We have also learned to extrapolate from the main concepts of Neva's training and apply them to other training issues, like convincing Neva that it's better to come to one of us for an extra yummy treat (right now she is digging on banana) instead of running downstairs and howling at the neighbor's son when he comes home from school every afternoon. Or daily conditioning to associate clipping her toenails with lots of treats. At the moment we're at the stage where she allows us to handle her paws, isolate a single toenail, and touch the toenail with the clippers (but we won't clip for another few weeks).

neva's favorite thing is skate skiing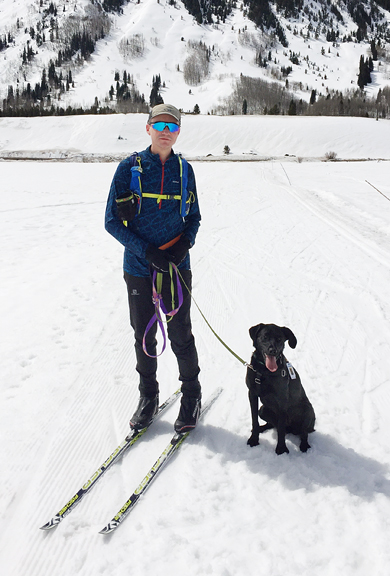 trailwork with neva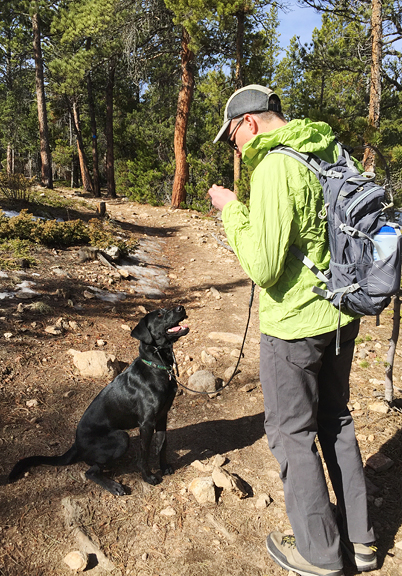 looking for instruction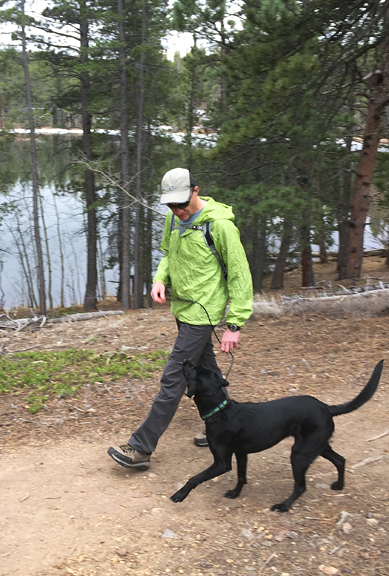 we love that eye contact and slack leash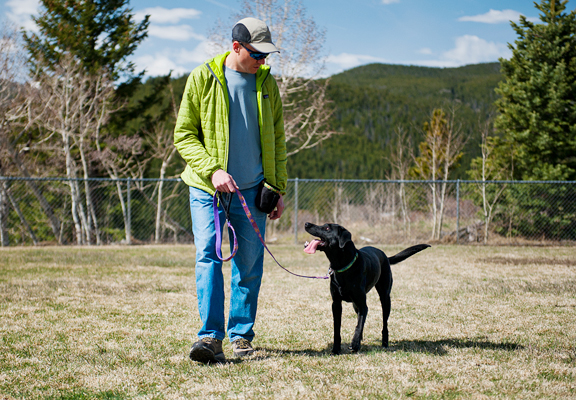 In the weeks since Neva came home from camp, there have been occasions when we asked ourselves if Backcountry Buddies was worth the investment. I think that's an easy place for your thoughts to go when your dog is being particularly difficult. Neva still has her moments, but if we step back and review it all objectively, there is no doubt that the training has set Neva and us on a path toward better communication, obedience, and overall mental health wellness. Neva is definitely a better behaved dog than before she attended Backcountry Buddies, and she continues to improve each day. I don't think we could have ever achieved this without Claire. Most importantly, Neva is a happier dog today and I catch her looking to me or Jeremy, not unlike of all those other "good" dogs.
Backcountry Buddies Dog Training serves the Denver/Boulder area in Colorado.
Website: http://backcountrybuddies.com/
Email: claire@backcountrybuddies.com
Phone: (720) 295-1381
Facebook: Backcountry Buddies on Facebook
Instagram: Backcountry Buddies on Instagram
Twitter: Backcountry Buddies on Twitter
Full disclosure: All program expenses were paid for by me. I was not compensated in any way by Backcountry Buddies Dog Training for this post. All opinions are my own.

more goodness from the use real butter archives