Recipe: carnitas nachos
I've been watching reports of The South receiving snow and frigid temperatures for the past week while the good people of Colorado have been enduring daytime highs nearing 70°F in parts of the state. This kind of slight from Mother Nature hits me squarely in the heart. But she had not forsaken us, the patient (but somewhat depressed) skiers and lovers of mountain snow. On Saturday night, our temperatures dropped into the teens, and beautiful fluffy white snow graced our mountains and forests and trails by daybreak Sunday.

our top priority is that neva is plenty snuggy and warm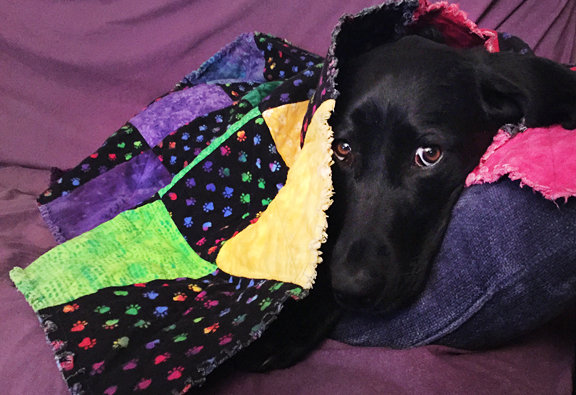 skinning up in 10°f and falling snow – perfect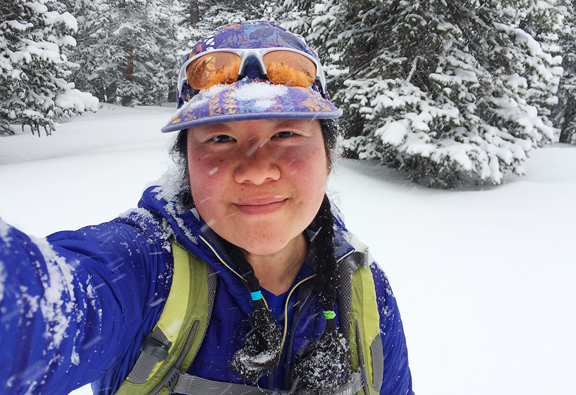 jeremy was equally delighted with the fluffy fluff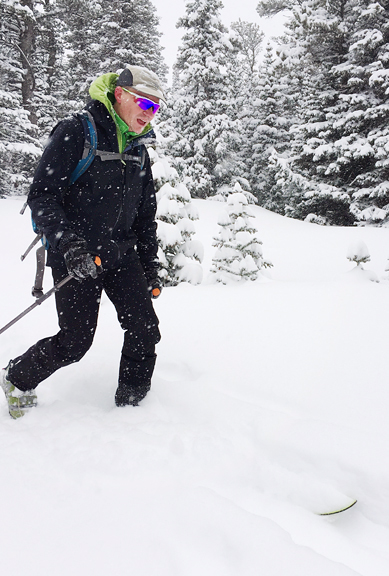 As of Monday morning, the storm has (sadly) moved on and we are back to sunshine and wind. It's always like that here in the Front Range: snow and blow. What used to be a beautiful blanket of snow on my deck has been sculpted into an art installation of sastrugi. At this point in our terribly underperforming winter, we will take any snow we can get. I recently realized that the Super Bowl is on the horizon and checked the date. That's the day I want to ski, when sportsball fans will empty the slopes to indulge in pre-game festivities, rabid fan chest-thumping, screaming at television screens, and massive consumption of alcohol and appetizers. I am a huge fan of appetizers, the ever-tempting noncommittal meal. But for the longest time, I made nachos the wrong way. I thought they were simply tortilla chips with stuff piled on top. While not technically incorrect, it isn't exactly right.
corn tortilla chips, shredded carnitas, cilantro, cheddar and jack cheeses, red onions, black beans, pickled jalapeño slices
I was made aware of the discrepancy between my nachos and restaurant nachos when we ordered some at happy hour a few years back. My version was akin to a cold nacho salad – more vegetable matter than anything else. No wonder the restaurant nachos were so addictive! They arrived hot and greasy, dripping with cheese, and with fatty bits of pork piled on top. Things were never the same after that and I figured out how to make my own mountain of crunchy, salty, spicy, cheesy addiction.
Start with a good tortilla chip. Thick and sturdy chips give you the structural advantage of loading each bite with as much stuff as you can fit, but I have to say that I like the delicate snap of a thinner chip (my current favorite is Trader Joe's organic corn tortilla chips). It's a matter of personal preference. You can choose whatever protein you like: chicken, beef, ground beef, pork, shrimp, tofu. Shredded, seasoned, grilled, fried. There is enormous flexibility, so customize away! I love shredded carnitas (sous vide carnitas), but you can skip the protein altogether to make it vegetarian friendly. Probably the most essential component of nachos, aside from the chips, is the cheese. I should say cheeses. First off, you need to use more cheese than you might assume, as it serves to bind everything together. Second, while cheddar brings great flavor to the nachos, jack cheese produces the creamy meltiness that I find so desirable. A combination of the two is the ticket.

shredding sharp white cheddar
cheddar and jack
My old inferior version of nachos called for refried beans, but I find them to be heavy and gloppy – easily turning the whole ensemble into a soggy mess. Whole beans are easier to spread around the nachos and provide distinct bites of earthy goodness. With your basic chips, beans, cheese, and optional protein, you can now add whatever else you enjoy on your nachos except for the gaucamole and salsa – those two things shouldn't go in the oven. I like olives, pickled jalapeños, onions, and tomatoes on my nachos, but Jeremy is most happy with basic nachos.
sprinkle some beans around
top with cheese
Make the nachos your own way, but do make them in layers. A single layer of nachos is fine, but a double or triple layer is better. Pile them high and full of goodies. I like baking the nachos on a cast iron skillet, but if you don't have cast iron, use a baking dish. And if you need to make mucho nachos for a big crowd, go for a rimmed baking sheet. Now, if you want your cheese barely melted, I guess 10 minutes or so would work in the oven. Me? I like almost bubbling cheese, so I opt for 20 minutes. It also means some of the grease from the cheese and pork soaks into the chips and I don't think I need to tell you how amazing that tastes. You'll remember it fondly as you run it off the following day.
this ain't no foolin' around
out of the oven
Nachos are best eaten hot. I like how cast iron has excellent heat capacity and keeps the nachos warm for longer, giving one time to take a break and sip on a margarita. And don't forget the guacamole and salsa (pico de gallo, here), because we're all about doing things right around here. At least, this is how we're making our nachos now. Let me know if you have other genius nachos suggestions because I would absolutely love to hear them.
finish with some cilantro
many-layered happiness
who's hungry?
Carnitas Nachos
[print recipe]
1 bag corn tortilla chips, more as needed
3 cups carnitas, shredded
15 oz. can black beans, drained and rinsed
jalapeño peppers, fresh or pickled, sliced
red onions, minced
8 oz. cheddar cheese, shredded
8 oz. jack cheese, shredded
cilantro
Preheat oven to 350°F. Layer enough tortilla chips to cover a large cast iron skillet, shallow baking dish, or foil-lined baking sheet. Sprinkle a third of the carnitas, black beans, and cheeses over the chips. Top with as many pepper slices and onions as you desire. Repeat the layers one or two more times. Bake the nachos for 20-25 minutes, until the cheese is thoroughly melted. Garnish with cilantro and serve with pico de gallo and guacamole. Serves 4-8.
more goodness from the use real butter archives