Sunday, November 23rd, 2014

Recipe: buttermilk biscuits and sausage cream gravy
Up until a few days ago, Thanksgiving was nowhere on my radar. There was just so much going on for the past several weeks that I told myself if I could make it to Thanksgiving week in one piece, I'd be golden. It came down to the wire waiting for the final items on my checklist to come via post before we piled into the car. Two out of three isn't bad considering it was the USPS (I keep my expectations low). Once on the road, the stress began to peel away with each additional mile. There were bighorn sheep sightings on Interstate 70, discussion of time-sensitive deadlines to address before 2015, much needed coffee to fuel the driver (Jeremy), and the question of what to eat for Thanksgiving. We agreed that we would keep Thanksgiving dinner simple: grilled rib eye steak with loads of vegetables. This week is dedicated to catching up on work and… skiing.

picking up our passes from the crested butte nordic center
The snow in Crested Butte is quite nice for shoulder season. Yes, it's still shoulder season – many of the local businesses are closed until 2 weeks before Christmas. Town slumbers quietly before the mad rush of the holiday ski season, but I like this lull. The big mountain opens Wednesday. In the meantime, we've been getting our nordic muscles back in shape on fresh snowfall.
test driving my low light lenses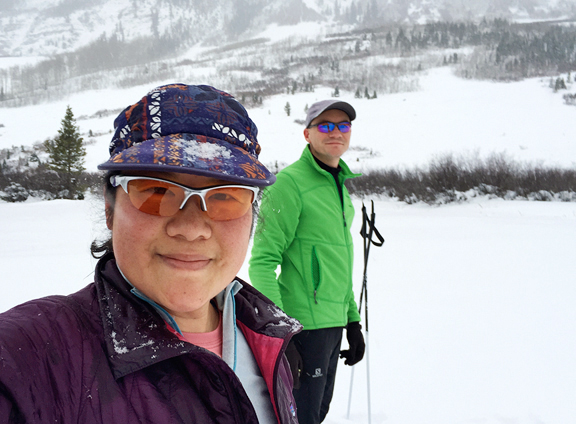 big snow totals make for early season avy danger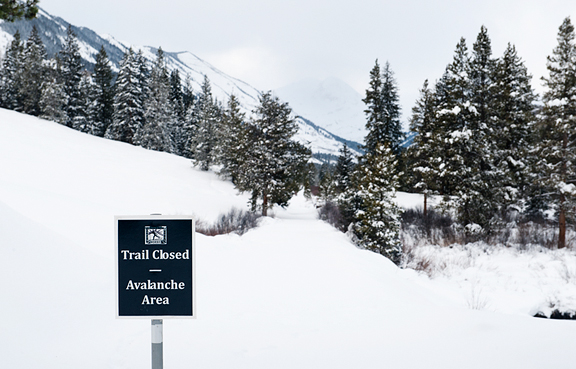 jeremy skis with mount crested butte in the distance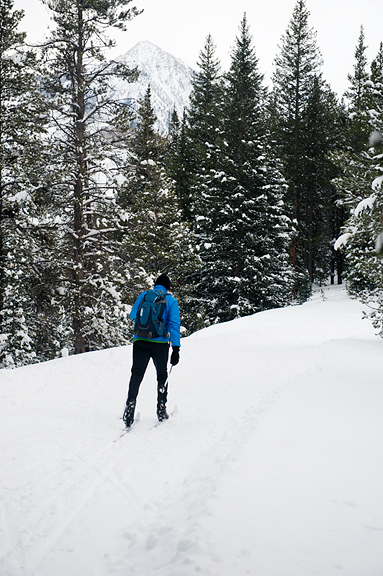 rejoicing in glorious winter (technically autumn, but it is totally winter)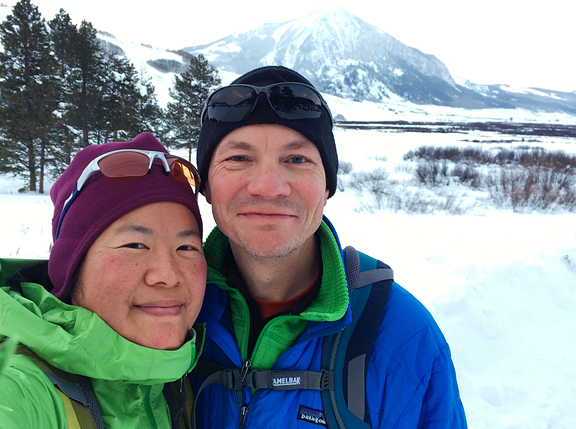 Colorado's high country changes so dramatically from summer to autumn to winter – green to gold to white. Winter is a bit of a hog as it eats up most of autumn and spring, but I don't complain because I love it. It's hard to believe that just last month I was back here in Crested Butte shooting the fall colors.
Over the years I've learned that I feel physically and mentally better on the fall shoot if I eat my own food rather than dining out for the duration of the shoot. It's healthier and more economical. But there are those times after shooting sunrise in the freezing cold when you get a text from fellow photogs relaying their intention to head into town for breakfast, and it sounds like the best idea ever. One of my favorite stops in the little mountain town of Ridgway, Colorado, is Kate's Place, which serves up quality breakfast and lunch. My friend, Jimmy, always orders the biscuits and gravy. I'd never had it before, but Jimmy always has this blissful smile on his face when he gets biscuits and gravy. This year, I decided to give it a try.
"Good, isn't it?" Jimmy smiled, nodding at my plate of biscuits and gravy. Yes, it was damn good. Something warm and satisfying to fill my empty and cold tummy – energy enough for my drive back to Crested Butte. It wasn't more than four weeks later when I began thinking about that breakfast. I blame Jimmy… and Brent – those two are always mooning over biscuits and gravy. Jimmy even texted me a photo of (another) plate of biscuits and gravy from elsewhere on the road. Well, let's do this.

the biscuits: buttermilk, baking soda, baking powder, salt, flour, butter
whisk the dry ingredients together
toss cubed butter with flour mixture and freeze
cut the butter into the flour
**Jump for more butter**