Wednesday, November 19th, 2014

Recipe: chinese orange beef
Each fall I return to the slopes and wonder if I will remember how to telemark ski. The first run brings painful aching to the arches and a burning in the quads, but I know that it will get better on the second run, and the third, and… Curiously, the pain seemed to be shorter lived this time. Trail running has a lot to do with that. Usually our first day on the mountain (resorts) involves a lot of crappy snow, but this year's first day was sweet. Our mountains have received a good bit of natural snow and cold temperatures for snow-making. I'm getting jazzed for ski season and all the different kinds of skiing to be done.

powder at copper mountain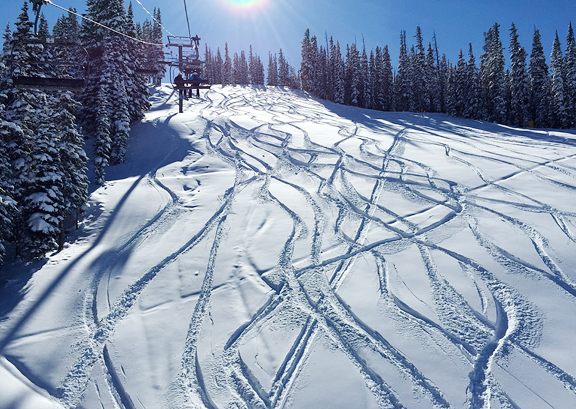 The news is aflutter with the lake effect snow storms in western New York dumping several feet in some areas, bringing back memories of my graduate school days in Ithaca. We only got the occasional big dump snow day at Cornell and there's something about East Coast snow that is so very different from Rocky Mountain powder. Walking to and from campus through the snow, we'd have to carry Kaweah when we crossed the roads because her paws would get wet in the salted slush and then freeze. On nights when we worked late and I was too tired to cook, we'd sometimes order takeout from Ling Ling's which required slipping and sliding up and down snowy hills in a car that wasn't suited for winter. Whenever anyone in my department discussed ordering from Ling Ling's, we grad students always laughed and held an imaginary phone up to our ear, "HelloLingLing!" No matter what you ordered, the restaurant always said, "OkayTenMinute." I was a fan of the orange beef – a Americanized Chinese food guilty pleasure.
green onions, sake, soy sauce, sesame oil, white vinegar, flank steak, oranges, egg whites, cornstarch, sugar, salt, baking soda, chili garlic sauce
slice the orange zest in strips
slice the flank steak across the grain
prepped ingredients
**Jump for more butter**