Sunday, April 23rd, 2017

Recipe: chinese shrimp and sizzling rice
When I hear a weather forecast on the radio for "a beautiful day", I already know they mean sunshine and warm temperatures, because our society has got something against rain and snow and cold. But I have lots of good reasons for loving precipitation! The most obvious is the skiing, but recreation aside, our snow pack and rainstorms provide much-needed insurance against out-of-control wildfires in the mountains as well as water for all of the flat-landers downstream. Other bonuses include mushrooms (oh, the mushrooms!), wild berries, and wildlife that rely on moisture to survive and thrive. Don't forget those stunning wildflower displays at the height of summer, or refreshing waterfalls and alpine lakes that are a joy to hike. Besides, rainy days make sunny days all the more delicious.
So yes, we are getting some belated April showers, at last! Sometimes it falls as snow, sometimes it falls as rain. At this point, I am happy with either one. Sure, I'd love a few more backcountry ski days, but I'm already four weeks into my trail running season. I could go either way and it's all good. The longer days also mean more time for outdoor puppy play and training!

rain can give you rainbows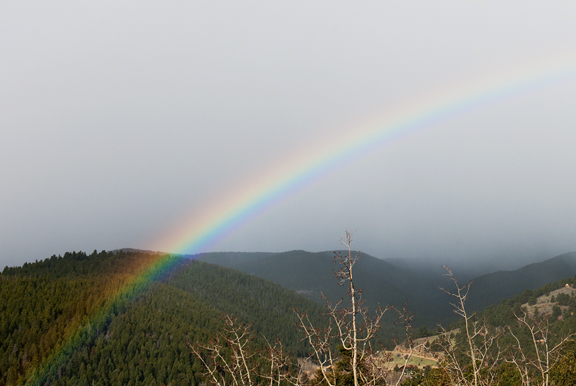 those clouds can create magic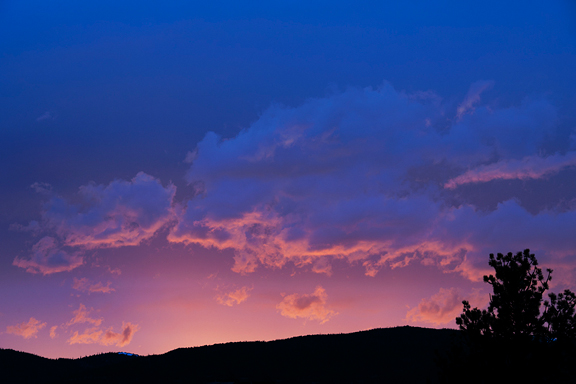 neva wanted to show me her new favorite toy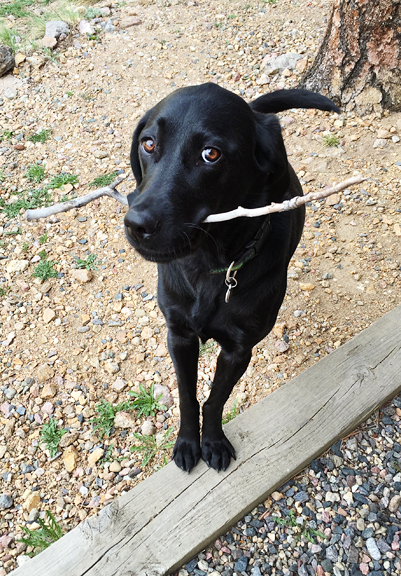 i met an adorable 3 1/2 month old golden retriever, penny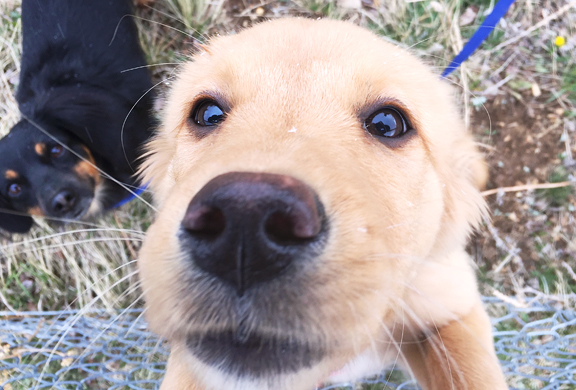 I'll be honest. My main desire for rain right now is so the mushrooms flush instead of petering out in another drought. Despite hitting the jackpot a couple of times, last summer was a crap season for mushrooms overall in Colorado. It was simply too dry. So you can imagine my delight when it rained for two days last week. Erin and I met shortly after sunrise to wade through freezing cold streams, carefully picking our way through mazes of branches while spotting and avoiding poison ivy. The conversation meandered from topic to topic, much like our path which wasn't a path, but a series of points of interest that led us further into the woods and tall grasses.
plum blossoms – these will be good for plums come end of summer/early fall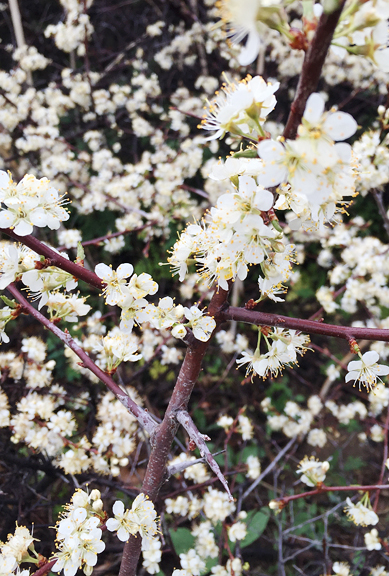 picking wild catnip for the kitties (and dodging lurking leafless poison ivy stalks)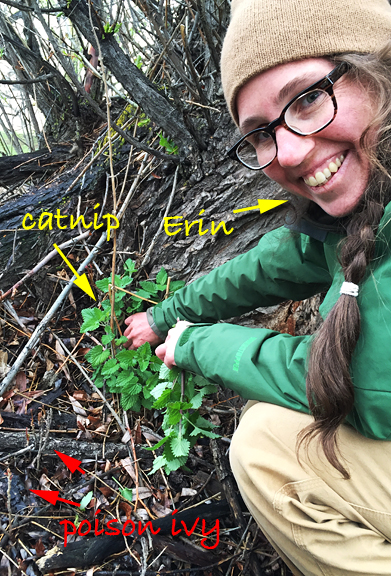 a pretty cluster of perfect oyster mushrooms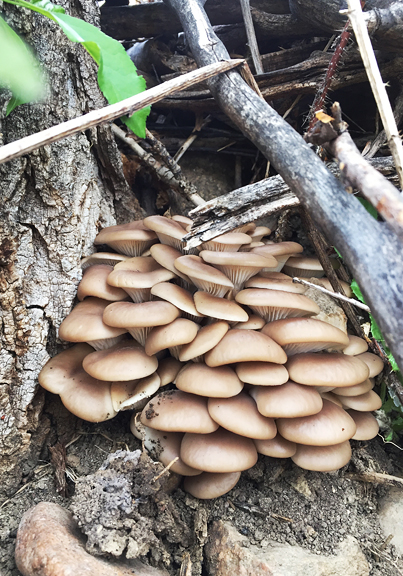 harvesting some more good finds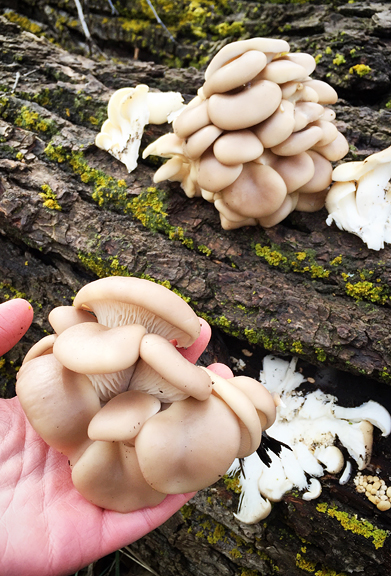 Despite her protests, I made Erin take all of the oyster mushrooms home. Part of the reason was because I know Jay, her husband (and also my friend), is crazy about wild mushrooms. The other part was because I had accumulated so much psychological freak out over poison ivy contamination with each hour we were foraging that my brain was about to explode. I'm just a little OCD… When we got to the cars, I told her I wanted her to keep the mushrooms as I began shedding my outer layers, turning them inside out, and stuffing them into plastic bags (to take home to wash). I wouldn't have the time to clean and cook the mushrooms anyway.
I had plenty to get done at home like baking a batch of cookies to mail to my dad. Mom had pneumonia for the past couple of weeks and Dad took great care of her, so I felt he deserved a treat. Plus, he gave me this "recipe" for Chinese shrimp and sizzling rice. I put recipe in quotes because it was conveyed to me via phone conversation with a lot of shouting and hand-wavy quantities. A little bit of this. Some of that. Maybe some peas. I don't want peas. Okay, no peas. I can only imagine if my parents had a food blog.

rice cakes
After some research, I did find a couple of recipes for homemade sizzling rice which involve steaming rice, then baking it low and slow, then deep frying it. I took the easy way out this time and bought Chinese sizzling rice cakes at an Asian supermarket. I'm showing you the packaging because that is the only way I can find it. It's usually tucked somewhere among the dried noodles, but one time they moved them and I spent a half hour scouring the aisles before I located the rice cakes.
straw mushrooms, water chestnuts, baby bok choy, shaoxing wine, vegetable oil, chicken stock, white pepper, shrimp, rice cakes, egg white, salt, cornstarch, water, green onions, fresh ginger
The shrimp should first be mixed with Shaoxing wine, a half teaspoon of salt, and a little bit of egg white. Don't use too much egg white or else you'll wind up with a lot of cooked egg in the pan. You just want enough to coat the shrimp. The cornstarch should be mixed in last. I let the shrimp marinate for ten minutes on the counter, then I pop them in the freezer for another ten or fifteen minutes per my dad's instructions. The freezing is just to get the shrimp cold and not to actually freeze them through. This probably keeps the shrimp from overcooking.
shaoxing wine, egg white, salt, cornstarch, shrimp (peeled, deveined, and butterflied)
add the shaoxing wine
toss with egg white
mix in the cornstarch
**Jump for more butter**