Monday, September 12th, 2016

Recipe: wild mushroom pizza
Here it comes. Cooler weather, I've been waiting for you since May. We were so used to leaving our windows open overnight to cool the house down that it came as a surprise to us when we woke up Saturday morning and the temperature inside was 52°F. That's even lower than what we set our heat to overnight in winter (we set it to 55°F). No wonder Neva was all snuggled up between us on the bed after her 6 am breakfast. Outside we could see an impressive frost on the deck. Well alright then! The scrub in the high country has been turning red and gold for a couple of weeks now, but the leaves are finally following suit at higher elevations. My landscape photographer friends are getting itchy for the fall shoot. We're all waiting to see if the colors will be on time (like usual) or if they're going to bust out of the gate early.

bright red huckleberry bushes on cottonwood pass (looking west toward taylor reservoir)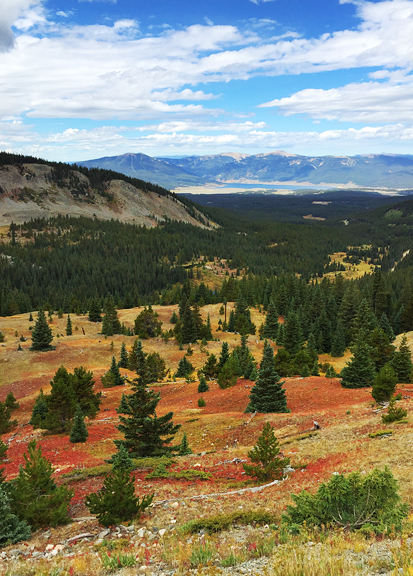 dreamy sunset colors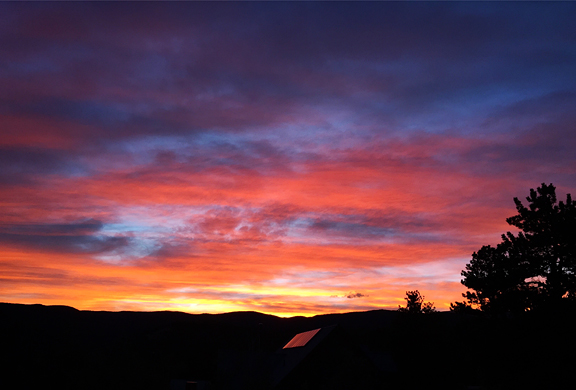 red aspen leaves against bluebird skies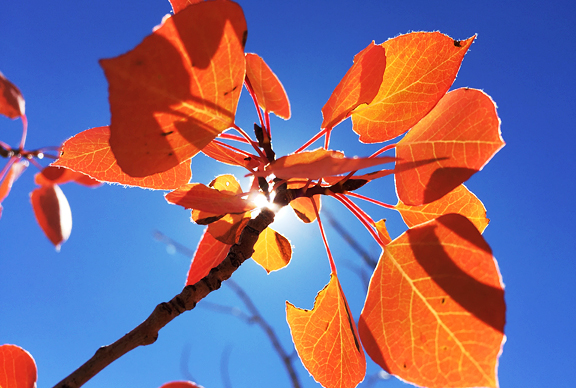 But before I could even think about the fall shoot, I had to research, test, make, and photograph recipes with my foraged chanterelles and porcini from last weekend. Oh, and I had to clean them – a time-consuming process with the chanties when you have several pounds. From the moment I cut the mushrooms off the ground, the clock starts ticking. I store them in brown paper bags in the refrigerator and they last about a week. Brown paper bags populated all of the non-freeze zones of my refrigerator while I shifted everything else around them. The rest will be sautéed in butter and frozen for winter. Any chanterelles that are too far gone to eat get chucked into a separate bag. Those will soak in a combination of water, molasses, and salt for a day or two before pouring the "spore" water out in suitable chanterelle environments.
Generally, I don't pick the porcini that have been wormed out (the stipe or cap will feel particularly squishy), but sometimes you can pick a firm porcini and the few worms present will make Swiss cheese of the inside while you hike around, drive home, and pop it in the refrigerator. That's why I try to dress the porcini (cut out any worms) in the field if I have the time. Porcini that are too wormed out (those itty bitty worms, they have voracious appetites) get staked under an appropriate spruce where some spores might take hold in the future.

always delightful to peer into the huckleberry leaves and find a chanterelle or two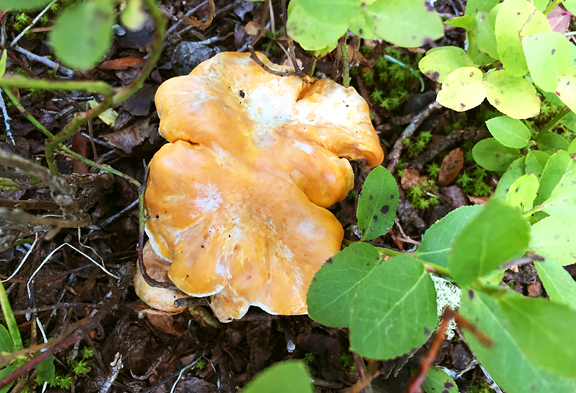 porcini like the huckleberry plants, too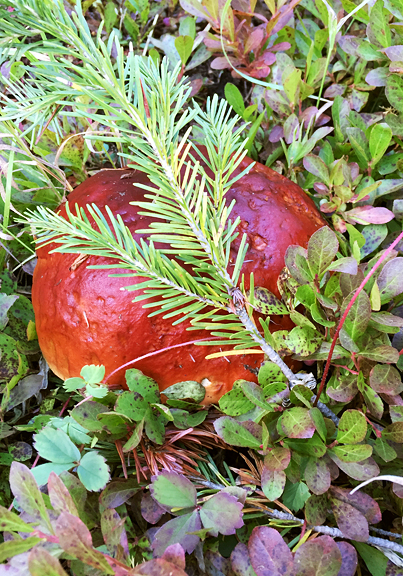 The first recipe I wanted to shoot involved both kinds of mushrooms, mostly because I wanted to take care of the porcini before the worms ate anymore of them (or any more worms escaped onto the refrigerator shelf). The reality of foraging porcini is that you will deal with worms. I've rarely encountered chanterelles that were wormed out, but it has happened on rare occasion. Even if your porcini have some worms, you can usually cut that section out and salvage the rest. So let's make some wild mushroom pizza! And as always, you can substitute any combination of edible mushrooms.
chanterelles, porcini, pizza dough, parmesan, fontina, butter, flake sea salt, sea salt, thyme, garlic
melt the butter and mince the garlic
mix the garlic into the butter
**Jump for more butter**