Recipe: morel prosciutto asparagus pizza
No matter how hard I try to prepare myself for the onslaught of summer temperatures, it always takes my body by surprise. Our overnight lows dip less each night and the midday sun now feels as if my face and skin are ready to burn right off. It makes me wonder how I ever survived growing up in Virginia and living in Southern California for ten years. If there is one drawback to living in the mountains, it's that I've become a wimp when the mercury rises above 65°F. Give me single digits and snow ANY day, thanks! Heat aside, watching the mountains spring to life in all their glory is something magical to behold. I could spend the rest of my days marveling at these brief but productive mountain summers and never get enough.

false hellebore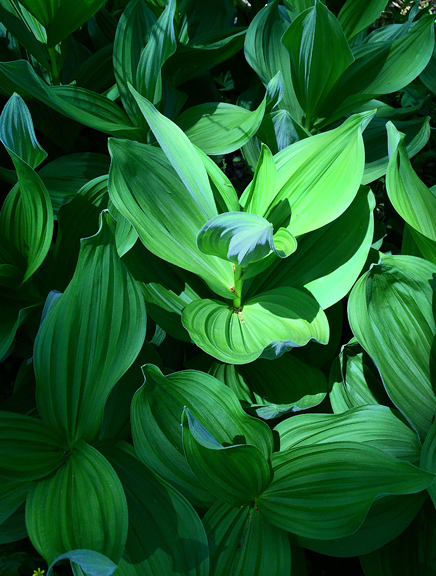 phlox blossoms and lupine leaves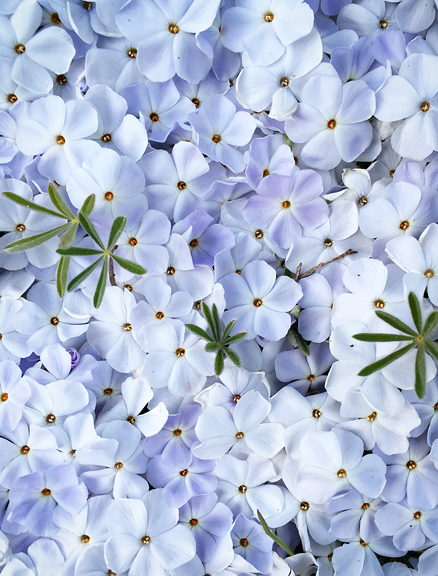 neva enjoying the lupine flowers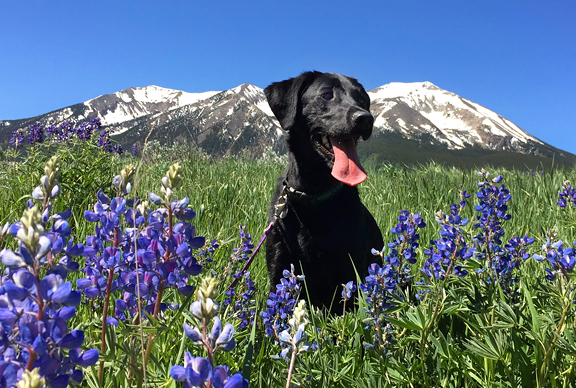 gold banner and shooting stars (pink) and a happy bumblebee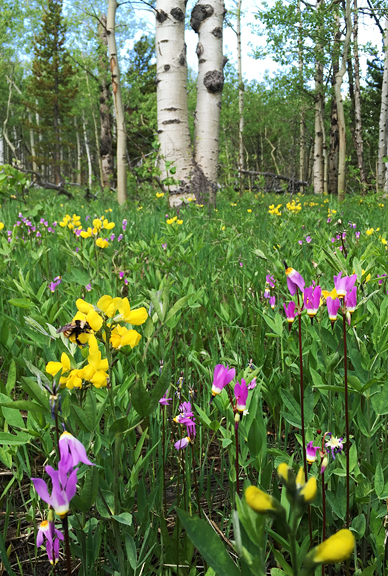 For the past couple of months, we have been following the journey of two friends who live up the road from us in Nederland. They started at the U.S. border with Mexico and hiked north on the Continental Divide Trail (CDT) through New Mexico, then made the first ski crossing this season of the formidable San Juan mountains in Southern Colorado and are continuing north through the state. A few days before they crossed Colorado State Highway 114, Elaine and I coordinated via very short messages to meet where the trail intersects that lonely stretch of road. It was an 80 minute drive from Crested Butte, but it was the easiest way to meet up logistically. Jeremy and I brought food and water, and we took their skis, boots, and skins because the snow pack has been withering under the warm and intensely sunny days. What's cool is that they will be hiking the CDT into our local mountains on the Front Range and they will hike home for a few days before resuming their trek northward into Canada. Dan and Elaine are not only amazing endurance athletes, they are two genuinely thoughtful and wonderful individuals. If you'd like to follow their progress and cheer them on, they post when they can on Instagram as
@elainevardamis
and
@nomadwolf360
.
elaine and dan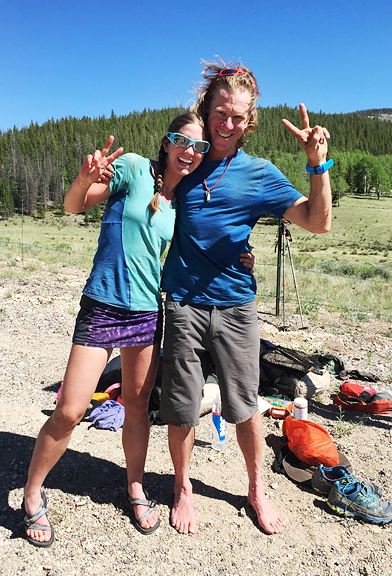 We returned to the Front Range at the end of last week right about when Nature decided to turn the dial up to BROIL. En route from Crested Butte to Nederland, we made a pit stop at Copper Mountain. All of the mountain streams are flowing fast and high due to the runoff from the melting snow pack. Because it was so warm, we walked Neva down a little path to a small protected eddy on the edge of the nearby creek. She walked in and seemed to enjoy cooling her paws when she took one step out of the eddy into the heavy flow and got swept downstream in a split second. Luckily, Neva was on her halti (gentle leader) and leash and I was holding the other end, but the current was so strong that I worried the halti would slip off or break or that she would drown. I waded in and tried to carefully reel her back to me, calling her to swim to me. She tried, but the stream was clearly so much stronger than her legs could paddle. In less than a minute, I grabbed her and had her back on the bank – Jeremy was already slightly downstream in anticipation of having to catch Neva if the leash or leader broke. We toweled her off and kissed her wet head. She was back to her usual self after showing a little affection by rubbing herself against our legs. She's used to her alpine lakes that are safe and calm, but we'll see to it that she sticks to low-flow streams from here on out.
This past weekend was apparently our farewell to spring. Jeremy and I went for a quick backcountry ski to escape the heat, only to discover the heat had been hanging out in the high country for a while. Winter and spring ski travel through the trees is easier in part because you are navigating some twenty feet above ground where the conifer branches are smaller and there is more space between trees. A week before summer and you find yourself clambering over deadfall (fallen trees), bare muddy patches, rocks, and bushwhacking through dense branches that you had gleefully skied a month earlier and twelve feet higher before the snow began to melt. Then Erin and I made one more foraging trip and found a good number of morels considering we were expecting to go home empty-handed. To be honest, I am a little relieved to stop thinking, dreaming, researching, obsessing, and hunting morels. It will be nice to have a break before the other mushroom seasons kick into high gear. This year I come away with a jar of dried morels thanks to my friend, Jay (Erin's husband), and a happy stash of butter-sautéed morels in my freezer. It was a great season.

one last backcountry ski for the season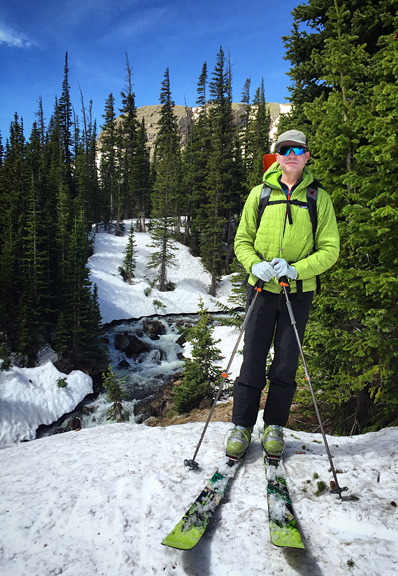 wave cloud over the reservoir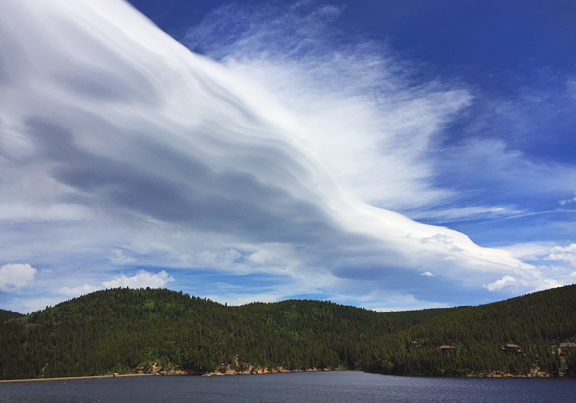 erin still finding morels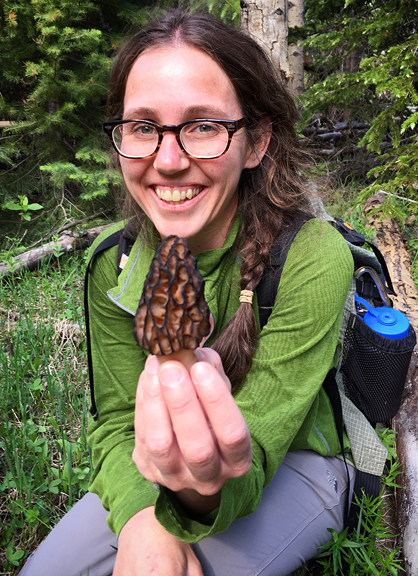 such a beautiful and weird mushroom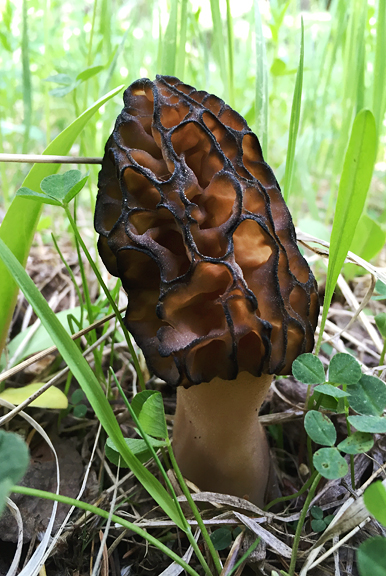 It seems fitting to post one more morel recipe for those still finding them to our north and west, or buying them in markets, or those who have their own stash to draw upon. We love our pizza year round, but it is especially lovely come summertime because we grill them on a pizza stone on the deck while the house remains cool. For mushroom foragers, there are some standard recipes you can always count on for enjoying mushrooms: pasta, steak, sautéed in butter, quiche, pot pies or pastries, toast, batter-fried, and pizza.
morels, mozzarella, salt, butter, prosciutto, garlic, asparagus, more butter, eggs, black pepper, pizza dough
Though official summer is a few days away, morels are very much a spring mushroom. That's why I really enjoy serving them with a spring vegetable like asparagus and creamy, mild flavors like eggs and mozzarella. I'm sure a red sauce would be great with any mushroom, but garlic butter complements morels without masking their deliciousness.
mash the garlic and salt into a paste
stir the garlic paste into softened butter
dry fry the morels in a hot pan
add a pat of butter and sauté
you can chop or slice the asparagus (i like ribbons here)
It is easiest to prep your ingredients before assembling your pizza. I feel like this is the most obvious thing in the world, but I understand that there are those people who just don't function that way – who don't plan. I get it (not really). So if you aren't a planner type, why not just give planning a try for the heck of it and see if it makes life better and less haphazard and less stressful? You might not find it especially advantageous at first, but remember, planning is something you have to get used to doing much like running. Your first training run is going to feel a lot worse than your twentieth training run. But planning, like running, is worth the effort for both the short term and the long term. Because I guarantee you that having a plan versus not having a plan during say, the zombie apocalypse, can make a huge difference.
ingredients ready for battle
spread the garlic butter on the dough
top with cheese, asparagus, prosciutto
add the morels
When we first started making our own pizzas at home, I made the typical newbie mistake of overloading the pizzas. It's tempting – SO tempting to do – but you shouldn't. When there are too many toppings, the crust doesn't cook evenly winding up doughy and raw in some places and burnt in other places. Same thing happens to the toppings. If you are making pizza for the first time, go easy on the toppings and add a little more or a little less each time until you find your happy place with a perfect crust and just the right amount of stuff on top. I personally LOVE to add eggs to my pizza. The trick with eggs is that you should wait to add them until after the pizza is in the oven or on the grill, otherwise they'll likely slide right off when you transfer your pizza from the peel to the stone. Because I like my yolks runny, I let the pizza cook for a few minutes before adding the egg near the center and then giving it about 6 minutes to finish.
dropping the egg onto the pizza
a sprinkle of red pepper flakes
I love pizza hot or cold, but this one is particularly heady when served hot. There's butter, creamy mozzarella, garlic, runny egg yolk, perfumey morels, salty crisped prosciutto, and sweet ribbons of asparagus all cradled on a golden pizza crust – chewy inside and crisp outside. What a great way to say good-bye to spring and a (very) good morel season while embracing the season of grilling and pizzas and grilling pizzas.
serve hot
devour immediately
Morel Prosciutto Asparagus Pizza
[print recipe]
2 8 oz. balls of pizza dough (I use the olive oil pizza dough below)
1 clove garlic, peeled and smashed
sea salt
3 tbsps unsalted butter, softened
6 oz. fresh morel mushrooms (or other wild edible mushrooms), cleaned
1 tbsp unsalted butter
cornmeal
freshly ground black pepper
4 fat asparagus spears, shredded or sliced thin
8 oz. mozzarella cheese, torn into pieces or shredded
4 slices prosciutto, cut into strips
4 eggs (optional)
olive oil pizza dough
from Artisan Pizza and Flatbread in Five Minutes a Day
3 1/6 cups or 25.3 oz. (725 g) water at 100°F
1 tbsp (10 g) granulated yeast
1 1/2 tbsps (25 g) kosher salt
1/3 cup or 2.5 oz. (70 g) olive oil
7 1/2 cups or 38 oz. (1080 g) unbleached all-purpose flour
Make the dough: In a mixing bowl or the vessel you plan to store your dough, measure that the water is 100°F. Add the yeast and salt to the water. Stir in the olive oil. Add the flour and stir with a wooden spoon, Danish dough whisk, or use the paddle attachment on a stand mixer. Make sure all of the flour is incorporated (you may have to use your hands if stirring with a spoon), but don't knead the dough. It goes quickly if using the mixer. If you didn't mix your dough in your storage container, transfer the dough to that container. Cover the container with a non-airtight lid and let the dough rise at room temperature for two hours or until the dough flattens on top. Don't punch the dough down! Refrigerate the dough with the non-airtight lid. It should be good for the next 14-days (it will deflate, but that's okay). Makes enough dough for eight 1/2-pound balls of dough.
Make the garlic butter: Mince the garlic and sprinkle a half teaspoon of salt over the garlic. Using the flat side of your knife, smear the salt down into the garlic to make a paste. Stir the garlic paste into 3 tablespoons of softened butter until blended.
Cook the morels: Heat a skillet or sauté pan over high heat. When the pan is hot, add the morels in a single layer. They should begin to sweat and lose their liquid. When the liquid boils off, add a tablespoon of butter and sauté the mushrooms. Sprinkle with a generous pinch of salt. Set aside.
If using an oven: Place your pizza stone on the center or lower third rack of your oven. Preheat the oven to the highest temperature (mine is 550°F). If you don't have a pizza stone, you can bake your pizza the way you normally bake pizza. If using a grill: Place your pizza stone on the grill and turn the flame or heat the coals to high heat. Close the lid. We're aiming for 450°F to 500°F.
Make the pizza: Sprinkle cornmeal on your pizza peel – enough to keep the dough from sticking to the peel. On your work surface, roll or toss a pizza dough ball to about 12-inches in diameter. If you need it, use flour to prevent sticking to the work surface. Set the dough on the pizza peel. Spread half of the garlic butter over one of the pizza doughs (the butter needs to be soft or it will tear the dough when you spread it). Grind some pepper over the butter. Top with half of the mozzarella, asparagus, prosciutto, and morels.
Cook the pizza: Before cooking the first pizza, shake the peel to make sure the pizza isn't sticking (if it is, gently use a dough scraper or a knife to unstick it and toss a little cornmeal or flour underneath the trouble spot between the dough and the peel). Set the tip of the peel on the far end of the pizza stone and give it a jiggle so that the pizza begins to slide off and the edge is resting on the stone. Pull the peel out from under the pizza at an angle (to encourage the pizza to disengage). Bake or grill for 8-10 minutes, or until the cheese is bubbling and the crust is browned (but not burnt). If you want eggs on your pizza, then crack an egg into a small bowl and pour it into the middle (just not the edge) of the pizza with about 6-7 minutes left to cook for a runny or soft yolk. Repeat for a second egg. If you get puffy bubbles of dough rising up during baking, puncture them with a meat fork (or a skewer, something sharp) to deflate the pockets. When done, remove from heat and serve. Repeat for the rest of the pizzas. Serve hot. Makes two 12-inch pizzas.
more goodness from the use real butter archives