Wednesday, May 14th, 2014

Recipe: chicken teriyaki bowl
YES! TWO FEET of snow graced our mountains by storm's end (we averaged 16 inches around our house). Jeremy and I were patient, letting the snow settle for 24 hours before diving into it. Our assessment over two days of backcountry skiing is that the bottom of the snowpack was a wet spring base, but the upper 12 inches of fresh snow was good and wintry. Even Kaweah enjoys feeling the snow underfoot when she does her rounds in the yard. We're all snow lovers in this house.

jeremy breaking trail into 2 feet of fresh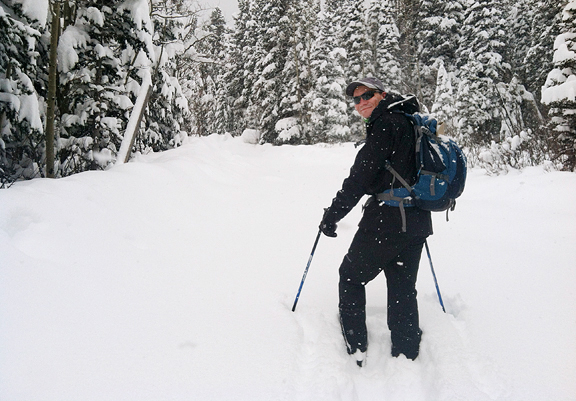 winding up into the high country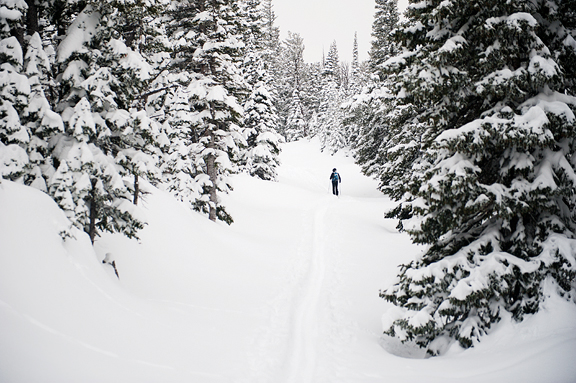 beautiful, untouched snow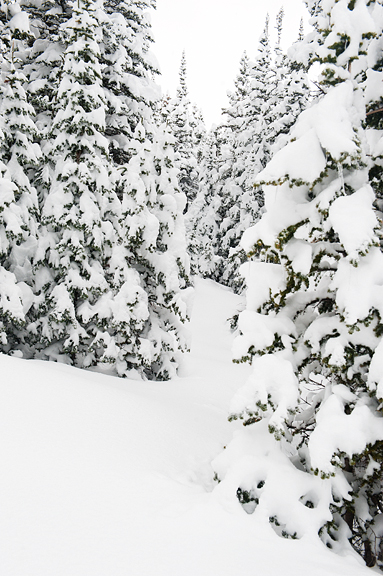 plus a little sunshine and bluebird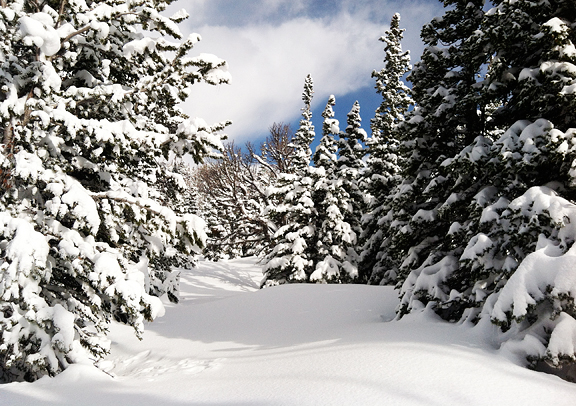 jeremy ripping skins as a squall approaches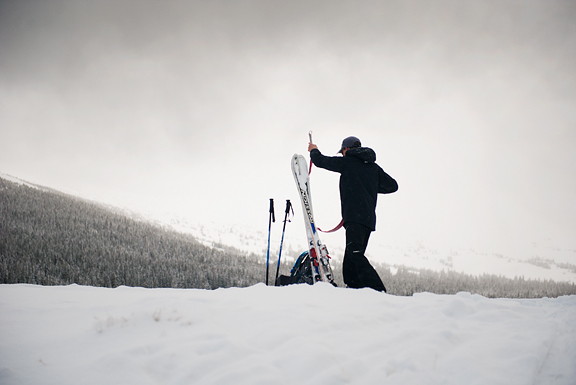 Our temperatures are on the upswing now. Piles of snow that adorned our yard Wednesday morning were gone by the close of business. That's fast melt. The good news is that the high country keeps getting more snow as guerilla snow storms pop up on the Continental Divide. I know people want the roads to campgrounds, access to trailheads, and trails cleared of snow. Me? I go with the flow. As long as there is good snow, I can ski it and it keeps most of the crowds away. And when it all melts out? We hit the trails running, fast packing, backpacking, mountain biking, or hiking. I love the mountains year-round, every single day.
a glorious sunset

Some of my friends look at me with suspicion. Why is it that I prefer schlepping gear up a steep trail to sleep on the ground (with the bears) and not shower for days on end as opposed to staying in some posh hotel and partaking of fine dining and other luxuries? I find if I don't go outside and get my heart pumping on a regular basis, I get into a funk. This was especially clear to me during my chemo on days when I didn't have the strength to sit up in bed. If I don't stay in nice places and eat fine food, I don't really miss it. And besides, we are not deprived of fine food. We make damn fine food in the House of Butter. Let's work some chicken magic.
chicken teriyaki: dark soy sauce, soy sauce, mirin, water, sake, honey, brown sugar, chicken thighs
I have a prejudice against many fast foods. It's not that I haven't had my share. Sometimes when you're road tripping through the sticks on a photo shoot, the only options are the lonely burger outposts or the ubiquitous
KenTacoHuts
. But more and more I've come to realize that a homemade version of a burrito or fried chicken or burger can not only be far healthier (you know what ingredients you put in your food), but way way tastier. Walk past any mall food court and you'll probably encounter a place that serves some sort of teriyaki rice bowl. I have no idea what those taste like, but all of the parts add up in my brain to something good. How hard could it be to make it yourself?
pouring mirin into a ziploc with soy sauce and dark brown sugar
adding water
drop some chicken thighs in
marinate for up to 24 hours
**Jump for more butter**