Wednesday, January 21st, 2015

Recipe: shredded brussels sprouts and kale salad
The Colorado snowpack has been running below average (88%) with a string of sunny days for much of the first three weeks of January. But as my favorite meteorologist-skier, Joel Gratz, has said, if we're going to get dissed on snowfall, January is a good time for it. That's because the sun angle in January is quite low (and the days are still pretty short) which means less melt. As we move into February and March, that sun climbs higher in the sky each day and it can take a toll on the snow if Mother Nature doesn't grace us with some of the fluffy stuff. On our last day in Crested Butte it began to snow in the late afternoon. It was just a little, but enough to feel the flakes falling on my cheeks as we skate skied back to the car. We could see the snow clouds moving in from all directions.

non-skiing activities included hugging on my favorite neighborhood wookie dog, wyatt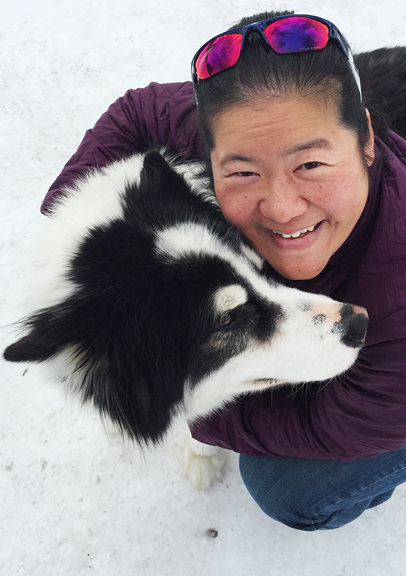 The next morning, we woke early to get on the road back home. Overnight, it had snowed far more than anyone (Joel, NOAA, all of the weather people) had been expecting. It was less in Crested Butte and more as we neared the I-70 corridor. Typical of Colorado weather, the storm gave way to sunshine and blue skies. Icy and snowy roads became snow-packed roads became slushy roads became wet roads became dry roads. We drive past a number of ski resorts on our route from Crested Butte to Nederland and happen to have passes for some of them. Copper Mountain reported 7 inches of powder that morning, so we "justified" stopping for a few runs by saying the freeway could melt out a little more while we sampled the snow.
jeremy thought it was pretty darn good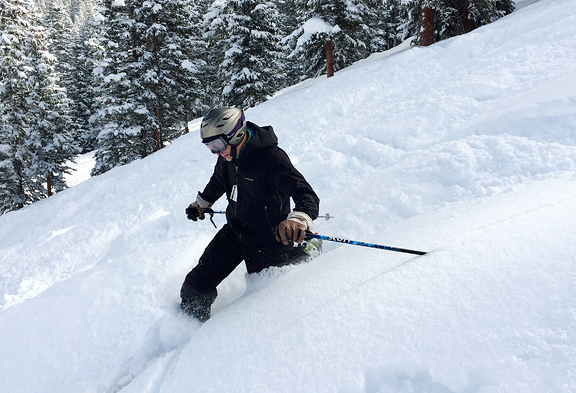 the view south, looking out of bounds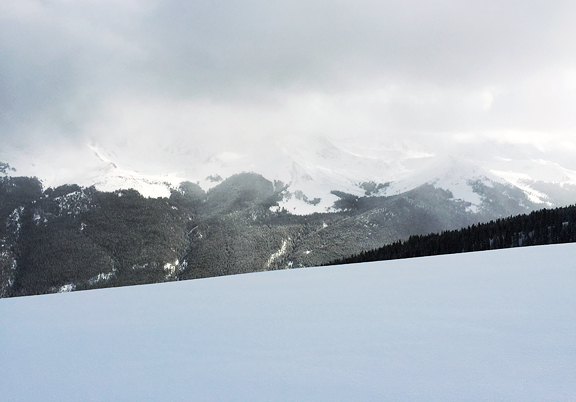 It's feeling less like Spring and more like Winter – as it should! The snow came down all day Wednesday here in the Front Range, which puts me back in the mood for hot soups. But winter also makes me crave salads and fruits. I know some folks try to get their vegetables in the form of a smoothie. It seems to be rampant along with January-sudden-onset-exercise. Whatever works, I suppose. Me? I personally dislike smoothies – and I say "dislike" because I don't want to use the word "hate" even though that is what I mean. I actually enjoy eating vegetables (and fruit) in solid form. The textures and flavors are precisely what I like about eating them. It's so much easier to get your vegetables and your exercise when it's something you love, don't you think?
In the past few months, I've become hooked on a shredded Brussels sprouts and kale salad. Last spring, a Whole Foods Market opened in Frisco which is on the road between Nederland and Crested Butte. It used to be that our only quick food options right off the freeway were fast food, so this was a welcome addition to our choices. Jeremy usually gets soup or something hot, but I load up on salad. I make a point of sampling some of the salad bar's prepared salads. Most of them don't get sampled a second time, but I kept returning to this one salad because it was so crunchy and refreshing. The salad bar (or anything) at Whole Foods ain't cheap, so it was only a matter of time before I sought out a recipe to make at home.

kale, brussels sprouts, pecorino, black pepper, pumpkin seeds, sunflower seeds, salt, garlic, shallot, lemon, olive oil, dijon mustard
strip the kale from the ribs
roll the leaves up
chiffonade the kale
**Jump for more butter**