Trudi came over for the authentic Chinese dinner last night. She's hilarious. We had not seen her in months. I always feel like I'm rushing to tell her things and hear her stories because we have so much to catch up on. I appreciate how honest she is about herself, and also that she has a great sense of humor. Hope her eyeball surgery went A-OK today. This is what we had for dessert – apple cranberry crisp: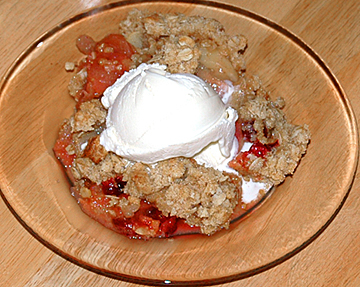 And then I sent Trudi home with most of it. Too many desserts – I don't want them in my house anymore!! That girl is too thin, anyway. I need to fatten her up with more cooking…
Chinese New Year is in just over a month, and me – dumbass – didn't know that we would be in Hawaii on CNY. I'm sure we can find a restaurant to eat some traditional foods, but it's so lame – _I_ usually MAKE the traditional foods at home. *sigh* What a bad and dumb Chinese girl. I'll have to ask grandma what I'm supposed to do. All of those traditions and luck and food. It's the year of the rooster. Someone in my family is a rooster, I know it. I think it's grandma. She's one of the coolest people I know. Maybe I can celebrate it when we get back. I'll have to place a setting for Kris too. We stopped having Chinese New Year together when she left for college. Mom and Dad have places for my Dad's parents who have passed away. We never thought we'd have to set one for Kris. I really miss her. What I wish I could do is goto Steve's house and make a traditional meal for them so they can experience the culture (and eat all of the lucky foods). Perhaps next year if I plan it right and when Emily is almost 2 years. I know Steve and Ben miss Kris terribly.