If you will recall, Jen's First Rule of Entertaining is: Never try a new recipe on guests for the first time. I broke the first rule, but I more than made up for it with Jen's Second Rule of Entertaining: Never run out of food and beverages. We had a great showing of guests with good appetites. Afterall, my theme was: Come ruin your dinner with us. They put a big dent in the food, but we'll still be noshing party food for the next few days. I learned that my neighbor likes the same gin that I do (Bombay Sapphire), and that my other neighbors are total non-cook foodies who volunteered to be my taste testers, and that all of our neighbors are chocolate junkies. I am not a beer drinker, but I try to provide good beer when I have folks over. I picked up some Boulder Beer Copper Ale and a six of this Ft. Collins Chocolate Stout. I didn't try the stout, but everyone who drank it liked it. I have two leftover and I must say I am excited by this fact – because stout and chocolate are two kick ass ingredients in Good Chili.
I now have five new recipes to add to my photo recipe collection.
Fresh is fresh and when I entertain I buy the freshest and best ingredients I can. It's pretty damn frustrating to spend a small fortune on fresh fruit only to find 1/3 of the strawberries spoiled. I'll have some polite, but choice words with Wild Oats next week.

my $18 fruit salad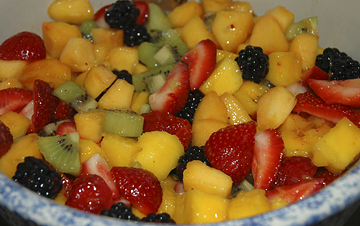 nothing beats fresh guacamole, but cost of production in co is 3xca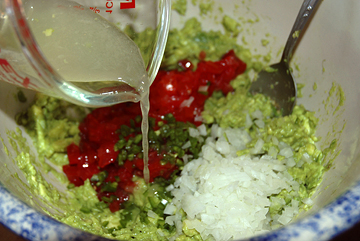 I served three dozen of those little chocolate concoctions I created last night. They were a big hit – like little shots of chocolate goodness. When everyone went home, Jeremy got to finish the last one. Tom helped me come up with a name for them since I made up the recipe.
jeremy covets the last of the chocolate mousse droppings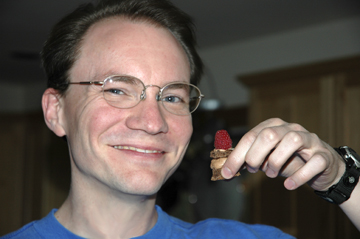 After everyone left, we went out onto the deck and had our "dinner" of party food (we rarely eat much during our parties) and watched the sun set and fed Kaweah bits of cucumber and jicama from the veggie tray.