We never get to bed early. Even when we do get to bed early, we read, talk, get back up and take care of things we forgot to take care of, play with Kaweah (or fight with her over space on the bed)… Last night was no exception. So this morning, I woke up and asked Jeremy if he wanted to go for a hike. I knew he didn't. If you ask Jeremy every morning (when I wake up) if he wants to go for a hike, the answer is probably going to be "no" 90% of the time, because he likes to sleep. But I hate to sleep, and I like to hike early, and so his answer is usually a question, "Do you want to go for a hike?" Even if I don't feel like going, I say, "yes" to force myself to get out because I usually don't regret it. And so Jeremy eventually drags his ass out of bed and we are on our way. This morning, our goal was Mount Toll.
Mount Toll is an extra mile tacked on to the Pawnee Peak trip with a 500 foot drop and a 500 foot scramble up the southwestern slopes to the summit. When we got above Lake Isabelle, it was cold and windy – autumn. When we approached Pawnee Pass, it was colder and windier. Atop Pawnee Peak we eyed Mount Toll and debated what to do. It was 11 am, we had a party to get to in Boulder at 4 pm, we estimate it would take an hour to reach Toll's summit. So it was a quick decision to leave off and try Toll some other time. It is the same height as Pawnee Peak, so we didn't feel like we missed out too much. It was good to hike a 10-miler because I don't think I have gotten any decent exercise since we backpacked the Bells.

jeremy points to paiute peak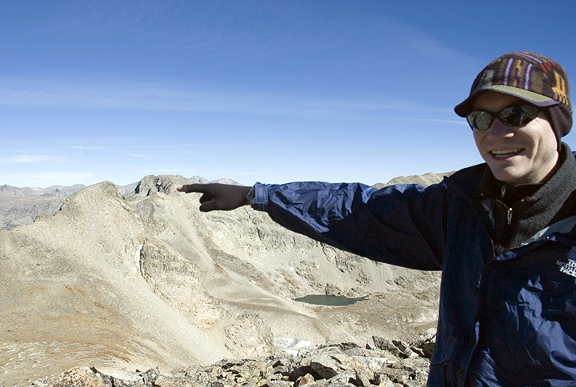 fresh snowfall from the latest storm will not melt out this season on the indian peaks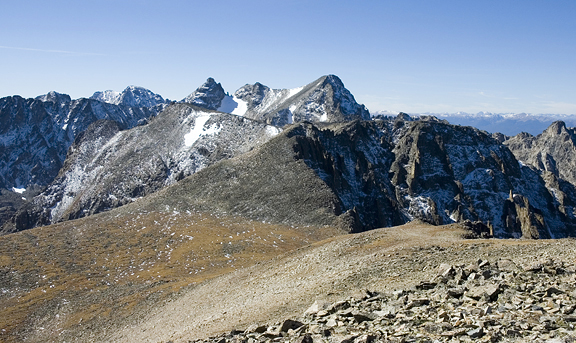 Back home, we devoured our leftovers (yay! clean fridge!), washed up, took a couple of 5 minute naps, and then drove down to Madge and Bondy's beautiful new place. We met some neat people including a photographer and a guy who runs an outdoor program for all of the elementary schools along the Front Range (they teach rock climbing, mountain biking, and kayaking). We chased the chickens, played with the dogs, noshed on goodies, and geeked around with Bondy and her nifty magnetic card reader project. Then it was on to Williams-Sonoma where I used the gift certificates my in-laws and parents gave me for my birthday. Some places you just don't pay full price for, and W-S is one of them. I got some of their sale items I've been eyeing for a while.
santoku with depressions: creates air pockets to keep veggies from sticking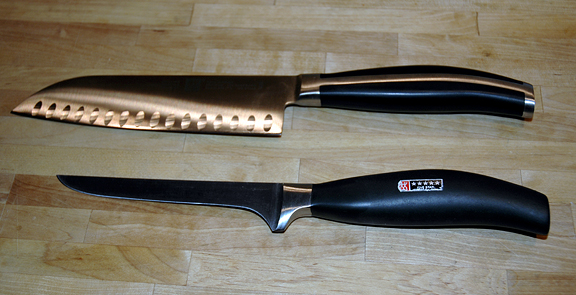 Henckels doesn't make the five star series anymore (the one I happened to invest in) and has now switched to the twin cuisine series for the ergonomic handles. They feel essentially the same as my old five star handles except that the tang is visible (although they are both full tang models). I'm excited about putting all of these new items to work in the kitchen. Many plans…
new funky whisk and non-stick grill pan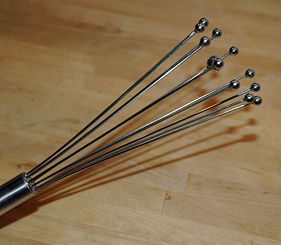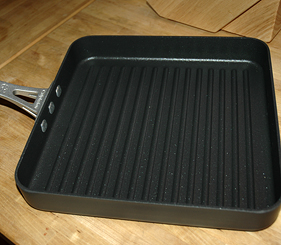 Jeremy and I stopped by Chick-Fil-A for a quick dinner. We noticed that he tends to eat around the outside of the sandwich into the center. I found that amusing because it's similar to his style of dealing with problems, to skirt around the outside and eventually make his way to the point. Then we thought about how I eat my sandwiches – I go straight through… much like the way I deal with most things. Funny.
I also picked up some whole chicken legs from Wild Oats to make chicken broth. I think I'll be crock potting that one since I doubt I'll be able to stay awake long enough for it to finish on the stove tonight. I was told that we're expecting snow on Tuesday – yeeeehaaaaaa!