There's nothing I quite hate as much as being sick. I'm not sick, but I have been fighting off some low-grade mental cotton in my head for the past few days and without much success. It lingers because I've had horrible sleep habits of late. Today I decided to make some headway and fight it with naps, liquids, and not skiing (*sigh*). I don't like to sleep, but when my body needs it, I do it.
However, tomorrow is Chinese New Year which means today is New Year's Eve, which means I had to cook a lot of specific stuff for the New Year. I made dumpling filling with ground pork, nappa cabbage, shitake mushrooms, bamboo shoots, green onions, ginger, sesame oil, cornstarch, and soy sauce. This filling is also used to make pork meatballs and goes in these little egg pockets. It's a lot of work being a good Chinese daughter…

adding sesame oil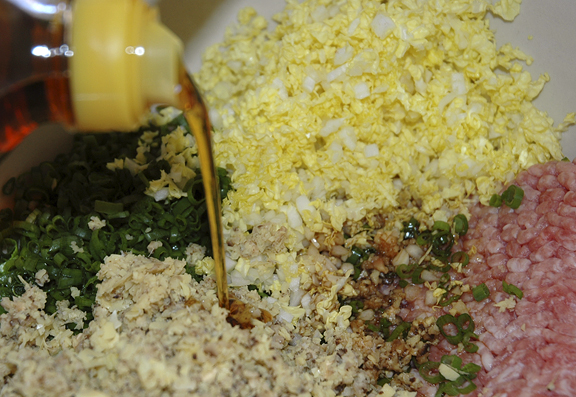 little egg pockets/dumplings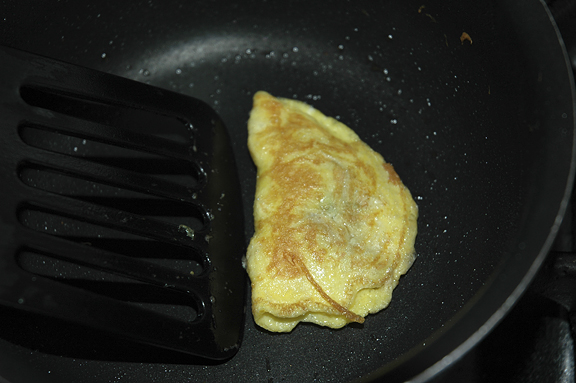 The big thing to make is the SOUP. It's a giant pot of broth with bean thread noodles, fish balls, shitakes, bamboo shoots, mustard greens, nappa cabbage, pork meatballs, egg pockets (dan jiao), tofu, green onions… Everything represents something and you eat it as insurance against getting screwed over for the coming year.
a big pot of soup representing health, fortune, luck, and other good stuff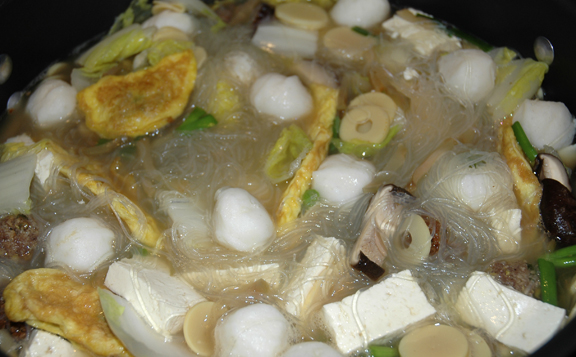 I asked my mom if I had to clean the house today. She said it was traditional, but that I didn't have to. My concern was that if I didn't today, I wouldn't be able to for 14 days after the new year as it is bad luck (sweeping out the luck or something). My mom, whose number one hobby is to clean house said, "Oh, you can clean the house whenever you want." Some of these superstitions aren't followed so closely in our family. Kris and I used to compare notes and wonder if Mom and Grandma were just playing fast and loose with the traditions. One time Kris asked my grandma in Chinese, "So do I have to eat the ten ingredients dish ON Chinese new year day?" and my grandma told her as long as she ate it sometime around the new year. My sister narrowed her eyes and jokingly said in English, "Oh yeah sure. That's not what you said LAST year." Then my grandma, who understood her joke (sarcasm isn't really to be found in China) raised her hand and hit her arm. Kris was a jokester. We remember our ancestors and loved ones who have passed on during this time. Tomorrow I will have a place setting for Kris at the dinner table.