Tonight we met with Tom, Kellie, Bondy, and Madge for dinner at Full Moon Grill. We picked tonight because it is Dining Out for Life night. Several hundred restaurants in the Denver-Boulder area participated this evening by sponsoring this event for Project Angel Heart. The restaurants pledged that 25% of their food bills today would go to support Project Angel Heart which provides healthy meals to men, women, and children living with AIDS/HIV, cancer, and other life-threatening illnesses. The food was great as usual (although Jeremy's lobster gnocchi appetizer was a tad salty). Everyone loved their food and we had a great time catching up on Ned politics, gross-out stories from Madge's medical training, gross-out stories of mercy killing furry dying animals, and arguing over who exactly is considered a gen-Xer.

crispy polenta cakes with grilled anjou pears and gorgonzola sauce
beef tenderloin and potato gnocchi with spinach, mushrooms, and truffle butter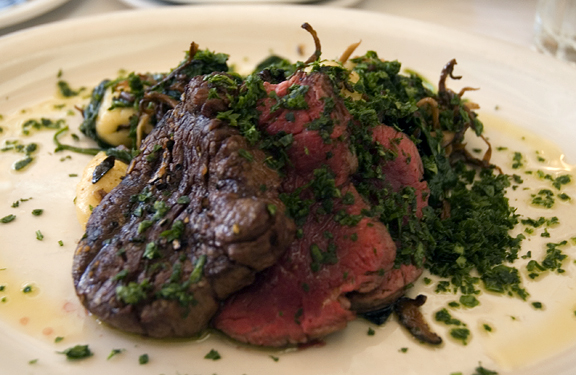 tom and kellie each ordered molten chocolate cakes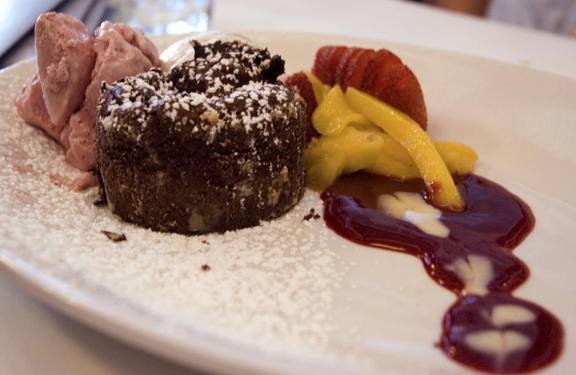 Unfortunately, our waitress gave a pretty lackluster performance. Additionally, when we asked for the bill to be split three-ways to our three credit cards, she ended up charging each of us half of the bill. We pointed this out to her and she gathered up the cards and went to redo the bills. Upon her return, we discovered that Tom got someone else's credit card – as in, someone not at our table. She rushed out of the restaurant to return the card to said owner, but unfortunately gave Tom's card away to lord only knows. THEY LOST HIS CARD. This went on for quite some time until Kellie got up to deliver some whoopass. Then Tom went up to make sure Kellie didn't bust anyone across the chops. Nothing was resolved, so I went up and spoke with the manager. When your waitress screws up THAT badly, the first thing you should say is, "I'm sorry." No such thing. He was an indignant ass, making excuses and saying, "What do you want me to do?" It's one thing to make a mistake – everyone does it. It's another to be on the defensive about it and pretend like it isn't your problem. I'm going to have to revisit my review of FMG. What a bloody disappointment.