When Jeremy was short-listed with CU Boulder, I told him if he got an offer, we would go to the Flagstaff House for dinner. Right after I told him this, I realized I shouldn't have said anything because if he didn't get an offer, I wouldn't feel we could ever go there for fear of any lingering guilt on his part. Good thing he got an offer!

flagstaff house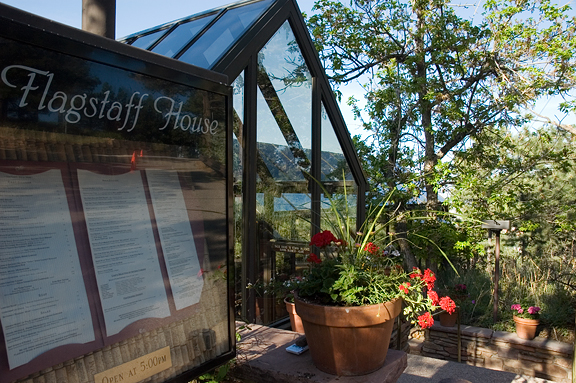 The Flagstaff House is perched at 6,000 feet on the mountainside overlooking Boulder. It is nestled among several smallish wooded parks, tucked just off of the very curvy and steep Flagstaff Road. The reputation of the Flagstaff House is probably the best in the area. There is complimentary valet parking. The interior and exterior afford incredible views thanks to all of the windows and decks. It feels like an extravagant, yet cozy treehouse. There are several levels of outdoor decks for cocktails in addition to two main dining rooms and a beautiful central bar.
views of boulder and surrounding mountains abound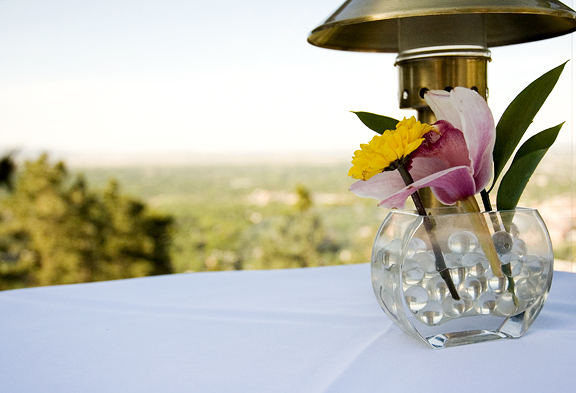 We were seated at what I believe to be the best table in the house. We had the corner table with views of Boulder and the mountains to the west. The wine list is intimidating. That is because it is a volume of 160 pages rather than a list. Their bragging rights include being named by Wine Spectator as one of the top ten wine lists in the world for 23 years straight. Flipping through, we did spy a 1945 bottle of Something Good for $19,000+. !!!! Jeremy could only come up with a champagne that cost $16,000. Incredible. How could you not want to read through the list for hours?
the hefty tome that is the 160-page wine list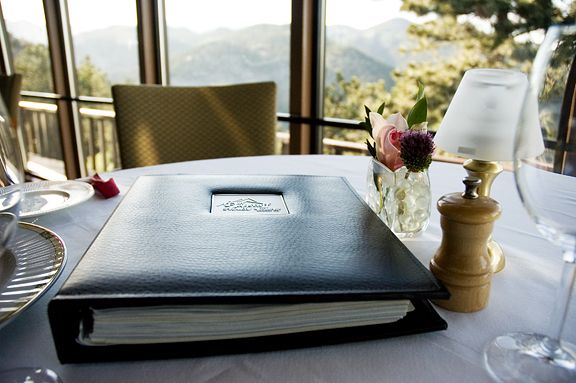 Before we could decide on a wine, the bunny arrived. I should say, the Rabbit Butler arrived bearing complimentary shrimp and crabmeat salad profiteroles, and sundried tomato and niçoise olive tapenade on crostini. The shrimp and crabmeat were sweet and fresh. I think the salad was a tad too creamy for my taste, but it was offset with the nice egg flavor in the pastry. The tapenade was smooth and tangy in contrast. I liked the chunks of soft sundried tomatoes and the bites of the olives paired with crostini. All tables were presented with these diversions while perusing the wine list and menus. The menu changes daily.
the rabbit butler serves profiteroles and tapenade on crostini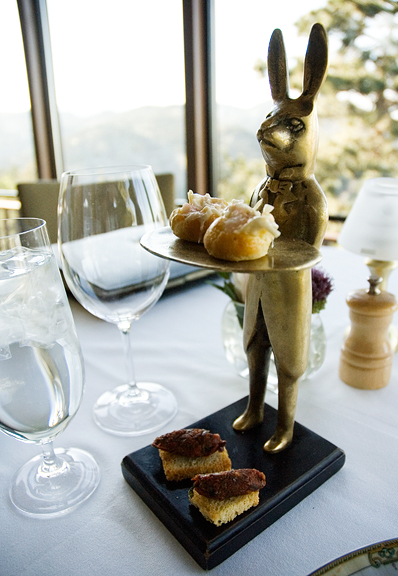 As soon as the rabbit had left the table, another complimentary appetizer was presented. This one was a Thai purple rice salad with pork, cashews, and pepper topped with two leaves of an asian green (I didn't catch the Thai name). I liked this dish very much and felt it was a high-brow Thai version of red beans and rice. Something in the dish gave it a pasty mix – the way puréed beans would. I found it added nicely to the overall texture and flavor (smokey and peppery). The serving was no larger than a silver dollar, but the tiny bites really won me over.
purple thai rice salad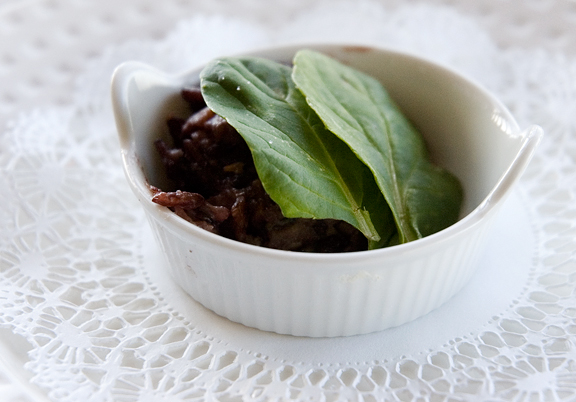 As I opened my menu, the wait staff arrived with a lovely assortment of breads on a tray. There were three to choose from: a sweet walnut paste roll, Calamata olive (and green olive) bread, and sourdough rolls. When they placed the butter on the table, they also set down pink Australian salt and pepper. The bread was as good as bread gets. I chose the olive bread and Jeremy had a sourdough roll. Jeremy found the sourdough roll to be bready perfection.
calamata and green olive bread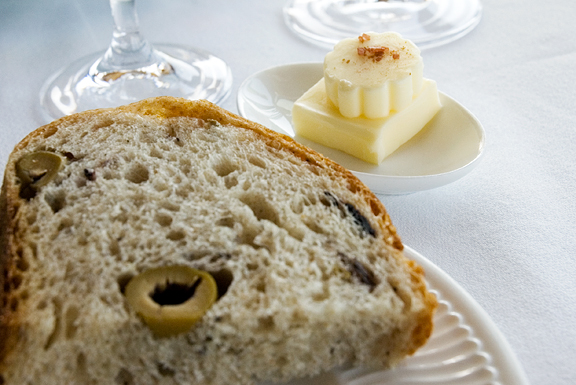 When we finally decided on what to order, we opted for a half bottle of Sancerre ($24). The sommelier said it was an excellent choice (does he say this to everyone?) and proceeded to bring it up from the cellar. He gave us the cork (I don't smell corks) and then he smelled the mouth of the bottle and said it was very good. We both tasted the wine and agreed it was good. The sommelier then asked if we prefer it chilled more. I didn't. I find that when wine is too cold, it takes forever and a day to release the flavors and then – it's too late.
a half bottle of 2000 reverdy sancerre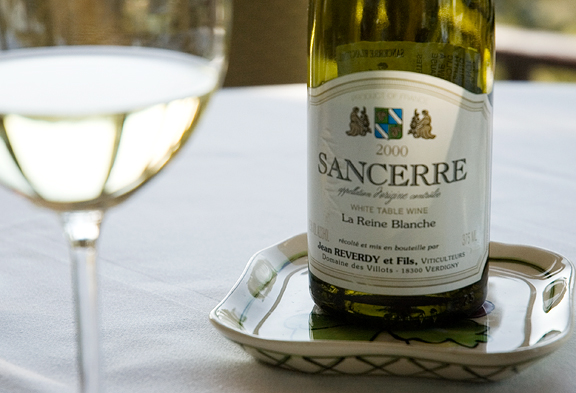 Our first appetizer was the Ahi tuna tartar prepared tableside ($16). Since we were sharing, the chef split the appetizer into two beautifully presented plates. The tuna was surrounded by spiral arms of onion, capers, wasabi-infused masago, black sesame seeds, garlic salt, nuts, and maybe garlic? Atop the mound of tuna was a quail egg yolk. The staff asked if we wanted to omit anything (Jeremy omitted the onions) and then proceeded to mix it for us. The tuna was fresh and delicious. I liked the mix of sesame seeds and masago. I don't think I would personally go for the capers and onions next time just because it felt like a cross between sushi and a jewish deli. We ate this on toast au points.
ahi tuna tartar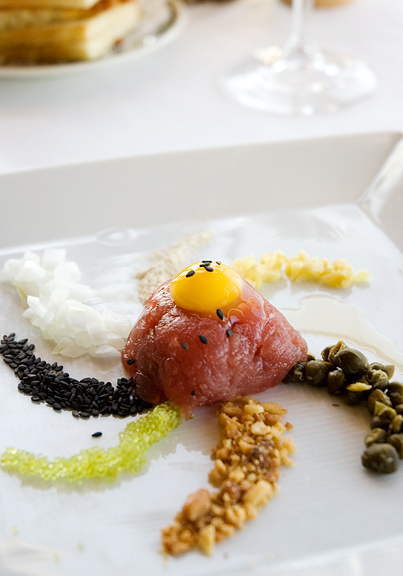 Our second appetizer (Jeremy's choice) was pancetta-wrapped quail on a bed of grilled yellowfoot chanterelle mushrooms and white truffle infused Italian heirloom polenta in a pool of garlic sauce ($16), served split on two plates. The quail was juicy and full of flavor without being overpowered by the mouth-watering, crispy, smokey pancetta. The polenta was the creamiest and most delightful when paired with the heady mushrooms. This plate was the highlight of the night. And there were probably four other appetizers we were dying to sample.
pancetta-wrapped quail on polenta and mushrooms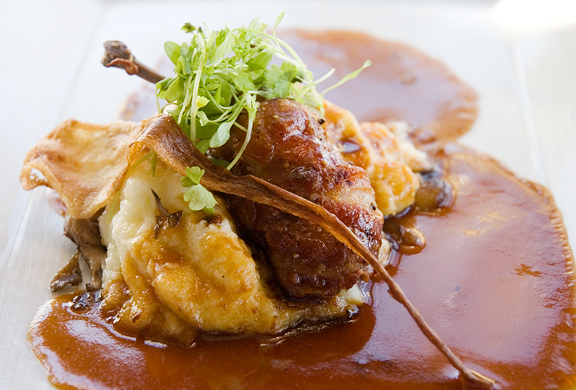 To cleanse the palate, we were served fresh mango sorbet with a blueberry on a paper-thin wafer of pastry. By now it was obvious that The Flagstaff House chef(s) specialized in small plate presentations. I found it to be thoroughly delightful and I was already feeling satisfied. Meanwhile, our wine glasses, water glasses, and everything else were attended to throughout the meal. The staff here is unrivaled in Boulder.
mango sorbet with blueberry on wafer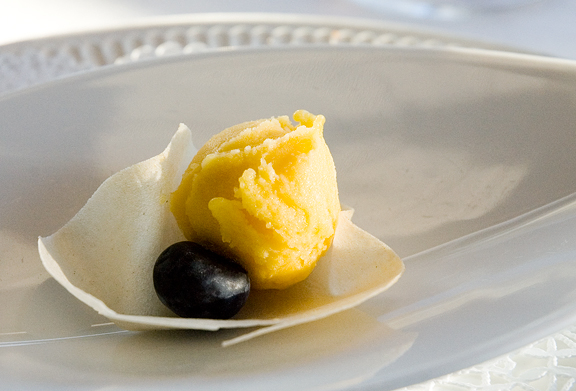 Jeremy's entrée was the Hawaiian big eye tuna ($36) crusted in black and white sesame seeds with grilled blue prawns on baby bok choy, pineapple, and chinese forbidden black rice in a pool of red pepper nage. The plating was gorgeous, the portions very generous. Jeremy said the tuna was excellent, as were the shrimp (with heads on). He did not care too much for the red pepper nage which tasted like a sweet red curry sauce to me. I think we both prefer tuna to be served with soy and citrus rather than curry, but the sauce itself was delicious as were the sides.
hawai'ian big eye tuna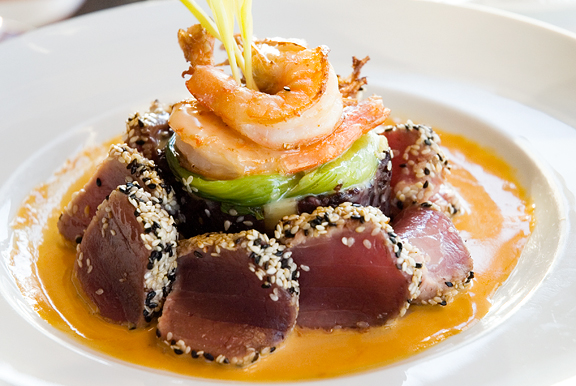 I ordered the ruby red trout, king salmon, and diver-caught scallop ($29). It was served with a crisp polenta cake, shitake mushrooms, leeks, caviar butter on the trout, in a watercress sauce. The scallop was melt-in-your-mouth fabulous. I was slowing down, so I sampled the trout with the caviar butter with doubts, but discovered I loved that combination. The salmon was very good. The sauce was strong to me and I didn't care for it paired with the polenta cake although it was wonderful with the seafood. There were steamed vegetables and a nice fresh baby green on top that reminded me of artichokes because it had a complex flavor evolution which eventually led to a sweet taste in the mouth. The portions were enormous and I had to have my plate boxed to take home so that I might sample some dessert.
trout, salmon, and scallop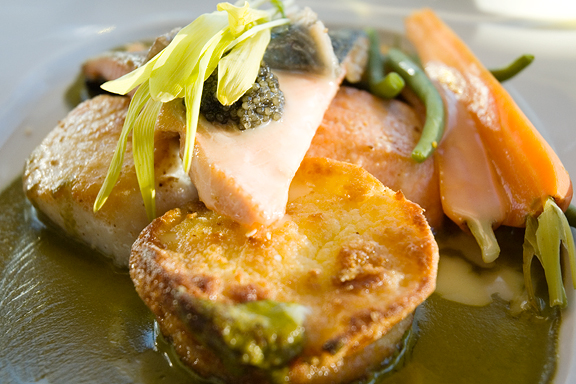 Before we received the dessert menu, two beautiful tiny cups of cinnamon panna cotta were placed on our table. These were compliments of the pastry chef. This was the creamiest, most delightful panna cotta I had ever tasted. The cinnamon flavor was definitely present, but not overpowering. At the bottom of the cup was a layer of more intense cinnamon. The dessert menu was as big as the regular menu. Choices for dessert, coffee, and tea were expansive. On the regular menu they also offer a pre-order for hot liquid valrhona chocolate and almond cake filled with chocolate ganache, berries, almonds, and vanilla bean ice cream ($14).
cinnamon panna cotta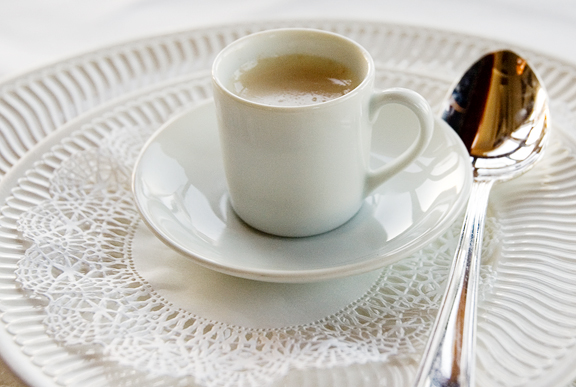 Jeremy had a cup of standard coffee ($4.75). Of course, this was no standard cup of java. It was a blend of maybe seven different beans (I didn't have the time to read through the descriptions of their fine coffees) and Jeremy said it ranked up there for dark roasts. The part I was excited about was the sugar tray which held about sixteen varieties of sugar, candy, and chocolate with a nice daub of unsweetened whipped cream in the center. Fun, impressive, delicious. You didn't think I would let those little mints and candy limes go to waste, did you?
signature sugar tray with some fine coffee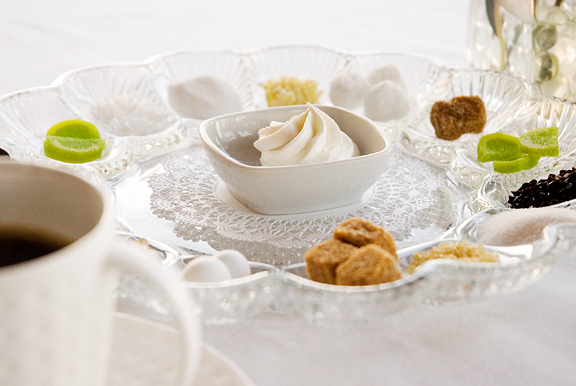 Dessert was overwhelmingly chocolate. Jeremy opted for the Golden Egg Surprise. It is a chocolate truffle brownie topped with cocoa sorbet, draped in gold leaf and served with berries ($12). Jeremy's eyes rolled into the back of his head after the first bite. I found the brownie to be rich, dense, and deeply satisfying. The sorbet was smooth and surprisingly light. The gold leaf was a nice touch, although we both chuckled at voluntarily eating heavy metals that will wind up permanently in your liver.
the golden egg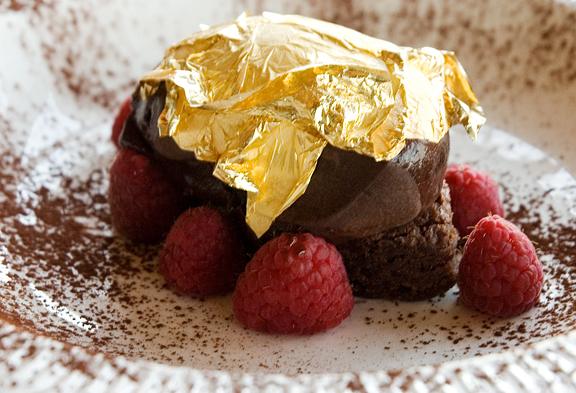 Even though I am not an enormous fan of chocolate, I had to see the Infamous Chocolate Bag ($12) for myself. It is a bag made of Callebaut dark chocolate, filled with squares of almond cake soaked in liqueur, macerated fresh berries, white chocolate mousse, and a caramelized sugar lattice. The cake was a nice touch, but the white chocolate mousse was out of this world. It had a grainy texture at first, but it immediately melted into a smooth and decadent texture once in your mouth. I liken the experience to eating pure sugary fat – if that's possible. This was also packed up to take home (for Jeremy to finish). The berries were very fresh and sweet. The Flagstaff House is also committed to using organic and locally grown products. NOTE: When Jeremy opened the box of leftover dessert he found that they had tucked in extra petit fours along with the rest of the dessert!
their infamous chocolate bag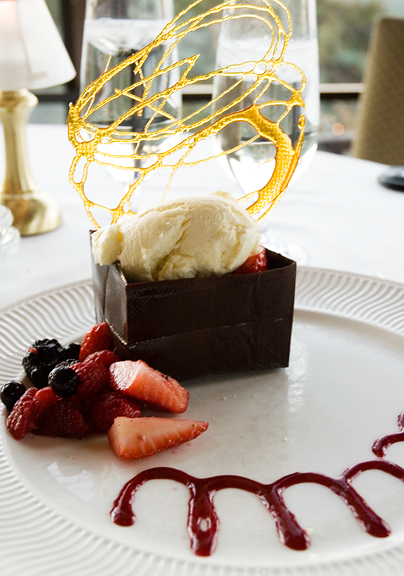 As if our plated desserts were not enough, we were also presented with a small complimentary plate of petit fours from the pastry chef. Russian tea cake, chocolate-covered strawberry, a cream-filled profiterole dipped in chocolate, an almond-berry tart cake, and a rich chocolate brownie with intense chocolate ganache. At the end of our meal, when we received our check, a small loaf of sweet breakfast bread was included for the following day. I just cannot believe how much food we were served.
a plate of petits fours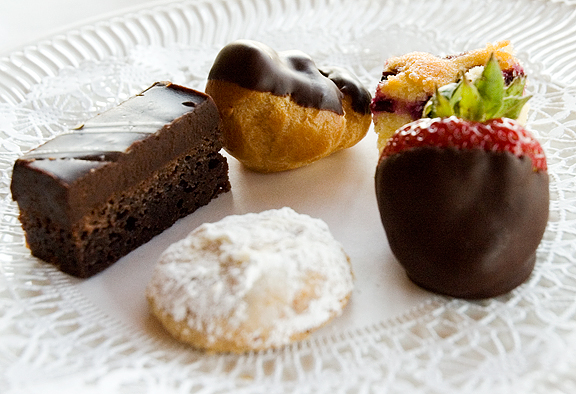 The Flagstaff House is special for many reasons: the wait staff, the wine, the food, the presentation, the pastries, generous portions, the view, the location, the atmosphere, the style of service. We noted how they served a course at one time to a party – which is the way it ought to be done so no one has to wait or food doesn't have to get cold. This establishment has a particularly nice touch. The feel is very intimate and delightful. Best of Boulder. You pay a lot, but you still get more than what you pay for.
boulder at night from our table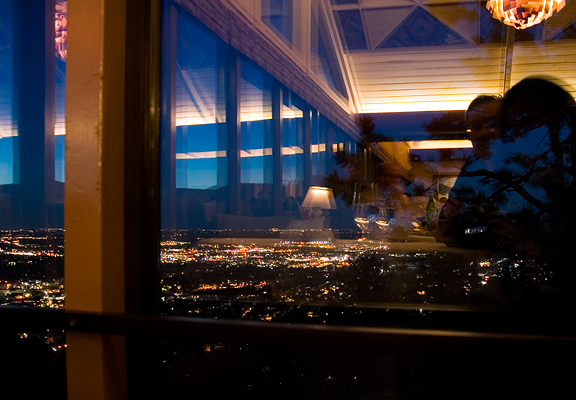 Jeremy said this was a total treat and worth getting the faculty job for. Congratulations, honey. Salud!
Flagstaff House
1138 Flagstaff Rd.
Boulder, CO 80302
303.442.4640
May 24, 2006
French American with Asian Accents
$162 including tax (not including tip) for 2 diners
Rating: 99/100 (A+)